Blue Bloods Season 13 Episode 8 will release on  9 December 2022. In the fall episode of Blue Bloods, the Reagan family will all be confronted with some unusual difficulties at work.   
Erin and Anthony argue in Blue Bloods Season 13 Episode 7 after Erin's case depend on Anthony's daughter, who was the only witness to a fatal shooting. Frank and Garrett debated if this expectation includes cops being required to risk their lives when off-duty. Hayes didn't break any laws, but Frank had legitimate grounds for thinking he wasn't fit to be a patrol officer. (read the recap below)  Fans are eagerly awaiting the new episode. What are your expectations for Blue Bloods season 13 episode 8?   You've come to the right place if you're looking for the next new episode at www.tvacute.com.
Get Ready for Blue Bloods Season 13 Episode 9: Reagan family Tensions Rise.
Blue Bloods Season 13 Episode 7 Recap
Blue Bloods Season 13 Episode 1 Recap
Blue Bloods Season 13: Is Jamie Reagan dead or alive? 
Blue Bloods Season 12 Finale Recap
Blue Bloods Season 13 Episode 8 Spoilers
Admirers of Dylan Walsh can look forward to seeing him reprise his role as Mayor Chase tonight, which is wonderful news for those fans of Walsh; however, his return won't be pleasant news for Frank, as the two are likely to find themselves at odds with one another once again. This time around, the two individuals will hold opposing opinions regarding the political comments made by an off-duty police officer.
"Poetic Justice" is the title of tonight's new episode. Commissioner Frank Reagan (Tom Selleck) gets into another argument with the mayor (Dylan Walsh), and this time it's about an off-duty cop's political opinions. Meanwhile, Anthony (Steven Schirripa) is concerned that Erin's (Bridget Moynahan) own political future in the race for district attorney is in jeopardy because of her ex-husband Jack Boyle (Peter Hermann) and his shady business dealings.
When it comes to old acquaintances making a comeback, Danny is about to get a real treat this week when, in the course of looking into a gang assault, he comes across a figure from his own past. Who exactly is the nameless, faceless felon that Danny is about to have another encounter with?   According to the synopsis, that would be Sonny Le (Alex Duong), who we first became acquainted with during the previous season when Danny and Baez were looking into the assault of a shop owner who was beaten up because they refused to pay protection money to local gangs. We recommend that you have a look at the complete summary and promo for Blue Bloods Season 13 Episode 8 which can be found below. This will provide you with a few more updates now all about what the future could contain here: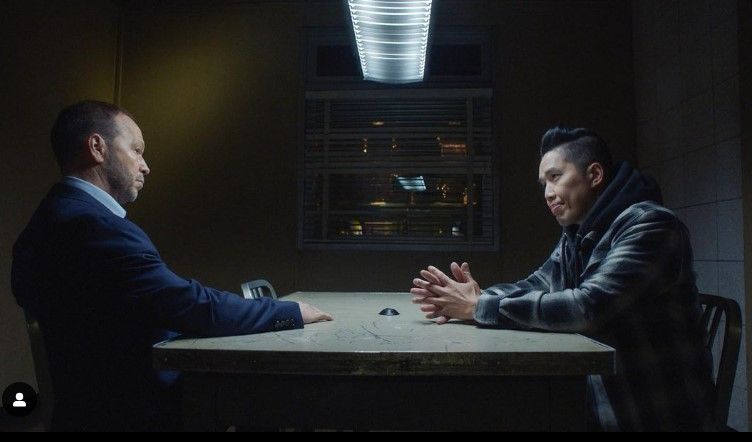 Blue Bloods Episode 13.08 Synopsis:– Danny crosses paths with Sonny Le (Alex Duong), a criminal from a previous case, when he investigates a gang attack with a shocking motive. Also, Frank and Mayor Chase (Dylan Walsh) butt heads over an off-duty cop who goes too far making a political statement; Anthony worries Erin's DA campaign could be threatened by her ex-husband Jack's unsavory business connections; and Jamie investigates a potentially dirty officer whose identity may be close to home.
Blue Bloods Season 13 Episode 8 Release Date
Blue Bloods S13xE08 will release on 9 December 2022 at 10 p.m. ET on CBS, It Weekly releases on Fridays with an average runtime of 42-44 minutes.  If you have a cable subscription, you may watch 'Blue Bloods' Season 13 Episode 08 on CBS at the hour stated. The new episodes will be available on the CBS official website as well as Paramount+ after their release. Subscribers to DirecTV, FuboTV, and YouTube TV can watch the episode live. Post-release, the episode should be available on VOD providers like Amazon Prime Video, Vudu, Google Play, and iTunes. A Hulu subscription also gives you access to the first nine seasons of the show.
Blue Bloods Season 13 Episode 8 Main Cast
Tom Selleck (Frank Reagan)
Donnie Wahlberg (Danny Reagan)
Bridget Moynahan (Erin Reagan)
Will Estes (Jamie Reagan)
Len Cariou (Henry Reagan)
Sami Gayle (Nicky Reagan-Boyle)
Marisa Ramirez (Det. Maria Baez)
Vanessa Ray (Officer Eddie Janko)
Blue Bloods Season 13 Episode 8 Recurring Cast
Abigail Hawk (Abigail Baker)
Gregory Jbara (DCPI Garrett Moore)
Robert Clohessy (Lt. Gormley)
Steven Schirripa (Anthony Abetamarco)
Andrew Terraciano (Sean Reagan)
Peter Hermann (Jack Boyle)
Ian Quinlan (Officer Luis Badillo)
Dylan Walsh (Mayor Chase)
Blue Bloods Season 13 Episode 8 Guest Cast
Alex Duong (Sonny Le)
James Hiroyuki Liao (Lt. Fleming)
Kellan Rhude (Officer Shank)
Ari Brand (Sam Isaac)
Roger Anthony (Tommy Wong)
Dan Nguyen (Gang Member)
Nash Bennett (Crowd #3)
Darik Bernard (Officer Irving)
Chris Alec Stevens (Crowd #1)
Jeremy Colwell Schwartz (Crowd #2)
Vani Nguyen Kovitch (Vietnamese Woman #1)
Rich Vu (Vietnamese Gambler #1)
Huy Nguyen (Vietnamese Gambler #2)
Barron Leung (Vietnamese Man)
Tess Nhan (Vietnamese Kid #1)
Steven Huynh (Vietnamese Gambler #3)
Taz Nhan (Vietnamese Kid #2)
Kathy Huynh-Phan (Vietnamese Woman #2)
Matthew Piazzi (Malcom Argus)
Barron Bass (Bad Guy)
STORY BY: Brian Burns & Van B. Nguyen
WRITTEN BY: Brian Burns
DIRECTED BY: Jackeline Tejada
Blue Bloods Season 13 Episode 7 Recap
The topic of the seventh episode of Season 13 of Blue Bloods explores different reactions to violent crime. When a visitor is forced in front of a car, she informs Eddie and Badillo that the trip was a graduation present because she had always wanted to visit New York City, but that she now wants to return to her home and never travel again. The criminal is promptly apprehended, but the victim stays inside her hotel room out of fear. Eddie wants to assist her, but Badillo feels they shouldn't become involved. Danny refuses Jamie's offer to assist him in a case involving a mugging while Jamie offers to assist Danny. Jamie informs him that his police have located a man who is in possession of the victim's credit card. The mugging has been stopped, but Danny won't say thank you to Jamie. He is questioned by Baez about his actions. Frank is upset with an officer who saw a robbery happen while not on duty but did nothing about it. Because off-duty police officers are exempt from risking their lives, the rulebook prevents Frank from firing the officer, despite his desire to do so. Garrett finds Frank's attitude annoying since he thinks it is unfair to expect all police officers to be heroes. Finally, Erin and Anthony argue after Erin refuses to let the case go and Anthony doesn't want his daughter to testify about seeing a murder.