Angela and Wesley spent the majority of episode 15 of season 5 of The Rookie engaging in a daring and potentially dangerous scheme to eliminate two of their most formidable rivals. The opening scene, in which Angela Lopez confronts Elijah Stone in the middle of the night at his house, was a brilliant choice because it established the mood for the entire show. The tension in their confrontation was delicious. Alyssa Diaz and Brandon Jay McLaren have fantastic chemistry, and they brought it to every moment in this episode. In addition, within that hour, Nolan (Nathan Fillion) took the time to properly bury his mother.  (To Know more Read the recap below) After enjoying the story's focus on  Elijah, fans are now eager to discover more about the new episode of The Rookie. To more about The Rookie Season 5 Episode 16, all of the information, including the promo and release date, can be found at (www.tvacute.com).
The Rookie Season 5 Episode 17 "The Enemy Within" [Crossover Event]
The Rookie Season 5 Episodes 8 and 9 Recap! Ending Explained!
This Is Us Season 6 Episode 15 Recap: 'Miguel' A Heart-Touching Story
The Rookie Season 5 Episode 2: Is Lucy Leaving UC School?
The Rookie Season 5 Episode 1 Recap "Double Down" Is Chris dead? 
The Rookie Season 4 Episode 22 Recap: Did Chen and Bradford kiss
The Rookie Season 5 Episode 16
The sixteenth episode of Season 5 of The Rookie has been given the title "Exposed." A militia plans to do something extremely risky in episode 16, so expect more high-intensity action, drama, intrigue, and suspense. We will begin with the current situation involving the militia. An armed group, likely a militia, will show up in this episode and get into some serious trouble when they try to blow up a truck full of explosive materials. As a result, the police force will be in a race against the clock to disperse the militia. Men potentially exposed to Ebola are sought, among other things. Ultimately, we're towards the end of the season, so don't be surprised if the stakes continue to rise for every one of these people as we head into the final episodes. Talk about Nolan, we worry about how much the events surrounding his mother will continue to weigh on him. That was still his mother, and this isn't the kind of thing that one can just get over in a flash of an eye, even if the two didn't have the best connection.
According to the promo, Lucy (Melissa O'Neil) receives a necklace from Tim Bradford (Eric Winter). He helps Lucy in putting on her necklace. the promo also shows Tim and Lucy riding together again. The question that needs to be asked now is why they are riding together again. watch the promo below.
Watch The Rookie S05 E16 Promo
The Rookie S5xE16 Synopsis: The team must stop a militia from detonating a highly combustible truck in their possession; Nolan, Thorson, Juarez and Harper search for three men who may have been exposed to Ebola.
Chenford's Stressful Valentine's Day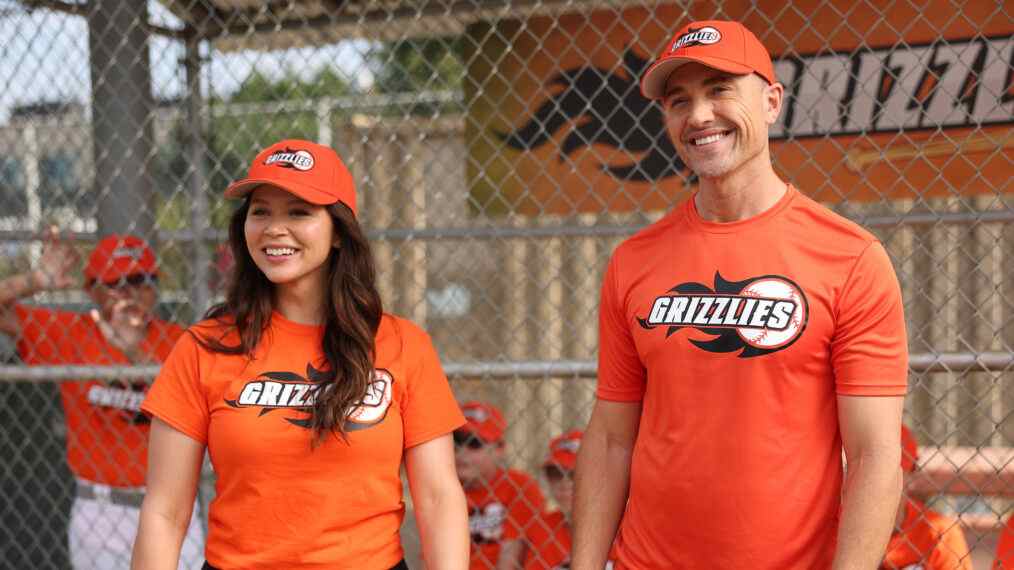 For the sake of love, please refrain from further action. After four seasons of teasing each other, the LAPD's most intriguing new couple has started a relationship in The Rookie.  Consider their first Valentine's Day together. In tonight's episode, the couple will be remembering their first Valentine's Day together. Tim, a rule adherent, finds out early on that Lucy did something behind his back, which "ruffles his feathers quite a bit," causing enough friction between them to imperil the day's romantic intentions. Many viewers Questioned why episode 16 aired on Feb 21. The show was originally scheduled for February 14 but was delayed due to the State of the Union address.
 Where to Watch The Rookie Season 5 Episode 16 Online?
The Rookie Episode 5.16 will debut on Tuesday, February 21, 2023, at  9/8c on ABC. Episodes can also be viewed the next day on demand and on Hulu.  Hard die fans of 'The Rookie' can stream the entire season 5:   DirecTV | Sling TV | Fubo TV | YouTube TV | Hulu | Vudu
The Rookie 5×15 "The Con" Recap
When Elijah Stone (Brandon Jay McLaren) wakes up at night, he finds Angela standing in his house with a revolver in her hand, ready to make him an offer. Angela reveals to Elijah the identity of the lady who killed his soldiers and forced him to hide in the corner. She claims that she is a member of the task team and that she can provide Elijah with intelligence. She reveals to him that she will have Elijah Sicarios go after him and that Angela will be able to provide him with information. The offer that Angela made was part of a plot with the federal government. In order to take care of his mother's business, Nolan travels to Pennsylvania. When Evelyn and Nolan are there, another guy named Josh acts as if he is Nolan and claims to be Evelyn's son. In order to carry out his portion of the plan, Evers (Shawn Ashmore) joins up with Abril Rodas (Gigi Zumbado) in Guatemala.
The United States will soon be welcoming Abril's girlfriend. They intend, with the assistance of the FBI, to pit Elijah and Abril against one another as adversaries. Thorsen lends a hand to the others as they plant a bug in Elijah's vehicle, and they then listen in as Elijah discusses his intentions to assault Abril's girlfriend. Evelyn is confronted by men armed with firearms who demand "What's there's" from her. Bailey discovers that the bodies of shampoo bottles contain traces of heroin. Evelyn became involved with some of the local drug traffickers. Through a transaction, Nolan is able to assist them in capturing them. They place Monica under arrest on suspicion that she bribed a judge. Elijah is attempting to put together everything that is going on and eventually phones Angela to talk to her and take her up on the opportunity she offered. Angela provides info to Elijah regarding the location of Abril, and Elijah assembles a group of people with the intention of attacking them that night.
Stacy stops by bringing some food and alcohol. Josh has broken into the home and is in the process of taking her automobile when they hear a commotion. He is really concerned about his own safety. Josh reveals that Evelyn and he supplied generators to the military, but that the generators turned out to be faulty, and that the military is now pursuing him for the money because he has already spent it all. As he walks towards the door to depart, members of the militia open fire on him before turning their guns on the house. While Stacy, Bailey, and Nolan treat Josh, they use weapons and tasers to take out the militia. Celina takes on the identity of Abril in order to catch Elijah in the act of attempting to harm Abril and her people. Elijah is ultimately given the go-ahead to take the hit after much reluctance on the part of the hitman. Elijah is on the move, but just as everybody is closing in on him, Thorsen smashes a glass bottle, which frightens Elijah and causes him to flee the area. Angela is frustrated and eager to take action, but they are unable to permit her to do so since, if they did, they would no longer have any leverage over Elijah. Elijah and Abril talk to one another and decide that they can be of assistance to each other.
First Published on: Feb 15, 2023