This Is Us finally shines a spotlight on Jon Huertas' Miguel, filling in some gaps on the character who has managed to grab fans' hearts over the seasons. While the episode isn't broadcast in order, we've broken down Miguel's story from start to finish in the review below. There will be spoilers ahead, as the episode spans Miguel's life from childhood to old age.
Miguel is a young boy who is playing baseball with his friends. When he returns home, his parents are discussing leaving because there are no jobs available where they reside. Miguel's father joins him at the table and informs him that they are going on a trip to Pennsylvania; when Miguel inquires if they will return, his father responds that they will not.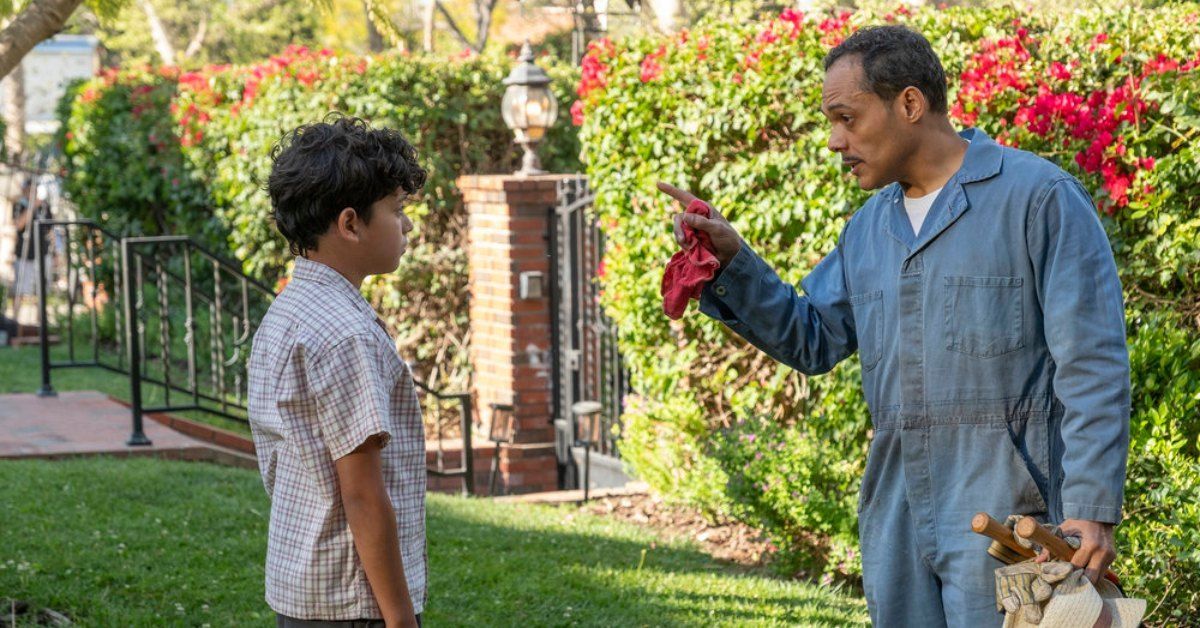 Miguel and his father, on the other hand, have relocated. Miguel's father is a gardener, and when he asks if he can go into the home to use the restroom, his father says OK, but only provided he doesn't touch anything. Inside, a man is watching sports on TV, and he tells Miguel to take a seat and hands him a baseball. Miguel could persuade his father to take him to a game one day, sneak down, and sit near home plate, the man says. Miguel listens to sports on the radio with his father at home because they don't have a television.
Young Miguel
Miguel is called for a job interview as Mike Rivers in a different time period. When Miguel sits down, the possible employer inquires if he speaks Spanish, which he confirms. The employer is pleased, and Miguel responds as fast as possible when asked when he can begin. Before leaving the man's office, he confesses that his name is Miguel Rivas, but that he hasn't received a callback using that name. Miguel likes the privileges of his new position despite the recruiting snafu, which his family notices when he returns for Christmas. Miguel says he doesn't want to look like he just arrived from Puerto Rico when his mother inquires about his hair. As he sits with his parents, he makes a remark about wanting to help his mother pay for her sister, who is still living with them. They refuse to take his money, and his father is clearly dissatisfied with his extravagant lifestyle. Miguel claims that his father relocated his family to the United States and that he is simply enjoying the benefits of living in the United States. Miguel inquires as to why his father resents his son's acceptance of it. There is no response from the man.
Miguel meets Jack and Rebecca
Miguel walks into the bar to meet up with Jack (Milo Ventimiglia) and greets several buddies as he exits their residence. As he makes his way to the rear of the bar, he is astonished to see Rebecca (Mandy Moore) accompanying him and complaining about how she dislikes him.
There's no one quite like Rebecca Pearson. #ThisIsUsFinalChapter pic.twitter.com/iSnxklfBKH

— This Is Us (@NBCThisisUs) May 4, 2022
Jack uses this as an opportunity to strengthen the bond between his best friend and his fiancée by telling Miguel that he's going to look at his new automobile and forcing Miguel and Rebecca to talk. Rebecca asks Miguel why he always welcomes people by their first names, and he explains it's a business tactic, but she counters that he doesn't have to. This exchange helps to break the ice by making the two laugh about it.
Miguel's first date with Shelly (his family)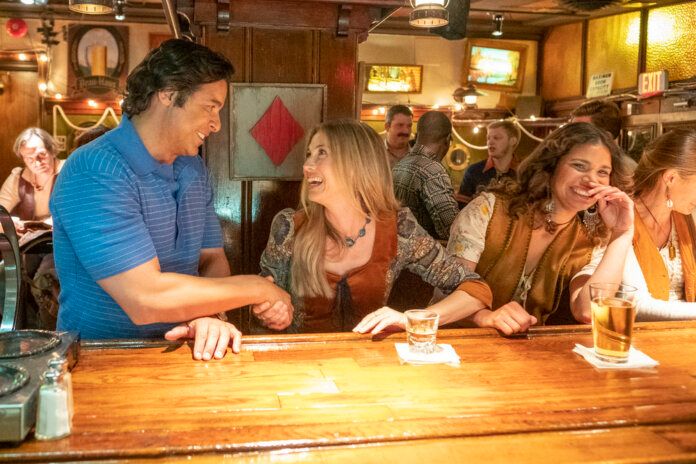 This bar meet-up leads to more, including Miguel's first date with Shelly (Wynn Everett). Following that comes a fast-forward through Miguel's family life with Shelly, both happy and sad periods. However, as business takes precedence over family, the pressures become too great to bear, and they separate. After a brief flashback, viewers are transported to Miguel's life in Texas, where he has relocated to be closer to his family, but his children refuse to return his calls to accompany him to sporting events. He gets a call from his mother one day, informing him that his father has passed away. Miguel is met by relatives when he returns home, and he visits his mother, who is still caring for her considerably older sister. She informs Miguel that his father was proud of him before he passed away, but Miguel wishes he had more time. Miguel says he doesn't understand how she's still able to look after her sister as they talk more. Miguel's mother then discloses that she used to despise her sister as a child, but that she felt horrible about it after having a stroke at the age of 24. Miguel notes how she's ended herself in a thankless profession, and she corrects him. Miguel's mother assures him that he will find love again, despite the fact that he has been having difficulties.
Miguel and Rebecca: The Beginning of a Relationship
Miguel sees Rebecca's Facebook profile and sends her a message within minutes. They discuss their lives and tease each other about the new host of Who Wants to Be a Millionaire, which used to be their favorite show to watch together. Miguel inquires about her dating life, and Rebecca admits that things fizzled.  Their talks eventually grow into phone calls, during which they discuss making plans to meet one other.
They address the elephant in the room shortly after sitting down at the table when Miguel discloses he'll be in town and asks to see Rebecca for dinner. Miguel tells Rebecca that he's been wondering if he made the right decision by moving to Texas all those years ago, and that he's never felt at home anyplace because he's always been split between the United States and Puerto Rico, family, and job.
She feels like home. #ThisIsUsFinalChapter pic.twitter.com/Sf1B9SPWaL

— This Is Us (@NBCThisisUs) May 4, 2022
Miguel confesses that he'd never been homesick until he left Rebecca on the porch, and she leaps from her seat to sit beside him and press a kiss on his lips. He travels constantly to spend time with her after that, and the two become inseparable. Miguel also contemplates relocating to Pennsylvania to be near Rebecca. Then he brings up Jack, wondering what he thinks of them dating. Rebecca says that she believes Jack would be pleased that they have found each other and are happy together.
First Thanksgiving with Big Three
Secret's out. #ThisIsUsFinalChapter pic.twitter.com/dQVo8pK3vM

— This Is Us (@NBCThisisUs) May 4, 2022
Finally, it's time for their first Thanksgiving as a couple, and while they hope to tell the Big three about their love at dinner, their plans are thwarted when they burst through the Pearson family cabin's doors, catching Rebecca and Miguel in an embrace. Kate (Chrissy Metz) and Randall (Sterling K. Brown) are taken aback, Kevin (Justin Hartley) is enraged, and Beth (Susan Kelechi Watson) is ecstatic. Miguel assures them that he loves Rebecca and that they are together, and that while it may take some time for them to adjust, they would not stop seeing each other. As they settle into their new life together, soundbites from Rebecca and Miguel's vows are strewn throughout the show.
Miguel gets up at five a.m. in the finished Pearson family cabin to prepare coffee and organize Rebecca's pills for the day in the show's near-future timeline set in the days following Kate's wedding to Philip (Chris Geere). This is unmistakably his morning ritual. Meanwhile, a trip to the doctor finds that he needs to lower his blood pressure even further and is advised to get more rest, which is easier said than done. Miguel sits and waits near Rebecca's bed in the house so she may see him when she wakes up. Miguel assists Rebecca in getting out of bed administers her medications and conducts exercises with her to maintain her strength. It's evident that the daily routine is wearing him down, as he has brief chats with the Big three who call to check in on their mother on a regular basis.
This Is Us Season 6 Episode 15 Recap: Ending
Miguel has a dream that he's back at the baseball field where he used to play as a youngster, playing catch with his father and the old man who showed him how to find the best seats to watch games. Miguel learns Rebecca is missing from bed when he wakes up from the dream, and he finds her dancing in the snow outdoors, perplexed. Miguel tries to persuade her to come inside by bringing her a coat, but he stumbles on the ice. As he gets up and shuffles inside the home with Rebecca, he sits her on the couch and lays his head on her lap, falling asleep.
We knew this would be hard, but nothing could prepare us for these heartbreaking moments. 💔 #ThisIsUsFinalChapter pic.twitter.com/9yWvkW42jA

— This Is Us (@NBCThisisUs) May 4, 2022
Miguel is injured from the fall when the Big three arrive for Thanksgiving but maintains he must have slept badly. When Kevin walks past Miguel's bedroom and sees the man staring at a large bruise on his back, he realizes he was lying.
When the Big three ask the nurse about Miguel's back problems, she tells them about his fall. The kids see this as a message that they should increase Rebecca's in-home care and lighten Miguel's load, but Miguel refuses. He claims Rebecca has a bad reaction to strangers, but the Big three contend that they're doing it for him so he may have less stress in his life since they genuinely care about him.
Miguel agrees to their requests, and a trip to the doctor finds that Miguel's health is deteriorating, prompting the physician to prescribe a stress test to check on his heart. Miguel is joined by Kevin in his morning ritual with Rebecca after this appointment. Kevin sees his son Andy (William Rubio) after noticing Miguel's decline and informs him that Miguel's time is limited. Andy is harsh at first, but Kevin advises him to make the most of his time with Miguel before he leaves.
It's Christmas, and Rebecca and Miguel's family, as well as his son and his children, are with them. The family is clothed in black, Rebecca is in a wheelchair, and Miguel is missing; she stares up at the tree that she and Miguel had looked at. His ashes are scattered in two locations;  Kevin scatters his ashes on the base of an apple tree in front of the new house.  Kavin and his Son Andy scatter the remaining on a baseball diamond in Puerto Rico where he used to play as a kid where his story begins.
The story of Miguel was absolutely beautiful as well as heartbreaking. Our hearts broke into a million pieces as his passing was just as hard as Jack's. @jonhuertas you're a class act and we have always loved Miguel. #RIPMiguel💔 #ThisIsUsFinalChapter🍋 pic.twitter.com/HASwkEAZX0

— ThisIsUsFanCrew (@ThisIsUsFanCrew) May 6, 2022
Thank you for everything Miguel. 💔 #ThisIsUsFinalChapter pic.twitter.com/X6aGxSX9fv

— This Is Us (@NBCThisisUs) May 4, 2022
Miguel died at the end of the episode, and there was a flashback scene of the first time he and Rebecca spoke.