After a holiday break, New Amsterdam will return with a brand-new episode on Tuesday, Jan. 3 on NBC. For those who need a refresher on the last episode's events (Helen is back!), here it is:  (Read the Recap)
We're not even just referring to Dr. Max Goodwin's (Ryan Eggold) major shock when his ex-fiancée Dr. Helen Sharpe (Freema Agyeman) showed up at the end of the fall finale! He expressed disbelief at seeing her on TV, confirming she was back in New York. Although, her presence and the effects of her visit to New York expect to see her in Episode 11. Speaking of romance, one pair might be on the right track, while another is preparing to file for divorce.   Do you want to know when New Amsterdam season 5 episode 11 will air after the shocking events of the episodes? www.tvacute.com has a promo for New Amsterdam Season 5 Episode 11 below. As a result, you'll be able to mentally prepare yourself for the next episode.
New Amsterdam Season 5 Episode 11 Recap: Who did Max choose? Helen or Wilder
[Fall Finale] New Amsterdam Season 5 Episode 9 and 10 Recap
New Amsterdam Season 5 Episode 8 Recap: Did Lauren's mother die?
New Amsterdam Season 5 Episode 1 Recap
New Amsterdam Season 5 Episode 11 Spoilers
Freema Agyeman will be resuming her role as Helen in Season 5, Episode 11 titled "Falling", according to producer David Schulner. This comes after her recent unexpected comeback.  After a shocking breakup, Helen and Max (Ryan Eggold) will be reunited, and a love triangle between the former partners and Max's new love, Wilder, may result. When he receives an unexpected text from Helen who expresses interest in meeting up with him, he is torn between two options. Max and Wilder's developing friendship will be impacted by Helen's homecoming.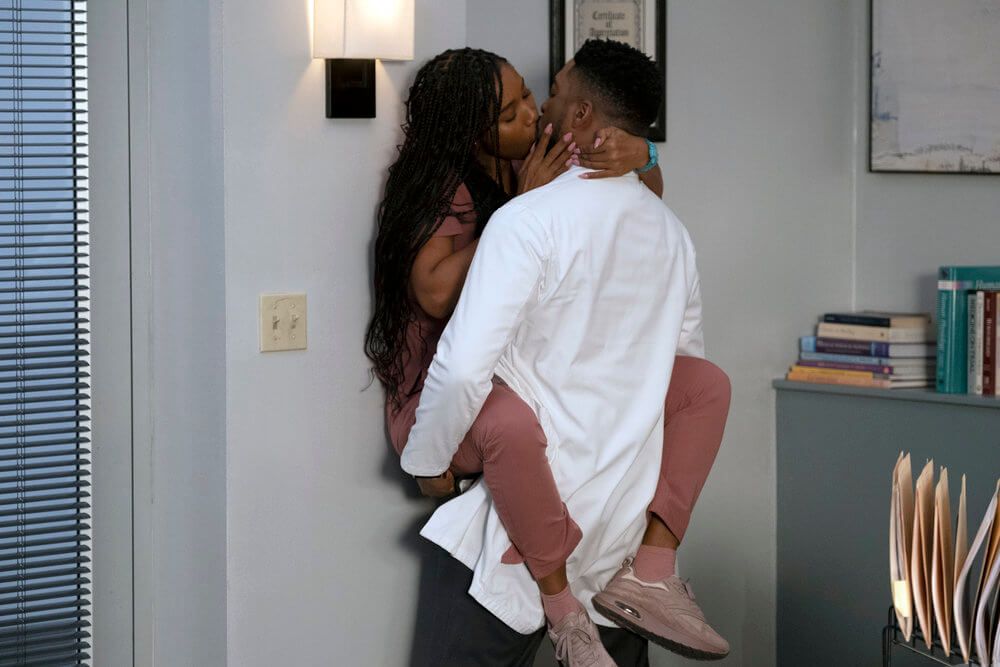 Dr. Floyd Reynolds (Jocko Sims) hasn't had much luck in love. but according to the photo, it appears that he and traveling nurse Gabrielle (Toya Turner) will end up together. Martin (Mike Doyle) and Dr. Iggy Frome (Tyler Labine) briefly got back together in the fall finale, but Martin then suggested that they should end their divorce. perhaps Iggy and Martin should put that chapter of their relationship behind them in order to start again and really go ahead as a couple. however, production is keeping quiet on what to expect from the Finale.
The Golden Globes will then create a second brief break on Tuesday, January 10. so there will be no new episode. However, the two-hour series finale of New Amsterdam will be on January 17, bringing the show to an end.
New Amsterdam Season 5 Episode 11 Promo
New Amsterdam Season 5 Episode 11 Synopsis
When Helen Sharpe unexpectedly returns to New York, Max escapes to the wilderness on a corporate retreat with Bloom, Wilder and Iggy; fun soon turns into catastrophe that threatens a life; Reynolds agrees to perform a risky surgery.
New Amsterdam Season 5 Cast
Ryan Eggold plays Dr. Max Goodwin, Jocko Sims plays Dr. Floyd Reynolds, Janet Montgomery plays Dr. Lauren Bloom, and Tyler Labine plays Dr. Iggy Frome in the core cast of New Amsterdam. Sadly, Dr. Helen Sharpe's on-screen character, Freema Agyeman, won't be back for the final season. To the delight of many, Dr. Elizabeth Wilder, the Chief of Oncology who is portrayed by deaf actor Sandra Mae Frank, will return in the final season as a series regular. She first joined the cast in Season 4 as a recurring character.
How to Watch New Amsterdam Season 5 Episode 11
New Amsterdam Season 5 Episode 11 will release on Tuesday, January 3, 2023, on NBC  (09:00 PM – 10:00 PM).  Each episode is expected to last roughly 40 minutes on average. Remember that the series finale is expected to air on January 17 as per the current schedule. One of the worst things about this season is that there are only thirteen episodes left and we're already getting close to the end.
New Amsterdam will be available on Hulu and NBCUniversal's own streaming platform Peacock the day after it airs on television. Note that only earlier seasons are available on the free edition of Peacock. Traditional cable/satellite pay-TV subscribers can watch New Amsterdam because it is an NBC show. A TV antenna can also take up local NBC stations. Of course, if you use newer live TV streaming providers. NBC is still prominent on major platforms including Fubo TV, Hulu with Live TV, Sling TV, Direct Stream, and YouTubeTV.