Only half of the first season of House of the Dragon is left. We have so far followed King Viserys' (Paddy Considine) rule over Westeros for around five years; he has designated his daughter Rhaenyra (Milly Alcock) as his heir. Additionally, he has married Alicent Hightower (Emily Carey), who is Rhaenyra's best friend. The couple has two kids: a daughter named Haleana and a son named Aegon. Theo Nate's character Rhaenyra has been touted as getting married in a "royal wedding" in episode 5, and we all know how weddings work in Westeros. Ser Otto Hightower's removal from the position of Hand of the King was among King Viserys I's wisest—though rather tardive—decisions. Who is The next Hand of the King? – The next candidate, Lord Lyonel Strong. Viserys has consistently received sage advice from Lord Lyonel. In Episode 5 of House of the Dragon, a wedding is taking place. But during the rehearsal dinner, someone passes away on the dance floor. Shots of Rhaenyra and Laenor's intimate, solemn wedding ceremony are intercut with scenes of Ser Criston's attempted suicide. Alicent is wearing a royal green gown; which indicates Civil War soon Begins. Olivia Cooke and Emma D'Arcy assume the roles soon of Alicent and Rhaenyra, respectively in future episodes. Did Olivia Cooke and Emma D'Arcy Appear in Episode 5 of Let's Find Out? www.tvacute.com provides a comprehensive recap and review on this page.
House of the Dragon Episode 5 Recap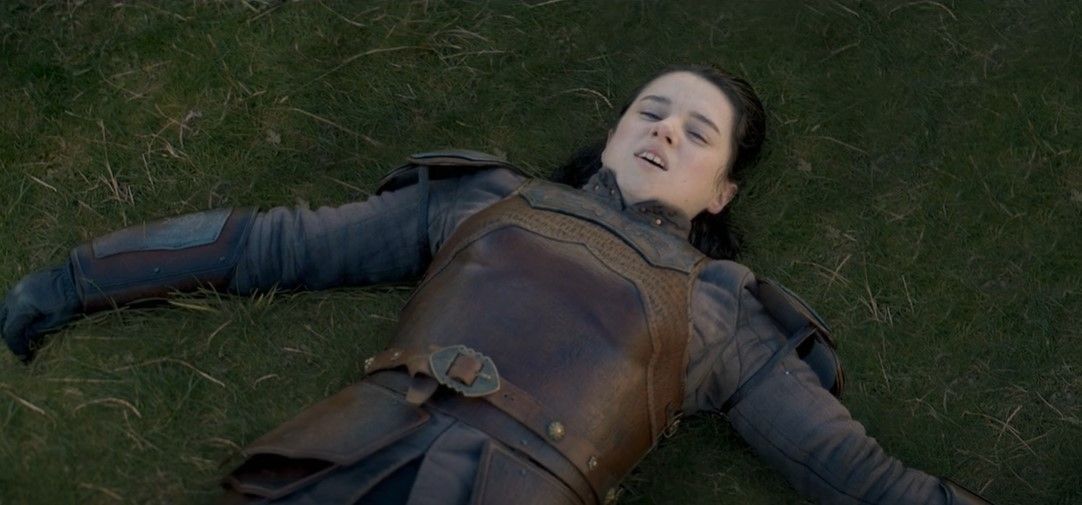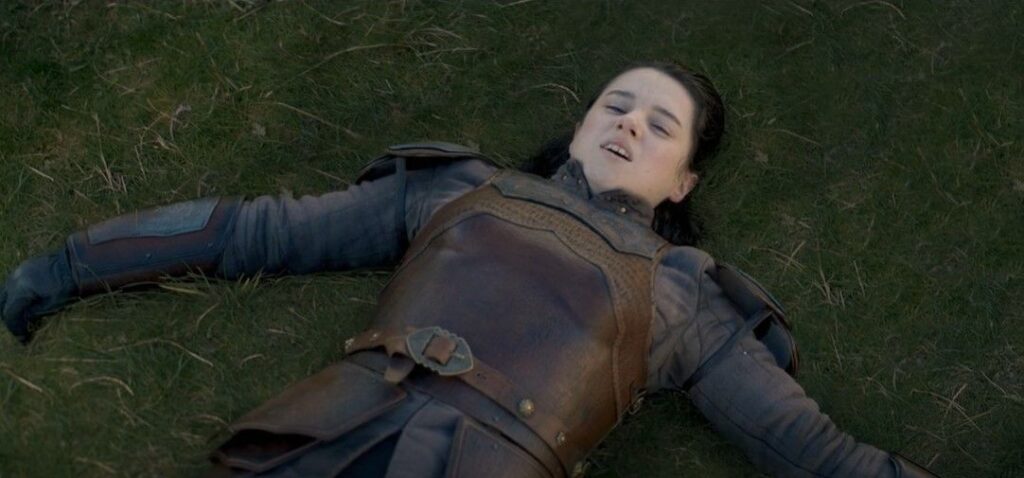 The episode opens in The Vale, where Lady Rhea Royce (Rachel Redford) is out riding and hunting. When she encounters Daemon, she refers to him as her husband after she has captured a few game birds. she's said a few things and rode her horse like a badass. She wonders if he's there because they never consummated their marriage. She mocks him for being passed over by Viserys, but she stops when she sees Daemon's expression and realizes she's in danger. Hooded cape Daemon is calling upon The Force. She reaches for her bow and arrow, but the horse rears up and falls backward, lands on her, and likely crushes a number of internal organs. Poor Lady Rhea lies there gasping as the horse rises up and bolts away. Although she appears to be paralyzed from the neck down, her mouth is nevertheless fully functional. She consequently receives an exceedingly precise burn when Daemon lightly steps on her forearm before turning to go. She says, "I knew you couldn't finish." Even still, viewers weren't expecting him to immediately appear in the Vale, toss his wife off her horse, hit her in the head with a rock, and then claim the incident was a horrific hunting accident. Lady Rhea, poor thing, didn't even have time for a defense.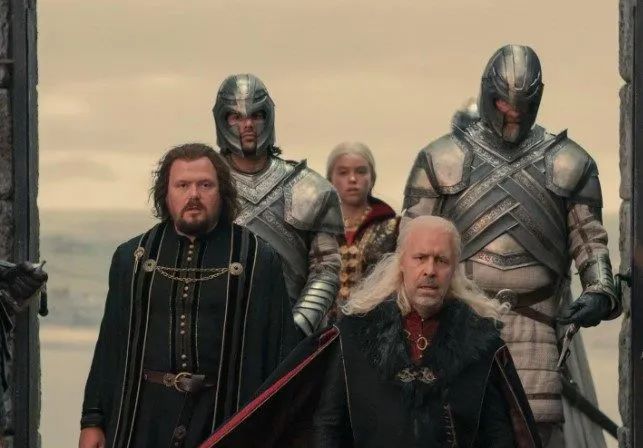 In the next scene: It's time to travel:  It's time to travel to Driftmark, where House Velaryon is located! – Viserys and Rhaenyra sail on the water as he picks up a big rock and moves toward her. The decoration on those ships is quite elaborate. The monarch isn't as suited to ocean travel as his daughter is. The royal party travels to High Tide, the home of House Velaryon, after landing. As soon as Viserys, Rhaenyra, Ser Criston, and company arrive, the power maneuvers begin. Lord Corlys sends his daughter Laena out to welcome the guests rather than doing it himself. While Corlys and Viserys, along with the new Hand of the King Lyonel Strong and Princess Rhaenys, decide Rhaenyra's fate within, Laena and Rhaeynra are dispatched right away. Viserys is coughing and perspiring right now, and when Rhaenys gives him a hug. Viserys then formally proposes a marriage between Rhaenys (Eve Best) and Laenor when Corlys notifies the king of Lady Rhea's passing Before approving, Laenor's parents want the succession plan to have a few extremely specific details. However, Viserys makes a concession, announcing that her children with Laenor will use the last name Velaryon up until ascension before changing to Targaryen. Viserys resents the concept of the Targaryen name ending just because Rhaenyra is female. The king accepts Lord Corlys' request for his grandchildren to take the family name, but only if they alter their last name to Targaryen after ascending to the throne.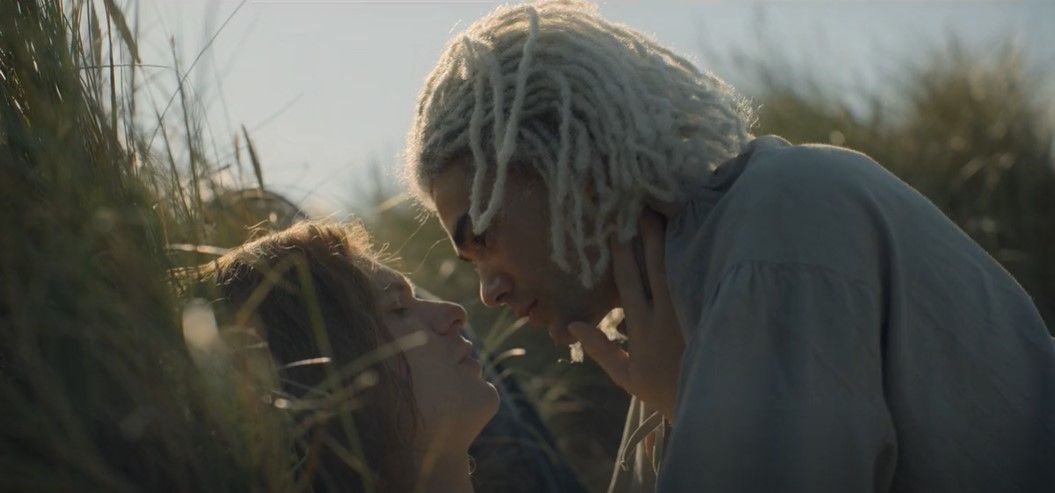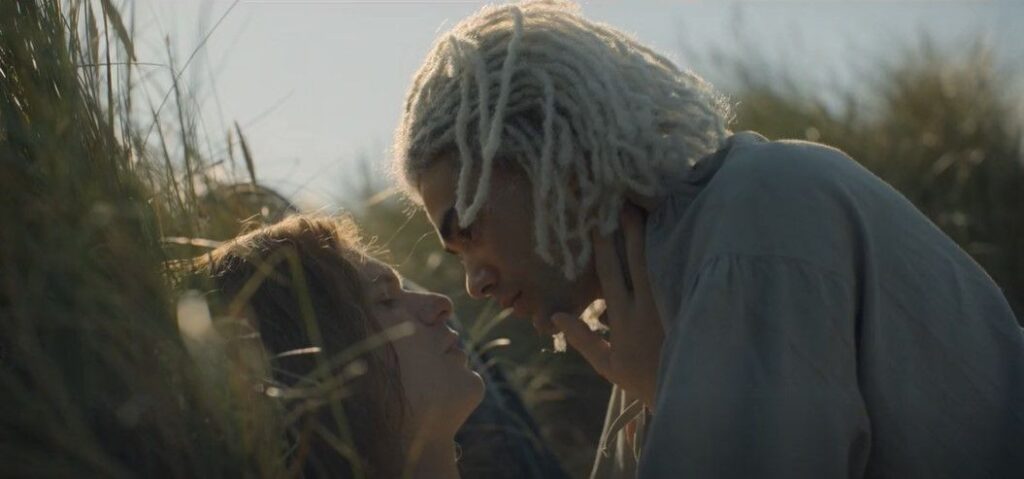 Despite these little concerns, the princess and her future husband communicate effectively. Rhaenyra Targaryen and Laenor Velaryon's approaching wedding is a truly magnificent event. the two dragons in episode 5 with the Velaryon fleet are Seasmoke and Meleys, which are ridden by Laenor and Rhaenys Velaryon, respectively. Meleys, also known as the Red Queen, has never before.  Laenor and Rhaenyra take a stroll on the beach as the grownups converse. Rhaenyra suggests that they complete their obligations to their families and then "dine" as they see fit, fully aware that her cousin and fiancé prefer the company of other men. She apologizes for making him marry her and she is aware of his preference for male company. she knows that whatever arrangement is reached up there won't affect their appetites. Joffrey (Solly McLeod), who is also Laenor's lover, is excited about the arrangement. After all, they will be able to continue their friendship, especially since he is aware that Rhaenyra has a sidekick.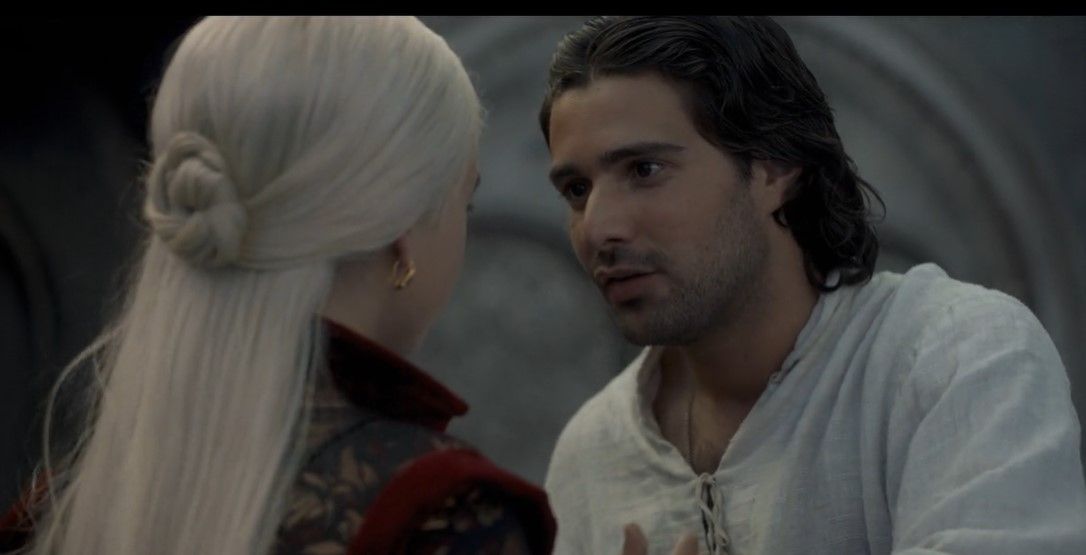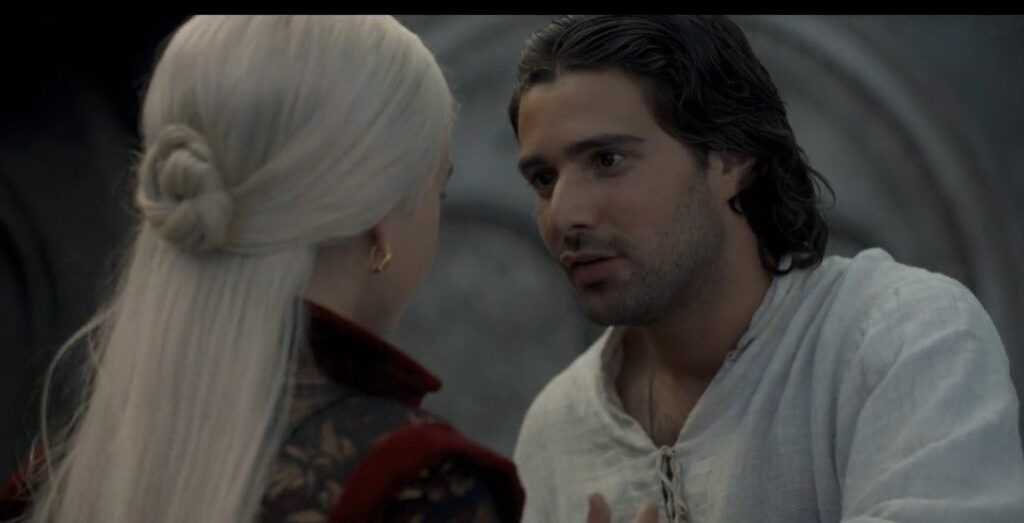 Ser Criston is extremely upset about how Rhaenyra's future is being decided for her while traveling back home on the boat. He wants her to board a ship with him, to put it briefly. He draws a picture of a life where they are nameless and free. You and I may get married in Essos. A union formed out of love, not for the Crown, he claims. Even though she appears to be highly intrigued by the thought, she eventually needs to reject him. and she does put a stop to him. She reminds him, "I am the Crown." "Or I'll be." The good news is that you can be my sidekick, she continues. Cole sobs, realising he breached his Kingsguard vows for someone."You want me to be your whore," he cries.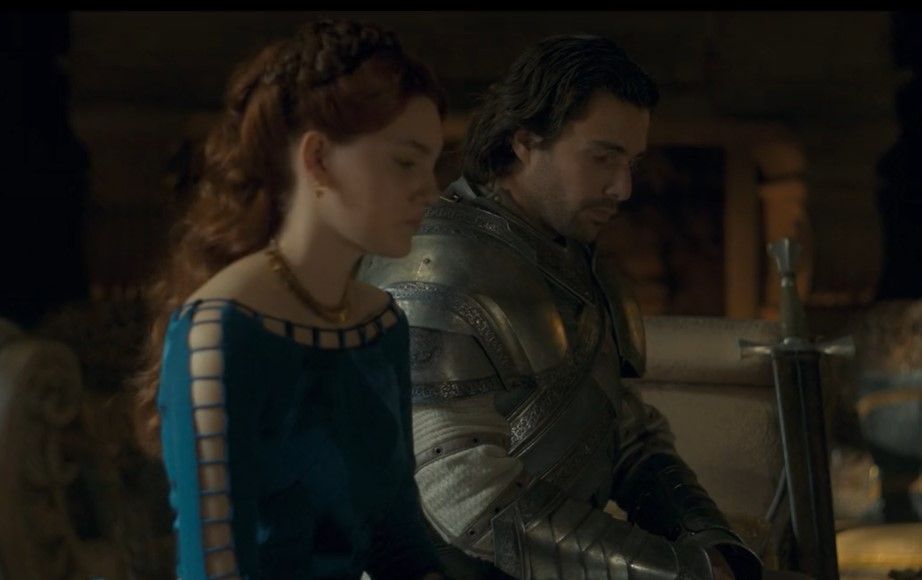 Back at King's Landing, Queen Alicent waits for her husband and stepdaughter to return from their voyage, she has little to do back in King's Landing other than hold newborns and stroll around the Red Keep. When a wild Larys Strong (Matthew Needham) informs the queen that the king promptly after Rhaenyra's after-hours walkabout brought tea also known as moon tea. He undermines the queen's trust in Rhaenyra by spilling her. Alicent clarifies that Rhaenyra is healthy and travelling. Alicent decides to find out the truth about Rhaenyra's night when the royal ships return from Driftmark, but what she discovers isn't quite what she anticipated. Alicent invites Ser Criston over for a conversation in the hopes that the knight can shed some light on the incident involving the princess and Daemon. Criston confesses to violating the Kingsguard's chasteness pledge with Rhaenyra after misinterpreting the queen's subtle comments to be about him. He acknowledges his wrongdoing and knows that he will be punished, but he still begs Alicent for some compassion. Alicent soon recovers, thanking him for his candor and informing a bewildered Criston that he can leave. Alicent now believes Rhaenyra has lied to her before and might do so again. As the king's health continues to deteriorate, Alicent sees a portion of her father's prophecy coming to pass. His King Viserys, however, is still strong enough to organize a seven-day celebration for the royal union and to provide a welcome feast for all of his daughter's wedding guests. Sadly for him, things don't quite turn out as he had hoped.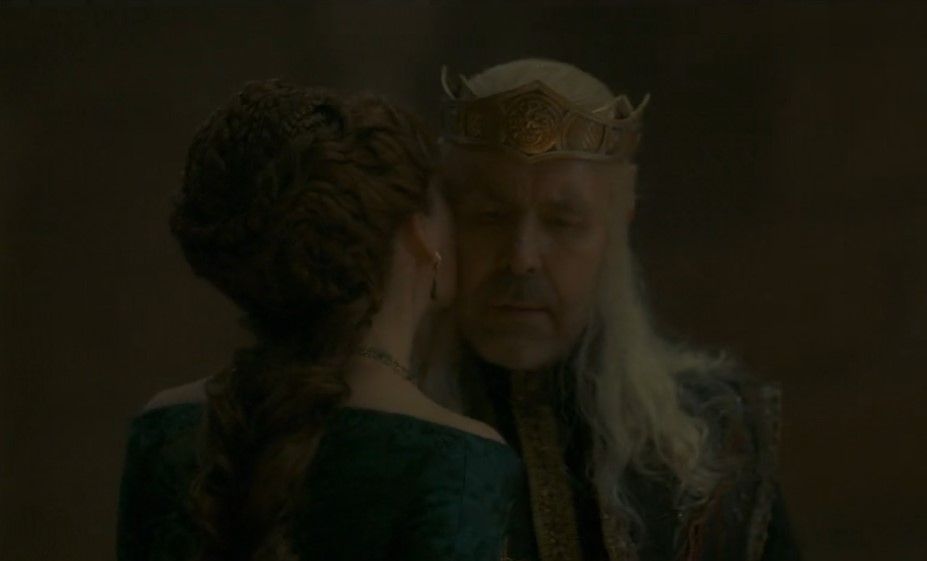 After a while, everyone is gathered in King's Landing for the wedding of Rhaenyra and Laenor. At a preparatory feast, Viserys is well enough to sit next to the bride-to-be, but neither of them is eager to strike up a conversation with Jason Lannister when he comes over to express his congratulations. Even as Corlys and Rhaeyns and their families come to much fanfare, Alicent is noticeably missing. And just as Daemon enters the hallway with a strut, you know he's about to eff it up. The king silently adds a chair to the head table, and Daemon takes a seat. Viserys start to give a welcome speech but Alicent arrives late and dramatically wearing a stunning green gown, the same colour House Hightower uses in its beacon to signal the start of a war. Viserys then interrupts himself. After she takes her seat, Viserys resumes his speech by extending a warm invitation to the guests for the wedding and the subsequent seven days of contests and feasting. Later, Rhaenyra and Laenor dance on the ground. Joffrey and Criston both observe from the sidelines, looking somewhat unenthusiastic.
House of the Dragon Episode 5 Recap Ending: Who dies?
Though the House Velaryon drums are what initially rouse spectators for the impending battle, Viserys, Rhaenyra, and Laenor's problems do not begin to materialize until Daemon makes an appearance at the feast and displays his recently widowed face. The king and his new Hand, Lord Lyonel Strong (Gavin Spokes), become suspicious of the prince after one of Lady Rhea's relatives accuses Daemon of murder. Lady Rhea's cousin confronts him and informs him that in The Vale, men are held to account for their crimes, "even Targaryens," Daemon just sits up at the table grinning. He charges Daemon with murdering Rhea, and Daemon then demands his inheritance: Runestone, the seat of House Royce, which was to go to her, might very well be his since he and Rhea didn't produce any successors. The cousin immediately sits down after losing his enthusiasm as a result.
Several events happen while the celebrations continue. Ser Criston is identified by Joffrey as Rhaeynra's lover based only on the knight's hangdog expression as he observes the princess from the room's edge. Then, Joffrey lets Criston know that he is aware of their relationship by making a threat to cause some little mutually assured destruction if any of their secrets are revealed. In another location, Daemon approaches Laena, who is still youthful but a few years older than she was when Viserys considered marrying her. Eventually, Rhaenyra is left alone on the dance floor, and Daemon asks her in High Valyrian if she wants to continue. She mocks him by telling him to "cut through my father's Kingsguard" and take her to Dragonstone if he wants her. Just as Viserys begins to see that his brother and daughter appear to be about to engage in an immoral act on the dance floor, a group of armored warriors burst into the room.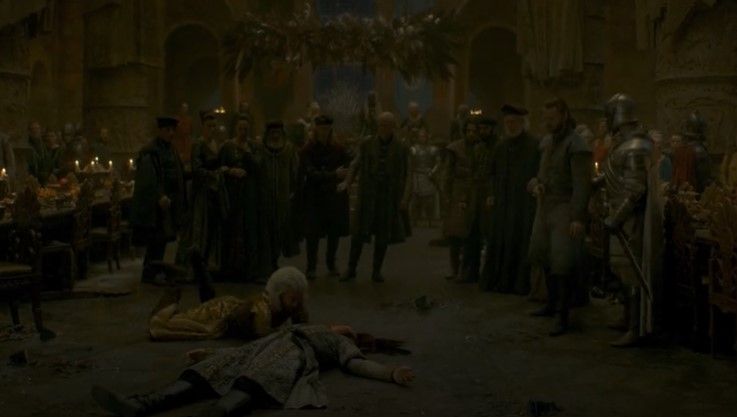 And thus a scream pierces the Red Keep's hall, and the crowd becomes agitated. All signs hint at a battle, but the murder that King Viserys' guests are watching is actually taking place. Suddenly, Ser Criston and Joffrey are engaged in combat. He ends the celebrations by using his own hands to beat Joffrey's head in the midst of the dance floor, leaving a young Laenor Valeryon inconsolable. While Laena enters the crowd, Laenor enters a different area of the conflict. Viserys' inability to locate Rhaenyra is put on hold as he begins profusely bleeding from his nose and begins to wobble. Everything somehow settles down in the end. Laenor goes to Joffrey as he lies lifeless on the ground and cries out in sorrow.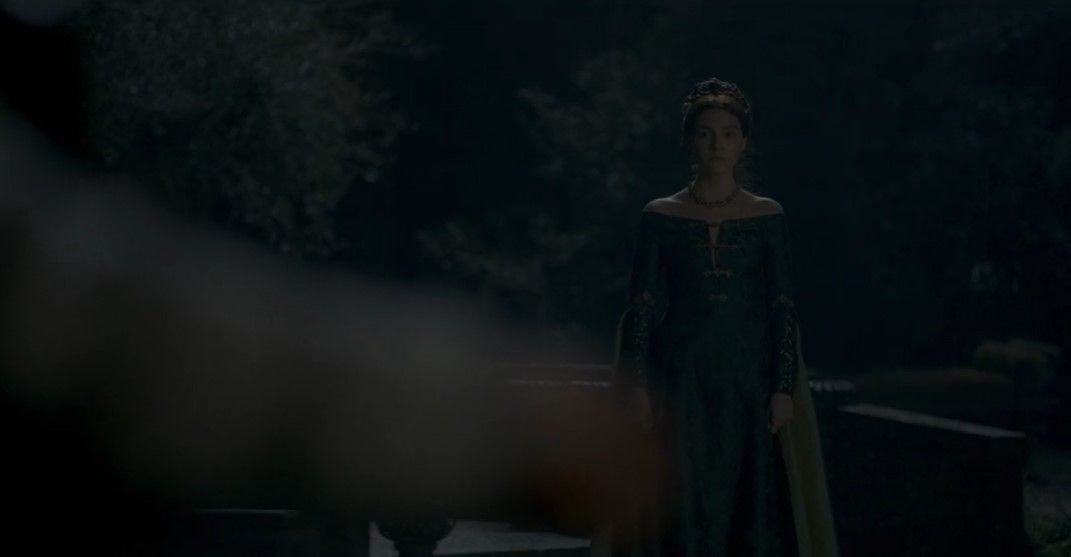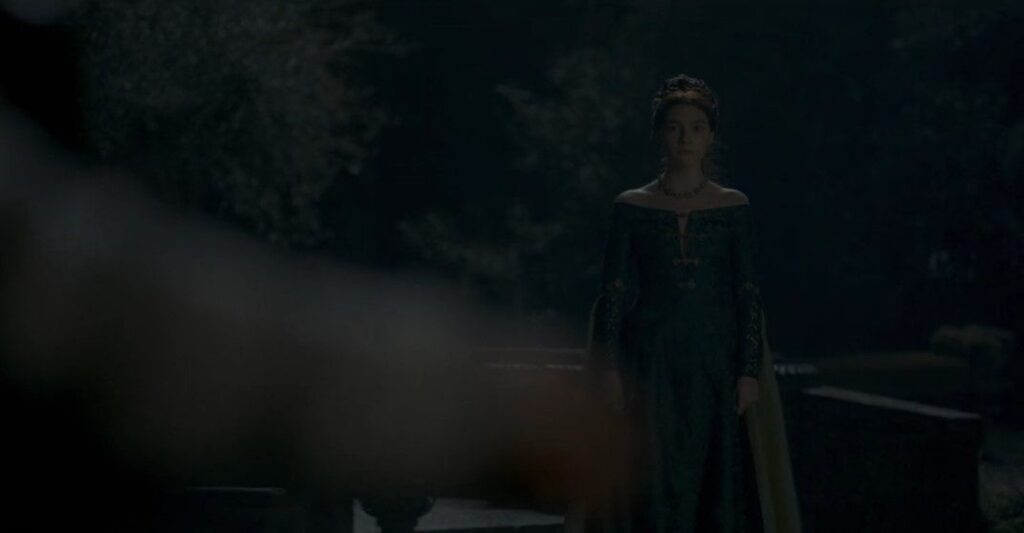 That evening, only their immediate families are invited to their wedding, which is between a traumatized Rhaenyra and a sad Laenor. As soon as the vows are over, King Viserys collapses to the ground and passes out. There is currently no way to determine if he is actually dead or just unconscious. Ser Criston is about to commit suicide outside in the godswood when Alicent intervenes. The king won't be able to rest in peace in the years between this week's episode and the next, though, since Alicent is assembling her army and Rhaenyra and Daemon are drawing closer and closer with each passing day.