House Of The Dragon Episode 4 Recap: HOTD Episode 3 finished with a breathtaking fight scene when we finally got to see a dragon unleash its full strength after some political maneuvering during a hunting party. As the fourth episode titled "King of the Narrow Sea" of the dark epic begins, the arrogant Prince Daemon (played by Matt Smith), who has been victorious in the war and has been the show's strong suit so far comes to Kings Landing in full swagger. Though praise from his sick brother King Viserys (Paddy Considine) may be fleeting, when the mischievous Daemon rescues his restless niece, Princess Rhaenyra (Milly Alcock), from all of the suitors begging for her hand and takes her for a night on the town. There is a lot of gossip in court about his potentially nasty virtue. Viserys Fires Otto.T www.tvacute.com provides a comprehensive recap and review on this page.
House Of The Dragon Episode 4 Recap
Rhaenyra is first seen in a big hall filled with men who are interested in becoming her husband. The first is a senior citizen, and the second is a child. Rhaenyra makes fun of them before deciding to leave.  Alicent sympathizes with the princess and makes fun. Rhaenyra also sneers. One extremely young suitor from House Blackwood stabs the spectator who had jeered him during his presentation with his sword as she and Ser Criston depart the chamber. She instructs the knight to prepare her ship.
Daemon Returns To King's Landing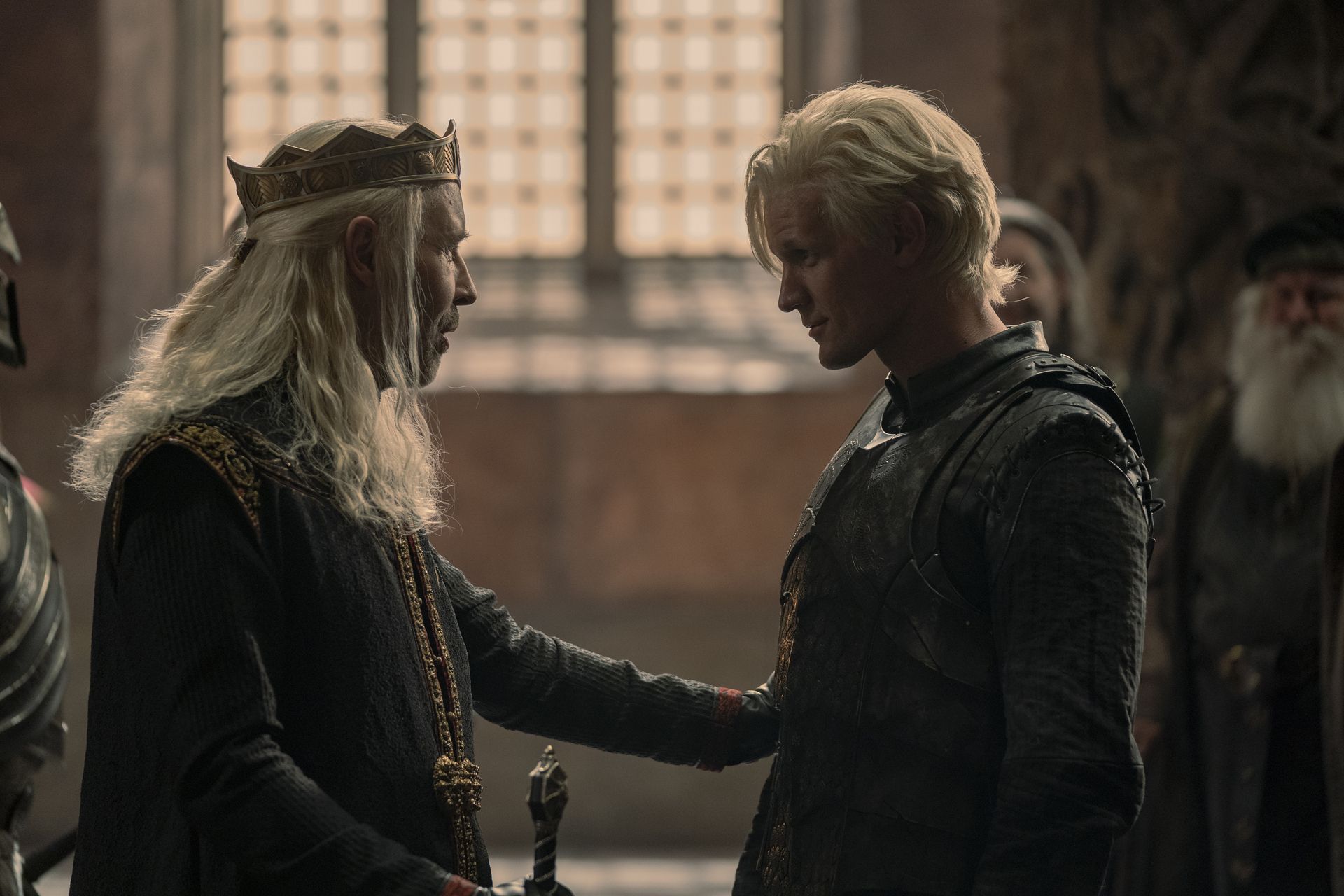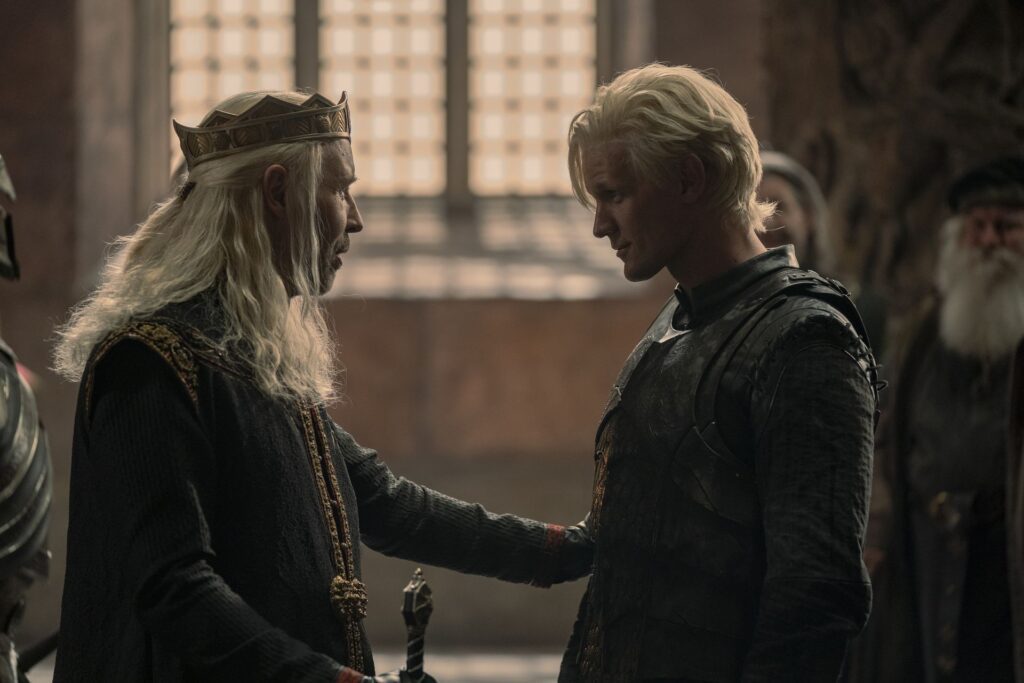 A dragon buzzes the boat as they are extremely close to King's Landing, knocking everyone to the ground but causing no actual harm. When the princess stands up, she has a very happy expression on her face since Uncle Daemon is in town and the dragon is named Caraxes. At the Throne Room, Viserys quickly detects his rebellious daughter's early homecoming despite her best efforts to blend in with the crowd, and he is not amused. he A new, short haircut, Daemon is approaching his brother while wearing a crown that appears to be made of bone as he walks down the aisle. He is also extending the Crab Feeder's weapon, incidentally. Viserys inquire about Daemon's unusual hat.
When will Emma D'Arcy appear in House of the Dragon?
They named me King of the Narrow Sea after we overthrew the triarchy, he responds. But I am aware that Your Grace is the only legitimate king. Daemon continues, "They left about 2,200 of the Crab Feeder's men staked to the beach to warn anyone who might try to take over the area again, and Corlys has sailed home to Driftmark." Viserys spends a lengthy, tense moment taking Daemon's crown, and Daemon and Hightower exchange weighted looks. everyone cheers as he envelops Daemon.
In Meantime, Rhaeynra and Daemon almost defeated the dragon using both of its backs. When she goes looking for him to find out why he's actually back. She observes a change in his maturity. "You've matured yourself, these last four years," he continues. They converse in High Valyrian as they talk about Daemon's wife, how much he despises her, and how while marriage may not always be a death sentence for women due to the dangers of childbirth, it often is. He advises her. She claims that she wants "just solitude," not to live in dread. Otto reports to the small council meeting that Corlys has allied with the Sea Lord of Braavos by promising Laena to the Sea Lord's son. Corlys is still displeased that Viserys didn't choose his daughter, Laena, for a marriage. Otto threatens menacingly that if he did that, "we would have to seek our own marriage pact."
House Of The Dragon Episode 4 Recap: Daemon & Rhaenyra Kiss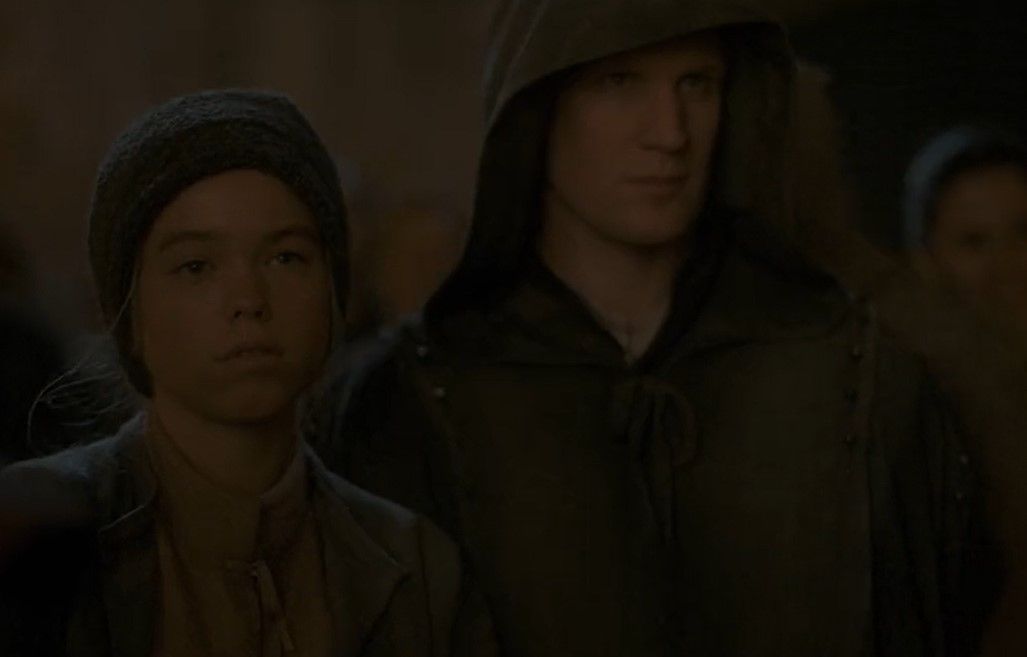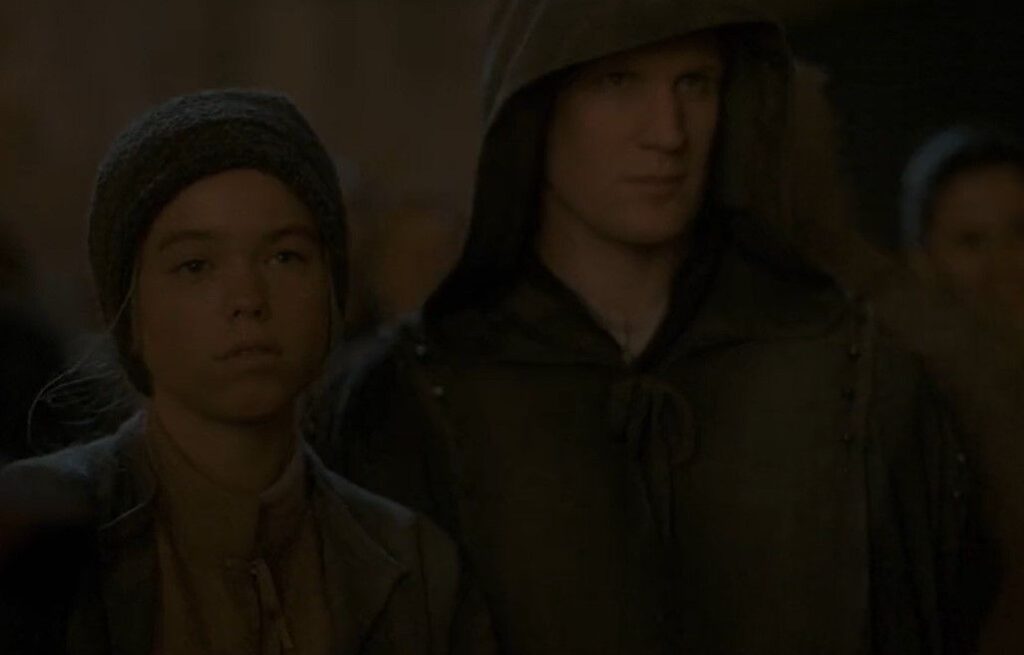 Rhaeynra discovers someone has left her a bag of commoners' clothing and a map pointing to a hidden door in her bedroom wall when she returns to her quarters for the evening. She dons the unattractive ensemble. The covert route brings her to Daemon who wears a hooded cape. They take a tour around King's Landing's sordid underbelly, which includes both public sex. The mob is noisily opposed to Rhaenyra as they pause to watch a farce about the battle for the Iron Throne. She is unconcerned when Daemon points out that the public wants Aegon to succeed Viserys.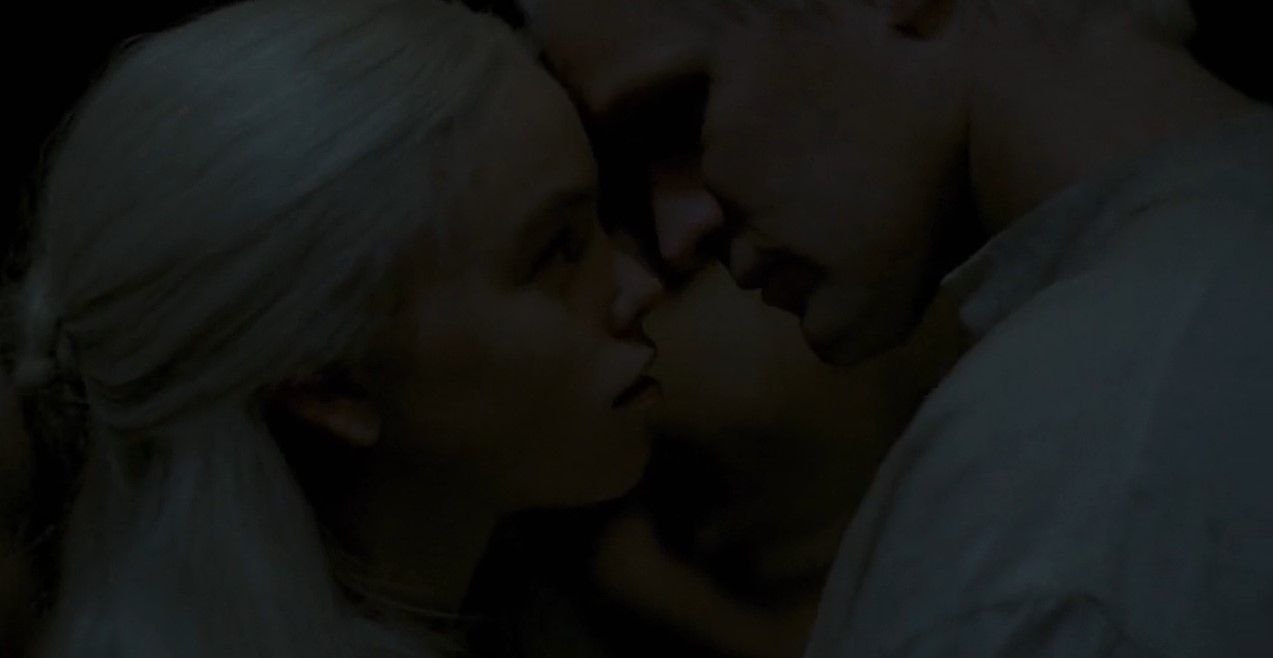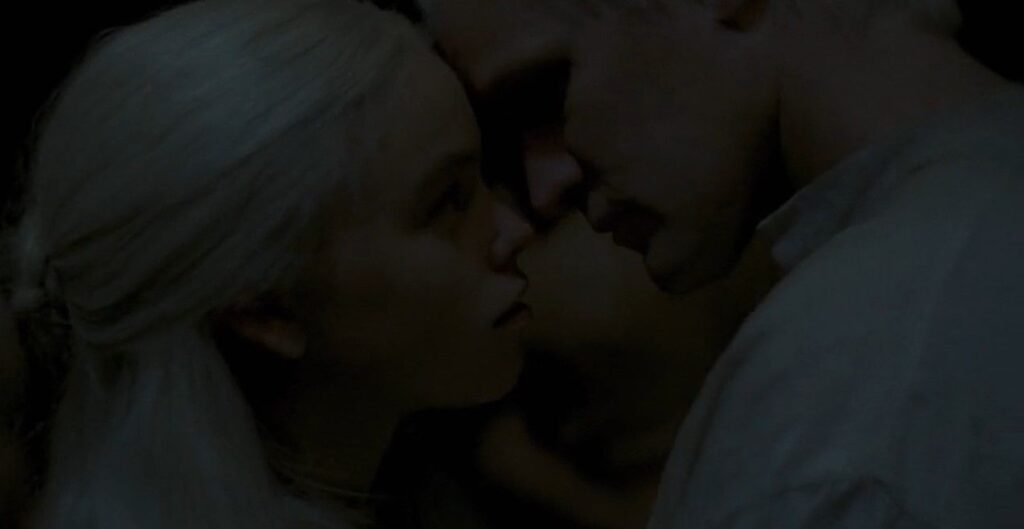 Daemon assures the man he will track down the kid who robbed him before she steals from a vendor as a joke. When Rhaenyra stumbles into a knight who knows her, he gently murmurs, "Take care, boy," and sends her on her way. They eventually end up in a brothel, where all kinds of naughtiness and sexual activity are readily visible. She looks around at all the writhing corpses and asks, "What is this place?" Daemon responds, "It's where people go to take what they desire. He begins kissing her as he creepily explains in a whisper that marriage need not prevent someone from being who or what they want. They are up against a wall and things are getting extremely heated when suddenly Daemon pulls back abruptly. It appears that he has made an internal decision. The princess is easily recognized as she makes her way down the hallway while addressing her uncle by name since somewhere along the way she also took off her cap. and the boy sitting on the stairs pays close attention.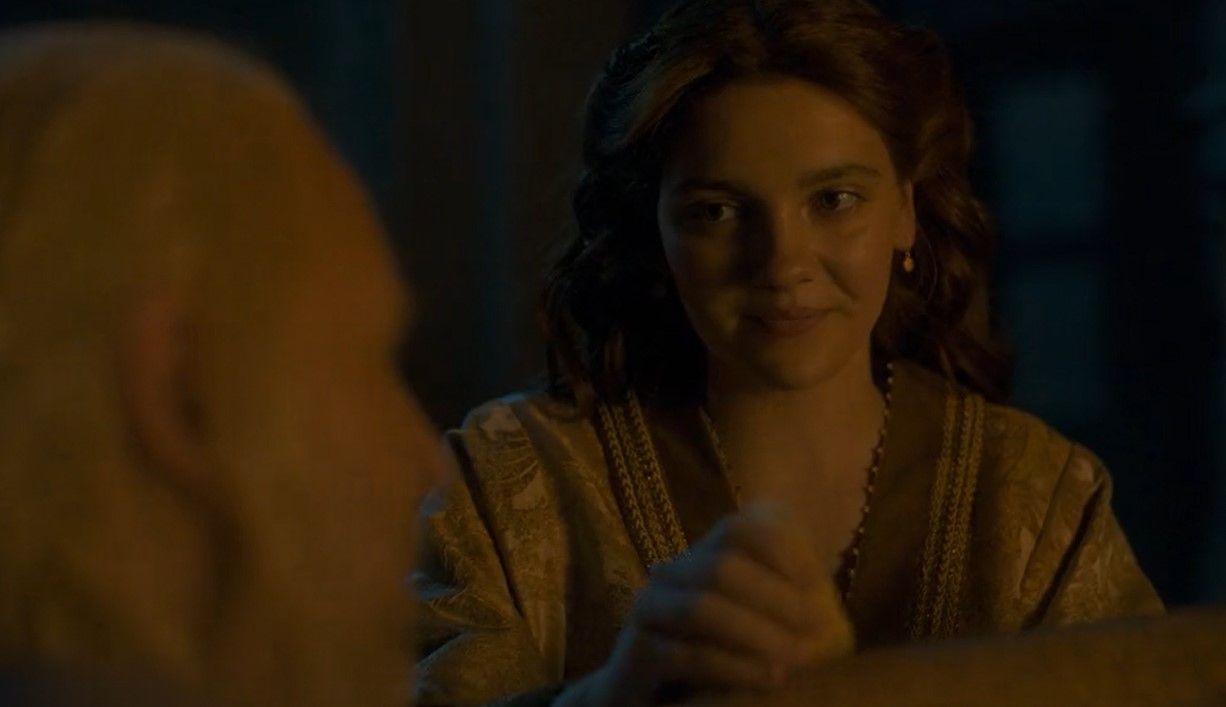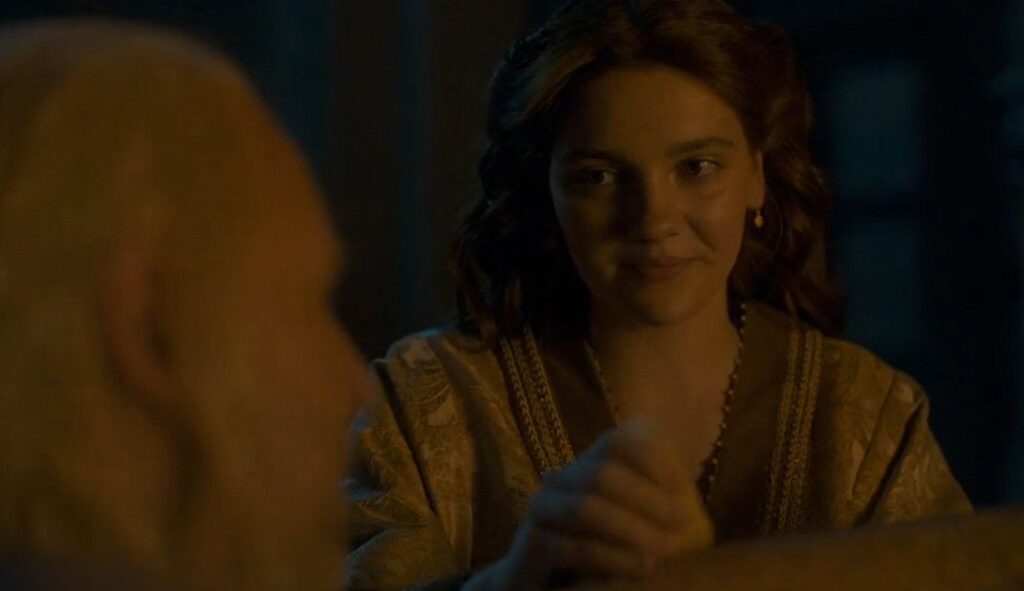 Back at the Red Keep, Alicent spends her nights tending to Viserys' numerous wounds while drinking alone. In the middle of the night, a maid wakes her to inform her that the king needs her attendance.
Rhaenyra & Ser Criston Hook Up
Ser Criston is astonished to learn that the royal he had been watching all night wasn't truly in Rhaenyra's room when she manages to return to the Red Keep and her space. Criston is confused. Rhaenyra starts taking her clothes off. He tries to stop her, but she grabs his hand and pulls him deeper into the house. To lure him into her room, she snatches his helmet and kisses him. Then it appears that he is committed. They both eventually become as nude as they were in their name days, and Princess Rhaenyra soon ceases to be a maiden.
As this is happening,  Rhaenyra's unfortunate because the young boy who saw her at the brothel finds Otto Hightower and tells him. Otto visits Viserys' quarters early the following morning to inform him that Rhaenyra and Daemon were at a pleasure palace Clarification is given to Viserys when he requests it: "Coupling." Viserys, who naturally believes it to be all falsehoods, accuses Otto of ruining Rhaenyra's reputation in an effort to install his grandson on the Iron Throne.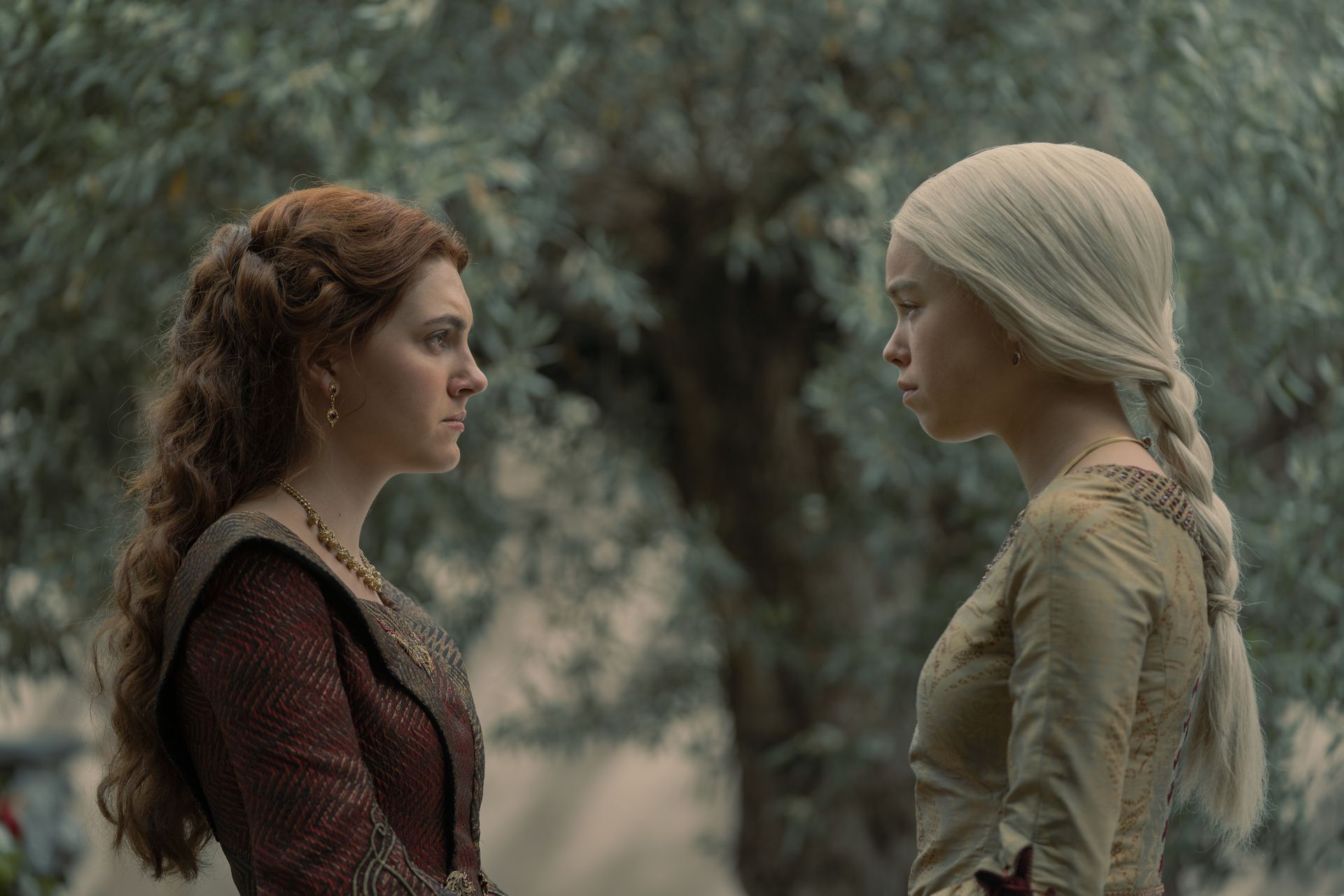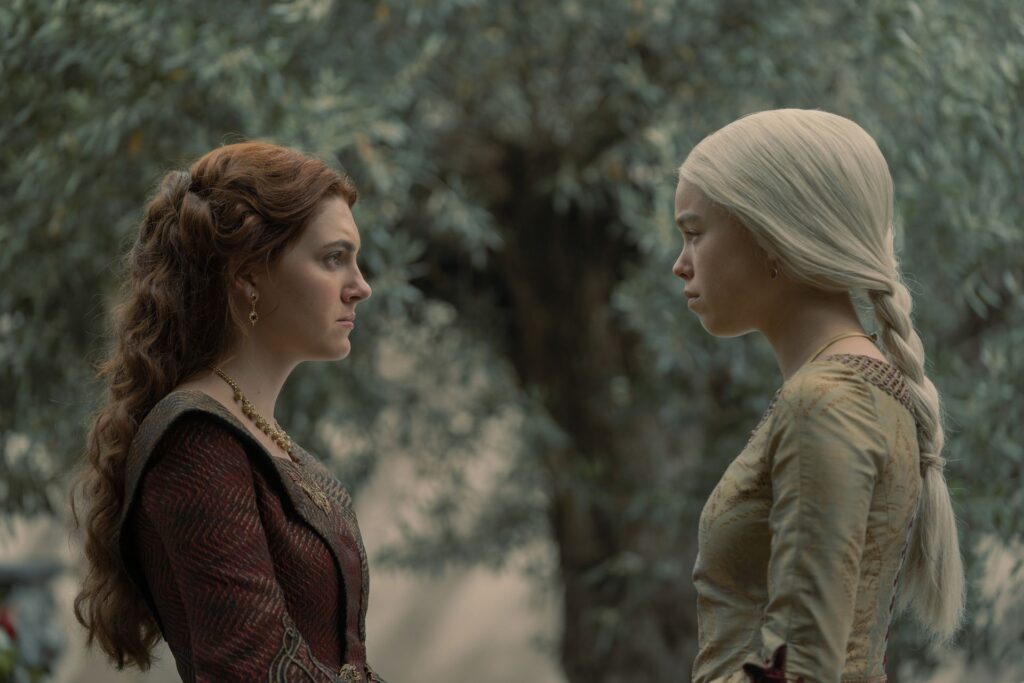 Alicent overhears everything. She then calls for Rhaenyra and directly inquires into the veracity of Otto's statement. Rhaenyra disputes that. The princess, I am. To doubt my virtue is treachery, Rhaenyra declares. Rhaenyra becomes a little less agitated and provides a very sterile account of their evening after Alicent clarifies that she is really trying to assist she exclaims "I did nothing," she exclaims. She further claims that Daemon "abandoned me for some whore" after getting extremely drunk. Alicent appears a little content. So you didn't," she stutters. she goes too far and flat-out lies, saying "Daemon never touched me." " Rhaenyra apologizes in a remorseful manner.
House Of The Dragon Episode 4 Recap Ending
In another location, the kingsguard drags a drunk Daemon before the Iron Throne. Daemon doesn't refute Viserys' charge that his brother defiled Rhaenyra. He continues and says, "Wed her to me." He uses well-known historical precedence. But Viserys only permanently exiles him to The Vale. Alicent and Viserys talk about the situation later. She believes Rhaenyra is telling the truth, whereas Daemon is lying. Viserys calls his daughter to his room to make the marriage announcement, which will bring the naval fleet and the dragons together. She argues that Otto is the actual threat to the realm because he solely wants Aegon to be king and is therefore a liability. She consents to fulfill her duty and wed Laenor. Viserys summons Otto to the small council room. "Your priorities now diverge from those of the realm. He then informs Otto he no longer trusts his judgment, takes off his Hand of the King pin, and turns away from his erstwhile advisor. That evening, Rhaenyra is reading in her room when the master comes in with some tea ordered by the king to get rid of any bad luck. Looks like she is not drinking the tea.