HBO's eagerly anticipated prequel, which is based on George R.R. Martin's Fire & Blood and takes set roughly 200 years before Game of Thrones. Who will eventually succeed weak-willed King Viserys. his bad-boy brother (Matt Smith), his first-born daughter (Milly Alcock, later Emma D'Arcy), or one of his younger male heirs is the subject of palace intrigue and rumors in the kingdom, which is ruled by the dragon-riding Targaryen dynasty. Men would rather destroy the realm than have a woman sit on the Iron Throne, as the king's cousin (Eve Best), "The Queen Who Never Was," puts it. Perhaps it's time to make a change.
Be ready for bloody fights, back-stabbing, and everything else you'd anticipate from a drama set in the realm of GOT, but House of the Dragon is mostly on the familial dynamics of the Targeryens.
All the elements are present in the House of the Dragon trilogy, which starts 172 years before Daenerys Targaryen, for a good epic story. The first episodes undoubtedly lay the groundwork for the plots that will blossom in the second half of the season. Let's find out What happened in the first episode of House of the Dragon titled "The Heirs of the Dragon."  www.tvacute.com brings you the full recap of House of the Dragon Episode 1.
Who narrates the first episode of House of the Dragon?
Is the Dagger that Viserys Give to Rhaenyra the One from GOT? Explained
House of the Dragon Episode 1 Recap [The Heirs of the Dragon]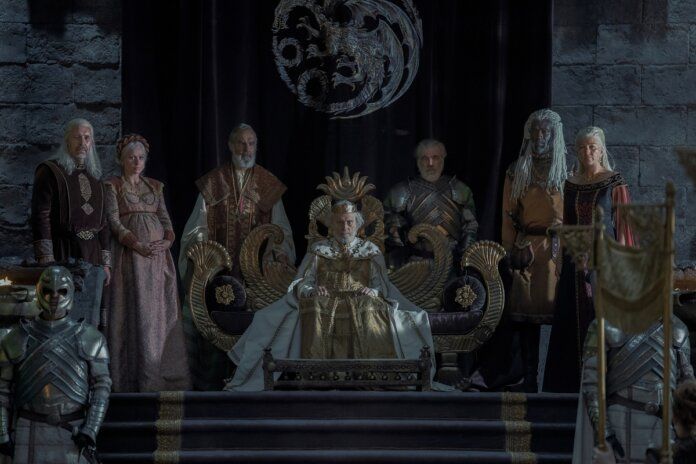 We learn from a female narrator that King Jaehaerys convened a council in Harrenhal while we were watching it. The narrator claims that even if the family's dominion was robust thanks to ten young dragons, no force in the world could oppose it — the king's health is not. He convenes the summit to select a successor as both of his sons have passed away. Even though more than a thousand lords are present and 14 bids are submitted, only Princess Rhaenys Targaryen (Eve Best), the king's oldest female descendant, and Prince Viserys Targaryen (Paddy Considine), the king's oldest male descendant, are actually given serious consideration as potential successors. The king reveals the person who would occupy the Iron Throne after his passing as they both stand by his side with their spouses.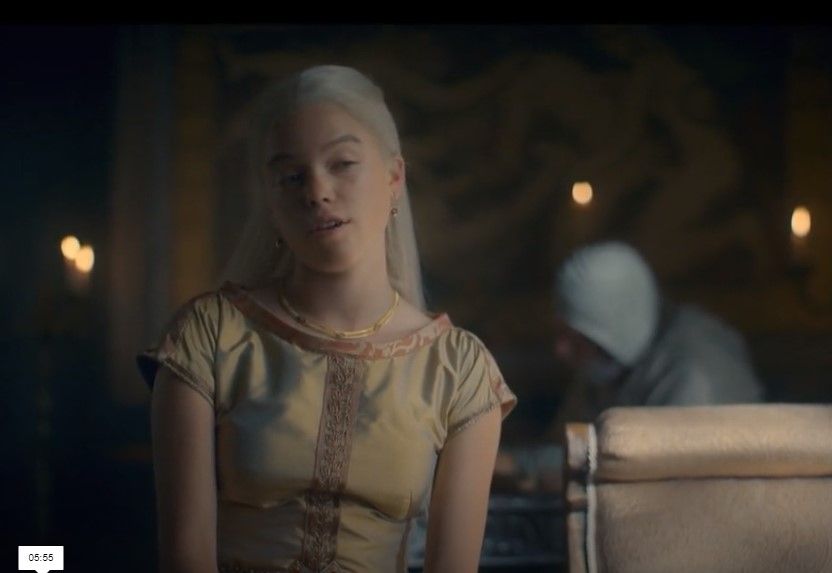 The ninth year of King Viserys' rule, "172 years just before the demise of the Mad King, Aerys, and the birth of his daughter, Princess Daenerys Targaryen," is then flashed forward on a title card. Before engaging in conversation with a neighboring knight, Ser Harrold Westerling (Graham McTavish), and getting closer with her best friend, Alicent Hightower, a young Rhaenyra (Milly Alcock), hops down and tenderly rubs her steed, Syrax (Emily Carey). After being taken back to the Red Keep, the teenagers stop by the queen's chambers. Rhaenyra finds it outrageous that everyone is more concerned with the baby than with her mother, who is quite pregnant and in great discomfort.
The young woman then leaves to fulfill her responsibilities as the king's cupbearer for his brief council meeting. Viserys doesn't seem troubled by the topics being discussed, such as a potential danger to shipping lanes or the absences of his brother Daemon, who is the leader of the City Watch but doesn't appear to be a frequent participant in these meetings. King Otto Hightower immediately silences Lord Corlys Velaryon (Steve Toussaint) when he raises the subject of the shipping channels ( Rhys Ifans). The topic of the king's tournament, which he is throwing to commemorate the impending birth of his next child and ensure that Viserys will have male successors, comes up.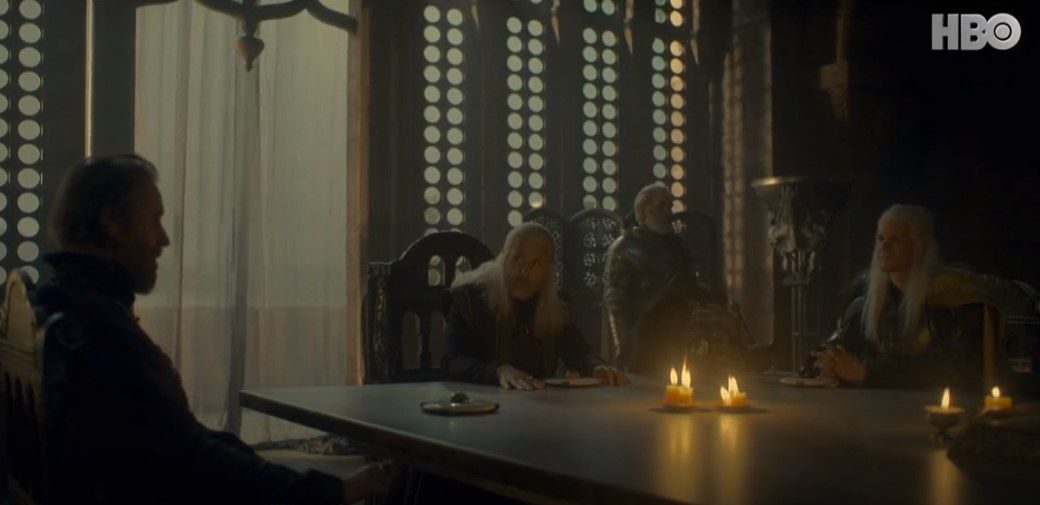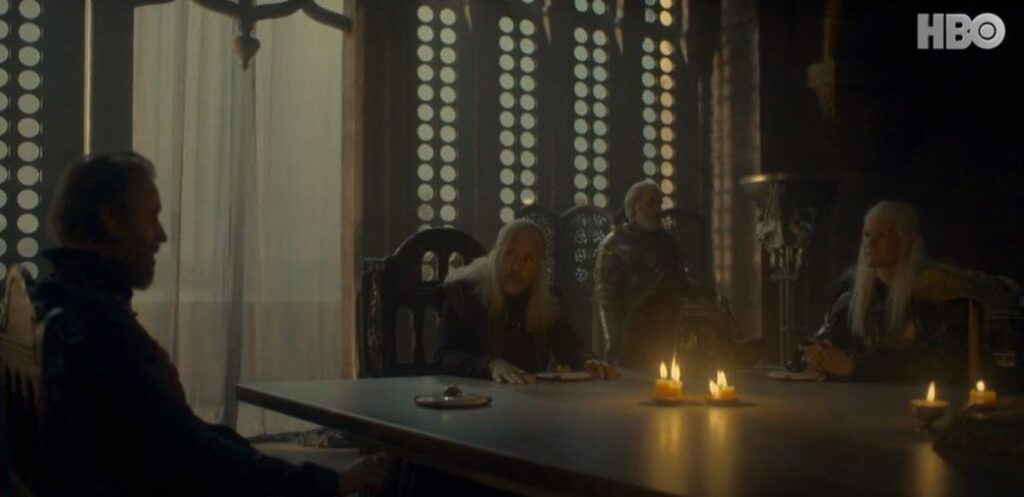 Ser Harrold directs Rhaenyra to Daemon (Matt Smith), who is smugly sprawled from across Iron Throne at this point. He is rather certain of his position as Viserys' successor, and he is back in town for the game. They converse in High Valyrian, and it is obvious from their comfortable back-and-forth that they get along. As he presents her with a necklace made of Valyrian steel, they fall into English. She turns to face him after fastening the jewelry.
Maesters are ministering to the king upstairs, who has a back wound that is tiny but suppurating and won't heal. Otto Hightower and the masters appear to disagree with his assertion that it is not a major concern because it is only a minor cut off the Iron Throne, which nevertheless has rather sharp edges. Viserys pays Queen Aemma a visit after the wound has been cauterised while she relaxes in a bathtub. They show affection. But because of a dream he had about putting his son on the Iron Throne, he is adamant that their unborn child is a son. When she informs him that this is their final opportunity because she has experienced two stillbirths, two miscarriages, and one infant death in the past ten years, things become more serious.
Daemon addresses the City Watchmen that evening, energizing them before letting them loose in King's Landing to administer justice as they see fit. By the time the brutal police force is finished, there are so many body parts that have been separated from their owners that a two-horse cart is required to transport the limbs. When the two men enter the cramped council chambers, Otto is in the midst of lamenting Daemon's violent behavior to the king. and observe Daemon smirking as he sits there. He says that he was simply cleaning up King's Landing in preparation for the influx of tournament visitors, and his brother agrees while admonishing him to be a little less harsh. Then Otto makes fun of Daemon for failing to care for his wife, who is in their home in the Vale, and Daemon responds by recalling to Hightower that his own wife died recently. At this point, I'm beginning to believe that these two are at odds with one another, people. When Viserys intervenes and orders them both to stop, Daemon responds by saying he understands before walking away. Daemon enters a brothel because he is unable to bear the notion of surrendering the Iron Throne to a child. Mysaria (Sonoya Mizuno), the woman he is with, appears accustomed to stroking the prince's ego.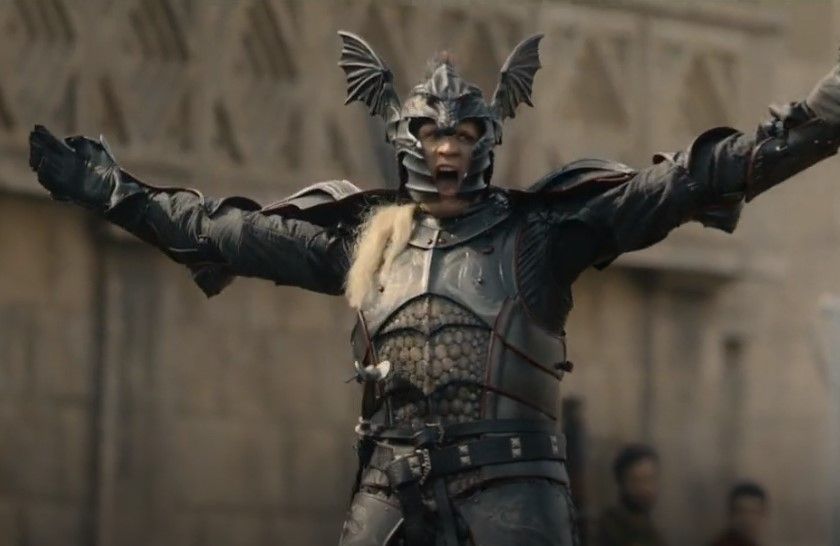 It's time for the tournament, which will be bloody in several ways. When Viserys announces that Queen Aemma is giving birth, the audience applauds. When Rhaenyra inquires, Ser Harrold responds that the young man is common-born, but that is pretty much all he knows. The first few runs demonstrate that Ser Criston Cole (Fabien Frankel), an unknown character on court, is quite skilled at jousting. The following character is Daemon, and he chooses Otto Hightower's eldest son as his first foe. A furious Daemon tripped Hightower's horse on the second pass after the first pass resulted in a good hit for him, causing the horse to toss his rider as he falls. Daemon pleads for Alicent's help when he triumphantly approaches the king's box, giving Otto yet another slap in the face. To the extreme dismay of her father, she delivers it to him.
The crowd continues to cheer as several jousts turn into terrible hand-to-hand combat during the course of the day. The young guys competing have never seen war, so they battle, as Anita so eloquently phrased it in West Side Story, Rhaeyns thinks to her husband. A contender is being physically assaulted on the grounds in front of them, and a neighboring squire is throwing up as he watches. Eventually, Ser Criston defeats Daemon, forcing him to fall halfway off his ride and be thrown down the rail. Then, Daemon orders the match to resume man-to-man, and it does. However, Criston is just as effective while not mounted, and Daemon eventually gives in. Then the unidentified knight comes up to Rhaenyra and begs for a favor, which she grants while wishing him luck.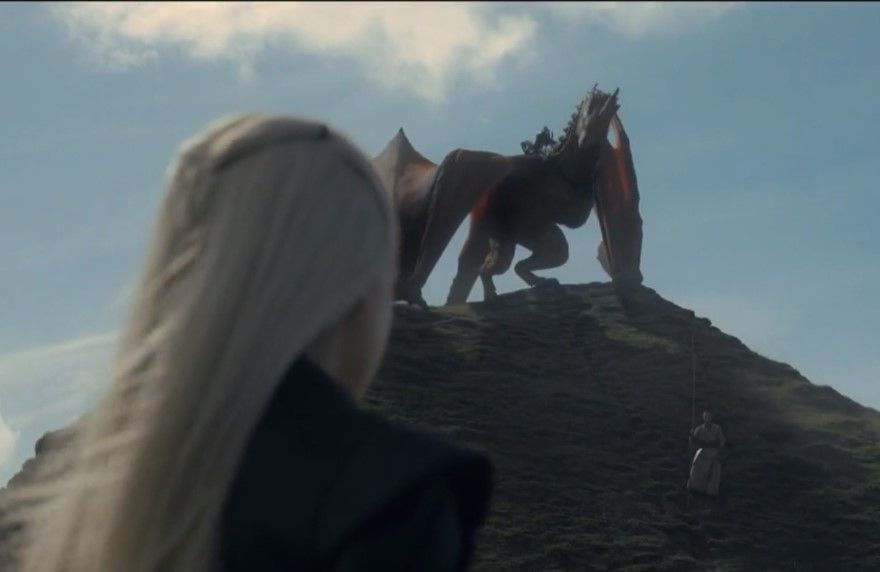 A master summons the king aside and tells him the baby is breech, or in the feet-down position, which is obviously Not Great at a time when anesthesia-free Caesarean procedures rarely go well. The king is eventually forced to choose between losing them both and cutting Aemma open in an effort to try to save the child. Slice and dice is ordered by the monarch, and the king's confused and incoherent wife has no say in the matter. To his (very limited) credit, Viserys appears dejected when he declares his love for Aemma shortly before she bursts into tears, expressing her fear of what is taking place. She begins to scream as soon as they cut. There is a lot of blood. The delivery of the infant boy, whom Viserys names Baelon, is successful. But Aemma is gone. Everyone in the royal box is informed by Otto.The worst part: Aemma was sacrificed for naught, and Viserys and Aemma's child perished shortly after his mother. Rhaenyra then commands her dragon to light the pyres on fire while sobbing.
The small council convenes to discuss whether Daemon is a suitable leader after quickly deciding that the succession must be decided upon as soon as possible. Some claim that Daemon might assassinate Viserys in order to seize power sooner rather than later. Otto then offers that the king's firstborn child take the place of the named heir. That comes to an end when a distraught Viserys exclaims that he won't deal with the situation right now. When Alicent, his daughter, arrives home, Otto is already in his room. the king's bedroom to "give him comfort" until he instructs her to put on one of her deceased mother's dresses. She does. She brings a book about history. She watches him work on a massive model of King's Landing that he is carving while they sit together. She apologizes for his loss and tells him so.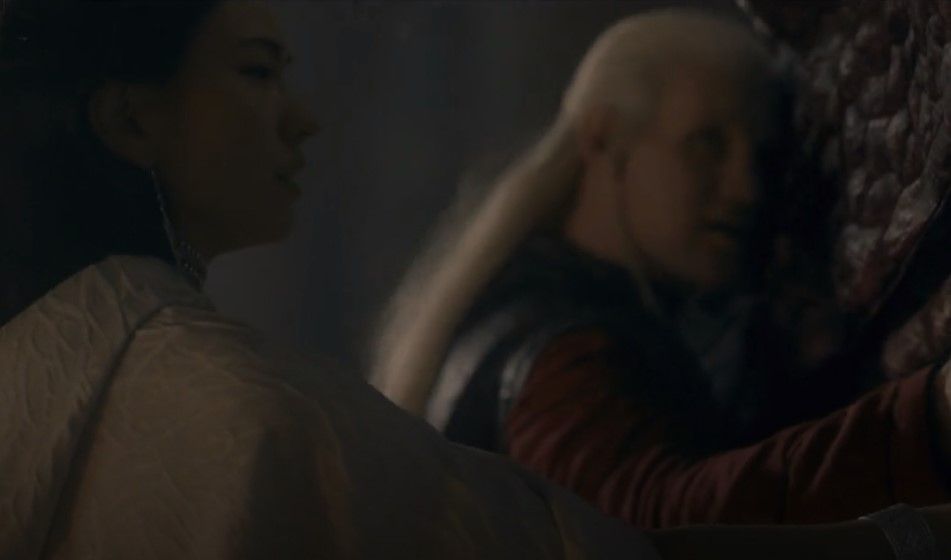 When Mysaria toasts him as the king's sole heir once more, Daemon stays out at the bar and ends up making a speech about how "I'm not so easily replaced" and referring to his dead, newborn nephew as "The Heir For a Day." The following morning, Otto informs Viserys of everything, and even Rhaenyra is shocked to learn that her uncle had celebrated the death of the family. To personally question his brother about whether or not he said the heir thing, Viserys summons him before the Iron Throne. Viserys attacks him, declaring that he has always provided justifications for him. Daemon responds that Otto does not serve as the king's protector and that he has never once been asked to serve in that capacity. Then, because he is no longer the heir, the king orders his brother back to the Vale. Viserys cuts his hand on his chair as Daemon departs, and it bleeds.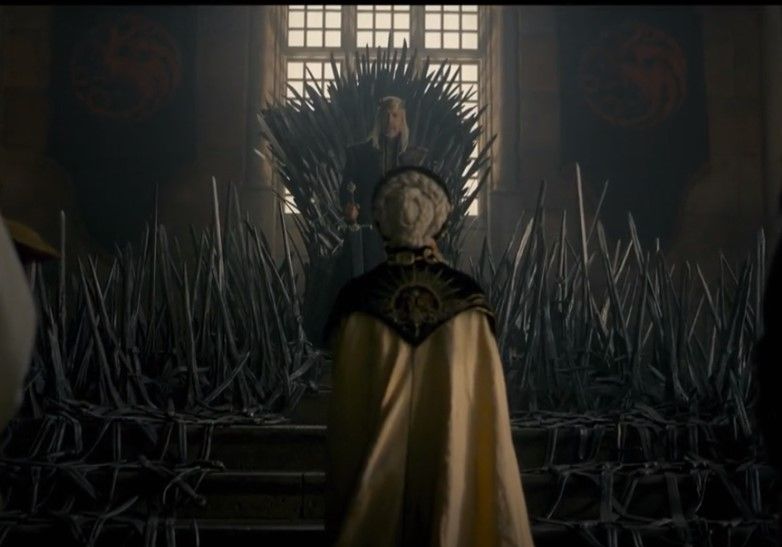 The king then talks with Rhaenyra to discuss extending the Targaryen dynasty. He expresses regret for having been so preoccupied with producing a son before informing her that he now thinks she was destined to hold the throne. He continues by outlining the two requirements for Targaryen rulers: The widespread beliefs about Targaryens in Westeros, including their ability to tame dragons, must not be believed by a Targaryen. Aefon Targaryen predicted that an "awful winter" that can only be weathered with a Targaryen on the throne will bring about the "end of the world of man." He continues, "This secret must be kept, guarded, and passed along." Strong enough to unite the realm against the dark, a king or queen. The Song of Ice and Fire was Aegon's name for his dream. While a result, Alicent prepares her companion for a very visible loyalty oath, and Rhaenyra stands before the Iron Throne as all the lords make the pledge. The rulers of the kingdom swear allegiance to Rhaenyra as the episode comes to a close with Daemon riding off on his dragon, Caraxes.