In "Selling Sunset," the high stakes of reality television collide with the allure of luxury real estate. We delve into Episodes 10 and 11, examining the fascinating flips and turns of the high-stakes real estate market entwined with the interpersonal dynamics of the O Group team, in the thrilling Season 7 conclusion. tvacute will analyze the standout moments, character conflicts, and shocking resolutions that kept us both guessing and in complete amazement as the season draws to a close.
Selling Sunset Season 7: Who is Cassandra Dawn?
Selling Sunset Season 7 Episodes 10 Recap
The show's careful staging in Episode 10 stands in stark contrast to the season finale's relatively aimless direction. In contrast to other seasons, this episode has a more somber tone that makes it feel more like a continuation of the narrative than a stand-alone segment. Even if most of the group appears to be getting along by the end, it's clear that the show finds it difficult to develop interesting plots when its characters are afraid to get too real on screen.
Interestingly, Chelsea becomes a key character in this episode by using a tried-and-true American tactic to take on her enemies with the least amount of risk possible: a proxy war. At the new office opening celebration, she sets up a heated altercation between Cassandra Dawn and Bre Tiesi, showcasing her depth of cunning and love of drama. However, because it lacks a strong basis and is mostly based on stubbornness and paranoia, the rivalry between Cassandra and Bre is unable to hold the attention of the viewer.
Conversely, Chelsea isn't afraid to give Bre more reasons to despise her. She freely acknowledges that Bre's displeasure is one of the reasons she likes Cassandra. An intriguing twist to the plot is added when Chelsea offers to co-list with them on a gorgeous Bel Air property, giving this rivalry an intriguing new direction. However, it's still unclear if Bre will choose to stick with the O Group.
The O Group now has new opportunities as a result of the larger, newly constructed office space. In an effort to bring fresh energy to the program, Brett and Jason intend to appoint other agents. This seems like a good idea since it would relieve some of the strain on seasoned performers like Chrishell, Mary, and Amanza, whose personal tragedies have carried the program through seven seasons.
The new office space indicates expansion, but it also suggests that things need to alter and be revitalized. While Emma is unimpressive on screen, Cassandra, despite her lackluster screen presence, might provide fresh plotlines. After first finding her niche in Chrishell's arguments, Nicole is now having trouble fitting in with the group dynamic. If Bre chooses to leave, Chelsea's possible exit presents concerns about the dynamics of the show going forward.
The sequence where the O Group moves offices is one of the episode's most interesting—though slightly strange—moments. There is loose-leaf printer paper labeling the moving boxes with the words "New Office." This odd decision raises questions and makes us wonder if this is a regular occurrence or a reaction to any offensive material that may be concealed on the packaging. When such subtleties hold our interest, it's a testament to the overall mystery of the program.
Amanza's internal conflict also comes to light as she struggles with Chrishell's rage. Amanza's emotional emails to Chrishell reveal her wish for peace and her inability to handle disagreement. Their touching reunion during the office grand opening highlights the close relationships that the group maintains, despite disagreements.
Selling Sunset Season 7: Are Jason and Marie-Lou Still Dating?
[Finale] Selling Sunset Season 7 Episodes 11 Recap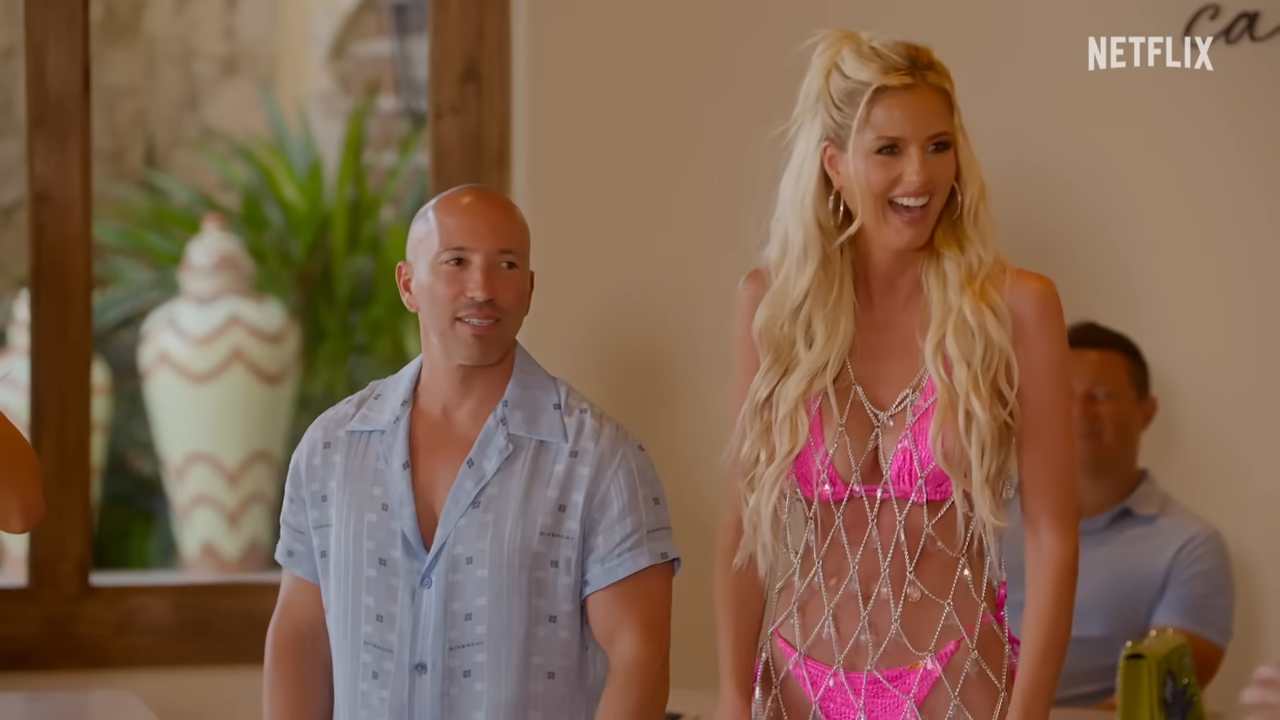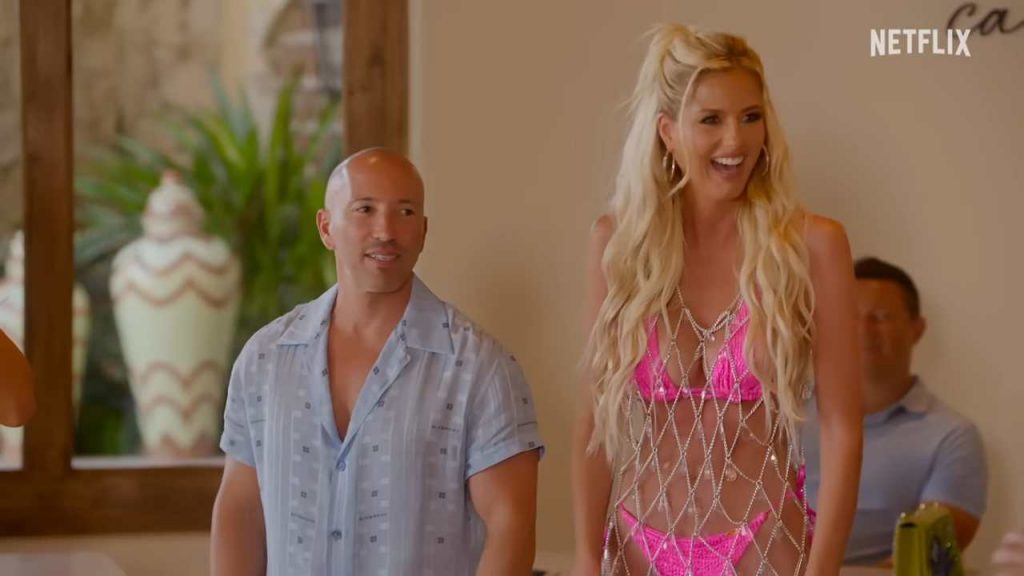 We continue to delve into the intricate world of the O Group and its real estate transactions as we examine Episode 11. The episode clarifies the fallout from the emotional make-goods and confrontations of the previous episode. The group's interpersonal relationships are still central to the story, giving it more complexity.
Even though Chrishell's closet appears to be heaven, the group becomes tense when it is revealed that she is planning a covert wedding. There are conflicting feelings about her decision to keep her wedding off the television and hidden from her fellow O Group members. The weight of this secrecy particularly strains Amanza's relationship with Chrishell.
The story gains some hilarity when Emma walks inside a tiny elevator and finds herself in a dangerous scenario. Jason gives us a real estate tip in this episode as well, telling us about "Viola marble" and its distinctive purple color.
Interestingly, at one point we see Brett wearing his AirPod like a cigarette on top of his ear, emphasizing the cast members' quirks. These oddities and eccentricities add to the enjoyment of the event.
The main issue in the episode centers on Chrishell and Amanza, two sensitive people who dislike confrontation. Although it is a comfort, their reconciliation serves as a reminder of how crucial mutual trust and understanding are to the group. The O Group members' strong sense of camaraderie is evident in their desire to keep their close-knit friendships.
The "Selling Sunset" Season 7 finale is an intense emotional rollercoaster that features a seductive blend of personal turmoil and opulent real estate. The O Group's complex connections are explored in depth in Episodes 10 and 11, highlighting the individuals' strengths and weaknesses.
The future of the O Group and its members is something we have to consider as we say goodbye to another exciting season. The show promises new plots and interesting events in the upcoming seasons, along with the addition of more agents and a larger office area. "Selling Sunset" is still a fascinating mix of upscale real estate and reality TV drama, and we can't wait for more episodes.
In the universe of "Selling Sunset," winning the game of relationships and personal development is just as important as closing sales. The glories of Bel Air houses may not necessarily show the victors, but the relationships created and upheld amid the glitz and glamour of Hollywood real estate do.
Selling Sunset Season 7 Episode 1 Recap: The Real Estate Apocalypse