Taylor Sheridan's vast TV universe, which began with "Yellowstone"  the most popular show on TV and followed by last year's folksy frontier drama "1883," continues with "1923. Here we are several generations into the Dutton family's history, and the same issues of greed, brutality, and the (perhaps misguided) desire to preserve the status quo persist.  When the fourth episode aired on January 8, the show went on hiatus until its return on February 5. The fifth episode of 1923 was eagerly anticipated by viewers because they were curious as to whether or not the character of Spencer, played by Brandon Sklenar, would return to his family in order to save them. We will meet a new character in the fifth episode which will bring a change in Teonna's life. Who plays who in 1923 episode 5, though, and how do they all figure into the bigger picture of Yellowstone Origin story"1923"? Check out tvacute.com's full character and cast breakdown to learn:
1923 Episode 5 Recap 'Ghost of Zebrina': Is Emma Dutton Dead?
1923 Episode 6 Cast [One Ocean Closer to Destiny]
• How to Watch 1923 Season 1 Episode 5 Online
• Watch the 1923 Episode 5 Trailer: Will Spencer Dutton return to the Montana Ranch?
•Who is John Dutton's Grandfather? Theory Cleared!
•1923 Episode 4 Recap: Does Spencer Read the Letter from her aunt Cara?
1923 Episode 5 Cast: Meet a New Member – Michael Greyeyes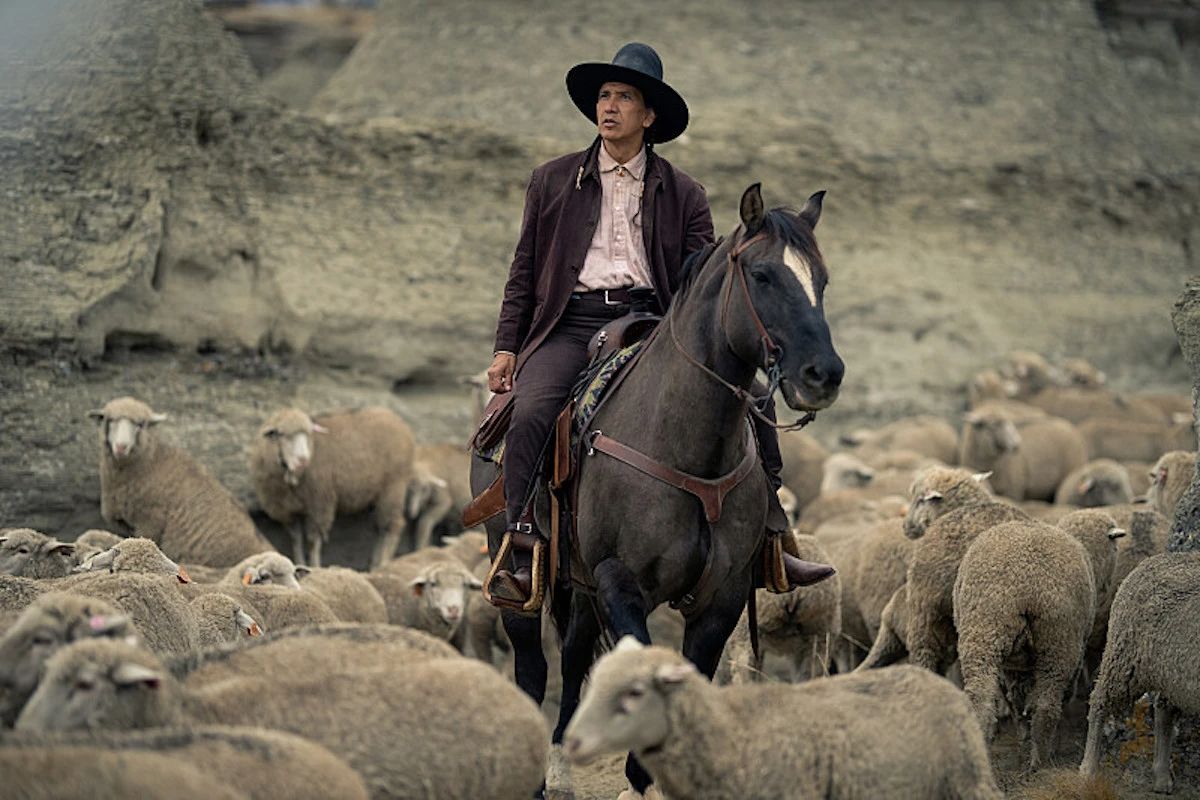 Michael Greyeyes is an Indigenous Canadian actor choreographer and director who was born on June 4, 1967. He is a Plains Cree man named Nêhiyaw who comes from the Muskeg Lake Cree Nation in Saskatchewan, Canada. In the 1996 TV movie Crazy Horse directed by John Irvin, Greyeyes played the part of Crazy Horse is based on the true story of Oglala Lakota war chief Crazy Horse and the Battle of Little Bighorn. In Woman Walks Ahead, which came out in 2018, Greyeyes played Sitting Bull to great reviews.
He was the main character on the sitcom Rutherford Falls from 2021 to 2022. At the 9th Canadian Screen Awards in 2021, he won the Best Actor award for his role in the zombie movie "Blood Quantum," where he played Traylor. He plays John Rainbird in the 2022 movie Firestarter, which is based on the same-named Stephen King book. He has also played parts on TV shows like Fear the Walking Dead and True Detective. In 2023, he will be one of the panelists for Canada Reads, where he will talk about Emily St. John Mandel's book Station Eleven. Greyeyes works at York University as an associate professor of theatre. He is married to Nancy Latoszewski. The girls, Lilia and Eva, were born in 2002 and 2004.
1923 Episode 5 Cast
Isabel May, who in the 1883 series portrayed Elsa, the daughter of James and Margaret Dutton, is the only actor who is credited as a main cast member on both of the shows' prequels. She is the one who provides the narration for both of the prequel shows.
• Isabel May as Elsa Dutton (voice)
• Helen Mirren as Cara Dutton
• Harrison Ford as Jacob Dutton
• Brandon Sklenar as Spencer Dutton
• Julia Schlaepfer as Alexandra
• Jerome Flynn as Banner Creighton
• Darren Mann as Jack Dutton
• Brian Geraghty as Zane Davis
• Aminah Nieves as Teonna Rainwater
• Michelle Randolph as Elizabeth • Strafford
• Marley Shelton as Emma Dutton
• Timothy Dalton as Donald Whitfield
• Rest of the cast in 1923 episode 5
• Peter Stormare as Luca
• Brian Brown as Jasper
• David Chevers as Union / Castle Clerk
• Caleb Martin as Dennis
• Kerry O'Malley as Sister Alice
• Leenah Robinson as Baapuxti
• Sebastian Roché as Father Renaud
• Clyde Vassallo as Porter