In the fourth episode of the first season of 1923, Cara and the Duttons, in the aftermath of the attack, meticulously plot their next move. While Spencer and Alexandra indulge in all that Zanzibar has to offer, they have no idea what is going on back in the United States. Banner Creighton is looking to join forces with a formidable ally.  Does Spencer read the letter Cara sent to him at the end of the last episode? if reads! He might put a temporary stop to his exploration of South Africa after realizing how serious the situation is. (tvacute.com) Here is all you need to know about the conclusion of the 1923 Episode 4 Recap titled "War and the Turquoise Tide", in case you missed any of the exciting moments.
1923 Episode 4 Recap: "War and the Turquoise Tide"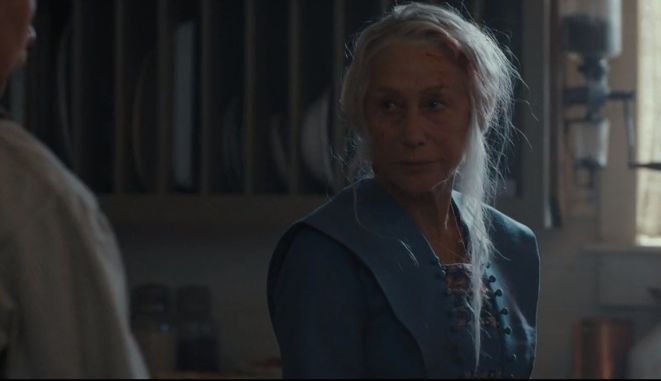 Paramount+'s 1923 episode four begins hours after the doctor hurried to Yellowstone Ranch to save Jacob. After the medical team leaves, Cara (Helen Mirren) searches the kitchen, where blood is still seeping from the table. She escapes with a handkerchief. She sobs at the sky. She recovers and finishes cleaning up as ranch foreman Zane Davis (Brian Geraghty) arrives. Zane informs Cara he and his men can clean up after passing the fatigued doctor and nurses resting in the living room. She refuses and orders him to take her letter to Spencer. Zane worries it will take several months. Cara understands a wire would draw attention and wants to keep what occurred a secret. She didn't require the sheriff or inform the town the Duttons were attacked and lost everything. Jacob (Harrison Ford) survives the night, but barely. Zane advises Cara to say farewell while she can since the family patriarch needs a miracle. Cara maintains hope. Zane escapes with just a few ranchers but leaves one to guard the main home. He must kill unfriended people.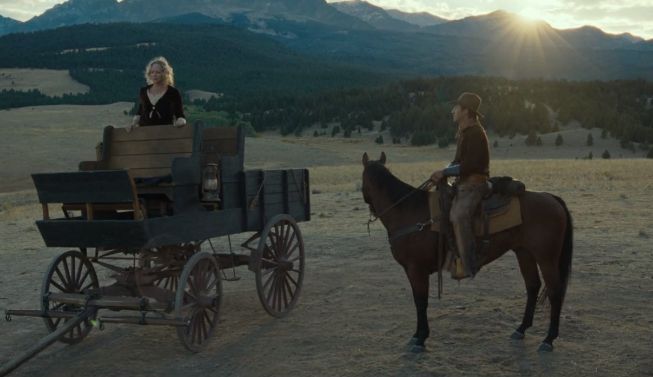 Later, Emma (Marley Shelton) carries her partner, John's (James Badge Dale) body to the Dutton family's cemetery. She's soon joined by cowboys who dig the grave next to Margaret, John's mother. Jack (Darren Mann), Emma's son, was wounded in the attack but can observe Elizabeth (Michelle Randolph) while she naps. When Cara examines Elizabeth's wound, he's holding a firearm and sitting. Cara changes the dressing of Elizabeth's wounds while Jack checks in on Jacob.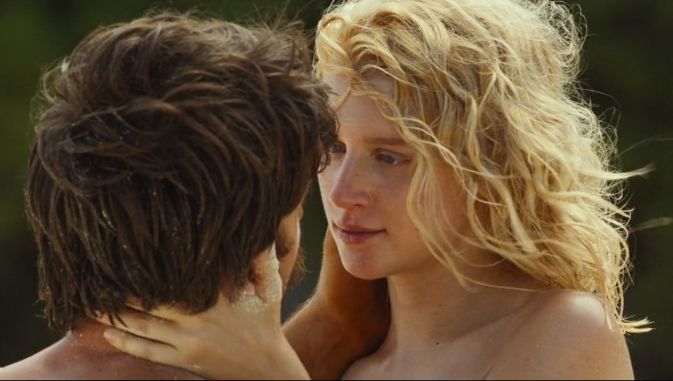 Next, we see, At Spencer's cottage next to the ocean – Spencer (Brandon Sklenar), and Alexandra (Julia Schlaepfer) spending time together. the newlyweds learn more about each other's life. Just a little bit later, Alex starts to get concerned about their future living arrangements. In order to appease her parents and supplement their income, she believes they will need to make occasional trips to London. Alex's brother was killed in action during the First World War, which they discuss. They go swimming but can't keep their hands apart. Alex quips that her strategy is succeeding and that she will soon have Spencer under her control.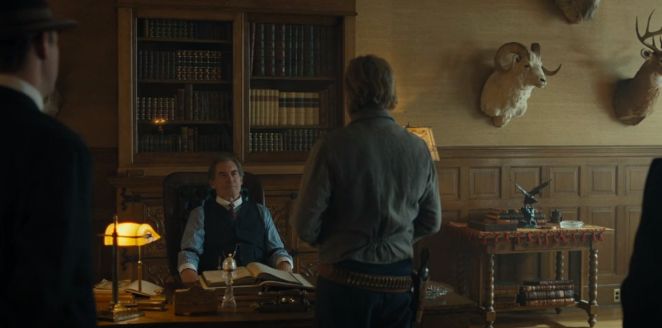 Thus, Donald Whitfield (Timothy Dalton), a successful businessman headquartered in Montana who is interested in the Dutton family's land, introduces himself to Banner (Jerome Flynn). he informs Whitfield of Jacob Dutton's alleged demise and declares the Yellowstone Ranch unprotected. The Yellowstone Ranch is currently managed by women. Donald inquires as to their cause of death, but Banner offers no specifics. After he conquers it, he offers the businessman a share of the Yellowstone Ranch. Banner wants an army to battle the Duttons in exchange. Banner claims that if Donald supports him right away, he would have full access to Yellowstone, which has the highest concentration of gold, silver, and coal of any region in Montana. Whitfield accepts Banner's request for assistance in exchange for the right to mine the mountains that belong to the Dutton family. Whitfield funds Banner's troops to overthrow the Duttons when he agrees. Banner and his men then rob half of Yellowstone's herd in the dead of night.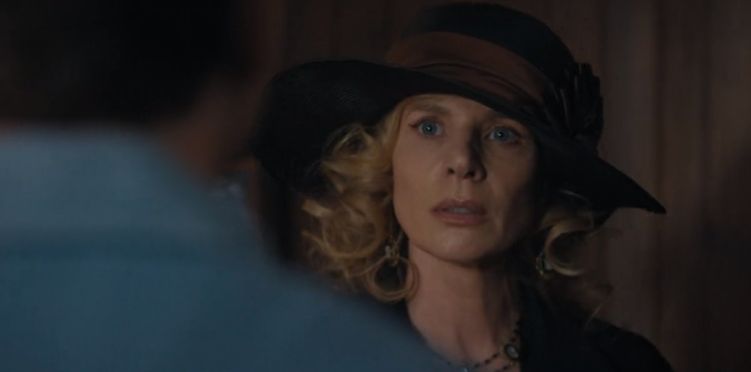 The mother of our heroine, Elizabeth, ventures forth to get the corpse of her husband Bob Strafford (Tim Dekay) from the icehouse. While Cara and Elizabeth are alone. Elizabeth is adamant about her decision to marry Jack. Cara steps in and lets Elizabeth make the call on her own. Elizabeth makes the Yellowstone ranch her permanent residence. Cara and Elizabeth's mother Beverly (Jessalyn Gilsig) have a disagreement over Elizabeth's decision, with Cara saying Elizabeth can leave if she wants to but that Beverly has no right to take her. The terrible news that the livestock in the east camp has been stolen is delivered by Zane literally moments after Beverly departs.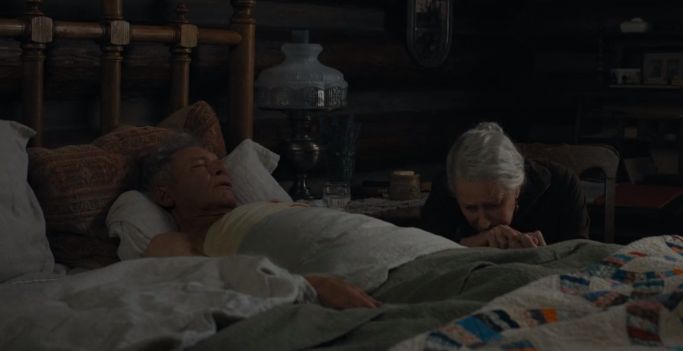 Jack is eager to accompany Zane, but Cara is adamantly opposed to the idea. Jack thinks they should confront the sheepherders directly. While laying in bed with Jacob, she says a prayer and explains the precarious position to him before inquiring what he would do. When Jacob finally came to, he told him, "You be the leader." Cara can't believe he's awake, and she's even more surprised that he expects her to manage the ranch. They should wait until Spencer gets there before engaging in battle. Cara goes outside to tell Zane and informs Zane that Jacob wants to talk to him. According to Zane, it could be a year before Spencer gets back. Jacob recommends Zane send Cara to the meeting on livestock as well.  A voiceover from Elsa (Isabel May) says We fight for what we believe until we have it or we are destroyed by the pursuit.
1923 Episode 4: Is Sister Mary Dead?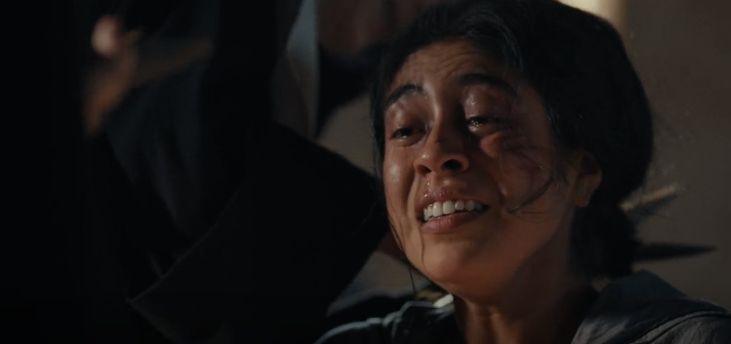 Teonna Rainwater (Aminah Nieves) is still being abused by Sister Mary, her teacher at the catholic boarding school.  Sister Mary (Jennifer Ehle), however, has the assistance of the other nuns in holding Teonna down while she is beaten by a ruler. Teonna's Native American ancestry is seen by Sister Mary as a demonic possession that drives the young girl to anger. She wants Baapuxti (Leenah Robinson) to accompany her, confident that no rule exists requiring them to work as servants or endure punishment. After stealing Baapuxti's bible, Teonna declares that she is waging war. She slaughters Sister Mary in her sleep one night by slamming the Bible into her face and suffocating her. She marks Sister Mary's face with a wooden ruler after she dies. Teonna has ditched school and is making her way back home.

The Yellowstone cowboys and Zane have arrived in town, and Cara is coming with them. To address the crowded town hall, she sits in Jacob's chair. Cara says that cattle thieves have hit Yellowstone and Jacob's in Wyoming, and she is on the hunt for them. After the meeting of the Livestock Association, Banner has a confrontation with Cara in which he criticizes her of lying in front of other members. He cries out that Jacob Dutton has passed away, leaving the Yellowstone Ranch without any protection. But, Cara cautions Banner that his struggle is now with her and that her nephew would not forgive him if he continues to attack her. While Banner assumes Cara is referring to the late John Dutton, Cara has trust that Spencer would come back and aid his family in their fight against its foes. .
1923 Episode 4 Ending: Does Spencer Read the Letter from her aunt Cara?
While Alex and Spencer are spending the evening together in happiness, Alex discovers a big pile of letters wrapped in ribbon among Spencer's belongings. Spencer claims his aunt Cara Dutton sent them to him, but he ignored them. Spencer tells Alexandra that, ever since he enlisted to fight in World War I, he has received letters from friends and family back home. Spencer eventually recognized that the letters brought back memories of home and left him feeling emotionally fragile. Spencer is urged to read the letters by Alexandra. Spencer has been harboring regrets about over two years of unopened mail. she advises that they read the letters aloud to start casting out the demons. they stay up all night reading the letter Cara sent them.  Cara writes what she has learned about the war from letters, while flashbacks show Spencer fighting. he would come back soon in a letter she wrote. Alex has already started crying and realizes that she may have made a mistake.
However, Spencer requests that she continue reading the correspondence. Alex's tears return after reading a letter about the loss of Emma and John's child. Jack's sweetheart, Elizabeth, is described in detail. By reading his letters, she has fallen deeply in love with his family and can't wait to finally meet them. There Are Letters After Spencer has gone to sleep, Alex continues to read. Eventually, Alexandra finds the letter Cara wrote to Spencer informing him of his brother's death. The letter was written three months earlier.  she wakes him to read it right now. "Spencer, your brother has been killed. Your uncle will probably have been murdered by the time you get this letter. Spencer breaks down in tears as Alex reads from Cara's letter, in which she urges him to come home and fight the conflict.