Zom 100: Bucket List of the Dead Episode 8 Recap – Hello, fellow zombie enthusiasts! Have you been enjoying the thrilling anime series "Zom 100: Bucket List of the Dead?" Then this article is for you – as we explore Episode 8, entitled "Sushi & Hot Springs of the Dead", and discover its mysteries before delving deeper. First, let's set up.
Netflix's "Zom 100: Bucket List of the Dead" takes us on an action-packed ride through a post-apocalyptic world overrun by zombies. Akira Tendou embarks on an ambitious mission: fulfilling 100 items on his bucket list before becoming part of this horrific army of undead. Accompanied by Kencho and Shizuka, Akira embarks on a journey filled with survival, self-discovery, and crossing off his bucket list items one by one.
Haro Aso's manga of the same name inspires this thrilling anime, which offers a captivating blend of comedy, action, and heartwarming moments. This story of friendship, adventure, and making the most out of life, even when things appear hopeless, may just be what you need! Don't miss out; now is the perfect time to join!
Episode 8, our next stop on our journey through Akira's adventures, introduces Beatrix Amerhauser as a foreigner who shows a deep curiosity for Japanese culture. What adventures may ensue from their encounter, and how will this interaction shape Akira and his friends' journeys? Let's dive right in for Episode 8's recap!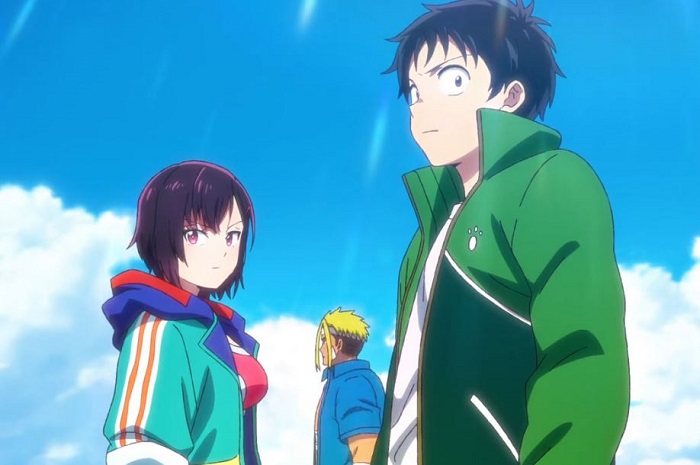 Zom 100: Bucket List of the Dead Episode 8 "Sushi & Hot Springs of the Dead" Recap
Episode 8, entitled "Sushi & Hot Springs of the Dead," finds Akira Tendou and his companions traveling towards Gunma to check more items off their bucket lists before joining undeath ranks. Akira already completed 15 out of 100 goals set before becoming undead; their journey will no doubt bring some unexpected twists along the way.
As they travel forward, fate throws a surprise their way. Akira and his companions discover a truck besieged by zombies; Akira takes up his shark suit in order to rescue the trapped individual; however, upon further examination, he reveals an intriguing twist: inside is Beatrix Amerhauser, a foreigner from Germany who's fallen for Japanese culture – equipped with samurai gear, Beatrix effortlessly dispatches zombies before leaving our trio of survivors stunned and speechless.
Beatrix's story takes an unusual turn. She explains her travel to Japan was driven by her deep appreciation of its culture, but upon arrival, she was met with the stark reality of a pandemic and a world overrun with zombies. Why are there fish in Beatrix's truck? Because her craving to taste sushi from Takasaki City's last surviving sushi chef transcends any potential apocalyptic catastrophe, Beatrix will stop at nothing to satisfy this need!
Kencho and Shizuka find Beatrix's request puzzling; Akira, however, quickly responds with enthusiasm by volunteering to assist Beatrix with fulfilling her mission. Thus begins an adventure full of peril, but danger awaits all along their path!
Their journey to Takazaki City takes an unexpected turn when they encounter yet another zombie horde. The group unites to combat this threat, with Shizuka devising an audacious plan. Just when it seems as though they might prevail, another wave of zombies crashes through and overwhelms them; Akira's unwavering determination shines through, inspiring Beatrix.
Beatrix recalls an intimate childhood memory involving sushi, drawing strength from it to join Akira in their fight against the undead. Resolved not to falter again, she pledges her allegiance, and they find a solution together to combat their relentless enemy.
Shizuka uses Beatrix's drone to lure away zombies while Kencho finishes off their adventures by lighting off gasoline-soaked zombies with a fuse, thus sealing their victory and opening up their next bucket list item: enjoying sushi prepared by the last remaining chef in their city.
Taisho, our sushi chef, creates an extraordinary sushi experience for Beatrix and her companions at this remarkable sushi bar. Beatrix may find this bittersweet, knowing her world has drastically changed; nonetheless, she appreciates this special opportunity. As they thank him for his skills, he offers them free sake – an act that fosters camaraderie among them all and reminds them there are moments of beauty even amid chaos.
After successfully crossing one item off their bucket list, Akira and his friends set their sights on another adventure: visiting a hot spring. Unfortunately, however, things take an unexpected turn, leading the episode to explore love and personal development as it unfolds.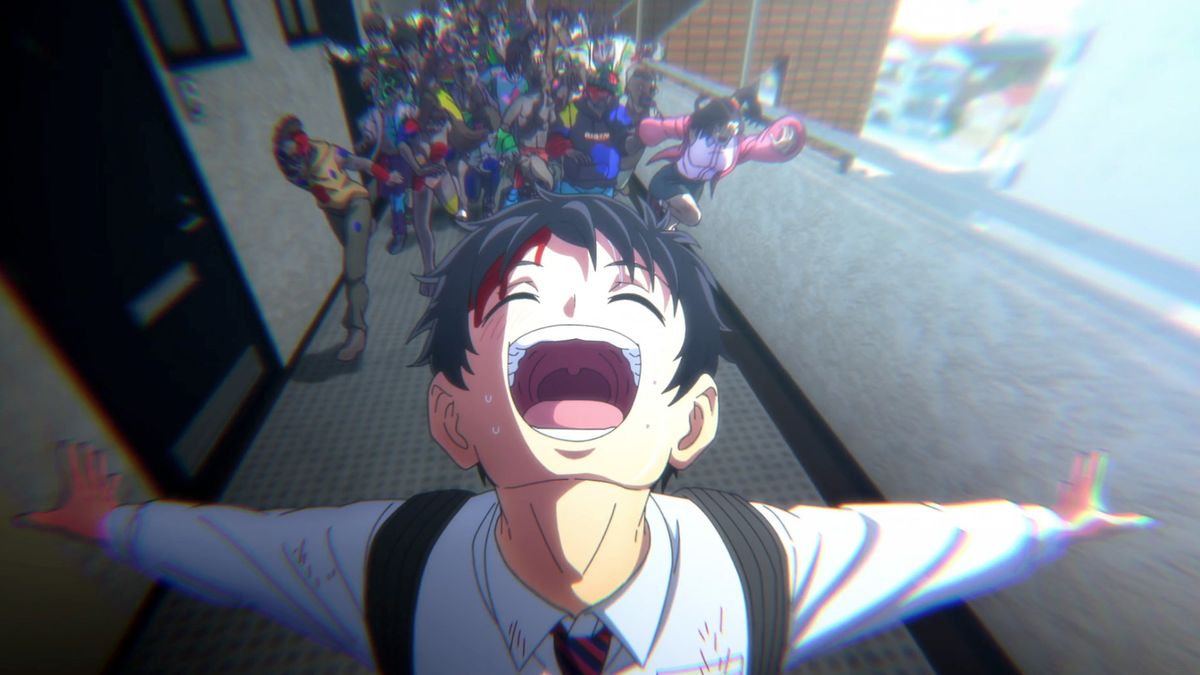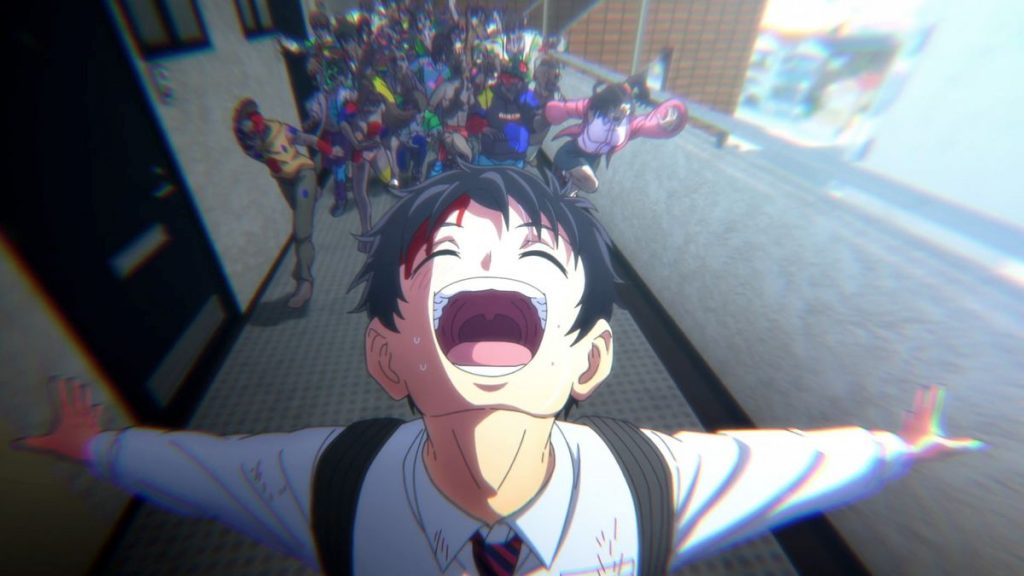 Zom 100: Bucket List of the Dead Episode 8 Ending Explained
Beatrix's enthusiastic discussion about hot springs' relationship to matters of the heart sparks a surprising and reflective dialogue about love – inspiring Akira further along her own contemplative path.
As Akira considers Beatrix's words, he begins to consider sharing his life with someone important; love may be something missing from his bucket list. Shizuka disagrees strongly; she sees love pursuit as futile in an uncertain world where survival must come first.
Akira and Kencho dive headfirst into hot springs without hesitation to cleanse both body and soul, only for Shizuka to discover that her bathhouse doesn't offer hot water – leaving her in an impossible situation.
Beatrix, ever the cultural enthusiast, introduces Shizuka to "Konyoku bathing," an age-old Japanese tradition where men and women bathe side by side without shame or shameful display. She offers her insight that challenges Shizuka's preconceptions about bathing alongside each other. This event transforms Shizuka into an open-minded individual.
When Shizuka reluctantly decides to join her companions in the hot spring bath, fate intervenes with an unexpected twist of events: their tranquil hot spring hides an inauspicious secret: zombies have taken up residence within its waters! Their peaceful moment is interrupted, and they scramble desperately for escape as soon as they realize what danger awaits.
Once they find refuge on a mountaintop, Tendou finds his rest elusive; awakened with an irritating sore throat, he searches desperately for water before finally coming across an unexpected find: an underground hot spring located within the forest itself.
Tendou rushes immediately into the waters, hoping for a refreshing bath that has long eluded him. Unfortunately, fate has other plans.
As he enjoys his lone hot spring soak, he's shocked to see Shizuka taking advantage of it herself, in all her natural glory.
This encounter leads to an honest dialogue between Shizuka and Tsubaki. Shizuka opens up, offering her sincerest apology for earlier dismissive comments about love. Additionally, Tsubaki shares personal struggles relating to how her controlling father affected shaping her perceptions of relationships and emotions, leading her to become rigid and intolerant towards love.
Shizuka shares her fears of falling for the wrong person with Tendou in this moving exchange that highlights her longing for true intimacy in love and shows the potential of deeper bonds forming within this zombie-infested world.
Beatrix and Kencho make an untimely entrance, disrupting an intimate moment between Shizuka and Tendou. The episode ends with all four reunited at a hot spring, leaving viewers to speculate as these complex relationships continue their evolution.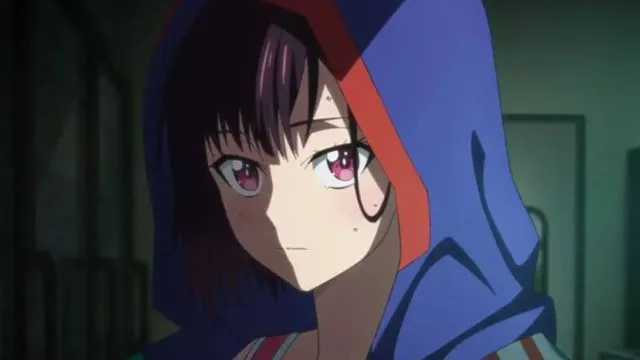 Did Akira and Shizuka Become Closer?
Yes, Episode 8 of the series provides viewers with more of an understanding of Akira and Shizuka's relationship. While not explicitly confirming it as romantic, it indicates a growing bond between these characters – Shizuka's vulnerability in accepting forgiveness for her earlier dismissive remarks about love, as well as Akira's contemplation of love as they shared moments in a hot spring set the stage for further developments between these main characters – leaving viewers wondering about their dynamics in future episodes.
Love takes center stage in this episode, offering us a glimpse into each character's inner struggles and desires. As the series unfolds, it will be fascinating to witness how these personal journeys intersect with survival efforts against zombies in an ever-evolving world.
Stream Zom 100: Bucket List of the Dead episode 8 on the Netflix.