'KonoSuba: An Explosion on This Wonderful World' Episode 7 Recap – Megumin faces financial strain during her first week in Arcanretia. While struggling financially, fate brings Cecily from the Axis Church into her life, who generously offers her food from their congregation. Megumin decides to visit them, meeting Father, who leads the congregation, before becoming more actively involved in helping find new recruits for the Axis Church. This episode provides all the necessary details and concludes the storyline of KonoSuba: An Explosion on This Wonderful World Episode 7.
'KonoSuba: An Explosion on This Wonderful World' Episode 7 "Troublemakers of the City of Water" Recap
Megumin finds herself in Arcanretia and tests her adventurer skills to earn some much-needed funds. But will she succeed in such an unfamiliar and dangerous new environment? Tune in now to find out!
However, our protagonist soon discovers that the city's monsters are far more formidable than expected, and her amateur abilities may not be enough to defeat them alone. She then attempts to find alternative employment that doesn't rely on her magical talent, only to become embroiled in several violent confrontations that put Megumin under financial strain as she endures meager sustenance and financial hardships.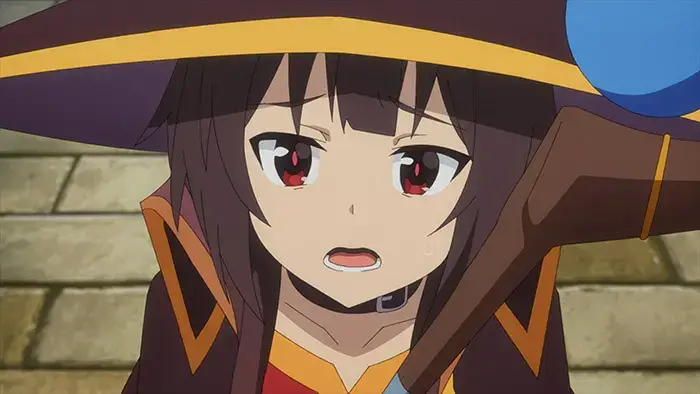 While strolling down a busy street, she comes across a distressed woman in need. With courage, Megumin confronts two troublemakers but soon retreats in fear. Seizing upon this opportunity, they falsely accuse the young girl of fabricating her account of events. However, their relief will soon vanish when she returns along with a police officer, intent on holding them responsible for their actions.
Megumin makes an audacious escape, later meeting Cecily, an enthusiastic member of the Axis Church. After struggling with hunger, Cecily rescues Megumin by taking her there and providing a nutritious meal. Megumin meets Father Zesta, who leads this religious organization during this period.
As the story progresses, each episode provides a gripping story full of twists and surprises.
'KonoSuba: An Explosion on This Wonderful World' Episode 7 Ending Explained
As Father Zesta struggles to draw new members to the Axis Church, Megumin devises an ingenious scheme to engage unsuspecting passersby on the street. Zesta invites two individuals to meet at a nearby cafe, where he intends to deliver an impactful sermon and convert them. Unfortunately, when he misidentifies a girl approaching as part of their plan and forgets that Megumin was supposed to drop apples on the ground, their plan takes an unexpected twist and backfires completely.
Megumin encounters an off-duty police officer, and Zesta suggests going to a cafe together. Unfortunately, Zesta opts for a swift getaway, leaving Megumin frustrated. Yet soon afterward, Zesta comes to Megumin's aid by divulging valuable information regarding an Axel sorceress with extraordinary magical abilities, which motivates Megumin further in Zesta's recruitment efforts with this revelation as fuel.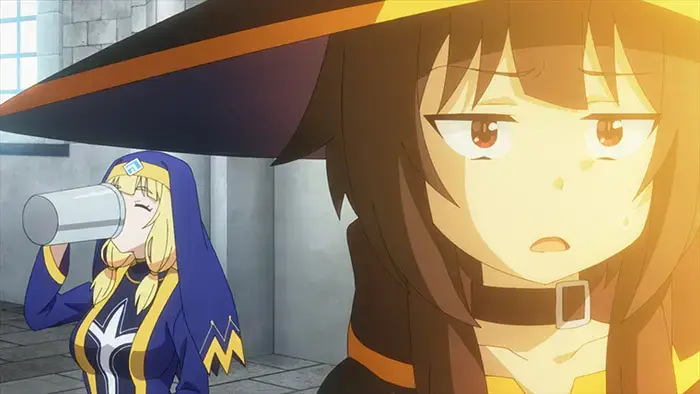 Megumin is taken aback when Yunyun appears alongside her and is surprised to see her approaching. Intrigued by Yunyun's presence in Arcanretia, Megumin wonders about her intentions as she tries to comprehend them. Meanwhile, in "KonoSuba: God's Blessing on This Wonderful World!," Yunyun wrestles with how her separation from Chomosuke impacts her feelings towards living apart, despite claims by Chomosuke that he misses her presence. While it becomes evident that Yunyun herself is unhappy living apart, she struggles with these challenges head-on. Watch as Yunyun manages this difficult situation!
Father Zesta invites Yunyun to join them at the church; however, their efforts do not bear fruit as the trio fails to recruit new members for the Axis Church and returns empty-handed. Meanwhile, Megumin learns of an arrest warrant being issued against Father Zesta and must surrender himself immediately. Soketto from the Crimson Demon Village prophesies against Father Zesta, accusing him of intentionally polluting the city's water sources.
Father Zesta must be brought to justice, and the truth revealed. In the latest episode, Megumin struggles to come to terms with his arrest while also turning her attention toward the prophecy and Yunyun as she looks for answers about this enigmatic prediction. Yunyun unexpectedly visits Arcanretia with some dire news: its water bodies have become polluted with chemicals, and time is running out. Meanwhile, members of the Axis Church start questioning his trustworthiness, leading to doubts about his leadership.
Read Also: Vinland Saga Season 2 Episode 20 "Pain" Release Date and Time