My Tiny Senpai Episode 10 Recap – Hello, anime enthusiasts! Today, we're diving into the captivating world of "My Tiny Senpai" Episode 10 with an in-depth recap that highlights all its delightful events. Whether this adorable series has already captured your heart or not, we guarantee this article will provide you with plenty of reasons to binge-watch this charming series! Here, we explore all the twists and turns and explain the significant moments that left a lasting impression on us all.
Grab some snacks, get cozy, and let's embark on this journey together on tvacute.com into the world of My Tiny Senpai."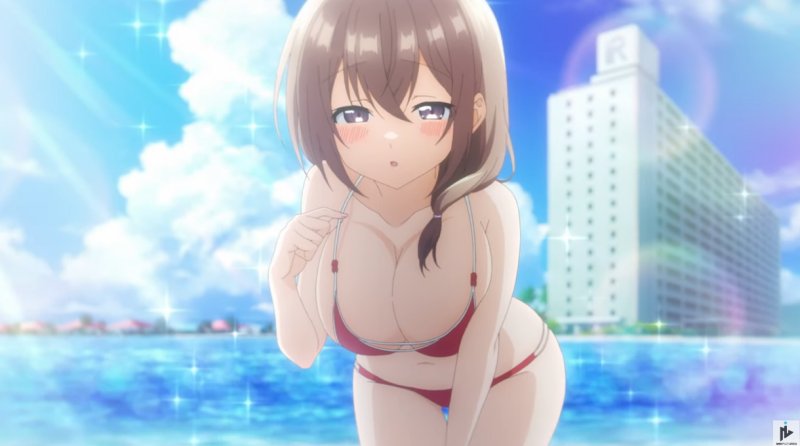 My Tiny Senpai Episode 10 "Even If We're Just Playing, He's My Kohai…" Recap
"Even If We're Just Playing, He's My Kohai…" is an episode introducing us to Shinozaki, an earnest office worker who encounters unexpected dynamics in his workplace. During a company event, Shinozaki receives exciting news – an intracompany competition for new employees with high stakes awaits them, offering winners an extravagant trip to Okinawa for relaxation and adventure!
Inspired by Shinozaki's predecessor, Akane, who won the MVP award during their first year, their brilliant proposal not only secured first place but also generated substantial profits for the company. As this competition begins in Shinozaki's debut year, the pressure to perform and follow in Akane's footsteps intensifies.
Shinozaki engages in an honest discussion with Yamagishi about competition, which soon evolves into an exploration of his feelings for his senpai, Akane. Just as Kurusu Akari arrives – another top competitor – the stakes get even higher.
Kurusu's senpai enters the scene, revealing a past encounter with Akane during their first year and believing she brought out the best in both of them. Determined to have Akane transferred to her department if she wins this competition, her presence further escalates matters.
Shinozaki and his colleagues are given a challenging but unique task, which takes them from the corporate world into childhood innocence. They must spend time with children to gain insights into their preferences for the toys manufactured by their company, leading to poignant moments and character growth along the way.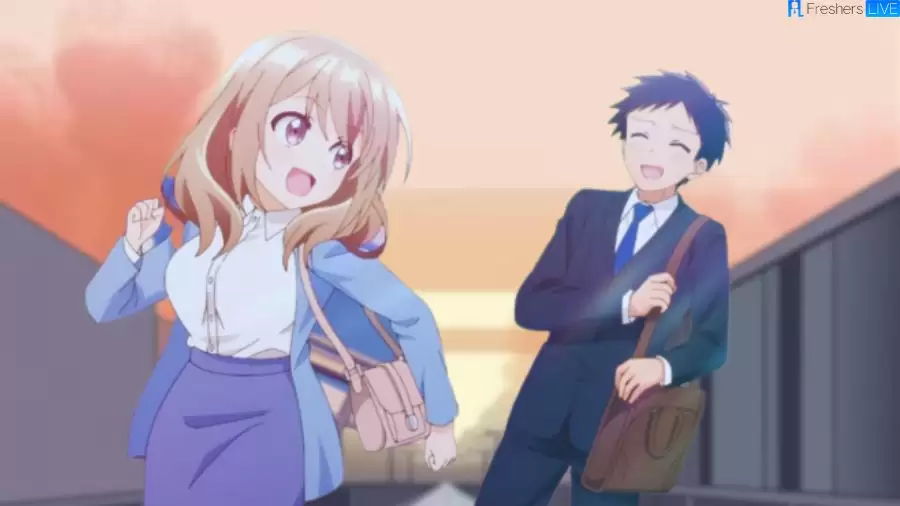 My Tiny Senpai Episode 10 Ending Explained
Episode 10 takes an endearing turn as we approach its conclusion. Initially focused on winning the competition, Shinozaki's perspective changes when he offers to play with one of Marin's friends, only to be rejected. Marin believes no one wants to play with her, and witnessing her sadness tugs at Katase's heartstrings.
Katase steps in quickly to comfort Marin, ensuring her beloved Meowtaro toy remains undamaged. Marin, accustomed to playing alone, is pleasantly surprised when Katase suggests she join their playtime. It's an emotional moment as Marin eagerly suggests playing house with everyone!
Here's where things become both engaging and amusing: Marin insists that Shinozaki play the role of the father, while Katase initially assumes she would take on the motherly role. However, Marin adds a twist by suggesting Katase become their pet cat instead. Katase may have felt slightly disappointed about this unexpected role change, but she willingly accepts it to please Marin.
Marin takes their playful interaction a step further by encouraging Katase to sit on Shinozaki's lap and act like a cat, much to Katase's displeasure. Nevertheless, Katase bends to put Marin's happiness first. While reluctant, Katase eventually gives in, leading to an endearing moment that combines innocence and affectionate exchanges between their senpai and kohai relationship.
Later in the episode, Shinozaki observes Katase's interactions with children and is impressed by her nurturing nature. Simultaneously, Katase notices Shinozaki's affinity for kids. Although neither of them openly expresses this admiration for each other's work with children, it's clear that they are both impressed.
The episode continues as Marin and Tomo build a sandcastle together in the sandbox. However, playtime takes an unexpected turn when Tomo, initially rejecting Marin, returns and destroys their creation. Tomo later reveals that his seemingly mean behavior stemmed from his inability to express his desire to play together with Marin.
Shinozaki steps in as a mentor figure for Tomo, offering advice on treating girls he likes kindly while helping resolve their differences. This moment showcases Shinozaki's kind nature and talent for bringing people together.
At the end of their day together, Katase fondly observes Shinozaki and recalls how he taught Tomo to treat girls with kindness. This leads her to speculate that Shinozaki may have deeper feelings for her than just a mentorship.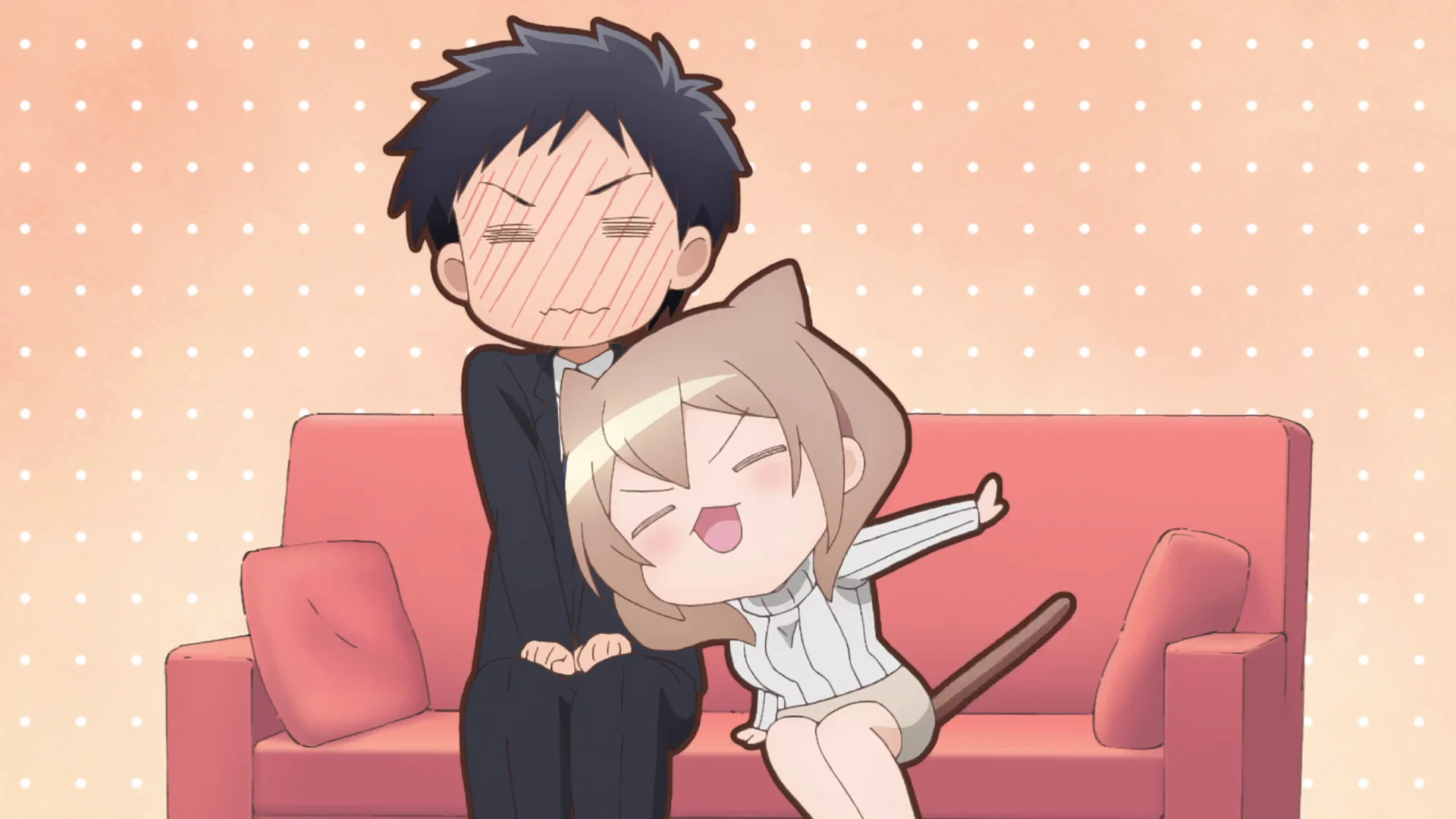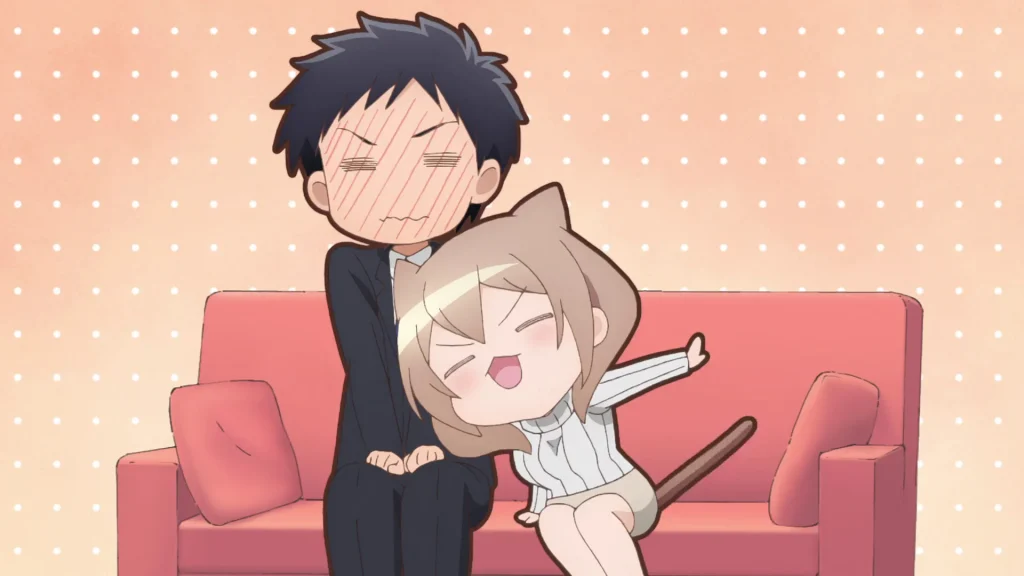 What Does Shinozaki and Katase's Bond With Children Signify?
Let's now delve into one of the key questions raised in Episode 10 of "My Tiny Senpai" – specifically, what does Shinozaki and Katase's bond with the children symbolize?
Shinozaki and Katase's interactions with the children provide a subtle yet significant symbol of their friendship. Initially brought together by their workplace responsibilities, where competition and office politics create tension, their friendship grows deeper and stronger through their time spent with the children.
Marin's innocent request for them to play with her and her friends leads to moments of vulnerability and intimacy. Katase willingly joins in imaginative play despite her initial discomfort, while Shinozaki guides Tomo with compassion.
These genuine connections with children give the adults a chance to see themselves more honestly, stripping away their workplace facades. It helps them appreciate each other more fully by recognizing qualities and strengths they may not have noticed before.
Shinozaki and Katase's intimate connection with the children suggests an emotional bond beyond work, hinting at an unexpected romantic attraction between them that could develop as the series progresses. It will be intriguing to see how these newly emerging feelings evolve and whether either of them will acknowledge them.
Episode 10 of "My Tiny Senpai" offers viewers an engaging blend of workplace competition, heartwarming interactions with children, and blossoming emotions between Shinozaki and Katase. It reminds us that sometimes, it's the seemingly small moments that reveal profound truths about ourselves and our relationships.
Make sure to tune in to this charming episode and stay tuned for any surprises that may await in future installments of "My Tiny Senpai." You might just discover something unexpected!
Also Read: Zom 100: Bucket List of the Dead Episode 8 Recap and Ending, Explained