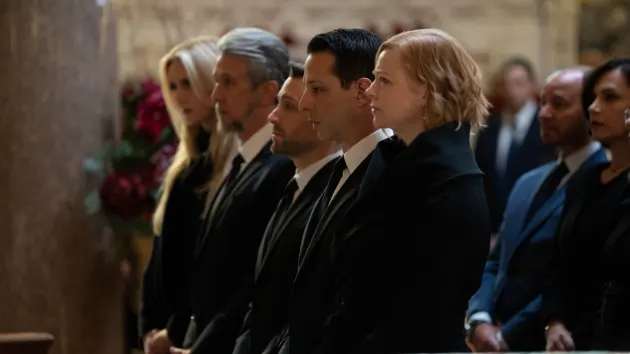 In the latest episode titled "Church and State" of the gripping drama of Succession, the long-awaited burial of Logan Roy (played by Brian Cox) finally takes place. However, the family's intentions are not entirely focused on honoring him. The episode centers around the public memorial, which is plagued by ongoing political turmoil and protests that are reminiscent of historical events. Will Jeryd Mencken (Justin Kirk) the Roys' chosen candidate make appear? In the new episode of "Succession," tensions rise as Kendall (Jeremy Strong) and Roman attempt to thwart Lukas Mattson's merger, while a pregnant Shiv (played by Sarah Snook) works to undermine their efforts. Will Lukas come out on top, or will the Roy siblings succeed in their mission? The tension is palpable inside the cathedral as the eulogy takes an unexpected turn, while chaos ensues on the streets of New York due to the Roys' media machinations.  Here (tvacute.com) is the conclusion of Succession Season 4 Episode 9, in case you were curious.
Succession Season 4 Episode 9 Recap
While Shiv watches irate protestors gather outside ATN offices on the morning of Logan's funeral (the votes are still being tabulated), a confident Roman practices his final words in the mirror. Rava informs Kendall that she will not be going to the funeral with them because she doesn't feel comfortable in the city while cops block up the windows of shops. Kendall is fuming and has threatened to get a court injunction as well as lie in the path of her car to prevent her from leaving, but he has no legal standing to do so. In the midst of the election pandemonium, Shiv prods Matsson to admit to using phony numbers for India. He dismisses her with laughter, mocking the United States. She also notes that Mencken will be in attendance, suggesting that Matsson's presence at the funeral would be prudent.
Tom, who is still very busy covering the election for ATN, asks Greg to secure him a place at Logan's funeral because he will be a wheelman on the coffin. In the drive with siblings, Kendall continues to stew over Rava and the children. Despite Caroline's invitation Ken and his siblings decided to give a hard no. When Shiv unexpectedly announces her pregnancy to her siblings, she faces mockery from her brother Roman. They decide to put aside their differences and hold a funeral truce. Upon their arrival, Kendall informs his assistant, Jess, that he plans to hire a family lawyer and fight Rava for custody. However, Kendall later discovers that Jess has already scheduled a meeting with Rava for the following week. Although she was hesitant to do it today, she recognizes that it is time for her to move on. In response, Kendall becomes angry and labels her and everyone else's behavior as immature and stupid.
At the funeral, Roman makes crude comments about having sex with Marcia on their father's coffin, while Shiv tries to discourage Connor from giving his own eulogy. Shiv sees an opportunity to offer Mencken, the presumed president-elect, an American CEO for the GoJo deal, and the incoming administration treats him like a hero. During the funeral, Matsson releases GoJo's India phone numbers as a diversion. The Ex-wife Caroline of Logan shows up during the ceremony and finds out that Shiv is pregnant. Then, as Roman sobs on the podium, Kendall steps up to take his place. Kendall recognizes his father was a brute, but he also praises his determination and initiative.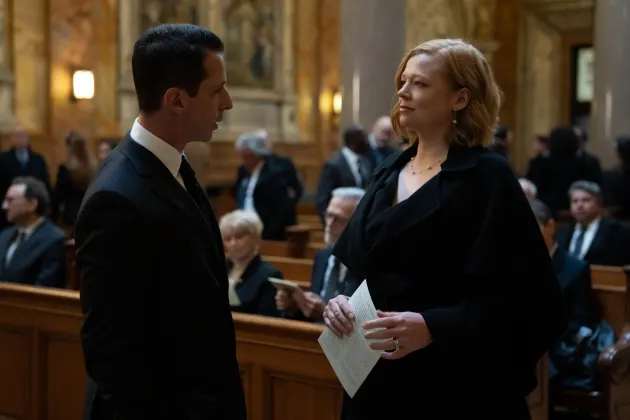 In her eulogy, Shiv discusses her complicated relationship with Logan and the difficulties she faced as both his daughter and a woman in his culture. All through the service, Roman's emotions have not subsided. Mencken rushes outside to shake Kendall's hand, but Hugo interrupts by saying that Shiv wants the CEO job at Waystar if the GoJo deal goes through. Kendall visits Hugo and asks him to leak to the media that some members of the family are against the purchase. Additionally, Kendall offers Logan's loyal bodyguard Colin a job and confronts Mencken about stopping the GoJo deal, to which Mencken gives a noncommittal response.
At the graveyard, Connor reveals that Logan didn't want to be buried in the ground while the Roy siblings talk about their lavish family vault. Kendall recruits Colin and Hugo to assist him leak material to the media. Again, he tries to talk to Mencken about the GoJo deal, but he gives him no straight answers. Shiv pulls Mencken aside to discuss the deal, and Matsson unexpectedly suggests Shiv take over as CEO in the United States. Shiv insists that she is adaptable and ready to take on the position, citing her father's adaptability and her own grasp of the system as evidence.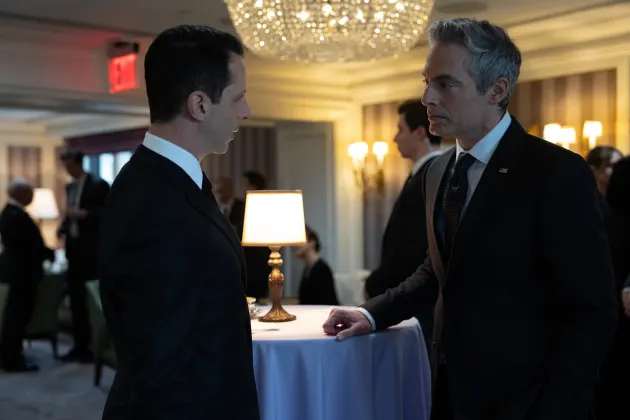 Tom, worn out from dodging protesters, enters, and Shiv continues to drink champagne in front of him as if she doesn't care that he's there. When Tom presses her for an explanation, she says she was too sad to tell him about the pregnancy at the time. Tom relates his feelings of exhaustion and the fact that he was the last person to see Logan alive. Shiv lets him crash at their place, and Matsson calls to confirm Mencken's approval and express his optimism about working with an American CEO. Even though they have been constantly forming and dissolving alliances with one another, the conclusion of Kendall and Roman versus Shiv is eventually established in the ninth episode of Season 4 of Succession. Kendall and Roman have always been adamantly opposed to the GoJo deal; nevertheless, given that Shiv has ostensibly maintained the project's viability, the two brothers will be forced to battle Shiv over this issue.
Succession Season 4 Episode 9: Ending Explained!
In the ninth episode of the fourth season of Succession, which takes place against the backdrop of political turmoil in the aftermath of Mencken's presidential election, protestors are consistently seen swarming the streets of New York City. Roman continues to remain upset. Now that they have to go up against Shiv with the Waystar board, he holds him responsible for botching the Mencken transaction.  The closing scene of the episode has Roman Roy infiltrating a throng of protestors, during which he verbally abuses and even physically assaults several of the protestors. This is just a warning that the worst is still to come. Roman walks out into the mayhem, gives the protesters the finger, and calls them stupid, but he has a plan. Roman is trampled by the mob after he jumps a barricade and yells at them to their faces, prompting one protester to elbow him in the face. He rejects a helping hand and runs off into the darkness.
More Stories
Succession Season 4 Episode 10 Recap
Succession Season 4 Episode 8 Recap
Succession Season 4 Episode 7 Recap
Succession Season 4 Episode 6 Recap
Succession Season 4 Episode 4 Recap
Succession Season 4 Episode 2 Recap
Succession Season 4 Episode 1 Recap