Riverdale Season 7 Episode Guide: The protagonists of Archie Comics were the focus of a CW adolescent drama that debuted in 2017. Once a murder occurred, the core group of friends worked together to expose the sinister underpinnings of their hometown. Season 6 of "Riverdale" treated viewers to a spectacular event in which the protagonists traveled to an alternate dimension where they acquired surprising new abilities after an explosion. the season's penultimate episodes are "fantastic because the cast now possesses superpowers. They're so serious. In a word, they're frantic. A big finish will be in store for this one. Roberto Aguirre-Sacasa, the show's creator and showrunner, has promised fans that the final season will live up to the show's reputation for more outlandish plots throughout its run. To explain this, he said, "Thank god the '50s were as crazy as they were because it's been so fun to be in that world." He also noted the final season is "totally surprising" and "completely inevitable. Here www.tvacute.com share with you everything we know about the final season of Riverdale.
When Will [Final] 'Riverdale' Season 7 Air?
The seventh and final season of Riverdale premieres this month, and following the shocking conclusion of Season 6, the gang is stuck in the past. The CW will premiere the premiere episode of Riverdale's last season on March 29 at 9 p.m. ET.
Archie and the gang are back in high school
While the sixth season ended with Archie and the gang surviving a comet, the final season will grab with the gang suddenly moving to the 1950s and back to high school.. Cheryl (Madelaine Petsch) used her enhanced abilities to prevent a comet from obliterating Riverdale at the end of Season 6. Although she was ultimately successful, the event had one huge drawback: it transported the entire town to the 1950s. Cheryl and the rest of the gang were similarly sent back in time to their senior year of high school. Jughead (Cole Sprouse), however, remembers every detail of his previous existence, whereas the rest of them can't even begin to guess.
Jughead's mission to convince his friends that something is wrong and bring Riverdale "back to the future" will continue in Season 7. Also, rather than focusing on a major enemy, the final season will focus on the characters' individual experiences. In addition, Kiernan Shipka, who plays Sabrina Spellman, will appear again, so fans shouldn't blink lest they miss her. Nothing is confirmed, although Shipka has hinted that her character may return to aid Jughead and the gang. The latest trailer, like the first one, features the '50s style that will undoubtedly be a major theme this season. (watch it below)
Who Will Appear in Riverdale Season 7?
After quitting the program, Ashleigh Murray stated categorically that she has no intention of returning as Josie. Meanwhile, Karl Walcott will portray Clay Walker, a free-thinking army brat who appreciates art and isn't afraid to be himself sexually. Betty Cooper is portrayed by Lili Reinhart, KJ Apa is portrayed by Archie Andrews and Camila Mendes is played by Veronica Lodge; Jughead Jones is portrayed by Cole Sprouse; Madelaine Petsch is portrayed by Cheryl Blossom; Kevin Keller is portrayed by Casey Cott; Reggie Mantle is portrayed by Charles Melton; Vanessa Morgan is portrayed by Toni Topaz; Tabitha Tate is portrayed by Erinn Westbrook; Fangs Fogarty is portrayed by Drew Ray Tanner; and Archie's mother is portrayed by Molly Ringwald.
Riverdale Season 7 Plot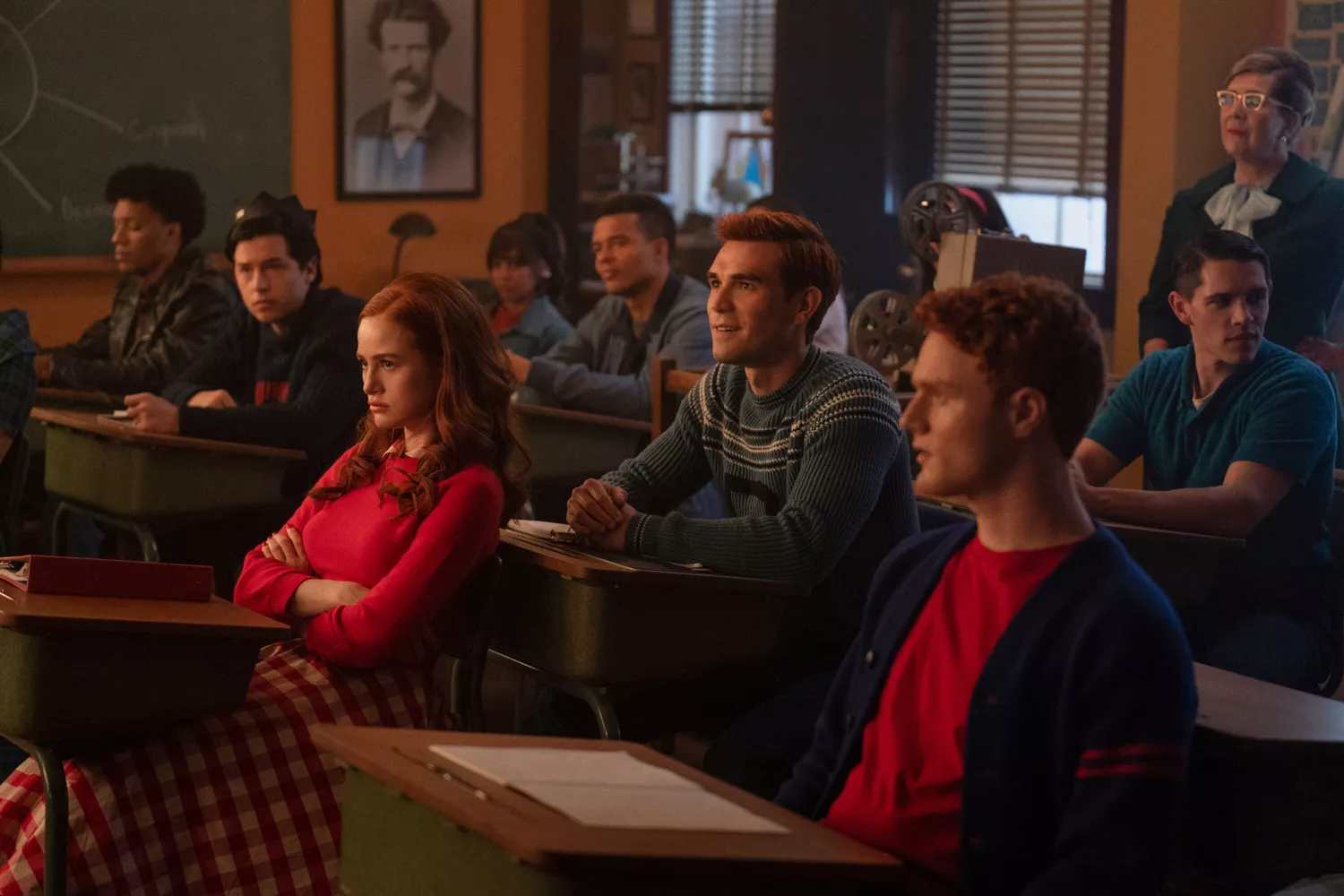 The seventh season of RIVERDALE goes where no season of RIVERDALE has dared to go before—the 1950s! Picking up where last season ended, Jughead Jones (Cole Sprouse) finds himself trapped in the 1950s. He has no idea how he got there, nor how to get back to the present. His friends are no help, as they are living seemingly authentic lives, similar to their classic Archie Comics counterparts, unaware that they've ever been anywhere but the 1950s. Archie Andrews (KJ Apa) is the classic all-American teen, coming of age, getting into trouble, and learning life lessons; Betty Cooper (Lili Reinhart) is the girl next door, starting to question everything about her perfect life—including her controlling mother Alice (Madchen Amick); Veronica Lodge (Camila Mendes) is a Hollywood starlet who moved to Riverdale under mysterious circumstances.
Cheryl Blossom (Madelaine Petsch) is the Queen Bee with a withering wit and a secret longing; Toni Topaz (Vanessa Morgan) is an activist fighting for the Black students of recently integrated Riverdale High; Kevin Keller (Casey Cott) is a "square" crooner wrestling with his sexual identity; Reggie Mantle (Charles Melton) is a basketball star from farm country; and Fangs Fogarty (Drew Ray Tanner) is a greaser who's destined to be an Elvis-type star. It isn't until Jughead is visited by Tabitha Tate (Erinn Westbrook)—Riverdale's Guardian Angel—that he learns the cosmic truth about their predicament. Will Jughead and the gang be able to return to the present? Or will our characters be trapped in the 1950s forever? And, if so…is that such a bad thing?
Riverdale Season 7 Episode Guide
Riverdale Season 7 Episode 1 "Chapter One Hundred and Eighteen [Don't Worry, Darling] March 29, 2023
Directed by Ronald Paul Written by Richard Roberto Aguirre-Sacasa & Danielle Iman
Riverdale Season 7 Episode 2 "Chapter One Hundred and Nineteen [Skip, Hop, and Thump!]
Directed by Ronald Paul Written by Richard Ariana Jackson
Riverdale Season 7 Episode 3 "Chapter One Hundred and Twenty[Sex Education]
Directed by James DeWille Written by Janine Salinas Schoenberg
Riverdale Season 7 Episode 4 "Chapter One Hundred and Twenty-One [Love & Marriage]
Directed by Claudia Yarmy Written by Chrissy Maroon
Riverdale Season 7 Trailer
Bill Haley and the Comets' "Rock Around the Clock" plays while the happy 1950s-era people are seen in the clip, with the exception of Jughead, who realizes something is wrong. It illustrates some of the numerous ways this Riverdale is different from the right one as Jughead tries to explain the issue. It's the couple combinations that stand out most. Here, Betty and Kevin are dating. At the same time, KJ Apa's Archie and Anna Faris's Cheryl may soon be exchanging wedding vows. The new girl in town is Veronica, but this time she's famous for something other than her newness. While the romance is great, this season also features a murder mystery. The teaser hints at bloodshed at Riverdale High thanks to the reappearance of a returning character. Naturally, audiences will have to wait to find out who the next villain is, but whoever it is, they will present an enormous obstacle.