As Riverdale races toward its suspenseful series conclusion, anticipation reaches its pinnacle.  The penultimate episode weaves together personal development, dashed dreams, and a hint of extraterrestrial intrigue to take viewers on an emotional rollercoaster. The episode shows a variety of characters being motivated to take different paths: Following his study of Kerouac's "On the Road," Archie played by KJ Apa decides to write a piece about rail travel. Cheryl (Madelaine Petsch) reclaims the River Vixens and declares her romance with Toni in public. Reggie must choose between basketball camp and helping his family farm harvest corn. Betty urges Alice, her mother, to read her book, which results in self-awareness.
Jughead played by Cole Sprouse discovers Tabitha waiting for him, and the episode takes a significant turn. It is revealed that Tabitha, who is from the future, is a kind of guardian angel. This episode prepares the audience for a dramatic series finale by encapsulating Riverdale's emotional journey and tease-teasing the unknowable future that lies ahead for its cherished characters. The episode leaves us thinking about the difficult balance between nostalgia and hope, as well as the significant influence of the decisions we make, as we prepare for the conclusion.   TV Acute has the greatest Riverdale Episode 7.20 details. To follow this much-anticipated episode, they have release dates and sneak peeks.
(Series Finale) Riverdale Season 7 Episode 20 Recap: A Bittersweet Farewell
Riverdale Season 7 Episode 19 Recap: Ending Explained!
Riverdale Season 7 Episode 20 Spoilers
Based on the synopsis, It appears that the focus will change in Episode 20, "Goodbye, Riverdale," to an older Betty (Lili Reinhart) who is 86 years old and yearns for her former life in Riverdale. She asks a close friend for assistance in reliving her senior year's final day with her pals, and the memories are revived. This concept suggests that the series finale will have a sentimental and introspective tone.
The episode is anticipated to explore major moments from the characters' pasts, maybe closing up loose ends and giving closure to their tales, given the themes of remembrance and reliving memories. The episode might examine the characters' development, relationships, and the effects of their experiences as they get older, as suggested by Betty's desire to relive her last day of senior year.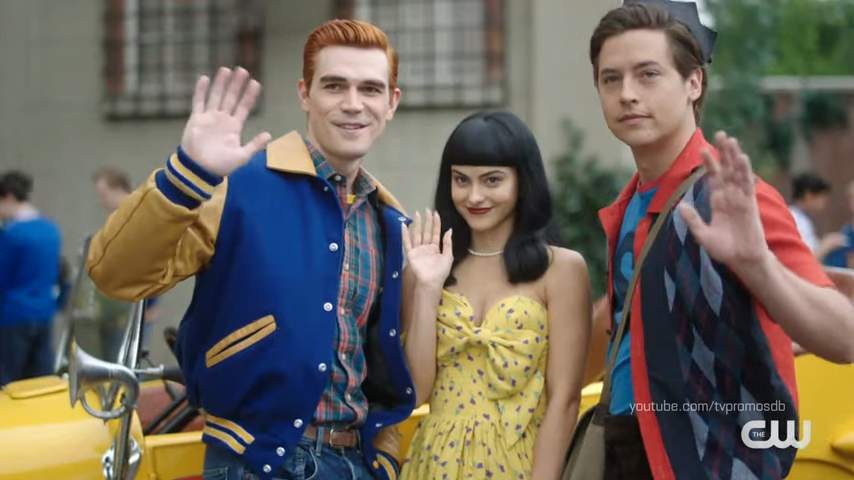 The usage of a "special friend" to assist Betty in revisiting her memories can add a fanciful or supernatural component to the program. There may be heartbreaking and bittersweet moments as the characters address their pasts and come to terms with their present circumstances if this companion has a special capacity to modify or access memories.
There might also be shocks or revelations in store for the characters as they revisit their memories, given the show's history of introducing unforeseen twists and riddles. The episode can focus on the characters' unique experiences and growth, demonstrating how they have changed since their high school years.
Prepare yourself for a captivating installment in the upcoming week as anticipation builds, courtesy of an enticing sneak peek and a concise synopsis provided by The CW.
Riverdale 7×20 Synopsis: Back in the present day and longing for her former life in Riverdale, 86-year-old Betty turns to a special friend to help her relive her last day of senior year with her friends as they were, their memories restored.
Riverdale Season 7 Finale Ending: Is Betty Cooper Dead?
Riverdale Season 7 Episode 19 Release Date
The premiere of the nineteenth episode of Riverdale's seventh season will take place on August 23, 2023, at 9 p.m. ET on CW50 on The CW. Given that Riverdale's seasons 4 and 5 both contained 19 episodes, a longer Season 7 would have adequate material. Riverdale Episode 137 is currently accessible on sites including YouTube TV, DirecTV, and Fubo TV. The complete seventh season of Riverdale as well as individual episodes are currently for sale on iTunes and Prime Video.
Riverdale Final Season 7 on Netflix
Despite Season 7's substantially later-than-usual Netflix release date, all episodes of Riverdale's last season will be accessible on the US Netflix service on August 31st, 2023.
[Series Finale] Riverdale Season 7 Episode 20 [Goodbye, Riverdale] Spoilers
Riverdale Season 7 Episode 18 Recap: Ending! Killer Milkman's Identity, Explained!