The violent Sons of Anarchy spinoff's fourth season ended with EZ (JD Pardo) trying to tie up loose ends while the club's future is in doubt after a season of war and shocking loss. When club boss Marcus Alvarez (Emilio Rivera) tries to make peace with a Redwood Original, it's possible that diplomacy will save them. In an epic Sons of Anarchy crossover, Kim Coates as Tig makes a significant comeback in the finale. We saw EZ develop into the same strong desire for power-hungry club members that Bishop was at this time last year, and Let's read the Mayans MC Season 4 Episode 10 Recap titled "When the Breakdown Hit at Midnight" how all that turned up who died?.
The episode begins with the Santo Padre Mayans funeral of Coco, who was killed by the Sons of Anarchy earlier in the season. Angel, who slept with Coco's daughter Letty after his death, keeps his distance. Letty says the Mayans didn't deserve Coco and she'll never forgive them.
Man, Letty let them have it. Her pain over losing her father, Coco. #MayansMC #MayansFX 🥺 @emilytosta @CabralRichy pic.twitter.com/5VbpEvc5fF

— 💜SocDemMaria🔥TXmade😷 (@Maria4rmatx) June 15, 2022
Angel arrives home to Adelita and Maverick after the funeral. Adelita inquires about the burial, which Angel admits was a disaster. Angel is ecstatic about his Tig Trager visits Sons of Anarchy member Terry in the hospital after Santo Padre attacked UC Davis. Tig chastises Terry for launching the Mayan conflict and recalls his returning sponsor. A nurse stops Tig from choking Terry.
EZ kills Jay-Jay in Mayans MC Season 4 Finale
Jay-Jay (Greg Serano)  meets EZ. EZ offered him $80,000 to close a loose end. EZ shoots Jay-Jay, calling him a loose end. Jay-Jay is promised $80,000 if he shoots himself. EZ's shot won't help them. Jay-Jay tells EZ he rescued him in jail and has a family. he raises the gun to his chin but doesn't fire. Jay-Jay makes a poor choice. EZ shoots Jay. Jay-wife goes searching for him at EZ's trailer after EZ shoots and murders him; however, Sofia covers for her boyfriend and claims EZ was with her the whole night prior.
Mayans MC Season 4 Episode 10 Recap: Alvarez meets Tig
Alvarez and Tig (Kim Coates) finally meet in Los Angeles. Tig tells Alvarez that the war began when Alessandro Montez's kutte and body were discovered on Santo Padre territory. Alvarez claims he has no knowledge of the matter, but it's apparent he'll look into it further. The talk then shifts to the topic of war, with Alvarez and Tig proving to be polar opposites. The former seems weary of fight and death, while the latter is ecstatic at the prospect. We also find that Terry's sponsor is the younger brother of San Bernardino Sons of Anarchy leader Les Packer. With a hug, the two-part ways, knowing that another time they meet, maybe it's not so pleasant.
Love this two #Tig #Alvarez #Respect #MayansFX #MayansMC @KimFCoates @EmilioRivera48 pic.twitter.com/9zDotQsm0H

— Kristin Weber (@Kristin_Weber25) June 15, 2022
Alvarez returns to the club and informs EZ that he met with an old buddy to try to put a stop to the battle. EZ wants to continue killing Sons, but Alvarez wants to put an end to it. EZ also wants to negotiate a deal with El Banquero's sister, Soledad, to receive the heroin, but Alvarez prevents him from doing so. EZ feels they need that pact to reclaim control, but Alvarez is adamantly against it. Alvarez believes that this will save his men's lives, but EZ is confident that refusing Soledad's offer will lead to the charter's demise. Following up on his encounter with Alvarez, EZ pays a visit to Bishop (Michael Irby). He wants Marcus out of the way and feels Bishop should return to the throne.
Manny dies in Mayans MC Season 4
Manny (Manny Montana) and representatives from Stockton and Oakland gather at a cafe.   The Reyes brothers allegedly killed Canche. Manny denies the Reyes brothers are capable of such a thing, and they all understand Santo Padre has a grudge against Canche. When they're ambushed by Sons, they want to act, and Manny is getting around to their point of view. Manny has been apprehended and escorted from the cafe.
Sons of Anarchy assaulted before they could even decide and capture the Mayans. Isaac, the nemesis of Coco's Meth Mountain scheme last season, is Terry's Sons of Anarchy sponsor. After being shot by Coco last season, Isaac was considered dead. Manny on his knees and douses him with gasoline. Manny is warned by Isaac that he only has a few minutes left in his life. He torments Manny with words before throwing a cig at his feet. Manny yells and bursts into flames as he dies. Isaac kills Manny but leaves another Mayan so he can warn of "fire."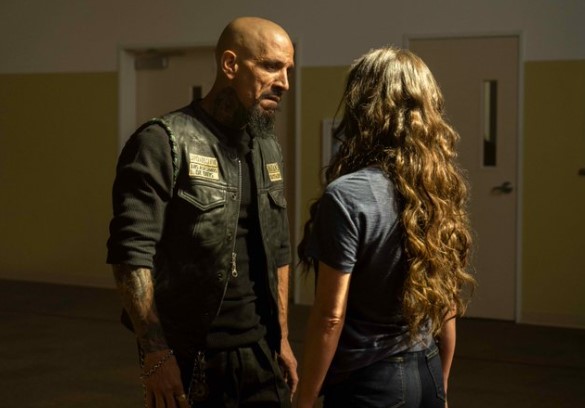 Kody talks with her ex-lover after telling Creeper, that she is the police and that she can protect him. She claims, however, that they have enough information to bring down both Creeper and the Santo Padre club. She also mentions that someone from the Santo Padre club worked with the cops at one point, but she isn't sure who it was. Nonetheless, Kody believes that if Creeper cooperates, they could be able to maintain a relationship in the future. Creeper later meets with the cops. Rather than selling out the club, he admits to the group's misdeeds, citing the fatalities under investigation by the authorities and saying he carried them out without Santo Padre's knowledge or cooperation. Creeper will likely spend his life in jail.
Letty gets her father's old car – a chartreuse Chevy Nova after Louie's statement about Coco's devotion. Hope (Vanessa Giselle) is spending out with addicts and about to do something stupid. Hope was saved by Letty from sticking out with the addicts she encountered on her way home from work the other night. Letty leads Hope away from the crowd after threatening the others that if they intervene, she will knife them. She tells Hope that Coco wouldn't want this for her. Hope gets up and walks away from the drugs and going home.
Hope and Letty! I knew it, they have each other now!! @vanessa_giselle @emilytosta #MayansMC #mayansfx pic.twitter.com/QaQSI0DAWD

— Shirley (@ShirleyDeLeoni1) June 15, 2022
EZ and Alvarez discuss Tig's meeting outside of the Santo Padre clubhouse. He opposes war and negotiating with Miguel Galindo and Soledad. The latter believes it's necessary to save the club. EZ recruits Bishop for a transfer against Alvarez.
Adelita kills El Banquero in Mayans MC Season 4 Episode 10
While we're on the subject of deaths, here are a couple more: In Mexico, El Banquero finds a maid holding a towel at the pool's edge. This woman isn't the cartel leader's servant Adelita then kills El Banquero in his pool. Adelita (Carla Baratta) walks away from Soledad as El Banquero drowns. Soledad says the destiny is now as they view the scenery.  Soledad asks, "Shall we begin?"
Mayans MC Season 4 Episode 10 Recap: Did Miguel kill Felipe?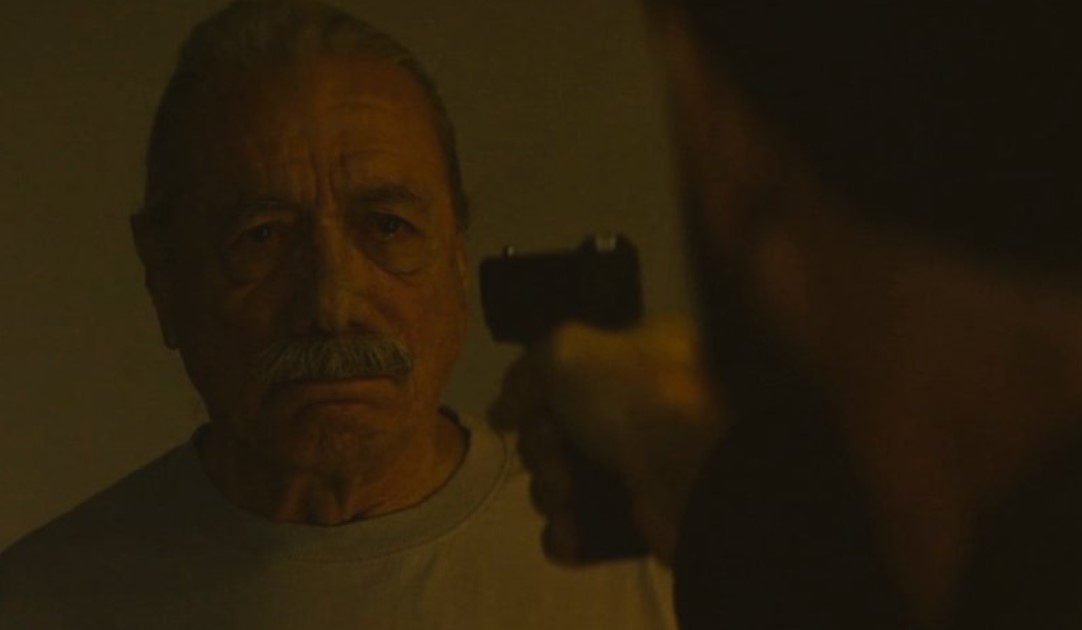 Felipe (Edward James Olmos) is confronted by the Galindo Cartel leader for killing Dita Galindo. Miguel tells him his mother was murdered. Miguel asks why Felipe murdered his mother and how he turned Emily against him. Felipe claims Emily wasn't involved in Miguel's mother's death. He won't say why he strangled and burned her. Miguel sincerely thank him for confessing. Miguel appears to believe Felipe was there, but two motorcycle tracks were found. His mom was killed by EZ and Angel, he knows. Miguel brags that he'll make the Reyes brothers experience orphanhood and die soon. Felipe, Miguel's father, acknowledges that he owes Miguel his life, but insists that he cannot harm EZ or Angel. he requests him to spare his children.  Felipe called him "Son", as we are your family." Miguel's eyes widen as he tries to understand. Meanwhile, the Sons of Anarchy ambush EZ and Sofia on his motorcycle. EZ wins, but Sofia vomits. Miguel contacts Emily through Erin's phone. Miguel forgives her and invites her home. He also has Cristobal back. Emily sobs after the conversation.
Mayans MC Season 4 Episode 10 Recap: Ending Explained –  Who is New President?
The biggest twist of the finale; Santo Padre Mayans want vengeance, but Alvarez wants peace and declares a ceasefire with the Sons of Anarchy. Isaac's attack is called a rogue. EZ refuses to surrender and raises the kill switch, which enables a charter to eliminate a president by unanimous vote. The club chooses war over peace by removing Alvarez despite Angel's hesitation. The Mayan Godfather leaves in anger.
Padrino is a legend who saved the club from extinction. I'm on your side until the very end, @EmilioRivera48.

That was some powerful stuff. #MayansMC #MayansFX https://t.co/ar7cPR5rfx

— Chris (@MD10Chris) June 15, 2022
EZ replaces Alvarez as president and makes Bishop vice president, going to cite his experience and leadership. Even Angel is taken aback when his brother says he wants Bishop to assist him navigate the next step. The new president of Santo Padre announces that they'll be starting to work with Galindo and Soledad to keep moving more heroin. They'll shortly control California with that money. Angel questions his brother's actions and who he's become. Angel Reyes interprets EZ's threat to move away.
Mayans M.C. also uses Jay-wife Jay's to show how EZ's actions affect others. Sofia says EZ was there with her when he was expected to meet Jay-Jay. Sofia seems unconcerned by Jay-death Jay's for his wife.  As Season 4 comes to a close, Mayans M.C. switches to EZ in bed with Sofia, seeming pleased with himself. However, while he is sleeping, an unknown guy sets fire to Galindo and Soledad's warehouse, destroying all of the heroin.