Fantasy Island centers on Roselyn Sánchez's Elena Roarke. In the 1970s classic, she plays the grandniece of Mr. Roarke (Ricardo Montalban), the enigmatic proprietor of a surreal island resort where visitors' wildest dreams might be realized. Season 2 of the 2021 series, in which Elena is still active, has recently premiered. She aids the disadvantaged, affects positive change in people's lives, and gradually allows the island to mend her own wounds. The second season of Fantasy Island promises that Elena "will open herself up for the prospect of love." The foundation of the 1970s show has been preserved in the reboot, with new guest stars bringing their own unique stories to the show on a weekly basis. Each episode's goal is to help the protagonist reach an inner calm. Nevertheless, this is not always the case.  (tvacute.com) Here is all the information we have on Fantasy Island Season 2 Episode 7.
Fantasy Island Season 2 Episode 5 Recap: Elena's very first guest Joy Summers
Fantasy Island Season 2 Episode 2 Recap
Fantasy Island Season 2 Episode 1 Recap
Fantasy Island Reboot Season 2 Episode 1 Guest Cast
Fantasy Island Season 2 Episode 7 Spoilers
In Fantasy Island Season 2 Episode 7 titled #Happy, A woman named Amber will bring her family to the island and wish them fake happiness that masks her true intentions. her husband, Dan, is completely dismissive of her holiday expectations, and it looks like she's fighting a losing battle. She also doesn't have the backing of her own children. Overall, Amber isn't having the best start to her fantasy. If Amber wants to build bridges with her relatives, will they cooperate, or will she have to accept that they'll never be as ideal? Now
Fantasy Island Reboot Season 2 Episode 7 Guest Cast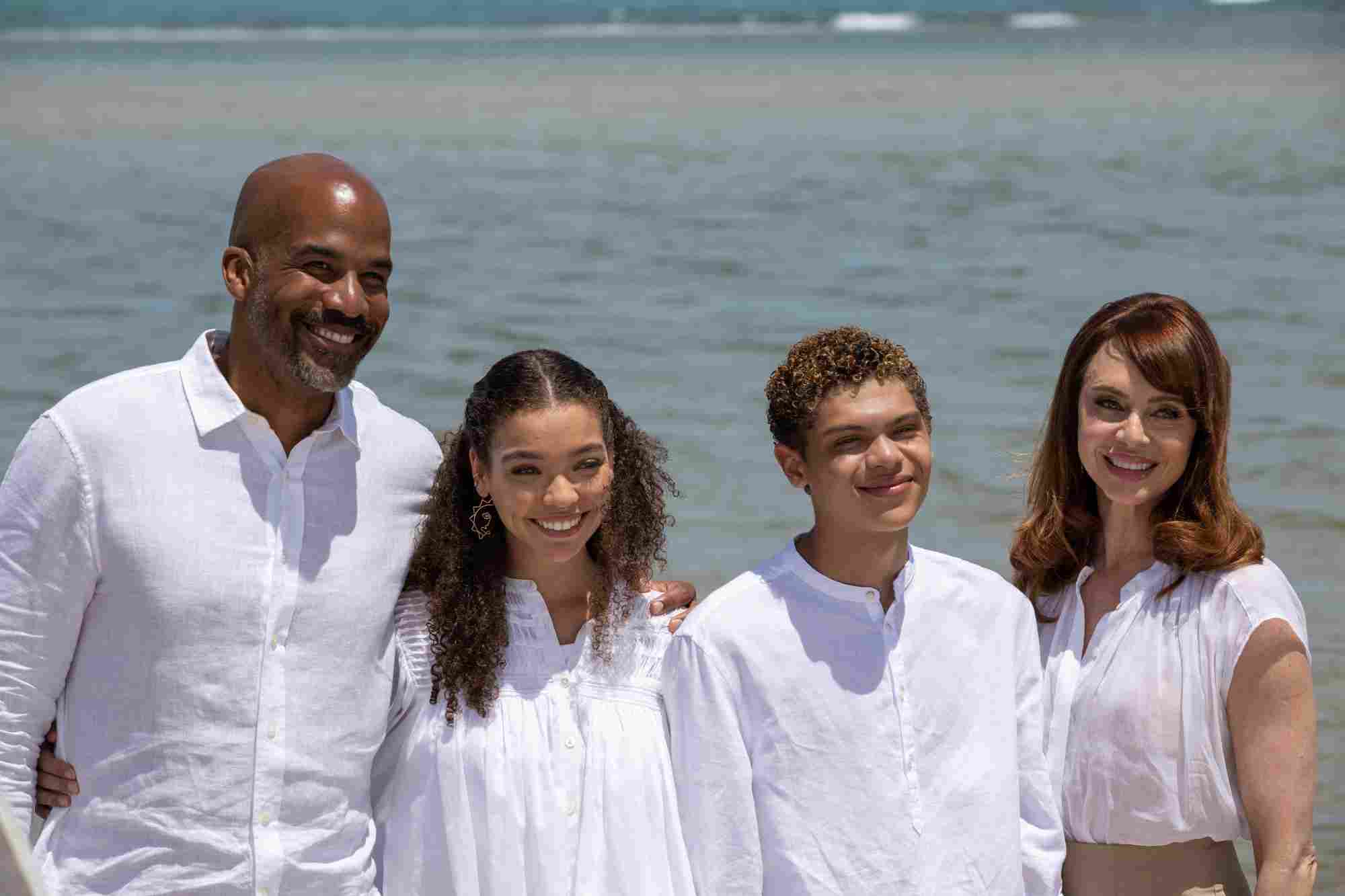 • Melinda Clarke as Amber
Melinda Patrice "
Mindy" Clarke
was born in the United States on April 24, 1969. She grew up in the California city of Dana Point. John Clarke, an actor, is her father. Heidi, Clarke's sister, was one of three children. She died in 1994 from a cancerous heart tumor. From 1997 to 2005, she was married to Ernie Mirich, and their daughter was born in 2000. Clarke tied the knot with
Adam Farmer. 
Clarke is known for playing Faith Taylor on the soap opera Days of Our Lives and Fox's teen drama series The O.C.  her appearance in the crime drama series CSI: Crime Scene Investigation, and Amanda on the action thriller series Nikita. Bustle named it one of the "7 Top Celebrity Podcasts You Should Subscribe to Right Now" in August 2021.
• Reggie Austin as Amber's husband Dan
Reggie Austin was born in Peekskill, New York, on January 7, 1979. As a theater studies master's at Yale University, he was in many stage productions.  he moved to New York City after he graduated. He worked on stage and in a few movies.    He is best known for his recurring roles on Agent Carter, Devious Maids, Pretty Little Liars, and On My Block, all of which air on Netflix. As a guest star, he has been on shows like Homeland, 9-1-1, Grey's Anatomy, The Good Doctor, and NCIS. He has also been in movies like The Omen and Friend.
• Selah Austria as Amber's daughter Riley
Selah Austria was born in Los Angeles, California, in the United States on May 2, 2001. She is a well-known actress, model, Internet sensation, social media star, and Influencer. She is an actress best known for playing Piper in Cobra Kai (2018), Maya in Origin X (2018), and Sasha in Legacies (2018). ·
• Cree Kawa as Amber's son
Cree Kawa was born in Santa Monica, California, in August 2002. He started acting when he was 13 and in middle school. He was in a lot of productions and played a lot of different roles. As a young actor, Cree is committed to learning about all types of acting and getting better at what he does. In 2016, Cree Kawa's manager, April Bartlett, found him. On his first try-out, he got a part in the Disney movie "Walk the Prank". Since then, he is recognized for the TV shows "A Girl Named Jo" and "Better Things". He was in the 2019 music video for "Earth" by Lil Dicky.
Fantasy Island Season 2 Episode 7 Main Cast
Roselyn Sanchez as Elena Roarke
Kiara Barnes as Ruby Akuda
John Gabriel as Javier
Fantasy Island Reboot Episode 207 Synopsis
Amber's fantasy is to have her actual life be as perfect as it appears on social media; Roarke presents a guest with an envelope that reveals the date of his death.
Fantasy Island Reboot Ep 207 Preview
Fantasy Island Reboot S02 E07 Release Date
Fantasy Island Season 2 Episode 7 will release on Monday, February 20th at 8 pm ET/PT on FOX.  You can also watch the episode on Fox's official website shortly after it premieres on television. Roselyn Sanchez's Fantasy Island will be available for streaming, and there will be several options. You can watch the new season in real-time if you don't have access to Fox via streaming services like YouTube TV, Fubo TV, and Hulu+ Live TV. Before committing to a monthly membership, you can test out each platform using a free seven-day trial.
The following day, fresh episodes of Fantasy Island will be available to stream on Hulu if you don't want to (or don't have time to) watch it live. Before committing to plans that start at $6.99 a month, you can test out the streamer for free for 30 days if you haven't already done so. You may access the show's official page on Hulu's website or the Hulu app after creating an account and watching it whenever it's convenient for you.