The third episode of the second season of
Fox
's
Fantasy Island
features a reunion of the cast of Desperate Housewives with
Teri Hatcher and James Denton
appearing as guest stars. Dolly and Dutch, now that they have an empty nest, are looking for some direction over how to spend their next chapter. In the meantime, Helene assists Ruby in making the most of her rediscovered youth. As Javier struggles to adjust to his new role, he shares his struggles with Roarke.  If you're seeking explanations of
Fantasy Island Season 2 Episode 3
,tvacute.com provides everything you need to know!
Fantasy Island Season 2 Episode 3 Recap
The episode opens with Helene
( AMC's TWD World Beyond Star Alexa Mansour) b
eing given an enthusiastic welcome by both her father and his girlfriend when she arrived. Javier didn't come to a conclusion without Elena's
(Roselyn Sanchez)
input because he knew how much she cared about Helene and wanted to be there to show her support. She served as a sounding board for him. It was completely unexpected for Javier to become an instant father to an older child. He is working his way through the situation to the best of his ability, and so far he has had some successes and some failures.
Consider the time when he went to the mainland and purchased Helene a stuffed animal there. He had the intention of being kind, but the present was more appropriate for a young child than it was for a young adult woman. In addition to this, it was a known fact that neither Javier
(

John Gabriel

)
nor Elena had any idea how to deal with Helene being up late. Helene's alarm went off at two in the afternoon, and she immediately wanted food. They weren't sure if sleeping in was just her habit or if it was a normal part of the grieving process she was going through after the death of her mother. They thought it was strange that she was sleeping in, but they didn't know her well enough to ask her about it; so, Javier recruited Ruby to help him talk to her about it.
Ruby has the appearance of being a young person despite the fact that she is not a young person. She experienced the entirety of one life. She tied the knot, and now she's a mother. Javier had requested her to convey his message to Helene on his behalf. He was curious as to what it was that was anticipated of him. He had gotten disoriented, so learning about Helene's requirements will be helpful. Ruby pretended to be a secret agent as the other two new island residents were acting out a scene from their favorite movie.
The Paymer couple, Dutch (James Denton) and Dolly (Teri Hatcher), were on the island to celebrate their wedding anniversary. They have been wedded for a considerable amount of time. When they were eighteen years old, they tied the knot. They wanted the island to guide them in deciding whether or not they should remain a group or if they should go their separate ways. They did not keep their wedding bands after the ceremony. They were unable to retrieve any of the memories associated with having been wedded to one another. Despite this, they continued to look for one another on the island. They started making sexual advances toward one another.
After hours of discussing what their previous marriage was like for each of them, they were finally able to see the situation from the other person's point of view after the conversation. Because of how well they got along with one another, it didn't take long before Dutch and Dolly made the decision to get married. They were unaware that they were already married to one another, but the fact that they found themselves back together after their little experiment on the island shows that they are destined to be together. It was absolutely priceless to see Elena's reaction when she found out they were going to get married.
The wedding that Dolly and Dutch are having is officiated by Roarke. As soon as they put on their rings, a memory of each other is jogged to the forefront of their minds. They accuse Roarke of treating their marriage like a game and fooling around with it. Roarke refutes this claim and whisks them away to a remote location in the jungle, where Andy Richter conducts a game show centered on the dynamics of their relationship. Helene admits that she doesn't know how to deal with having a father, especially one like Javier and that she longs for her mother. Ruby offers her the piece of advice that since Javier is willing to try, she ought to let him attempt and that she herself ought to put some effort into the relationship as well.
Fantasy Island Season 2 Episode 3 Recap; The Game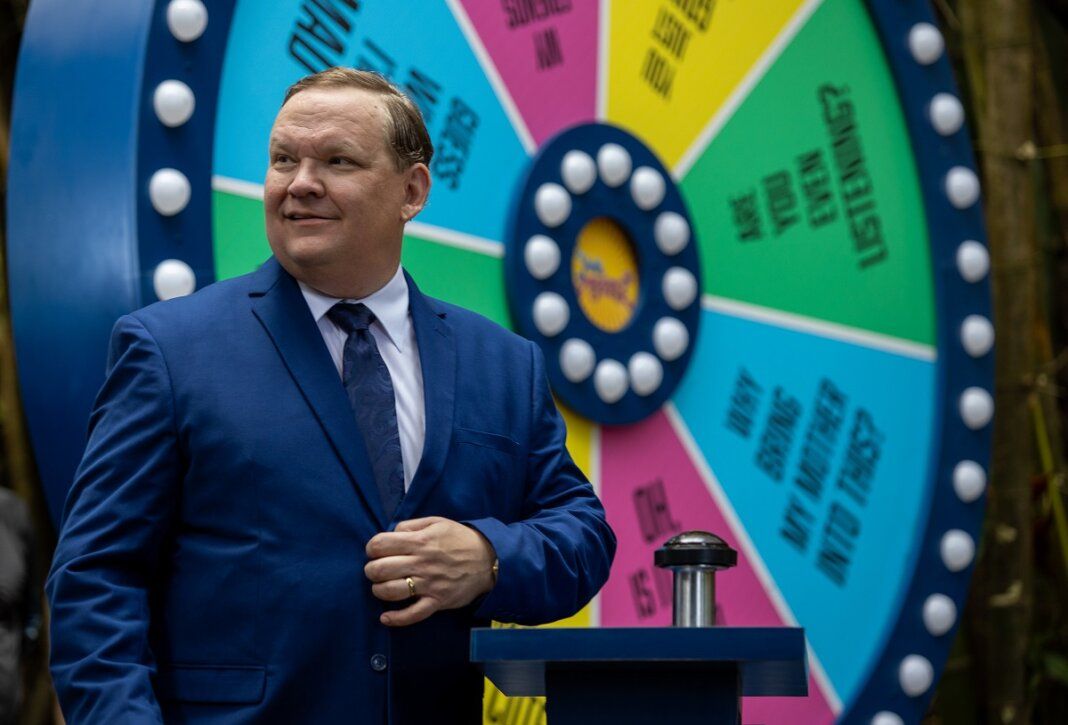 The game show will now begin. The Paymers are questioned about one another's personal lives. The incorrect responses cause them to sink deeper and deeper into the quicksand. They haven't taken the time to listen to each other or to see the truth in each other for a very long time, and as a result, they are falling very quickly and very far behind. Finally, Dutch admits that he wants out of the situation, and after he does, the group is taken back to the beach where the wedding was taking place.
Elena visits Javier in order to discuss the petty things she does that may eventually drive him completely insane. She wants them to maintain the communication lines open between them so that tensions don't build up over the course of their relationship. Javier is perceptive enough to pick up on that, and she eventually concedes that she can imagine a future with him. Dolly is sitting there in utter disbelief after learning that Dutch wants a divorce from them. She patiently waits for him to exit his suite before quietly entering it.
Ruby sends a drunken text to Gina, and Helene guides her through it. Ruby is so glad to have sent it that she does something completely rash and throws her wedding ring into the ocean. There are splashes out there that she doesn't understand, but then Helene comes up to her and gushes at her, and then she vomits up on the sand. This diverts her attention. Dolly is discovered by Dutch in his room. She is in possession of his prescription and asks him whether he is passing away while she is doing so.
They talk about his cardiac problem as they go out for a walk. When he inquires about the funds that she transferred, she confesses that she paid for a poetry writing retreat in Tuscany.
Fantasy Island Season 2 Episode 3 Ending
They acknowledge their love for one another and come to the conclusion that they must improve their understanding of one another. When Elena and Javier are in the midst of a passionate time together, she receives a text message intended for both of them. They go to check on Ruby and Helene and discover the two of them passed out on the beach. Ruby gets a ride home from Elena, and Javier is left to tend to his daughter as she recovers from her hangover.
She falls asleep with the flamingo plushie while dad tucks her into bed, prepares pills and a basket in case she becomes ill once more, and then he kisses her goodnight. He makes himself comfortable in her chair and assures her that he will be available to assist her at any time. "Thanks, Dad," she mutters under her breath. He seems stunned. Ruby is getting ready for bed when Elena receives a text message from Javier informing her that Helene just called him "Dad." A hangover and Elena both. At the pier, Ruby bids farewell to the Paymers.