The horrific altercation between Beth (Kelly Reilly) and Summer (Piper Perabo) on last week's episode of "Yellowstone" will always be remembered. Many of the Duttons mounted their horses at the conclusion of the episode and rode over to The Gather to brand some cattle. The presentation this week takes a calm, contemplative approach to the cowboy way of life. One seasoned cowboy rode his last in Yellowstone season 5 episode 6. John Dutton's (Kevin Costner) oldest friend, who has years of experience and is a true cowboy, is present. Emmett Walsh (Gunsmoke actor Buck Taylor), a recurring figure in Yellowstone, has been a steadfast ally of John's through thick and thin. The lifelong buddy of the Duttons passed away when he didn't wake up while working with the cattle, which John referred to as the "ideal" way to conclude one's journey through this world. Here we (tvacute.com) Explained, how did John's friend Emmett Walsh die? recap:
Yellowstone season 5 episode 6: How did John's friend Emmett Walsh die?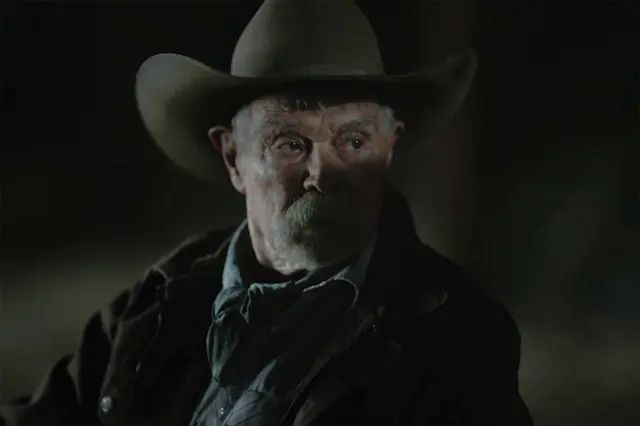 Emmett prepares to ride off to the gathering in Season 5, Episode 5. He (and the audience) had no idea, though, that this would be his last trip. In Yellowstone season 5 episode 6, Kayce (Luke Grimes) and his son Tate (Brecken Merrill) are herding Yellowstone cattle with the best of them out in the ranch's open spaces. During this, Emmett says he brought his fly fishing gear so that Tate (Brecken Merrill), John's grandson, may fulfill his sole travel dream of going fishing. John beams as the two youngest and oldest members of the group ride off to unwind besides a brook. "Son, you could sell it. He says to his son, Kayce (Luke Grimes), "You could bottle it up and sell it. We all needed this day and this experience." Emmett was there.
Later, as they prepare to spend the night beneath a much older tree, we reconnect with John and his old friend. Emmett is chopping logs before John can finish his joke about his snoring, so there is no need in teasing him about it. John complains, "My dad always said if you can't sleep through a man snoring, you're not weary enough. These two are more at peace than they have ever been as they fall asleep beneath their tree with their heads resting on their saddles. The next sunrise is shown in a moving montage, but when John finally wakes up, he tries to wake up his old friend. However, Emmett isn't awake.
He did not awaken. He simply passed away while traveling, as every cowboy hopes to.
Emmet seems dead and chilly even from a distance. John realizes right away that the sweet cowboy has passed away while sleeping. He was not awakened. John says to Rip (Cole Hauser), "He just died on the trail, as every cowboy dreams of," with a lump in his throat. However, a cowboy's job is never finished.
#YellowstoneTV Moments like this are what this show does SO well. John tells his asst to be happy for Emmitt, but he has the slightest catch in his voice when he tells Beth and Rip what happened. He's sad, but, man, he's a real envious of the simplicity of the end he got. 👏🏾👏🏾 pic.twitter.com/D5pOHPhVGv

— One-eyed Willie's fur-mama🐶🐾🐶 (@ElleSansMerci) December 12, 2022
To get back to the ranch and warn Emmett's wife Ella (Anne Cullimore Decker) before she sees his horse return without a rider, John and Clara must ride like the wind. Thankfully, they succeed, but Emmett's wife is distraught, and John's heart aches along with hers. The local TV crew switches their attention away from the festivities to this scene of the Montana governor comforting a local woman on the death of her husband, who also happened to be the head of the state's Fish & Game. She sobs on his shoulder. "How?" Mrs. Walsh is able to inquire about Emmett's passing. "As a cowboy ought to. Holding her in his arms, John sobs, "He was leaning his head against his saddle, gazing at the stars. "His eyes were shut. He didn't crack them open.
Wendy Moniz's character, Senator Lynelle Perry, also attends the event. But she doesn't believe Mrs. Walsh has come to terms with Emmett's passing. John rejects this. She claimed that if his passing threw a shadow over this branding, it would humiliate him beyond measure. He responds, "She's just as cowboy as he was.
The result of everything is a news story on the Yellowstone Dutton Ranch MEPP. One that Sarah Atwood (Dawn Olivieri) and Jamie (Wes Bentley) capture in his flat. They witness John consoling Mrs. Walsh there after Emmett's passing. The Governor was "exactly where he's supposed to be," according to the news anchors, as he consoled his people. John's reputation will now be unquestionably positive.
Emmett Walsh has actually been a prominent character on television's top program since the pilot, "Daybreak," and he is portrayed by none other than Western legend Buck Taylor.  We shouldn't forget to mention the fact that Yellowstone was given a wonderful present when Buck Taylor agreed to appear on this show in this capacity. We are speaking about a figure who is still active within the Western TV genre, and we believe that his presence contributed to an increase in the overall level of credibility that the show possessed.