Every episode of "When Calls the Heart" takes us deeper into the fascinating world of the characters we've come to love. The people of Hope Valley experience new experiences, overcome difficulties and cherish special moments as Season 10 progresses. We'll go into the upcoming episode, "Life Is but a Dream," and examine the enthralling developments that lie ahead in this piece. However, let's take a moment to briefly review the events of the last episode to provide background before we go into the anticipation of the forthcoming episode.
The Hope Valley neighborhood banded together in the previous episode, "Great Expectations," to assist Rosemary and Lee as they anxiously awaited the birth of their child. However, the eagerness and readiness to assist were greeted with issues that worried everyone. But at last, Rosemary has given birth to a baby girl. Elizabeth (Erin Krakow)  was also faced with challenging inquiries from her son Jack Jr. (Hyland Goodrich) regarding his late father. Intriguing concerns were sparked by Nathan and Faith's encounter with a strange guest, while Henry's path to repentance took an unexpected turn. (More read here)
When Calls The Heart Season 10 Episode 5 Recap: What is Rosemary and Lee's baby name?
Pascale Hutton's Real-Life Children
When Calls the Heart Season 10 Episode 6 [Promo] The Heart of the Problem
When Calls the Heart Season 10 Episode 5 Spoilers
In the upcoming episode of "Life Is But a Dream," Rosemary (Pascale Hutton) and Lee's uplifting adventure continues as they negotiate parenthood's early stages. The couple experiences the difficulties and rewards that come with having a baby girl as they get used to their new parental roles. Rosemary and Lee (Kavan Smith) make significant decisions for their newborn daughter. The couple's decision to commemorate Elizabeth through the naming process opens up a world of options for an emotional and significant decision. While the suspense in Hope Valley continues, Nathan and Allie are preparing for an outdoor camping trip, and Lucas has a surprise for Elizabeth.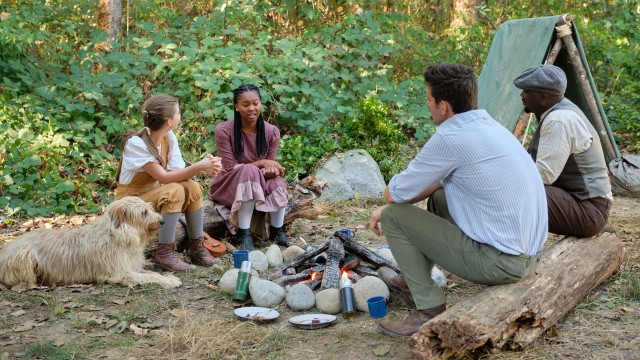 As fans of "When Calls the Heart," we are seated on the edge of our seats and anticipating the arrival of "Life Is But a Dream." As Rosemary and Lee begin this new chapter in their lives, the episode promises heartwarming moments. The storyline will undoubtedly be further complicated by Lucas' surprise and Nathan's camping vacation, keeping viewers eagerly expecting every turn and turn.
This episode is certain to enthrall and inspire viewers with its promise of touching situations, significant decisions, and a pervasive sense of community. Viewers will be treated to moments of love, companionship, and progress as the protagonists accept their roles as parents and proceed to grow. Check out the full Promo and the Synopsis of  When Calls the Heart season 10 episode 5.
#WCTH Season 10 Episode 5 Synopsis: Rosemary and Lee are still adjusting to parenthood; Lucas reveals the surprise he's been working on to Elizabeth; Nathan has a camping trip planned for himself and Allie.
When Calls The Heart Season 10 Episode 5 Release Date
When Calls the Heart Season 10, Episode 5 ("Life Is but a Dream") Will premiere on the  Hallmark Channel on Sunday, August 27 at 9:00 p.m. ET. When Calls The Heart airs live on the Hallmark Channel and app. With a subscription to FuboTV, Hulu + Live TV, YouTube TV, Philo, Sling TV, or DIRECTV STREAM., you can also watch the series live or on demand.
The show isn't available on streaming services like  Netflix and Hulu at the moment. Peacock presently has seasons 7-9 of the show, and new episodes will be accessible the next day. Peacock  Premium premieres the first episode of Season 10 of When Calls the Heart on August 28.
Always check TVAcute for the most recent updates, summaries, and analyses of your favorite TV shows and films.