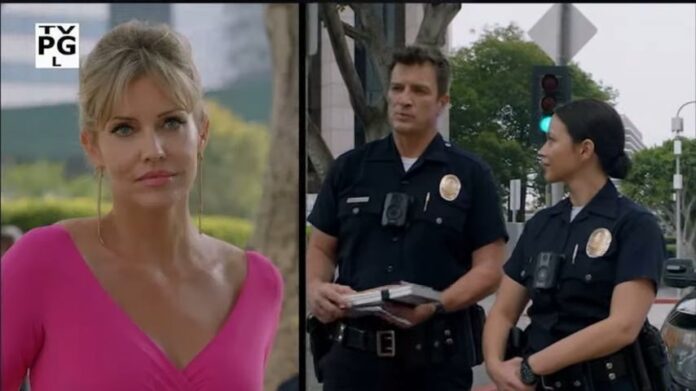 The Rookie Season 3 ended with Lopez snatched from her wedding. La Fiera is a vengeful woman who will do anything to get her sweet revenge. From figuring out who murdered Jackson West to finding Angela Lopez, the fourth season premiere had it all. The saddest part was when Lopez spoke at Jackson's grave after the time jump. Lopez revealed to the audience that she and Wesley named their son after Jackson. It warmed our hearts. Do you want to know what happens next on The Rookie season 4 episode 2 titled "Five Minutes"?This episode will feature an epic museum heist! This could be exciting, depending on how it plays out. Watch The Rookie S2E2 Promo and exclusive photos at www.tvacute.com, So that you can prepare yourself for the upcoming new episode.
The Rookie Episode 402 Synopsis: Officer Nolan and Officer Chen's run-in with an infamous thief tips them off to a potentially big heist surrounding the Getty's big gala event. Meanwhile, Nolan works up the courage to ask Bailey out on a date. Guest-starring is Jenna Dewan as Bailey Nune, Dylan Conrique as Tamara Colins, Tru Valentino as Aaron Thorsen,   as Claire Ivey, and Aaron Leddick as Robinson.
The Rookie Season 4 Episode 2 Release Date
The Rookie Season 4 Episode 2 will air SUNDAY, October 3 at 10 pm ET, on ABC. Episodes can also be viewed the next day on demand and on Hulu. Hard die fans of 'The Rookie' can stream the entire season 3:   DirecTV | Sling TV | Fubo TV
The Rookie Season 4 Episode 2 Photos
This slideshow requires JavaScript.
The Rookie Season 4 Episode 1 Recap
Security footage of Detective Lopez's kidnapping opens the episode. West was killed during his own kidnapping, according to the clip. Lopez, on the other hand, was still alive. A cartel queenpin known as La Fiera kidnapped her. She got her nickname because she survived a gunfight as a teen mother when she managed to take everyone out and save her baby alive. Years later, it was the loss of that child that drove her to kidnap Lopez. La Fiera wanted the baby because Lopez was significantly pregnant with her first child. Sandra De La Cruz's lone child died. She now wants to replace a deceased child with a kidnapped child. It's why Lopez was apprehended alive but not West. Her whereabouts were traced back to a house by the team. Lopez was apprehended and deported to Guatemala. Wes, Lopez's fiancé, hails from a well-to-do family. They used their contacts to gain information from the DEA, and the DEA Agent reported that she had been returned to La Fiera's complex.
Wes had no choice but to rely on his other resources. He discovered the location of La Fiera's facility. He intends to travel down there to retrieve her, and they all wanted to accompany him. No one considered how difficult it would be because they were all so quick to say yes. Grey mentioned that La Fiera will be heavily guarded. She is being defended by the local police. They had to enter the nation illegally. The new Max promised to assist the rescue team in sneaking into Guatemala in exchange for them not doing CNN interviews about him or his group, and he also provided them with firearms.
The group devised a strategy. Wes took a regular trip to Guatemala, knowing that La Fiera would trace him. He explained that he was in town to work out a contract with La Fiera. After that, Wes was transported to the complex. He was introduced to La Fiera. He was well aware that she was losing money due to high taxes. Wes agreed to help if he could get Lopez and his child back. As a result, Wes was allowed to see Lopez by La Fiera. Wes and Lopez have reunited after a long time apart. They talked about it. Wes made a contract with La Fiera as Plan A. When that failed, they switched to Plan B. Plan B was to put pressure on La Fiera to take Lopez to the hospital.
Wes devised a distraction. To combat the early labor, Harper had a needle, and the intention had always been to have Lopez taken to the hospital. There was only one snag in the plan. Before she could be transferred to the hospital, Wes and Lopez were separated. Lopez was still had to go because she was in labor and Harper was the only person who could save her child. As a result, Wes was kidnapped and slain. But Nolan pursued him. Nolan chased Wes down and was able to save him. The rest of the passengers boarded the chopper, which was returning to pick up the men. Everyone was eventually able to board the plane, and they flew back to Los Angeles. Lopez was able to have her baby three months later in the United States. Jackson is his name, and he was named after Officer West, who passed away. In addition, the suspect who shot Officer West was caught.​