In this week's episode of The Gilded Age, the impacts of Episode 2 are still rumbling through high society. The chairs of the charity bazaar, Mrs. Fane and Mrs. Morris were humiliated when George Russell came in and bought everything he could in an attempt to shut down the event after the women turned down his wife Bertha's offer to hold an event in their ballroom. Read the full recap of The Gilded Age Episode 3  – "Face the Music" below
The episode starts out with a historical Easter Egg. Clara Barton, who is well known for her work as a nurse to Union Army soldiers at the time, is now focusing her efforts on creating an American chapter of the International Red Cross. Aurora Fane sends Agnes a letter regarding another charitable event. Despite the fact that the bazaar raised over $2000, Agnes claims Mrs. Fane and Mrs. Morris are laughingstocks. Clara Barton has written Agnes a letter. Barton has created a Red Cross chapter in the United States and will speak at Mrs. Fane's. Marian and Ada decide to go together.
Gladys is out with her governess, Miss Grant, as Ada looks out the window. Gladys confesses to Miss Grant that she stole some brandy. Miss Grant is adamant that it was for therapeutic purposes. Gladys and Miss Grant are going to see Archie Baldwin, a nice young guy who is a friend of Gladys'. Gladys is questioned by Miss Grant as to why she hasn't introduced Mr. Baldwin to her mother. Gladys insists that everything is difficult.
Jack invites Bridget to witness a magic lantern show with him among the Van Rhijn servants. Bridget is encouraged by Mrs. Bauer. Bannister is asked by Jack if he and Bridget can take the same night off. Bridget protests, saying she hasn't consented to travel, but Jack is certain. Mrs. Russell inquires about the new station with her husband. Mr. Russell informs her that the bills have been passed and that the stock market is performing well. She offers him the newspaper, which reports on a rumor that the law would be repealed. Gladys is old enough to be married, Mr. Russell says, and she doesn't need a governess. Mrs. Russell is adamant that she understands what she's doing.
Mr. Russell and Mr. Morris Meeting
Mr. Russell and Mr. Morris have a meeting. The aldermen have betrayed Mr. Russell, and he is outraged. Mr. Morris indicates that public opinion has shifted against him. Mr. Russell accuses Mr. Morris and the other aldermen of deceitfully manipulating the stock market. They are merely public servants, according to Mr. Morris. Mr. Morris leaves when Mr. Russell accuses them of being dishonorable. Mrs. Fane's hosts Clara Barton's talk. Mrs. Astor inquires about her plans for gaining enough support for her mission. Cornelius Eckhard III, an older man, believes President Arthur will be more energetic than previous presidents.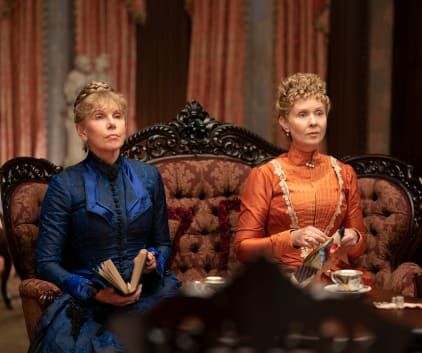 Marian notices Ada and the man exchange a thoughtful look. Marian inquires about the man's identification with her aunt. Mrs. Fane concludes her remarks, and everyone applauds Mrs. Barton's presentation. Mr. Eckhard approaches Ada and asks her to introduce him to Marian. Ada recalls meeting him while they were both young and living in Pennsylvania. He claims to have lived in Connecticut before relocating to New York. Mrs. Morris is Mr. Eckhard's niece, and he came to the discussion because he heard Ada was going to be there. Marian advises him to contact them. Ada chuckles, and he walks away.
Mrs. Fane and Mrs. Morris come up to the Brooks and ask for their help. Marian gladly accepts it, but wonders why they don't approach Mrs. Russell if they require funds. Mrs. Morris and Fane warn Marian not to disclose her name in the presence of Mrs. Astor. Mr. Russell has insulted Mrs. Morris' husband, Mrs. Morris informs them. Mr. Russell informs his wife of the issue. He is concerned that the aldermen will take his business. She inquires as to whether he is capable of combating it. He says that he will have to risk their capital, as well as their fortune. She encourages him to go ahead and do it.
Gladys approaches Mr. Russell as he travels upstairs, asking for a favor. Agnes recalls the Eckhards in the Van Rhijn mansion. Marian appears to believe Mr. Eckhard was Ada's, old sweetheart. Mr. Eckhard, Agnes claimed, didn't have any money, therefore their father turned him down. Marian thinks he's lonely, and Agnes quips that he's been longing for Ada the whole while. Oscar arrives and informs the Russells that he will be dining with them.
Mr. Russell dinner with  Miss Turner
Mr. Russell, dressed for dinner, runs into Miss Turner. He inquires as to what she desires. Miss Turner claims that she, along with the rest of the servants, supports the Russells. He expresses his gratitude and departs. Their conversation is overheard by the church. Mrs. Russell inquires about Oscar's job at dinner. Gladys inquires whether they may discuss Archie Baldwin. Oscar mentions that he knows Archie because his godmother is Archie's aunt. Oscar believes Archie is too young for Gladys. Gladys claims he's only an acquaintance, but her father insists on inviting him to dinner.
Mr. Russell emphasizes that all he stated was that he had no objection if Mrs. Russell didn't mind. Mrs. Russell claims she has the final decision on who attends supper. Gladys notes that Mr. Baldwin's ancestor fought at Yorktown. Larry makes a snarky remark about his mother's peasant background. Oscar inquires about the railroad with Mr. Russell. Mrs. Russell inquires about Oscar's thoughts on Mr. Post's new historical society building in Brooklyn. He claims he despises the Romanesque style. Gladys agrees with him when he asks for her opinion.
Marian receives a letter from Mr. Raikes informing her that he has accepted the position and has relocated to New York. Agnes advises her to stop her friendship with him and to keep it civil. Marian claims that she has no intention of marrying him, but she does want to be his friend. Marian looks much like her father, and Agnes informs her that Mr. Raikes is an "adventurer." Mr. and Mrs. Russell are getting ready for bed. He expresses gratitude to her for sparing him from Oscar's grilling during dinner. She claims that she does not want Mr. Baldwin to be friends with Gladys and that she believes Oscar is also interested in Gladys. Mr. Russell agrees but believes it's for the wrong reasons. Mrs. Russell inquires about her husband's plans for the aldermen. He tells her he has a scheme that will cost him a lot of money but will be worth it in the end. He sleeps in her room all night.
Oscar and John Adams slept
Oscar and John Adams slept on the same bed. Oscar informs John that he believes he has met the girl he will marry: she is wealthy, naïve, and pleasant. What will happen to their relationship, John wonders? It should be simple to maintain, according to Oscar. It's official: no new railroad station will be built. Mr. Russell informs Mr. Clay that they will purchase all of the company's stock, but they must be kept hidden. Mr. Russell is confident in his ability to win this fight. Marian and Peggy pay Mr. Raikes a visit. Marian walks inside his office and sits down. He invites her out to lunch. She flatly refuses. He invites her to coffee once again, but she declines. Liberty's Hand, according to Mr. Raikes, causes them to "run into each other." She agrees to meet him at 5 p.m. next Monday. Marian departs as Peggy enters Mr. Raikes' office.
Mr. Morris meets with Mr. Fane to discuss how the stock market has risen rather than fallen as they had intended. Even if Mr. Russell is behind it, Mr. Fane assures him that he could only hold the crash for a day or two, consuming his money in the process. Oscar walks into Mr. Morris and the two talk about the rumor that George Russell's career is doomed. With the staff for lunch. Peggy reveals that she has received a letter from the Christian Advocate's publisher, who wishes to discuss the publication of some of her short pieces. Mrs. Bauer and Bridget congratulate her on her achievement.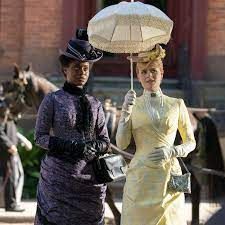 Bridget informs them of Peggy's good news, and Bannister and Jack join them. Bannister also congratulates her. Peggy rises without having eaten her lunch. Jack announces that he and Bridget will be attending the magic lantern show. Bannister informs them that the curfew is ten o'clock. Bridget promises him that they will return by that time. Marian, Mr. Eckhard, Mrs. Fane, Mrs. Morris, Ada, and Mrs. Astor discuss the future of the Red Cross at a luncheon. Mrs. Astor believes they may have to confront politicians. Marian makes a joke about Aunt Agnes that is not well received. Mr. Eckhard and Ada had a conversation. Mrs. Astor notes that some new money is being invested in the construction of a new opera house. Marian is perplexed by the situation; a nicer opera house would benefit everyone. Ada interrupts her before she can finish. Bannister informs Peggy that a man has arrived to see her. She inquires as to what kind of man he is. He claims that the man promised to meet her in the park.
In the park, Peggy runs across her father. For her mother's birthday, he insists that she stay with them. He claims he can forgive her, and she is offended by his suggestion that she apologize. She claims she would return home for her mother's birthday celebrations. Mr. Scott inquires about his daughter's secretary position. She claims to have time to write. He informs her that Black women writers can no longer make a life. She informs him of her publication prospects. He offers she can work for him if it doesn't work out. She storms out, irritated. Miss Turner sews and Mrs. Bruce handles paperwork while Watson reads the newspaper. Watson stands up and walks away. Mrs. Bruce inquires about his walks, to which he responds that he goes to the park, but that he mostly enjoys walking.
Mrs. Bruce observes that Watson may have taken a shine to Miss Turner after he left. Mrs. Bruce finds Turner's dismissal of him as a broken-down old valet hurtful. Marian inquires about Mrs. Chamberlain as she walks home. Ada explains that the Chamberlains slept together before marrying and that their "adopted" boy is older than he should be. Mrs. Fane questions her husband as to why he didn't see this coming. Mr. Fane is adamant that it has always worked in the past. Mr. Russell, he claims, will lose everything if he continues on this road. Mrs. Russell is humiliated, according to Mr. Fane's wife. Mrs. Morris is to blame, according to Mrs. Fane. She requests that Mr. Fane make an appeal to Mr. Russell.
Jack and Bridget are in the theatre, watching a magic lantern show. She tells him she's not "like that" when he puts his arm around her. Mr. Morris confronts his wife, telling her that unless she begs Mrs. Russell's forgiveness, they would lose everything. Jack invites Bridget out for coffee or ice cream after the show. Bridget informs him that they must return to the house by ten o'clock. He asks if he might take her hand in his, but she declines. Oscar informs John that the scheme has failed and that he will have to start over. Oscar informs John that Gladys Russell was his potential suitor, and word on the street is that Mr. Russell is no longer available. Oscar claims that he will not be able to marry till he has enough money. John tells him that he will locate another.
The Christian Advocate is definitely taken aback when they find Peggy is black. She inquires as to if there is a restriction prohibiting the publication of work by people who are similar to her. She references a recent editorial in which they discuss equal rights. Mr. Carlton may not have time to visit her, but she is informed she can wait. When Mr. Russell arrives home, Church informs him that Mrs. Russell has gone to live with Mrs. Morris. Mrs. Morris informs Mrs. Russell about the situation. Mrs. Russell inquires as to what Mrs. Morris expects of her. Mrs. Morris wants her to persuade Mr. Russell to be sympathetic. Mrs. Russell thinks this is an unusual request, especially given Mrs. Morris' treatment of her. Mrs. Russell notices Mrs. Morris leaving the room.
Peggy sits in silence till Mr. Carlton summons her to his office. He expresses regret for keeping her waiting. He wonders if she composed the stories herself because they are so good. Peggy is adamant that she wrote them. Mr. Carlton is interested in publishing some of them but only provided the characters are white and her identity as a Black woman is kept hidden. She is adamant about not altering the narrative. He claims that doing so would cost them their Southern readership and that this is the best he can do. Peggy walks with Marian, unsure if her refusal to amend her tale was a mistake. Marian backs up her choice, believing it to be the best. Peggy is concerned that her father will take advantage of her.
Marian and Peggy arrive at Liberty's Hand, awestruck by its immensity, and meet Mr. Raikes there. Miss Scott respectfully declines his invitation to accompany them on their walk. Mr. Raikes tells Marian how much he's liked his time in New York so far, and he asks if he can call on her. He waxes lyrical about his future, confesses his love, and proposes to her. Marian is overpowered, but she does not respond. He kisses her hand before saying his goodbyes. Marian informs Peggy of what has recently occurred. Mr. Eckhard pays a visit to Agnes and Ada, complimenting them on their home's attractiveness. Agnes informs Ada that they will be three for tea since she wants to gossip with Mr. Eckhard. Bannister shuts the doors behind him. Mr. Eckhard, Agnes suggests, wants to marry Ada in order to mend ties. Ada has little money of her own, she informs him, and if she married, she'd have to move away and fend for herself. Mr. Eckhard claims Agnes misunderstood his motives. Mr. Eckhard had been overheard gloating about marrying a meal ticket, so Agnes apologizes but tells him that his father initially turned him down. Mr. Eckhard leaves, noting the time, and Ada returns. Ada sits down to tea with her sister, perplexed by his roughness. The aldermen confront Mr. Russell, pleading for him to do the right thing and assist them.
At the end of Episode, Mr. Morris shoots himself
Mr. Morris kneels and begs, claiming that their lives are in jeopardy as a result of his activities. Mr. Russell claims that they must be held accountable for not just how they treated him, but also how they insulted his wife. Mr. Clay exposes them. Mr. Morris has returned to his house. He inquires about the children and expresses his admiration for Mrs. Morris and the Morris family for being excellent people. Mr. Russell assures his wife that the bill will be passed and that the station will be constructed. Mrs. Russell inquires if the whole shambles is over. He claims he's almost there, but not quite, and acknowledges he's already put them through enough. Mr. Morris shoots himself in the head while looking at images of his family.