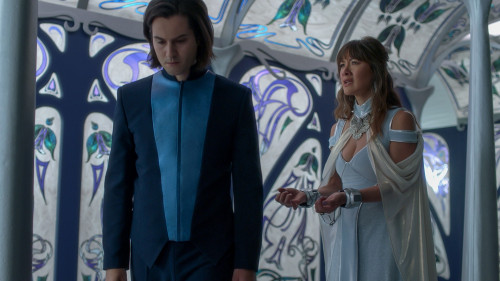 The show has been gradually preparing Kelly to be the next Guardian for some time, with the second half of Supergirl's final season, focused on her more than before. She finally got the Super Friends to notice and see what was going on as they arrived to support Guardian in her battle. The episode's best sequence was perhaps the last one when Alex apologized for ignoring both the reality of bigotry and how much it wounded Kelly. It was a touching and authentic way to end a truly powerful episode, underscoring that progress is not enough.  After watching an emotional episode, fans are waiting for to next new episode titled; "The Gauntlet," Supergirl and her crew will face off against Nyxly (Peta Sergeant) for a magical symbol associated with courage. Bravery will be tested on Supergirl and Nyxly to see who gets the totem. Supergirl's lone chance to get the miraculous item. Meanwhile, Lena (Katie McGrath) will get to know her new gift's oddities. To get to know the new Supergirl Season 6 Episode 13 titled "The Gauntlet" more closely, you can see its photos, promo, and synopsis with www.tvacute.com. Watch the sneak peek below.
Supergirl Episode 613 Synopsis: SUPERGIRL MUST PASS THE TEST OF COURAGE Supergirl (Melissa Benoist) and team race Nyxly (Peta Sergeant) for control of a magical totem that controls courage. Supergirl and Nyxly battle and each get a piece of the totem but learns the first person to pass the test of courage will gain control of the entire thing. Meanwhile, Lena (Katie McGrath) is still struggling to make sense of her newfound gift.
Supergirl Season 6 Episode 13 Photos
This slideshow requires JavaScript.
Supergirl Season 6 Episode 13 Release Date
Supergirl Season 6 Episode 13 release on Tuesday, September 28 at 9 pm on The CW.  Supergirl Season 6 Episode 13 is also available the next day on The CW app and video-on-demand services like Amazon Prime, Microsoft Store, Google Play Movies & TV, Direct tv and Vudu. Season 6 of Supergirl will include 20 episodes, giving fans plenty to look forward to. Keeping this in mind, the finale might air around mid-November. Watch Supergirl S6E13 preview Online.
Supergirl Season 6 Episode 12 Recap
Following Nyxly's escape in the final seconds of last week's episode, this week's decides to transport us back in time to the Ormfell's destruction by the bothersome Imp. When the Ormfell building goes up in flames, everyone inside and around it begins to exhibit unusual symptoms. Jean Rankin possesses supernatural abilities, and each time she employs them, she imposes a condition on the rest of the world. Kelly seeks assistance from those she believes will assist her, but no one is interested in assisting her. The hospitals are running out of supplies, and many are simply avoiding the topic. Even the media has turned a blind eye to it, with Andrea claiming that no one cares about The Heights. Kelly is having trouble and seeks Jimmy's help. She also converses with Diggle and Brainy.She decides to attempt and take Jean out on her own, but it does not go well. Kelly inquires about racial discrimination in the 31st Century, but Brainy responds that racism still exists. Kelly is afflicted by something.
Kelly confronts the Super Friends about their failure to show there to stop Rankin and their failure to assist the citizens of the Heights. She chastises them for putting Nyxly ahead of the dying citizens. Guardian collaborates with Orlando to get all of Ormfell's victims outside so they can regain their strength. Guardian and the Super Friends face Rankin, who reveals that she intends to restructure the city and eradicate the "weak and worthless" individuals. While Supergirl fights Rankin, the other Super Friends defend the city from Rankin's spells. Kelly has a much better suit and joins the fight against crime with her allies, who can do a lot to aid. Martian Manhunter and Alex enjoy an emotional exchange as he says that living as a Black man has made him feel the most foreign on Earth. Meanwhile, Supergirl makes the wise decision to use the rubble that was supposed to be used to find Nyxly to find Rankin and assist the citizens of the Heights. Kelly assists in the assassination of Jean and knows she must continue to do what she does best: lead with her heart. Nyxly's orb locates the Courage Totem, giving her and Mitch their first target now that
Rankin's magic is no longer in the way. After Rankin is jailed, the Guardian advises that Orlando run for her seat on the council. A small girl picks up a garbage lid and exclaims, "I'm Guardian," giving Kelly a well-deserved smile to cap off a triumphant debut. In the episode, Lena made a brief appearance, discussing her newly acquired magical talents with her mother's old friend Florence. Lena demonstrated her natural ability by creating fire and nearly burning Florence's sweater off. Unfortunately, Lena's training is cut short when she hears about Nyxly and the Super Friends' battles on the news. Lena decides to go to National City because her friends need her, but she arrives to find a book of spells delivered by Florence waiting for her. Kelly unwinds at her apartment at the end of the episode, absorbing the feelings of the day. Kelly's tiredness over fighting for something that should be intrinsically equal is discussed with Alex when he returns home. Alex inquires as to how she might assist Kelly, to which Kelly responds that she should just let her be and let her unpack as she sees fit. Kelly finally asks Alex to hold her, and the scene ends on a sad but loving note.