The hell-in-paradise drama by Mike White's The White Lotus Season 2 finale is generating a lot of talk. We were aware from the start that there are several bodies floating in the Mediterranean sea off Sicily, but whose are they? One of the major plotlines that need to be resolved is Ethan's (Will Sharpe) growing jealousy. Another is Tanya's (Jennifer Coolidge) debauched Palermo retreat with the evil Quentin (Tom Hollander), who is now known to have ties to her absent husband Greg (Jon Gries). Another is her assistant Portia's (Haley Lu Richardson) realization that she and her neurotic employer may be in danger (Simona Tabasco). For an enormous 80-minute finale, there is a lot of rich storytelling to be done.
How to Watch The White Lotus Season 2 Episode 7 Online?
The White Lotus Season 2 Episode 7 Recap: Byg [Arrivederci]
Daphne Sullivan (Meghann Fahy) was the one who found the first dead body and based on her reaction, it appeared as though the person who had passed away was not someone with whom she had a particularly strong relationship. There has been no shortage of wild speculation, including the idea that Daphne was the one who carried out the murder, or that Alessio, the man Lucia Greco (Simona Tabasco) has been dodging here and there throughout the season, was the one who was responsible for the deaths of all three Di Grasso's  Albie, Bert, and Dominic  (Michael Imperioli). How it turns Out!  (tvacute.com) Here is all you need to know about the conclusion of "The White Lotus Season 2 Episode 7, in case you missed any of the exciting moments.
Ethan is still plagued by thoughts of Harper Spiller (Aubrey Plaza) fighting with Cameron as the Sunday finale opens. As Dom looks longingly at pictures of him and his now-splintered family, a lovestruck Albie offers to take Lucia back to L.A. with him (!). Tanya (Jennifer Coolidge) awakens in Quentin's palazzo and, as she descends for breakfast, overhears him suspiciously speaking with his pals. She receives praise from a friend of Quentin's for acquiring a new buddy "so late in life," so is she approaching the end of her days? She laments that Portia abandoned her, but despite Jack's protestations, the girl is still cooped up with him in a hotel room and panics when she can't find her phone. He was nowhere to be found on Instagram, either. How can you believe such a person?
Mia (Beatrice Grannò) greets Valentina (Sabrina Impacciatore) as she awakens and compliments her on her performance from the previous evening: You're fine, At breakfast, a frustrated Harper eventually tells Cameron, "You're an idiot." Albie, in the meantime, informs his father that he requires 50,000 euros, perhaps to purchase Lucia's freedom. Dom initially rejects Albie's offer.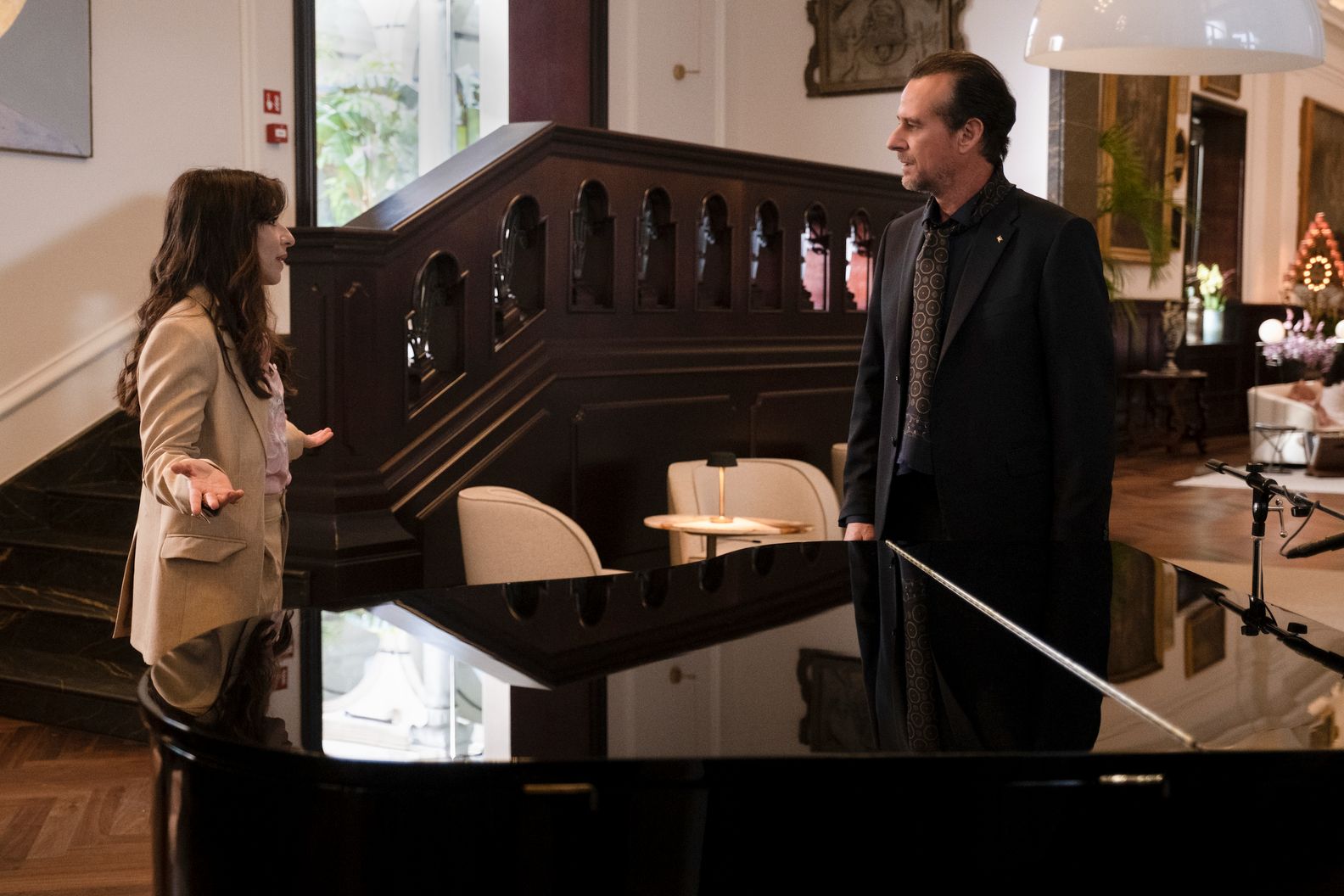 To Isabella's joy, Valentina, who is sporting some major sex hair, agrees to bring Rocco (Federico Ferrante) back to the front desk. Tanya wanders back into that bedroom and re-examines the image of young Greg and Quentin. Quentin manages to catch her! Tanya is adamant that the cowboy looks exactly like Greg, but he has a different name Steve and he rushes her out the door before she has a chance to ask.
Harper is confronted by Ethan, who claims she slept with Cameron to avenge him. She points out that he begged her to believe him when he found a condom in the couch, so why can't he trust her? She finally admits after much prodding that she and Cameron had taken shots at the bar, go back to their room, and shared a brief kiss. Cameron is swimming in the water when he storms off in a fit of wrath. He charges up to him and accuses him of wanting to have a sexual relationship with Harper. They then engage in a hard wrestling session, taking turns holding one other underwater until another man breaks it up. However, Ethan manages to land one solid blow before the other man walks away.
When Jack (Leo Woodall) informs Portia (Haley Lu Richardson) that Tanya has already boarded a boat to return to the hotel, Portia is perplexed and still unable to locate her phone. Jack simply advises Portia to get a drink and unwind. When Portia phones her on Jack's phone, Quentin and his buddies are sidetracked from discussing how difficult it is to maintain their ancient palazzos with Tanya as they are returning by boat. Tanya describes to Portia what Jack was doing and Portia reveals what Jack said regarding Quentin's need for money. Tanya is suddenly putting things together using the picture of Greg, and their prenup stipulates that if she passes away, Greg inherits everything. Just as Tanya makes the decision to leave, Jack removes his phone from Portia's grasp. She wants to return to the hotel, but Quentin informs Tanya that they will still be at sea for a few more hours and Jack reassures her that there is no rush.
Ethan is stressed out when Daphne asks him to sit down and chat, and he admits that he believes something happened between Harper and Cameron. The music becomes alluring as he pursues her into the night after she invites him to join her on that remote island off the coast. Tanya's boat shows up, but Quentin informs her that they will stay on the boat for the day before Niccolo escorts her to land that evening in a dinghy. Giuseppe returns and objects that Mia has taken his place at the piano while she is proposing to find Valentina a lover who is "a real lesbian." Valentina tells him he's been dismissed and Mia will be taking over full-time. And he is not pleased!
The truth is revealed to Jack by Portia, including what Tanya saw him doing with Quentin. When she continues to push, he pouts and offers to drive her right back ("Just let me do my job," he says, before snapping at her. Tanya loses her phone in the water, which just makes things worse! Tanya, oh Tanya. She makes an effort to open out to the boat's skipper ("These gays! He doesn't know a word of English, but he shouts, "They're trying to kill me!" As Niccolo arrives in the dinghy, Cameron quietly slips Lucia an envelope containing money at the bar. When Dom tells Albie he paid for Lucia, it's awkward as all get out for him and Daphne to sit next to Ethan and Harper. Bert Di Grasso (F. Murray Abraham) dampens the atmosphere by admitting that he felt a little aroused when Mia hugged him just now, despite the fact that Albie has already had his parents vouch for him. Ethan and Harper are given a toast "to friendship" by Cameron, and they all hesitantly raise their glasses to it.
The White Lotus Season 2 Episode 7: Is Tanya really dead? Is Jennifer Coolidge leaving The White Lotus?
Albie informs Lucia that his father sent the money, and she gives him a heartfelt hug—though she appears to be torn. Tanya keeps a tight eye on Niccolo over supper on the boat and notices the mystery black bag he's carrying. When it's time for him to board the dinghy, Tanya delays by asking for more wine. When Harper asks Ethan where they should go next, he starts kissing her passionately and accidentally breaks the eerie head sculpture as they make their way to bed for a steamy encounter.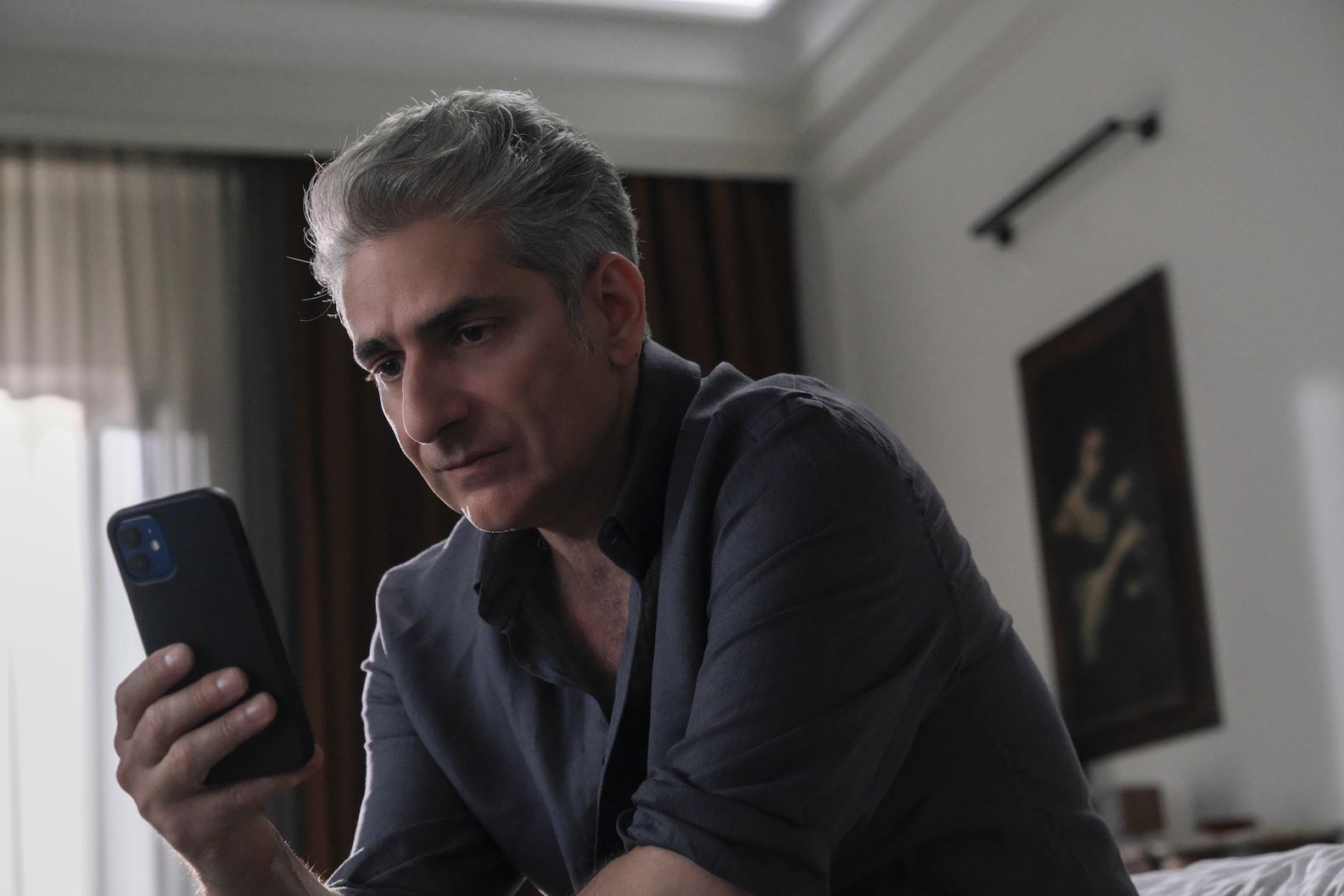 It's progress when Dom's wife actually answers the phone when he calls. However, while they are returning, Jack pulls over, starts a cigarette, and tells Portia that he has driven her to the airport instead. She is forewarned not to return to the motel by him. As he drives off, he throws her phone out the window as he pulls away.
Tanya finds rope, duct tape, and a revolver (!) inside Niccolo's bag before locking herself in a bedroom. She shoots him dead as Niccolo storms in runs out crying and leaves a trail of dead people in her wake as she fires indiscriminately. She can only ask him, as a dying Quentin rolls over, "Is Greg having an affair?" When Tanya realizes she is out of ammunition, one of Quentin's companions escapes, and Tanya mentally prepares herself to shimmy down to the boat. She only falls into the sea after slipping and slamming into the boat. While opulent operatic music is playing, we witness her lifeless body floating in the sea. That's a lot of corpses for Daphne to find, I suppose.'
The White Lotus Season 2 Episode 7 Recap: Ending!
Lucia (Simona Tabasco) wakes up in the morning and silently exits Albie's room. (Did she really leave him?) When Daphne runs into Tanya's corpse, the flash-forward catches our attention. All three Di Grasso's Bert, Dominic, and Albie men admire a stunning young Italian woman at the airport, while Harper and Ethan enjoy their recently rekindled romance and Cameron Sullivan reassures a shaken Daphne with a kiss. Albie, who Portia runs into, informs her that they discovered numerous dead bodies in the ocean and on a yacht. He inquires, "What happened with Jack?" He is insane. She inquires, "What happened with Lucia?" Oh, she cheated on me. Back in Sicily, a happy (and suddenly wealthy) Lucia and Mia stroll hand in hand and welcome Alessio, who was working at the hotel the entire time, as they exchange numbers. Arrivederci!