Season 14 of RuPaul's Drag Race UK includes a fresh twist, bringing it back from previous seasons to surprise and thrill fans. For the premiere, the candidates will be split into two groups, and no one will be spared. This revelation is a significant departure for the program, and it will undoubtedly ensure that the new season is full of memorable moments.
RuPaul's Drag Race Season 14 Episode 1 – A big twist??
We already know that Jennifer Lopez will appear as a judge in one of the episodes, while queen Kornbread Jete has teased that the shows will be "chaotic. There's also a groundbreaking trans queen, and Maddy is the first cisgender and straight man to participate in Drag Race's history.
Before a new race for the crown begins, can we take a moment to celebrate @the_symonee's ICONIC reign? 👑

Drop your favorite gif of The Ebony Enchantress from #DragRace Season 13 👇 pic.twitter.com/dv2PxCgKxW

— RuPaul's Drag Race (@RuPaulsDragRace) January 7, 2022
"This season, the much-touted chocolate bar twist will be included as well. We don't know what it is yet, but according to queen Maddy Morphosis, "it's one of the biggest twists in Drag Race history, but it's not even the biggest twist of the season."
The 14 competing queens will leave it all on the runway in an effort to impress the judges as they vie for the ultimate title of "America's Next Drag Superstar" and a grand prize of $100,000.
RuPaul's Drag Race Season 14 Guest Judges
This season's guest judges consist of music, television, comedy, and film icons including Taraji P. Henson, Andra Day, Loni Love, Christine Chiu, Ava Max, Nicole Byer, Ts Madison, Alec Mapa, Dove Cameron, and Dulce Sloan, with virtual appearances by Jennifer Lopez and Sarah McLachlan, and special guest appearances by Norvina and Leslie Jordan.
RuPaul's Drag Race Season 14 Cast
The cast of RuPaul's Drag Race season 14 consists of 14 queens. They are: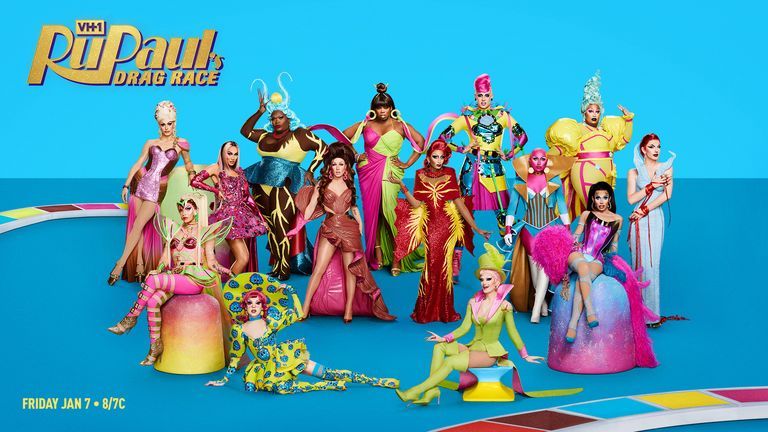 Alyssa Hunter (Cataño, PR), Angeria Paris VanMicheals (Atlanta, GA), Bosco (Seattle, WA), Daya Betty (Springfield, MO), Deja Skye (Fresno, CA), Jasmine Kennedie (New York City, NY), Jorgeous (Nashville, TN), June Jambalaya (Los Angeles, CA), Kerri Colby (Los Angeles, CA), Kornbread "The Snack" Jeté (Los Angeles, CA), Lady Camden (Sacramento, CA), Maddy Morphosis (Fayetteville, AR), Orion Story (Grand Rapids, MI), and Willow Pill (Denver, CO).
Calling all angles! 😇

Stunt in your comfy couture and join us for the #DragRace Season 14 premiere TONIGHT at 8/7c on @VH1! 💅 pic.twitter.com/8YRAglVaGt

— RuPaul's Drag Race (@RuPaulsDragRace) January 7, 2022
RuPaul's Drag Race Season 14 Episode 1 – Release Date
The two-part debut airs on Friday, January 7th at 8:00 PM ET/PT VH1, with music superstar Lizzo serving as a guest judge. The premiere concludes on Friday, January 14th at 8:00 PM ET/PT, with the remaining queens bringing their talents to a talent event hosted by the legendary singer/songwriter Alicia Keys.
From Social Media: The Unverified Rusical to that EPIC finale ball, #DragRace Season 13 was really a cultural reset 👑

Ru-live all the best moments before Season 14 premieres TONIGHT at 8/7c on @VH1! 👉 https://t.co/yrjWjMrBmf pic.twitter.com/IYlcBhLWaX

— RuPaul's Drag Race (@RuPaulsDragRace) January 7, 2022