Fans of the Rick and Morty series are in for the ride of their lives as they witness dimensions collide, characters develop, and plot twists pop up out of nowhere. The second episode of Rick and Morty, Season 7, "The Jerrick Trap," features an exciting twist. This episode presents a thought-provoking post-credits scene that begs intriguing questions in addition to revealing important story themes. In this episode recap, tvacute will be delving into the show's mysterious post-credits sequence.
Rick and Morty Season 7 Episode 3 Recap: Post-Credit Scene Explained!
Rick and Morty Season 7 Episode 3: What to Expect
Rick and Morty Season 7 Episode 2 Recap
The beginning of the show has a classic Rick and Jerry exchange. Jerry approaches Rick for help with an apparently unimportant rake problem, which starts the conversation that ends with the body-swapping twist. As usual, Rick brushes off Jerry's plea as beneath him, which sets off an ego conflict. This argument gets so intense that Rick switches their bodies to make a point out of desperation and impulsivity.
But after the exchange, it's clear that living in one other's bodies is nothing like they had anticipated. As Rick awakens in Jerry's body and is rapidly overcome by the unfamiliarity and constraints of his new vessel, the experience takes a considerably darker and chaotic turn. Unable to handle life, Rick ends his own. Jerry, who is now living in Rick's body, encounters a distinct set of difficulties as he battles Rick's powerful collection of bodily devices and eventually meets his demise.
The introduction of Morty's situation causes the show to abruptly change. Because of his reckless acts, which include trying to sell crystals on their territory, Morty finds himself in a hazardous scenario where he is being held captive by a mafia group. However, because of the respect Rick has throughout the galaxy, Morty's relationship with Rick provides him with an unexpected lifeline that allows him to follow his own dreams.
Regaining prominence, Rick and Jerry's dilemma is revealed. The garage, in its strange way, brings them back together by fusing together pieces of their minds, putting them in an incredible situation. Now, with their thoughts fused, Rick and Jerry share a body and experience an unparalleled mental and physical union.
A call from the mafia boss later in the novel adds another level of intricacy to the scenario. Due to their different personalities and entwined thoughts, Rick and Jerry are at odds about what to do next. The mafia boss tries to win Rick over at first, but things quickly spiral out of control and into a full-fledged gunfight with Morty's life in jeopardy. At this desperate point, Rick and Jerry realize they both care for Morty, which makes them put aside their disagreements and work together to defeat the alien danger.
Interestingly, they collaborate on things other than the mission. As their distinct personalities start to mesh, Rick and Jerry's relationship grows stronger. They even discover the real story behind Jerry's missing rake, which is that Gene was the one who took it. Rick and Jerry make an unexpected choice as a result of their newly discovered synergy: free from the constraints of their former identities and determined to preserve the status quo of their combined thoughts, they decide to take a new direction.
At the end of the episode, Rick and Jerry are shown to be an unusual criminal couple that steal crystals from strong opponents while wearing Hawaiian shirts. Concurrently, the mafia leader formulates a scheme to apprehend Morty, Beth, and Summer, establishing a precarious encounter.
Rick and Jerry, who have changed greatly from their previous lives, realize the importance of their family once more as the issue reaches its peak. Motivated by a sense of duty, they make the decision to go back and save their loved ones. But their reappearance on the scene is everything but typical.
In a startling turn of events, Rick and Jerry combine their best qualities to become a mutant being known as "Jerricky." This union blends Jerry's psychic abilities with Rick's combat prowess and body armor, leading to a thrilling encounter that ends with the mafia boss and his cronies dispatched. The magnitude of their metamorphosis is demonstrated when they reveal their new identities as "Burger and Fries".
There is a sense of melancholy lingering despite Jerricky's heroic deeds and amazing metamorphosis. But Gene's admission regarding the rake takes a surprising turn. Jerricky doesn't waver in their will to go, even in the face of the facts. Only after an unanticipated incident—Jerricky walking on a rake, for example—does Rick's consciousness emerge, showing that a "Memory Rick" had been hidden inside Jerry's head the entire time. This information paves the way for Rick and Jerry to continue their never-ending feud and return things to their previous state.
A sequence after the credits shows us more about the trapped Memory. Rick's voyage through Jerry's head, his battle to get out, and adjusting to having a "Memory Gene." This surprising turn of events serves as a reminder that the Rick and Morty universe is about more than simply fun stand-alone adventures—it's also about telling intricately linked stories.
The explanation of the post-credits scenes in Rick and Morty Season 7 Episode 2!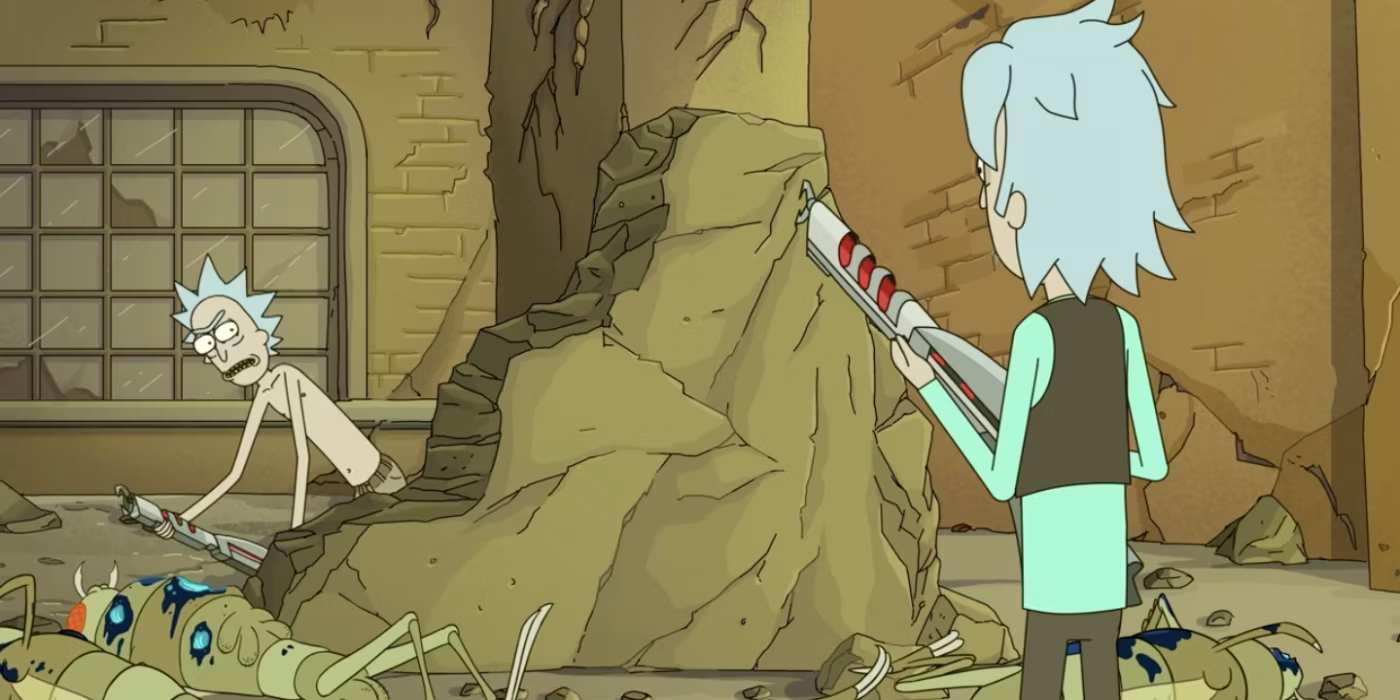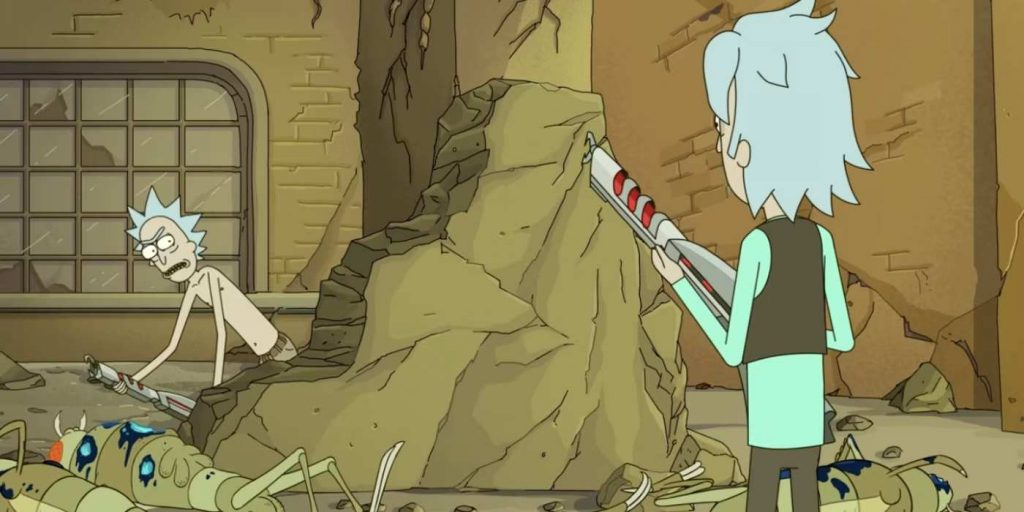 Unlike the customary post-credits scenes that usually occur at the conclusion of each episode, the post-credits sequence in "The Jerrick Trap" is distinct. This scene takes place while Rick and Jerry's consciousnesses are still combined, and it fits into the chronological action of the episode. It offers a glimpse into the peculiar realm of Memory. Rick is stuck in Jerry's head, trying to find a way out with all his might.
Recall The journey Rick takes through Jerry's memory maze is really bizarre. In a hilariously bizarre turn of events, he searches through decades' worth of memories from Jerry in an attempt to locate a clue that will allow him to build a portal out of his head. But the problem is that Jerry's memory makes the suggestion that all technology is made up of springs and cogs, which confuses Memory Rick.
His fury grows as he tries to build a mechanism out of these made-up springs and cogs, and Memory Rick can take no more. This results in an amusing yet moving scene where he lets out his annoyance on Memory Gene, highlighting the peculiar and complex narrative in the show.
Recall Given that Rick had not been seen since turning down Rick's invitation to become a genuine person in Season 5's "Rickternal Friendshine of the Spotless Mort," his return is a startling revelation. This unexpected return pays homage to the show's rich past while also highlighting the series' dedication to its intricate and interwoven backstory.
In conclusion, "The Jerrick Trap" is an episode that sends viewers on a twisting and emotional rollercoaster. This episode delivers a delicious blend of humor, mystery, and surprising connections, from body-swapping to crime-fighting duos to the mysterious return of Memory Rick. It exemplifies how the program skillfully combines characters and plotlines from seemingly unconnected episodes to create a tapestry of storytelling that captivates viewers and makes them want to see more.
The post-credits scene serves as a reminder that the Rick and Morty universe is a maze of intricate, interwoven stories just waiting to be unlocked. Its unique placement within the episode also adds another degree of complexity to the story. We can only expect more mind-bending journeys and surprising reunions in the upcoming episodes as the series progresses. We are constantly left wondering about the limits of reality and the breadth of the multiverse in Rick and Morty.
Rick and Morty Season 7 Episode 1 Recap and Ending Explained