For their tenth wedding anniversary, Noah (William Jackson Harper) and Emma (Cristin Milioti) are taking a trip to the Oceana Vista Resort in the Mayan Riviera. Emma thinks their marriage isn't progressing, whereas Noah has been pleased with life. The strength of their marriage is put to the test when they are subsequently drawn into a case involving two missing people from fifteen years prior.  Here is the full recap of The Resort Season 1 Episode 1.
[Peacock] The Resort Episode 4 [A History of Forgetting] Recap: Did Alex kill Sam and Violet?
"Trying to get back in touch with your history is a time waster. The past doesn't exist in the present since it only exists in the past. The concept of time travel is undeveloped. When Noah and Emma travel to the Mayan Riviera in the Oceana Vista Resort for their tenth wedding anniversary, Luna, a resort concierge, welcomes them. Noah is unable to remain up for dinner because of his jet lag. Emma, therefore, stays the night alone while Noah is sleeping. This may be a reoccurring issue in their marriage, based on her attitude. The following morning, though, Emma is sound sleeping while Noah is animated and conversing with another married pair, both of whom go by the name of Ted. Later that evening, Emma crashes and tumbles into a ditch while riding a moped. Emma discovers a discarded phone in that very ditch. She tucks the mobile into her pocket and waits for Noah to help her. As a result of the accident, Emma is now taking medication, and Noah advises her not to consume alcohol.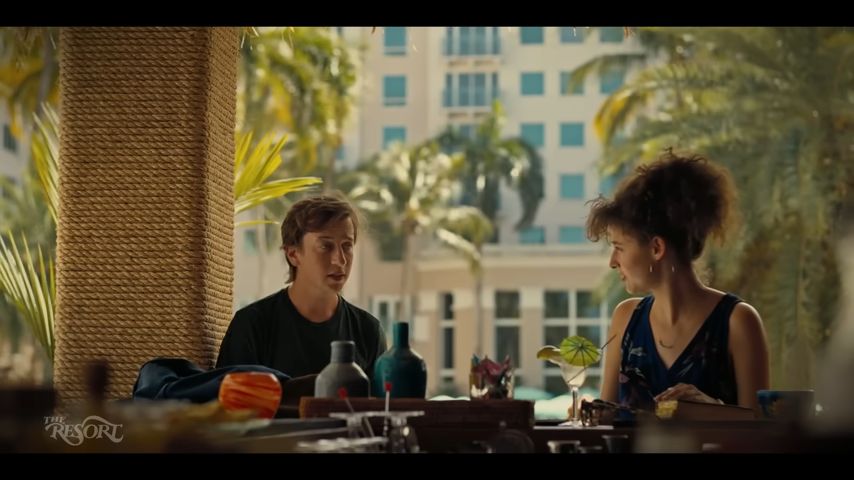 Emma exits the bar and gets a battery for the phone because she is obviously bored and more intrigued by the phone that she found. She looks through the pictures once the mobile is completely charged before beginning to read the texts. Many of the texts express worry for Sam, the person to whom the mobile is most likely registered. Emma travels to the deserted and demolished Oceana Vista Resort since she is really interested in the case. However, the cabbie advises her not to enter since "people have died there." In 2007, two tourists, Sam and Violet, were reported missing, and a different man's mutilated body washed up at the resort.
A rogue hurricane destroyed all evidence, possibly with the exception of the cell phone that Emma has found, but Emma learns this information after conducting a quick Google search. Then, in a flashback, Sam and his girlfriend Hanna are flying aboard a plane. Sam's parents, Carl and Jan, are also traveling to Cancun on the same flight, and Carl asks Jan if Sam is genuinely gay. Sam looks through Hanna's phone after she falls asleep on the plane and discovers several amorous messages from Professor Bryan. Sam's father notices him staring at a photo of Professor Bryan's d*ck just as he opens it. Emma, who is still in the present, is preoccupied with the missing vacationers. Noah had to restrain himself from looking through Emma's phone while she was taking a shower. He does, however, come across Sam's battered phone.
Later that day, he approaches Emma with accusations of having an affair as he asks her to interpret the mobile. Obviously, Emma tries to correct him and tells him the truth about Sam and Violet's apparent separation. Does Noah describe her as crazy? The Resort doesn't seem to be that sort of show, though. He instead offers to assist her. Noah discovers a photo message in the phone's deleted texts that shows Sam and Violet were once acquainted. As Sam, Hanna, and his parents arrived at the resort in 2007, he keeps to himself. Sam simply watches Violet, who he probably doesn't know yet, talk to her father, and he misses her. Baltasar Fras, the resort's security chief, yells at Sam as he follows her on her skateboard. Sam keeps on skating around the resort, oblivious to Baltasar. Until he almost collides with Violet and then smashes into a tree.