Outlander Season 7 Episode 3 Ending, Explained – "Death Be Not Proud," Episode 3 of Season 7 of Starz's historical drama 'Outlander,' shows James Fraser (Jamie) and Claire Fraser being faced with an overwhelming tragedy when their home on Fraser's Ridge is consumed by fire. Both James (Jamie) and Claire manage to survive. Yet, their beloved home is completely destroyed. Jamie uncovers something significant while searching through the rubble, which sets off unexpected consequences in future episodes.
Roger and Brianna "Bree" Fraser MacKenzie is currently dealing with the fallout from Bree's parents' divorce, including its emotional impact and separation of their family unit. When this episode concludes, viewers are left on an exciting cliffhanger; providing additional suspense and anticipation. If you want to know what lies ahead for these characters, let's examine what we know now about their situations.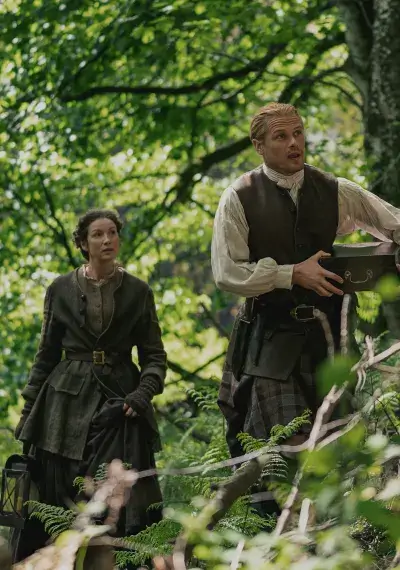 Outlander Season 7 Episode 4 Recap
Outlander Season 7 Episode 3 "Death Be Not Proud" Recap
Claire and Jamie's survival is confirmed through an extraordinary discovery: letters written by Claire's parents to Brianna were found 200 years later, providing proof of time travel! Though it seems odd that Claire and Jamie suddenly appeared in Boston dressed in 18th-century attire without us witnessing their reunion, they generously paid for Mandy's surgery. Bree now sports "time travel bangs", similar to breakup bangs but more subtle in appearance.
In 1980, the MacKenzies visited Fiona Wakefield and her family in Inverness, bringing much-needed joy. While reading letters together, they discovered an accidental discovery: a musket ball that ignited their curiosity to explore all boxes. However, Bree is reluctant to learn of her parents' past, fearing it might alter the course of their lives in her present. I can understand Bree's hesitation; however, as someone who enjoys watching TV show marathons, I simply can't relate. Bree and Roger are excited about purchasing Lallybroch as it will allow them further to immerse themselves into Claire and Jamie's lives, promising amazing adventures at Lallybroch! It promises an incredible adventure that awaits all those involved and viewers.
Meanwhile, in 1776 Claire and Jamie refuse to be overcome by the devastating fire that destroyed their home. Although their community failed to save it, they remain resilient, facing harsher hardships yet emerging stronger. There was an important moment when Claire quoted Robert Frost's "The Death of the Hired Man," asserting that home is where you find refuge when there's nowhere else to turn; Jamie responded heartfully with words affirming their deep bond and love between each other. Ah! My endearing grandparents!
Claire and Jamie must endure both the shock of losing their home to fire and dealing with Arch and Mrs. Bug's relationship; these individuals play an integral part in Claire and Jamie's lives. Arch, who now possesses stolen Jacobite treasure, uncovers its connection to Jamie's past. It turns out that the gold had originally been intended to fund an insurrection among various individuals involved with the Jacobites. Jamie's decision to exile Arch from Fraser's Ridge leads to a confrontation that takes an unexpected turn, ultimately leading to Mrs Bug's accidental killing by Ian. Although Arch's death does not concern Ian as much, her loss deeply grieves him; she had been such a source of support during difficult times like Allan's burial.
Though not as integral to the series as in the novels, their deaths in the show may not carry as much of an emotional punch. Claire singing "Ave Maria" seemed out of place; however, Ian acting impulsively and leading to someone's death is unnerving – Allan may have deserved his fate, but Ian should not increasingly become seen as an executor; help is required! Mrs. Bug's death leads Ian to reconsider his actions and offer his own life to Arch Bug as reparation; instead, Arch has other plans, vowing revenge against someone close – an act which only makes him worse! It is truly chilling!
Jamie's decision to fulfil his promise to Jenny by returning Ian to Lallybroch is unclear whether it was motivated solely by the recent threat or by deeper reflection on their lives. While they prepare to build on a different plot in Fraser's Ridge, Jamie acknowledges that war reduces opportunities available to them and that returning home may help prevent future clashes with William – although his determination remains undeniably endearing.
Before Jamie, Claire, and Ian embark on their trip to Scotland, loose ends remain to address. Jamie and Jemmy discover an underground cave and store the remaining Jacobite gold there while disguising some as musket balls. Bree and Roger receive one such disguised ball along with a coded letter from Jamie detailing the location of this treasure in Spaniard's Cave as well as Jemmy's familiarity with its route – although both seem wary to become involved just yet due to potential danger associated with handling it as soon as possible given its potential trouble-making capacity – though time will tell. Who knows what will come of dealing with such treasure in an alternate history…?
Lizzie, her former Beardsley husbands, and the Frasers have an emotional goodbye. Upon seeing their baby resemble his parents, Jamie's expression is priceless – Jamie attempts to be as candid with Lizzie as possible in their goodbye conversation. Claire bids Adso a tearful farewell as they depart the woods, believing he may have perished in the fire. Tears flow down her cheek as she embraces him one last time before they part ways forever.
Adso's death, combined with recent events such as parting ways with her daughter and grandchildren, losing their home, and having surgery, has caused Claire great grief. Now she must leave America without knowing when or if they return to Fraser's Ridge; allow her the space she needs to grieve near their property boundary. Claire considers Jamie her home, while Jamie also holds on tightly to Claire. His promise that they would return is kept, and Claire recognizes that with Jamie by her side, she can overcome anything, reassuring him he will always be enough. Leaving Fraser's Ridge, their future and destination remains unknown.
I couldn't help noticing Jamie's recent emphasis on his lucid dreaming in these episodes. Ever since his dreams foretelling Brianna before they meet each other, we have known about this special relationship between his dreams and future events. Now that Bree is back in the present, her powers may play a greater role in the show's narrative. Jamie tells Claire of a dream where they visit a house together where a woman named Fiona welcomes them as family members. Jamie brilliantly depicted Jemmy encountering an unknown object as being a telephone in Jemmy's dream! Claire took comfort in knowing her loved ones was okay even if communication with them was limited to dreams or letters from Jamie; though Claire yearns for better contact between mother and daughter, this must do until then.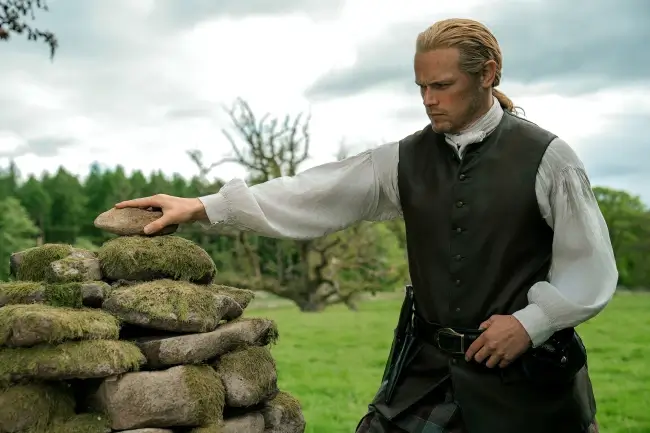 Outlander Season 7 Episode 3 Ending Explained
Jamie conceals some of the stolen Jacobite wealth after discovering some in a hidden cave he explored with Jeremiah "Jemmy" MacKenzie. Jamie informs Claire of this decision following an intense dream he had where Amanda appeared healthy while Jemmy seemed contentedly employed; this vision moved Jamie deeply and inspired him to help his daughter and her family.
Jamie and Claire had witnessed Brianna and her family endure considerable difficulty since learning of Amanda's illness, prompting them to consider travelling back in time to save her. Jamie dreamed of travelling into the future to save Amanda, which intensified his anxiety over Brianna and Roger's safety and well-being; consequently, he secured gold for them in a hidden cave; in his letter to Brianna, he advised her that should they ever require substantial fortune, Jemmy could provide help finding it.
Unfortunately for Brianna and Roger soon learned what this gold meant as well – just before this advice from Jamie came into effect and could provide help by knowing about its significance – though initially unaware of its significance, they found themselves in need of substantial fortune year later, and sought Jemmy for advice regarding where it could be found; unfortunately for Brianna, this advice made an immediate impression upon them both.
Brianna and Roger use Jamie's hidden funds as leverage and visit Lallybroch, an ancestral Fraser family home they find for sale. With Jamie's hidden gold as a funding source, they contemplate buying it and restoring it for themselves as part of Brianna's familial heritage and opening up new chapters of their lives.
Also Read: Which novel is Outlander Season 7 based on?