Claire (Caitriona Balfe) and Jamie (Sam Heughan) confront unexpected hurdles in "Sticks and Stones," the penultimate Outlander Season 6 episode, setting up plenty of drama ahead of the climax. Tensions between the supervising family and the Christies are at an all-time high on Fraser's Ridge following the death of Malva (Jessica Reynolds) last week. Furthermore, a stunning revelation concerning a Fraser family member could lead to even more turmoil. We've broken down all of the drama from the episode below, so beware of spoilers.
In the opening Scene, Malva Christie (Jessica Reynolds) addresses a Fraser's Ridge church congregation that the devil came to her in the appearance of a man she trusted and stole her innocence. Audiences are aware that she was implying Jamie Fraser (Sam Heughan) as the baby's father, but we also know that this is not the case. Returning to the current day, the episode "Sticks and Stones" opens off where Episode 6 left off, with a killed Malva lying in the field outside the Frasers' house. A blood-stained Claire stood next to Jamie Fraser, opposite Malva's devastated father Tom Christie (Mark Lewis Jones), and her brother Allan Christie (Alexander Vlahos), who immediately suspected Claire of murdering his sister. Fraser's Ridge is dealing with the terrible murder of a young woman and her unborn child.
Following Malva's death, a stone-faced Tom simply wants to know how long his daughter lived before she died. Claire, who is still reeling from the news, believes it would have happened quickly. He determines that Malva and her infant boy will be buried in the woods rather than sullying the graveyard's sanctified grounds with their guilty bodies. Claire and Jamie, however, overpower him, announcing that they will hold a service, with Roger leading it. Jamie transports Malva's body to the operating room so Claire may suture her wounds. She is in a poor way, trembling and being taunted by both Malva and Lionel Brown. Though she manages to stave off her sadness with a few swigs of whisky, she eventually returns to the mask. Meanwhile, some of the fishermen begin to comment on Claire's "sharp tongue and sharper knives," and inquire as to whether Malva was alive when Claire hacked into her belly for the baby.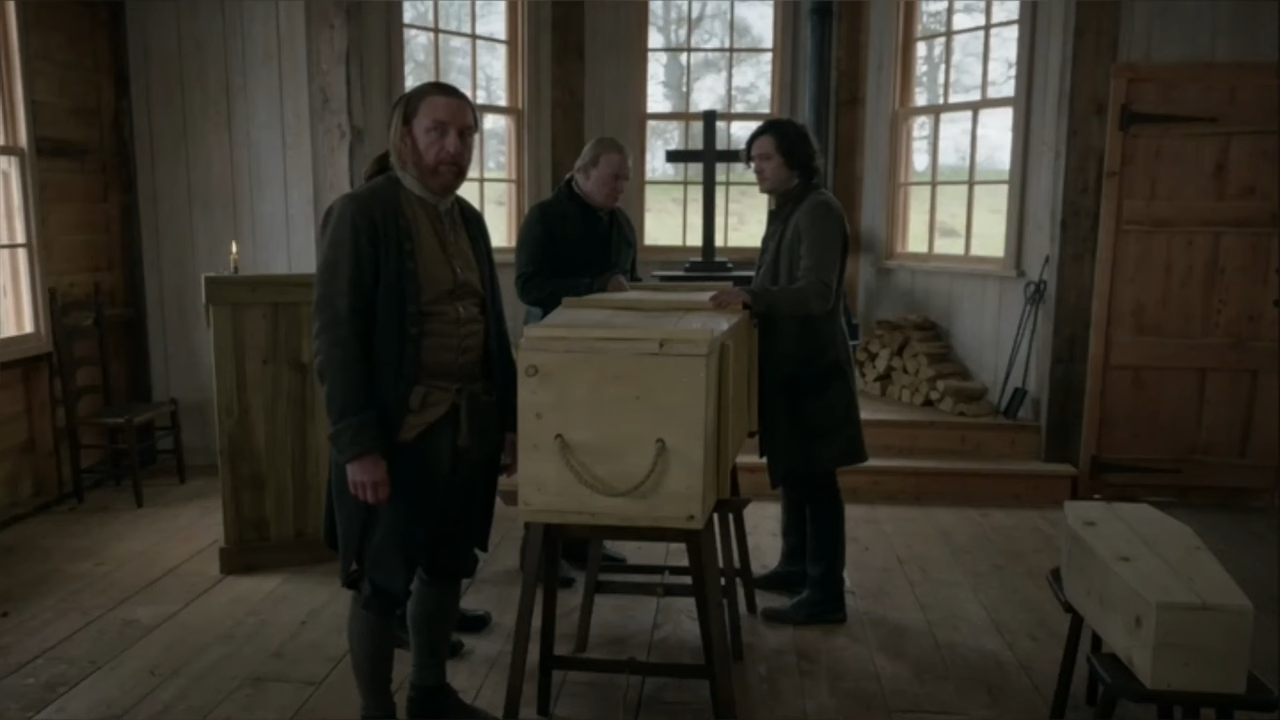 The funeral is under-attended, and Jamie and Claire are denied by the Christies when they offer to assist carry the coffins to the cemetery. All of it is too much for Claire, but Lizzie consoles her by revealing that she was the one who came knocking on the door the day Malva died. Claire had speculated that it could be her former helper and that the ether dream she had about her had come true. Soon after, Lionel Brown's taunting voice is joined by Geillis Duncan, Frank, Black Jack Randall, and Dougal, all from Claire's miserable past, in the surgery. And it's at this point that Jamie Finally sees that something isn't quite right about his soulmate, and the two of them discuss what's hurting her.
Claire breaks down in tears as she explains what she's been seeing and hearing, and she tells him that her capacity to compartmentalize her emotions is rapidly eroding. She feels immediately guilty for everything, even Bree's rape, and Roger's enslavement, because none of it would have occurred if she hadn't been "selfish" and gone back in time to be with Jamie once again. Jamie suggests a different perspective: she is the lynchpin that brought their family together and maintains it together. "Our entire universe breaks into dust without you," he continues. As she tears, he tells her that "you found me in the dark" after Wentworth. He asks her to let him in so he may do the same for her without resorting to ether oblivion. He kisses her on the forehead and hugs her close, yet… Jamie's expression is concerned.
Remember how, a few episodes ago, Lizzie became ill and Bree sent the Beardsley twins to her house with the ointment to treat her malarial fever? As they both rubbed it all over Lizzie's body, what began out as medical developed into foreplay. Lizzie is now pregnant, and she isn't sorry, but Jamie understands he needs to address this matter quickly before everyone on the Ridge finds out and spreads the news. He insists that Lizzie marry one of the Beardsley's, despite her refusal. She raises her voice in protest. The Beardsley brothers have arrived at the barn. Jamie takes two straws and tells them to take one apiece. Lizzie takes the shortest straw, and Keziah aka Kezzie is the lucky winner. Jamie then conducts a two-sentence handfasting ceremony. They're now married.   Jamie instructs Josiah aka JO to leave the Ridge the next day and not return until the baby is born.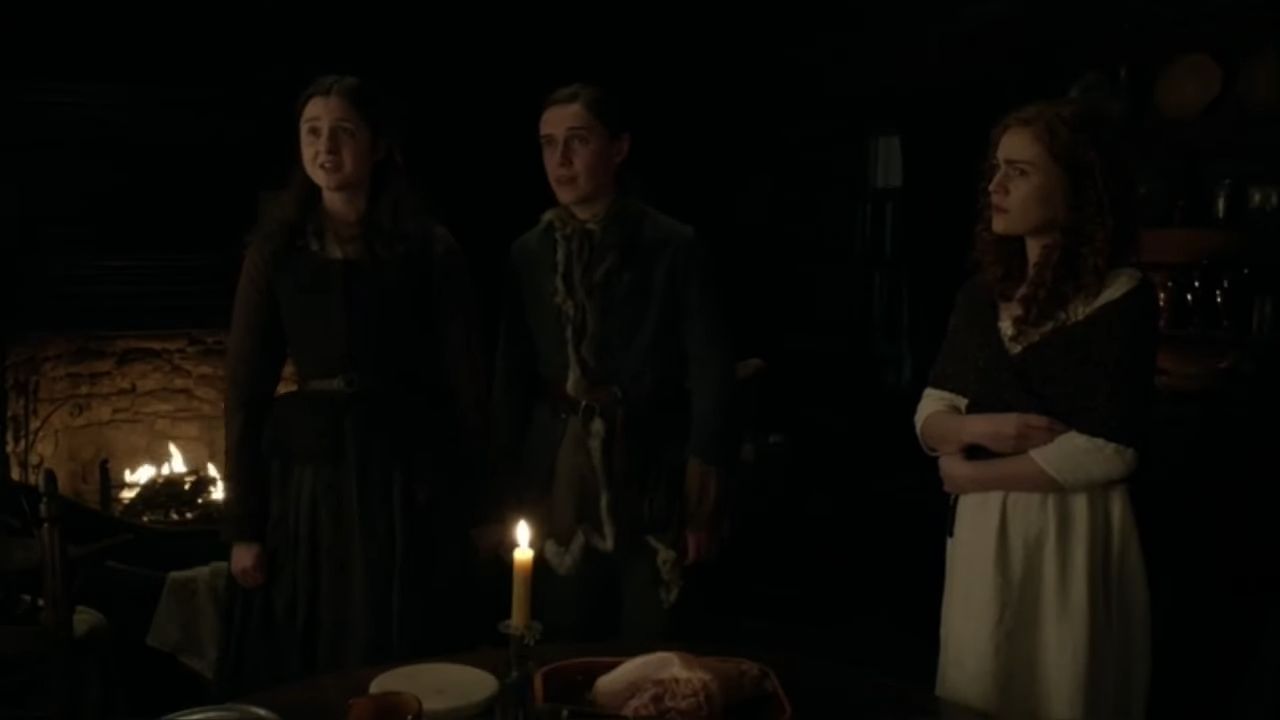 Brianna (Sophie Skelton), speaking of babies, isn't sure she's ready for Roger to give up his time as a preacher to serve the Ridge. She'd gone down this path before with her mother, who would frequently leave in the middle of the night to care for others. Roger reminds her that he is first and foremost a husband and parent. He will not put his family in jeopardy. Brianna accepts her defeat. Roger is eligible for ordination as long as she is not required to convert. She is, without a doubt, a devout Catholic. Roger chuckles and declares that anyone who has an issue with Brianna is destined for hell. The next day, a sullen Lizzie complains to Claire that Josiah being forced to leave is unfair. Claire reminds her that she should have notified them about the lads' friendship sooner. Lizzie claims she tried to notify Claire the day Malva died, but she refused to answer the door. Claire understands she didn't murder Malva at this point. Lizzie would have been able to see or hear her! Claire has a new sense of independence. She rushes to her operating room and removes the ether. She isn't insane! And that's when Lionel appears once more. He goes on and on about Malva.
When Jamie walks into the room, he observes Claire's mood. He pays close attention to her ramblings about being insane and seeing dead people. She has a dark mood swing, which she dislikes. Look at all the other things she's done, even if she knows she didn't kill Malva! Because she was yearning to be with Jamie, everything is a shambles. She altered the chronology. It's all because of her. Jamie tells Claire that there is no way he would have it any other way. Brianna would not have been born if it hadn't been for the stones. Roger is married with a son and another on the way. Fergus is a father of three children. Without Claire, their entire world falls apart. And if she can't silence the whispers, he'll assist her in doing so. They'll deal with it as a team. Claire sobs in Jamie's embrace. She appreciates his willingness to confront the demons and darkness. He makes an attempt to console her. She has not been charged with a crime. Claire and Jamie have some unexpected visitors as Bree, Roger, and Jemmy ride away. Claire is to be arrested for the murder of Malva Christie, according to the Browns in Outlander Season 6 Episode 7. However, it appears that everyone in the area believes Claire is responsible for the death of Malva. Unfortunately, this tale is not resolved before the end of the episode, since it ends on a cliffhanger.