Kelli Giddish, who has played the role of Detective Amanda Rollins on the longest-running police procedural show on television, hangs up her badge after the show's 11th season. Rollins has decided to move on after taking a bullet in the premiere of Season 24, despite the misgivings of Captain Olivia Benson (Mariska Hargitay). However, given the strength of Amanda's romantic relationship with coworker-turned-ADA Sonny Carisi (Peter Scanavino), it is likely that we haven't heard the last of her, even if we won't see her as much going forward. To put it simply, this is how the revolving door at the Dick Wolf works.  (tvacute.com) Here is all the information you require on the conclusion of the Fall Finale of Law and Order SVU: Season 24 Episode 9. 
Law & Order: SVU season 24 episode 9: Benson discussed her feelings for Stabler.
Law and Order SVU: Season 24 Episode 9 Recap
When Rollins' alarm was set off, Carisi and Rollins are both in bed. Elias' arrest must be dealt with by Carisi. With their enthusiasm for Christmas, the girls barge in and ruin what would have been a lovely moment. Noah's constant phone use is questioned by Benson. He claims that it will be a Christmas surprise. Muncy is required to testify in Elias' trial, thus she is unable to leave town for Christmas. She needs to see Carisi. They clash. She had to go after him because he drops something and doesn't wait for her to give it back to him.
It turns out that Carisi wanted to get married to Rollins in front of the entire court. We rush right into the kiss. The celebration is then interrupted by Noah, who announces that his big brother wants to meet him. Benson visits Fin out of concern. She now knows that Connor, who is also adopted, is a year older than Noah. She asks Fin to conduct a background investigation on the entire family. Elias' attorney requests a postponement. Carisi is prepared for trial. Even if it clashes with his honeymoon, continuation is rejected.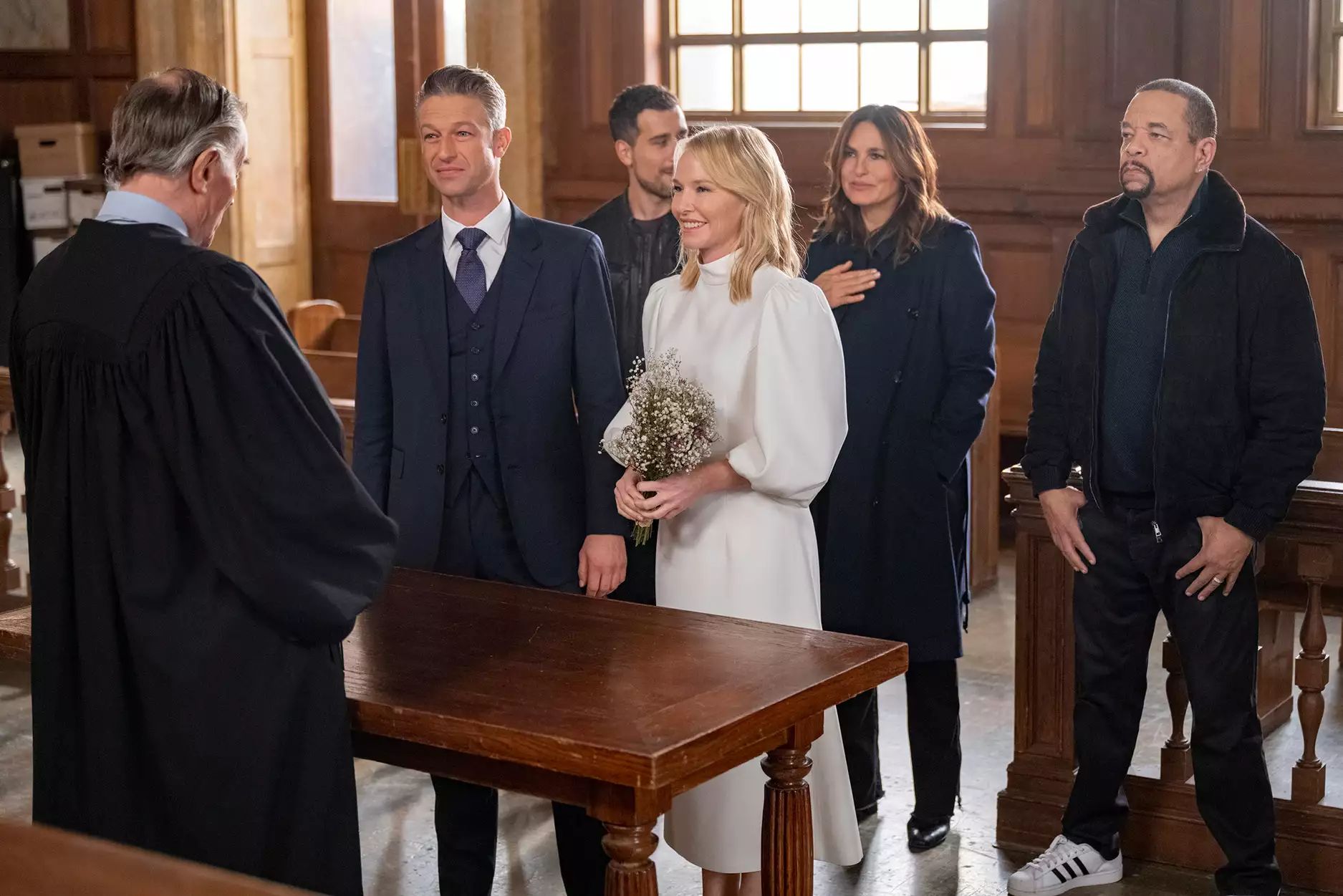 To meet his brother, Noah is eager. He is taken to see Connor by Benson when the background check is clean. They rap on the front door. Noah's mother requests a hug. Noah and Connor cross paths. Benson seemed agitated. In his room, Connor wants to show Noah his Playstation 5. Despite Olivia's discomfort, the mother commands her to keep her door open. Benson converses with the dad. He claims that one benefit of adoption is getting to pick your adoptive family. Benson learns that the birth mother has vanished and that he has no knowledge of the biological father. Noah requests permission to stay the night. Although Benson begs her to, he doesn't want him to. Benson makes the decision to allow him to stay there alone. While drying off after her shower and returning to her accommodation, she discovers a camera that the desk receptionist won't let her alone with. She requests a return call from Rollins when he calls.
Once Rollins is fully dressed, Benson calls her again. Benson tells her about the covert camera she discovered in the car. Rollins makes a drive-up offer. She adds that Noah is overjoyed and that everyone is so kind that she is waiting for the other shoe to drop. Rollins promises to arrive by car the next morning. Rollins says she can wait till they are face to face to convey what she had in mind. The following day, Noah is thrilled that Matt showed him how to toss a football. She claims to be in town for some police business. They have a question for her. Muncy is prepared to testify in the meanwhile and assures the audience that she won't look angry. Pria shows up.
The narrative of Connor's birth father is not particularly happy, Benson informs the parents. She is temporarily shielded from this discussion by Rollins' call. Rollins speculates that Troy, the desk employee, may have planted the camera. He is watching their room when she and Benson peek behind the desk to locate him. They seize him. The mother of Pria gives evidence. Carter interrogates and mentions that the suspect was wearing a mask thus she never saw his face. Carisi changes the subject and claims that her daughter and the cops informed her that she had made a voice ID. Troy planted the cameras after threatening to harm his cousin Ray. Rollins and Benson search for Ray.
The future of Noah or Connor finding out about their birth father is discussed by Rollins and Benson while they stake out a bar. They approach Ray and suggest a potential threesome to him. Muncy gives evidence. Carter begins his cross-examination by saying that he is merely carrying out his duty. She was labeled a sick bastard, and he questions her about the radio she hurled. How often did she use force, he queries. She becomes irate. Rollins and Benson bring an inebriated Ray inside. At the bar is Muncy. Valesco and Fin locate her. This is a lesson, according to Fin.
Ray is made to confess in front of the motel's cameras by Benson and Rollins. Benson is informed by a cop that there is footage of her in her undies that they will clean, but he wants them to use it to implicate Ray. After that, Rollins and Benson go out for a girls' night, but Rollins needs to let Benson know that she might be leaving as well. She finds it difficult to leave, but she needs Benson's support. Benson claims that she needs a moment. Rollins gets ice and returns.
Benson is informed by a front desk employee that Rollins has already left. Carisi is informed by Muncy that Velasco desires to testify. According to Carisi, the defence has taken a break and the jury will now deliberate. The McCann family is aware of the madness at the motel. Additionally, they have lost interest in finding out who Connor's biological father is. Entering, Noah announces that the McCanns have given him a Playstation 5. Benson also has a gift from Connor. Carisi is informed by Rollins that Benson wasn't a great fit. She accepts the position. The jury returned.
The jury was deadlocked. Don't be too harsh on Muncy, advices Fin. Benson requests that Rollins give her a call. Instead, Rollins enters and apologizes for leaving. Benson regrets how she responded. Benson, according to Rollins, isn't losing her. They are buddies, and nothing will alter that. Benson is aware that Rollins must take this action, but if she wishes to return… or not…. They hug. and are both in tears. Everyone outside claps and hugs Rollins as she departs.