A new masterpiece is about to enthrall viewers all around the world in the world of cinema, where stories of love, passion, and intrigue collide. Enter the seductive world of "Ehrengard: The Art Of Seduction," a Danish Netflix original movie that aims to take audiences to a place of magnificence, trickery, and surprising connections.
"Ehrengard: The Art Of Seduction" takes place within the mythical realm of Babenhausen and is set against a backdrop of lavish vistas and carefully woven intrigues. The story's heart is one that defies assumptions and expectations, inviting us to delve into the complexity of love and the practice of seduction.
Meet Mr. Cazotte, a self-described expert on problems of the heart (Mikkel Boe Flsgaard), whose life takes an extraordinary turn when he is called by the cunning Grand Duchess (Sidse Babett Knudsen). When Mr. Cazotte is given a task with significant political and personal ramifications, he sets out on a journey that will forever change the course of the kingdom.
We are introduced to a variety of characters whose stories are interwoven during the course of the story. Each character contributes a distinctive viewpoint to the developing drama, from the reserved Crown Prince Lothar (Emil Aron Dorph) to the seductive maid of honor Ehrengard (Alice Esther Bier Zandén). Is "Ehrengard: The Art Of Seduction," a Danish Netflix feature film, based on a Novel? This intriguing query comes up as excitement for the film's debut mounts. Join us on a voyage as (tvacute.com)  we explore the literary history of "Ehrengard," learning about its genesis and the author's creative brilliance.
Is [Netflix] Ehrengard: The Art Of Seduction based on a book?
Without a doubt, the answer is yes. The pages of the legendary author Karen Blixen's work "Ehrengard" served as the basis for this cinematic masterpiece, which was written and directed by the award-winning Bille August. Within the fantasy kingdom of Babenhausen, the story spins an entrancing tapestry of love, passion, and intrigue.
We must first acknowledge Karen Blixen's genius in order to understand the literary roots of "Ehrengard." Blixen's literary works have had a lasting impact on the field of storytelling. He is also known by other pseudonyms, including Isak Dinesen, Osceola, and Pierre Andrézel. Her best-known works are "Out of Africa," "Seven Gothic Tales," and "Winter-Fairytale," each of which demonstrates her talent for creating moving stories that transcend space and time.
One of Blixen's last books, "Ehrengard," was released in June 1963 after his passing. It is a testament to her talent for weaving complex stories that delve deep into human emotion and relationships, a subject that strongly reverberates in the movie adaptation.
The Creative Team behind the Film Brings the Novel to Life
The film's creative team crafted its cinematic masterpiece using the novel "Ehrengard" as a base. With Bille August's skillful direction and Anders August's deft scriptwriting, the spirit of Blixen's story is kept and transformed into a visually stunning spectacle that is sure to enthrall viewers. The project's long-term development shows the commitment and love put into bringing this literary masterpiece to the big screen.
The renowned producer Marcella Dichmann expresses her admiration for the endeavor, saying, "I am deeply honored to be part of this wonderful project, about a woman's clever response to male seduction."
The project excites director Bille August, a legendary figure in Scandinavian film: "Ehrengard being realized as a Netflix film is a grand opportunity – and I'm really looking forward to introducing this fascinating story of seduction and desire to a global audience." His idea offers a visual cosmos that incorporates comedy, elegance, and autonomy when combined with Queen Margrethe II's decoupages. "Fantastic" (in the most literal sense) is our starting point for the film; we wish to use humour and elegance to create a devil-may-care, burlesque, fabulous and autonomous visual universe."
The Affluence of Queen Margrethe II's Art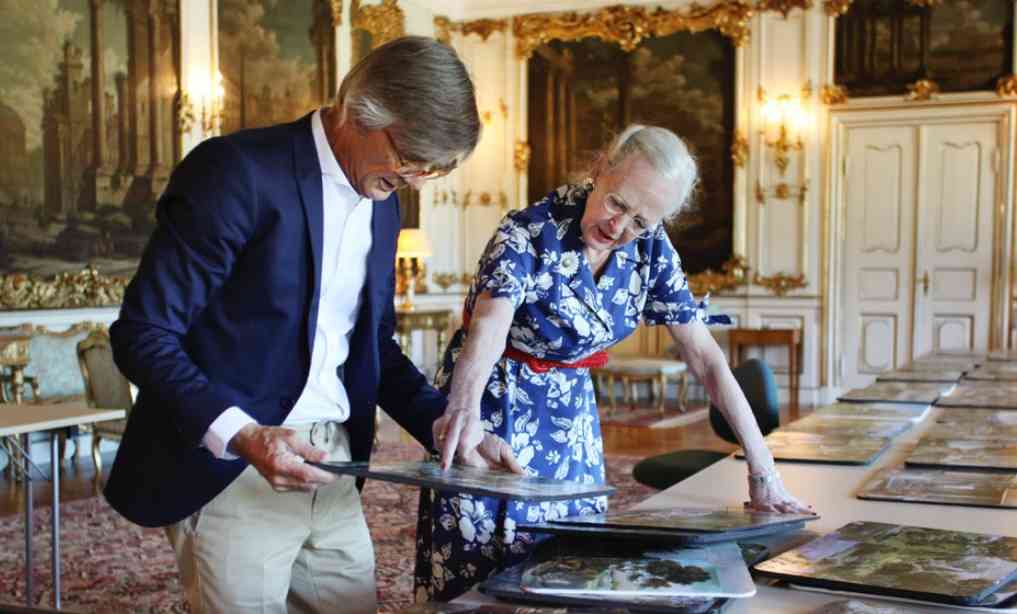 Margrethe II's aesthetic influence is expertly woven into the visual narrative of the movie. Queen Margrethe II is a multi-talented artist who has made contributions outside of her regal position. Her set and costume designs enhance the film's aesthetic, bringing its visual grandeur to new heights. The designs of Queen Margrethe II, who paid close attention to every last detail, give the fairytale kingdom of Babenhausen life and provide viewers with a wholly immersive experience.
We are reminded of the significant contribution that literature has made to the development of the cinematic canon as "Ehrengard: The Art Of Seduction" is ready to hit screens everywhere. Audiences are encouraged to embark on a cinematic adventure that pays homage to the written word while creating a visual masterpiece of its own through the brilliance of Karen Blixen's "Ehrengard," brought to life by the combined efforts of outstanding filmmakers and artists.
Therefore, as you get ready to enter the world of "Ehrengard: The Art Of Seduction," keep in mind that it has its roots in a book that never fails to enthrall and inspire, fusing the worlds of literature and film in a seamless dance of magical narrative.
Ehrengard: The Art Of Seduction: Release Date, Cast Trailer, And Plot