John Dutton Sr., the son of James and Margaret Dutton, was only a little child when his family established their homestead in Montana, on what would later become the Yellowstone Dutton ranch. He appears prominently in the stories 1883 and 1923: A Yellowstone Origin Story. As an adult, he worked on the family farm alongside his uncle, Jacob Dutton, and raised a family with his wife Emma, and son Jack. The escalating hostilities between the two rival parties reached a dramatic climax in the bloody firefight between Banner and the Duttons, which took place while they were both traveling with their significant others in an open field. So the question is John Dutton Sr. Dead? (tvacute.com) Here's everything you need to know about it, along with Who Killed John Dutton Sr.? also includes.
Is John Dutton Sr. Dead?
The Dutton family member John Dutton Sr. (James Badge Dale) who passes away was revealed in the third episode of 1923, which debuted on Paramount+. The heartbreaking loss which was alluded to in the series premiere of the Yellowstone prequel officially changes the game as the clan battles a simmering feud at home.  In 1923 episode 3, he was shot multiple times. Jacob (Harrison Ford), was also gravely wounded, as they struggled to fend off men. After Cara cried her way to a bloodied Jacob to check on his wounds, she was shocked to see John Sr.'s body. Along with this, the suffered critical wounds were Jack and his engaged partner Elizabeth Strafford (Michelle Randolph), who both had bullet wounds. Here is all the information you require regarding the outcome of the character in "1923.
 Who died, John Dutton Sr.?
Unfortunately, Scottish sheepman Banner Creigton (Jerome Flynn) and his gang surprised them and attacked, killing John Dutton Sr. In order to provide his sheep access to new grass, Banner had previously often trespassed onto other people's property, including the Duttons' ranch. In the last episode, the Dutton patriarch exacted retribution by hanging Banner and his men from a tree after they trespassed on Jacob's property. While the rest of his team perished, Banner only just made it through the tragedy. Banner's response to Jacob's retaliation in episode 3 culminated in a deadly fight, and it wasn't until the tumult had passed that it became clear how severely hurt Jacob was and that John Sr. had not survived.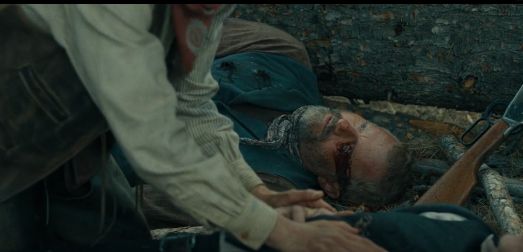 More tragically, Cara tried in vain to hide Emma from witnessing the exact condition of her husband's body as she hurried to where he had fallen while screaming frantically for her husband amid gunfire. Emma whirled around in shock at the horrifying scene and could only retreat in silence. Cara sat outside on the patio to write Spencer a new letter. Spencer (Brandon Sklenar), had been exploring in Africa at the time and had just gotten engaged to Alexandra (Julia Schlaepfer). She lamented the abrupt death of John Sr. and begged Spencer to return to the ranch to help defend their home and family. Here is all the information you require to understand what happens to John in 1923: A Yellowstone Origin Story whether you're wondering if he dies from his wounds or if James Badge Dale will leave the program.
Is James Badge Dale Leaving 1923?
Only John Dutton from the prequel series "1883" appears in the subsequent episodes. Audie Rick and Jack Michael Doke, who portrays the young and adolescent John Dutton Sr., hand up the role to actor James Badge Dale. Viewers could have anticipated seeing more of John's story in "1923" given that the character acts as the connecting thread between the two series. However, the third episode of the show abruptly kills off the character.
Despite the fact that Badge Dale's time in 1923 was brief, he admitted to ET at the film's Los Angeles premiere on December 2 that the Dutton story is full of tragedy and danger. "This tale is really lovely. This family resembles pirates in certain ways. I believe the time to be lawless. People attempting to determine their identities and what they stand for, and [this] story dwells in that liminal space, "added the actor. "I believe it's courageous, risky material because it's about males stealing what other men have had."
James Badge Dale is listed as a recurrent guest star for the first season of the show, in contrast to the actors portraying the other members of the Dutton family. It follows that his character's demise in a first-season episode was probably preplanned. Although Dale is not expected to reappear in subsequent episodes, his death makes space for John Dutton's brother, Spencer Dutton, to come back and take over the ranch.