There is always room for anything fresh and innovative in the broad and ever-changing world of television entertainment. The newest show on TV is called "Lawmen: Bass Reeves," and it looks to be captivating and fascinating thanks to its original storyline. The highly regarded Taylor Sheridan is bringing us this Western-inspired production, which is expected to follow in the footsteps of his earlier hits, such as "Yellowstone" and "Tulsa King." Let's explore what makes "Lawmen: Bass Reeves" a must-watch for all ardent television fans as we set off on this voyage. tvacute.com has everything you need to know.
Is Lawmen: Bass Reeves Based On a True Story?
Lawmen: Bass Reeves Plot
David Oyelowo's portrayal of Bass Reeves, in the show "Lawmen: Bass Reeves" chronicles his incredible journey. Bass, a former slave, climbs to become the first Black law enforcement officer west of the Mississippi River as the story is set against the backdrop of the Old West. Over 3,000 outlaws have been captured during Reeves' remarkable career; this accomplishment is legendary.
The moral and spiritual weight of the emblem he wears weighs more than merely its metal composition. Viewers will see the intricate interaction between Bass Reeves' tenacious pursuit of justice and his love for his family as the series develops. Based on the biography of the actual Bass Reeves (1838–1910), the plot promises a thorough examination of his personality and the difficulties he encountered.
"Lawmen: Bass Reeves" is more than just a stand-alone series; Taylor Sheridan is incorporating it into a bigger anthology. With this anthology, we hope to bring attention to other legendary lawmen and outlaws who have made a lasting impression on history. The show lays the groundwork for the next projects that look to be just as fascinating as this one with its innovative theme.
Lawmen: Bass Reeves Season 1 Episode 3 Plot and Release Date
Lawmen: Bass Reeves Cast
Any television show's ability to succeed frequently depends on its cast, and "Lawmen: Bass Reeves" delivers on this promise. Leading the group as the mysterious Bass Reeves is actor David Oyelowo. He is accompanied by gifted actors and actresses who breathe life into their roles. Demi Singleton plays Sally Reeves, Bass' daughter, and Lauren E. Banks plays her wife, Jennie Reeves. With their gripping performances, Dennis Quaid, Donald Sutherland, Barry Pepper, and Forrest Goodluck give the plot more dimension.
Lawmen: Bass Reeves Season 1 Release Date Plot
When "Lawmen: Bass Reeves" debuted on November 5, 2023, anticipation for the show peaked. The series is streamed on Paramount+, and the first two episodes are available there. New episodes are released every week after that. This season's big finale, which offers viewers an engrossing trip over eight episodes, is scheduled for December 17, 2023.
How to Watch Lawmen: Bass Reeves Free?
Watchers must go to Paramount+ to join Bass Reeves on this captivating voyage. On November 5, 2023, "Lawmen: Bass Reeves" published its first two episodes exclusively on this platform. The remaining episodes will air once a week from now. There are two membership tiers available for Paramount+: $5.99 per month with advertisements and $11.99 per month without them. In addition, they allow new customers a free trial that lasts for one week, which increases accessibility for people who wish to check out this series.
How to Watch Lawmen: Bass Reeves in the UK?
There are no local streaming platforms that offer "Lawmen: Bass Reeves," which frustrates viewers in the UK who are anxious to watch the series. Nevertheless, accessing the content using a Virtual Private Network (VPN) offers a workaround. By using a VPN, fans can alter their IP address and watch the show from wherever they want, even while they're on the other side of the globe.
Does Netflix provide Lawmen: Bass Reeves Season 1?
Although there are a lot of well-known shows on Netflix, "Lawmen: Bass Reeves" is not one of them. The only place to watch this Western-themed series is on Paramount+, so those who are interested in seeing it all must sign up to get access to all the drama and action.
How to Watch Lawmen: Bass Reeves Anywhere
If viewers are in a place where they are unable to access Paramount+ but still wish to watch "Lawmen: Bass Reeves," they can watch the show without any problems thanks to a Virtual Private Network (VPN). With the help of a VPN, users may alter their IP address to match the region they want, giving them access to their preferred television programs and other content. ExpressVPN stands out as one of the best-rated VPN options, providing a cost-effective, safe, and easy-to-use solution.
Lawmen: Bass Reeves Episode Guide (Season 1)
Here's a guide for those who have started this fascinating adventure with Bass Reeves and are curious about what to expect in each episode:
Lawmen: Bass Reeves Episode 1: November 5, 2023: On the Reeves family farm, Bass and his loved ones grapple with severe hardships. An unexpected visit from the authorities presents Bass with a tantalizing offer, altering the course of their lives.
Lawmen: Bass Reeves Episode 2: November 5, 2023: Bass and his family face great adversity on the Reeves family farm. Their lives are changed when the authorities pay them an unexpected visit and make a seductive offer to Bass.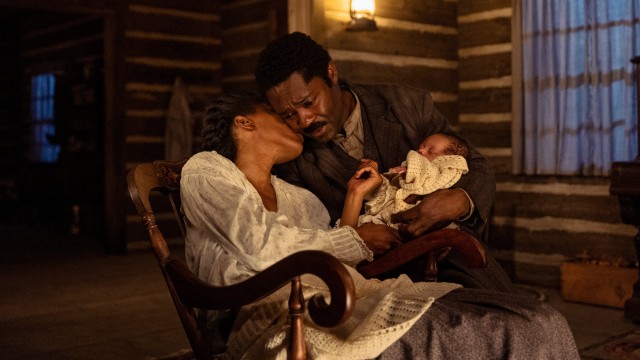 Lawmen: Bass Reeves Episode 3: November 12, 2023: With the oath of a U.S. Deputy Marshal taken, Bass commences his inaugural mission. His initiation is marked by the Underwood gang's menacing move, triggered by a confidential revelation.
Lawmen: Bass Reeves Episode 4: November 19, 2023: A pivotal confrontation unfolds at the Women's Boarding House, where Bass and his newly-formed posse face destiny. Meanwhile, Jennie's past catches up with her in a surprising reunion.
Lawmen: Bass Reeves Part V – November 26, 2023: Tension peaks at Bywater's store, where Bass grapples with a conflict between his sworn duty and familial bonds. Amidst the carnival's chaos, Sally encounters danger, pushing Bass toward a climactic face-off with a past foe.
Lawmen: Bass Reeves Part VI: December 3, 2023: The town of Checotah descends into turmoil amidst a fierce gun battle. Emotional strains test Bass and Jennie's relationship. The haunting legacy of Mister Sundown casts a shadow over Bass, sparking a chilling epiphany.
Lawmen: Bass Reeves Part VII – December 10, 2023: In a sinister dance with danger, Bass joins forces with Billy Crow and Sherrill to confront the elusive Mister Sundown. Simultaneously, Jennie, Sally, and Esme face brewing turmoil back at the farm.
Lawmen: Bass Reeves Season Finale, Part VIII – December 17, 2023: Bass grapples with the burdens of his badge in an unprecedented struggle. Following a mission gone tragically wrong, the fate of the stalwart U.S. Deputy Marshal hangs in the balance, now in the hands of another.
For those who enjoy historical drama and gripping storytelling, "Lawmen: Bass Reeves" is a must-watch series. Fans can anticipate exciting turns and turns that will have them on the tip of their seats.
Entering the universe of "Lawmen: Bass Reeves," we are immersed in a compelling story that is masterfully performed by a gifted ensemble. This series looks to be a noteworthy addition to the world of television entertainment, especially with its availability on Paramount+ and the option for fans outside of the US to watch it with a VPN. Don't pass up the chance to learn about the exploits of Bass Reeves, a lawman who changed the course of history and the Wild West forever.
"Lawmen: Bass Reeves" – Yellowstone Spinoff's Exciting First Look, Cast and Storyline