High School Musical: Musical: The Series Season 3 Episode 6 focused entirely on the Color War. Gina had Ricky when she needed him. Ricky helps Gina set up a date for E.J. Gina asks E.J to go to the camp prom with her. The arrival of Miss Jenn at Camp Shallow Lake and Ashlyn made a decision regarding her thoughts. Ashlyn discovered something about Val.  www.tvacute.com provides a comprehensive recap on this page.
High School Musical: The Musical: The Series Season 3 Episode 7 [Camp Prom]
High School Musical The Musical The Series Season 3 Episode 6 Recap
Midnight visitors Corbin Bleu and Channing make an unexpected entrance at Camp Shallow Lake. They abruptly (and very loudly) awaken Ricky, E.J., Carlos, and Jet to let them know that Color War has begun. Maddox assists Gina in getting ready for Color War at The Barn. When they talk about their brothers, Maddox starts to be a little more open with Gina. Gina serves as a fantastic sounding board for Maddox. E.J. enters unexpectedly and requests to speak with Gina. He desires a fresh start. E.J. discloses he has made a call to ensure the show is "perfect" in order to prevent being transferred to St. Louis. They give each other a tender kiss. Ricky goes to Corbin before Color War starts and begs him to delete the embarrassing footage of him. Corbin turns down.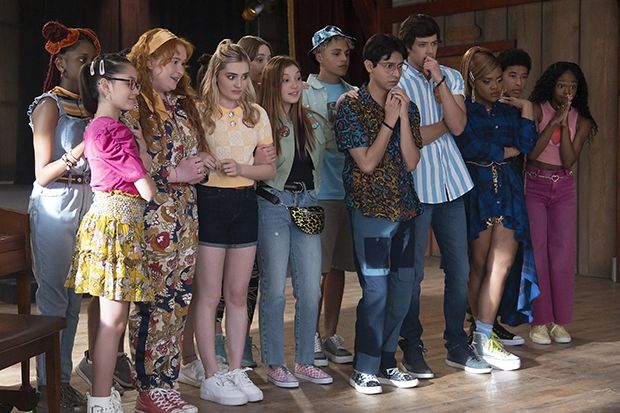 All campers are required to take part in a few Color War challenges. EJ's crew includes Ricky, Ashlyn, and Gina. Jet, Carlos, and Kourtney are on Maddox's team. Ashlyn will receive a letter from Big Red from Val. When Ashlyn is near Val, she still feels on edge. Val believes Ashlyn is "possibly making up for something." Ricky and Jet discuss the Maddox situation. He acknowledges that he mistakenly believed the Maddox texts he showed his parents were written by men. Jet mistakenly believed Maddox was ready to date, but he wasn't. Ricky doesn't hold any of Jet's prior behaviors against him. He merely listens and offers counsel.
In HSMTMTS episode 306, Miss Jenn arrives at Camp Shallow Lake thanks to E.J.'s covert call. In Jennifer's Guide To Directing Children in the Modern Era, she is prepared to impart to him everything. Rule by rule, she follows. Miss Jenn shouts at E.J. when she discusses obtaining an assistant and he mentions Carlos. Carlos is my mother's. Gina and Ricky are getting ready for the Color War challenges in the meanwhile. On the court, Gina asks Corbin for assistance. She eventually collapses after being struck in the head with a basketball. In order to get Gina's mind on the game, Corbin and Gina perform an elaborate musical number.
Gina is roused by a slap from Carlos, who accuses her of mumble-singing. Because the Blue Team triumphs in the challenge, her fantasy musical number with Corbin comes true. Gina gives Ricky an enthusiastic hug after the Blue Team's decisive victory. Dewey Says is followed by a trip to the climbing wall. By inadvertently, E.J. divulges Miss Jenn's whereabouts at Camp Shallow Lake. They all enjoy a wonderful reunion. Ashlyn finally hears the words she has been yearning to hear from Miss Jenn.
The climbing wall was attempted first by Kourtney and Gina. Kourtney has a severe fear of heights. Val tries to shove Kourtney up the wall, but she is unable to do so. Miss Jenn makes a timely cut. When she's ready, Kourtney will ascend the wall. Miss Jen informs EJ he has everything he needs to lead before she departs. It's a draw in the Color War. Jet puts up an amazing performance that aids the Yellow Team in winning the Color War. Jet tries to strike up a conversation with Maddox. This is a positive development. Ricky learns from Maddox that she is still concerned about getting injured once more. She is unwilling to lower her guard.
 The Musical: The Series Season 3 Episode 6 Ending
Ricky agrees to help Gina. Ricky helps Gina set up a date for E.J. In this scene, Ricky's wistful glances at Gina are clearly visible. Ricky, you're the best, Gina tells him. when they are out on a date. She asks him to go to the camp prom with her. The information that dates are not permitted at Camp Prom must be disclosed by E.J. He explains that Color War is meant to end with fireworks. Val receives an apology from Ashlyn for her remark. She is acting in this way for no apparent reason. After giving her a tender hug, Val lets off the pyrotechnics. Ashlyn admits that she feels something for Val. Ricky is found sobbing in his bed by Jet. For his birthday, Ricky's father gave him a moonrock, allowing him to cross another item off his bucket list. When the topic of Camp Prom is up, Ricky expresses his disinterest in attending. Maddox and Madison had a falling out at Camp Prom the previous year, according to Jet. Ricky abruptly gets out of bed. Ricky responds, "You just gave me a big idea."