Viewers are exposed to a whirlwind of events in this exciting Season 2 finale of the Starz comedy series "Minx," dubbed "Woman of the Hour." Constance's extravagant party, which celebrates the opening of Minx International, serves as the setting for heated arguments and shocking disclosures. The conflict between opposing creative visions, the power struggle, and the unexpected alliances keep viewers interested in the entire show. (tvacute.com) We have a recap of 'Minx' Season 2 Finale in case you missed the exciting conclusion.
Minx Season 2 Episode 8 Recap
Constance challenges Richie about his daring picture session at the start of the episode, setting off a battle of aesthetic perspectives. Constance makes the audacious decision to insist that Minx should exclusively target female readers, alienating its LGBT readers in the process. Offended by this change of emphasis, Richie chooses to terminate his involvement. When Doug Renetti (Jake Johnson) confronts Constance about her plans to liquidate Bottom Dollar Publications, she responds with a surprising offer.
Joyce Prigger (Ophelia Lovibond) , the mind behind Minx, is forced to deal with a harsh reality as Constance meddles with the magazine's editorial decisions and steers it in the direction of mainstream feminism. This meddling puts Joyce's creative control over Minx in jeopardy, sparking a conflict over the magazine's identity.
Constance dismissing the most recent section of Bella LaRouche's work, which focused on a same-sex romance, is a turning point in the story. Contrary to Joyce's idea of an inclusive magazine, Constance's definition of "mainstream feminism" leaves out lesbian experiences. Joyce is forced to consider her job and the concessions she is ready to make as a result of this conflict of values.
The relationship between Shelly and Lenny is challenged as the tension rises because Shelly intends to move to Italy with Doreen. Now fully committed to his newly discovered position as the new company's president, Doug struggles with both personal and professional issues. Lenny needs help from Bambi as he navigates the challenges of being a single father.
Constance's support was first welcomed by Joyce as an opportunity to enhance the voice of women in a patriarchal culture. She quickly learns that Constance's view of feminism is not the same as her own, though. Constance wants to appeal to an elitist audience, whereas Joyce sees Minx as a forum for all women.
Joyce makes the audacious decision to put her creative integrity before Constance's requests. She stops the publishing of the compromised issue and creates a fresh one using Richie's account of police brutality as inspiration. Joyce is refusing to give in to pressure to conform to the views of mainstream feminism, as seen by this act of disobedience. She appreciates Richie and Shelly's efforts and understands how crucial it is to maintain the original Minx rather than trying to please "mainstream feminists."
Even though it means leaving both Minx and Constance's new company, Joyce takes a stand against Constance. She intends to publish a provocative resignation letter that shows how limited the new publisher's goals are. Joyce is committed to finding a new forum for her voice that is independent of Constance.
Constance is aware of the magazine's unbreakable reputation despite the internal strife. Under Joyce's direction, Minx has gained widespread acclaim, and Constance's ambitions are dependent on its success. Constance may have "options," but she is aware of Minx's worth and the role it will play in her return to the commercial world.
The achievement of Minx is linked to Constance's return to the commercial world. Without this support, she would just be another publisher attempting to market to women. Constance recognizes the crucial position that Minx holds and decides to keep it going even without Joyce.
The creative staff at Minx reacts as a group to Joyce's departure. Joyce is supported by Shelly, Richie (Oscar Montoya), Bambi (Jessica Lowe), and Tina (Idara Victor) as she fights Constance's dominance. Despite their close friendship, Tina feels unwilling to watch as a woman's voice is muted. Richie savors his newfound creative freedom from Constance's limitations. Running the magazine becomes a challenge for Constance because the key creative minds of Minx have banded against her.
Constance is unlikely to shut down Minx despite the difficulties. Constance is adamant about keeping hold of the brand's success because it is ingrained in her. She understands that Joyce was essential in establishing Minx as a household name. The success of the magazine is crucial to Constance's aspirations for Minx International and a new business. Shutting down Minx would need a fresh start, which she is not willing to consider.
Constance is adamant on keeping Minx, even if it means finding a successor for Joyce, as evidenced by her talk with Doug. She sees Minx as a crucial asset and knows that it will be essential to her success in the publishing industry. Despite internal conflict, Constance's devotion to Minx is unshakeable.
Minx Finale Ending: Are Doug and Constance End Up Together?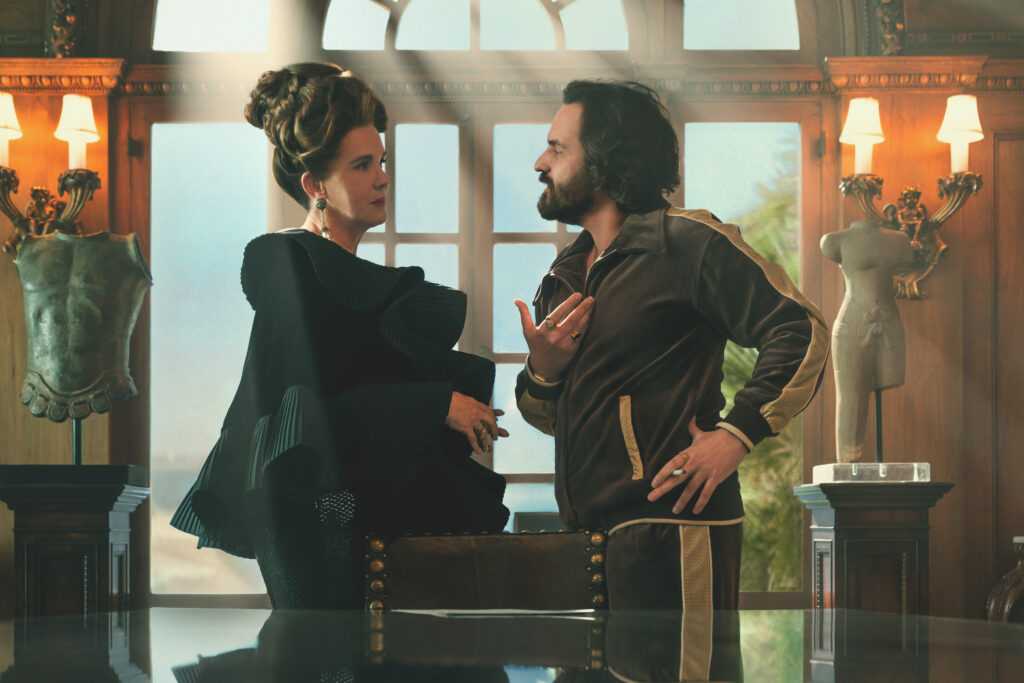 In the midst of the upheaval at Minx, a surprising partnership emerges. Doug joins Constance's side when Joyce decides to confront Constance and take a stand. Doug, a driven businessman, sees an opportunity in Constance's suggestion that she take the helm of the brand-new PRG. He is now the president and Joyce and Tina are his subordinates as a result of his choice.
In an unexpected change of events, Doug tells Constance that Joyce will ultimately be fine despite her departure as the show comes to a close. Constance doesn't seem shaken by Joyce's leaving, which suggests that she has faith in her own intentions.
The episode's last seconds contain the most shocking twist, though. In a scenario that is shown to the audience, Doug and Constance are portrayed as being close and enjoying a tactile moment. They are sleeping together. This change in their relationship adds another level of complexity, raising issues about the nature of their bond and its potential effects on the characters and the show's storyline in the future.
Constance's behaviors reveal her attraction to strong men who can help her achieve her ambitions. It's possible that Doug and Constance are not just romantically involved but are also working together for strategic reasons. His relationship with Constance is complicated further by the fact that he still has affection for Tina. To maintain his leadership of Minx and their new business, Doug may have been motivated to become close to Constance.
 Conclusion
The conflict between principles and aspirations peaks in "Minx's" suspenseful Season 2 finale. Joyce's unwavering dedication to maintaining Minx's integrity causes a dramatic confrontation with Constance, which ultimately results in her resignation from both the publication and Constance's new business.
Despite internal obstacles, Constance's resolve to keep Minx shows the publication's indispensable significance in her re-entry into the commercial world. The cohesiveness of the creative team behind Joyce exemplifies the magazine's importance in promoting the voices of women.
Constance and Doug's strategic alliance changes in an unforeseen way, resulting in intimate moments that could have significant effects. Their complicated relationship offers a fascinating new dimension to the storyline of the drama.
The future of Minx is still unclear as Season 2 of "Minx" comes to a close, but Constance is still clinging to the company she sees as essential. The conflict of beliefs and allegiances prepares the audience for a gripping conclusion to the story, making them hungry to learn the fates of the characters in the upcoming installment of their trip.
Update on 'Minx' Season 3
It's critical to remember that Season 3's future is still in question as fans eagerly await information on the show's future. Jake Johnson is among the cast members who have voiced a desire to see the show's first season continue. The potential of 'Minx' being renewed for a third season has not been formally announced by Starz, but a number of reasons point to it.
The decision regarding Season 3 will probably be influenced by the support of the audience and the ability to overcome challenges. Watch this space for official updates from Starz on the status of "Minx."