In the eighth and final episode of HSMTMTS season 3 "Let It Go", Olivia Rodrigo's Nini finally makes it to Camp Shallow Lake to support her fellow Wildcats. She sees her BFF Kourtney (Dara Renee) taking center stage as the lead in the major musical. Both Frozen's premiere and Ricky's birthday are officially celebrated on the same night. The third season of "HSMTMTS" concluded on a momentous note, from the mayhem on opening night to the touching confessions.   You've come to the perfect site (tvacute.com) if you want to learn more about High School Musical: The Musical: The Series Season 3 Episode 8 in-depth!
HSMTMT Season 3 Episode 8 Recap
At Camp Shallow Lake, Big Red appears with a cake prepared to honor his best friend. Jet is introduced to Big Red as "Ashlyn's boyfriend," but they still have a lot to talk about. After the Camp Prom, Ricky (Joshua Bassett) asks E.J. if they're doing okay. Ricky shouldn't worry about it, says E.J. Ricky is blowing out his candles while he's wondering where Gina is right now. After her breakup with E.J., Gina is attempting to maintain a really calm attitude, so she is practicing yoga.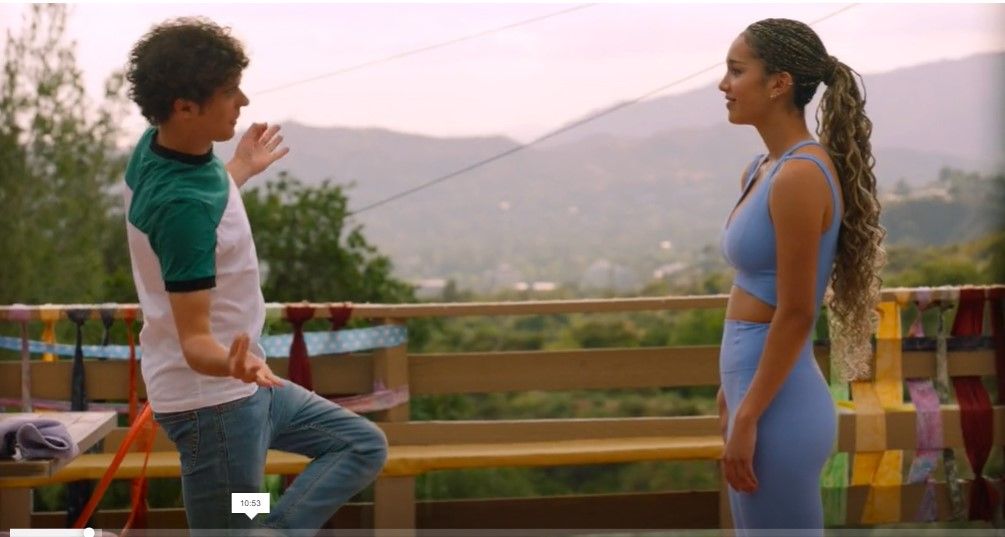 Before leaving, Val gives Gina (Sofia Wylie) some advice. "You'll know when the appropriate person shows up. Ricky arrives immediately after that. Ricky is unsure how Gina and he are doing after last night. Gina is advancing. For a brief period, Ricky is undecided as to what to say. Emmy stops Gina as she is making her way back to the cabin. She worries that if she goes on stage, she won't remember how to sing. Emmy is given motivation by Gina, who reassures her. Gina is surprised by Miss Jenn, who advises Emmy to get out there.
Return Of Olivia Rodrigo' Nini For Opening Night
Nini's BFF Kourtney (Dara Renee) has spent the summer worrying about taking center stage as the lead in the major musical, Nini has been meeting her biological father (Jesse Tyler Ferguson), and launching her solo music career. She is happy to take on a minor role as a supportive friend on the opening night of Camp Shallow Lake's production, surprising Kourtney with a makeover of her bunk during intermission and encouraging her throughout her big solo. Channing reveals some huge bombshells right before the performance. To record any play, he has roughly ten cameras strategically placed throughout the theatre. On Disney+, the concert from tonight is also being streamed live. Everyone starts to become anxious, especially after Channing says he has surprises in store. E.J. (Matt Cornett) promises to give Channing a stunning performance tonight. Following Channing's departure, E.J. claims that he was only acting.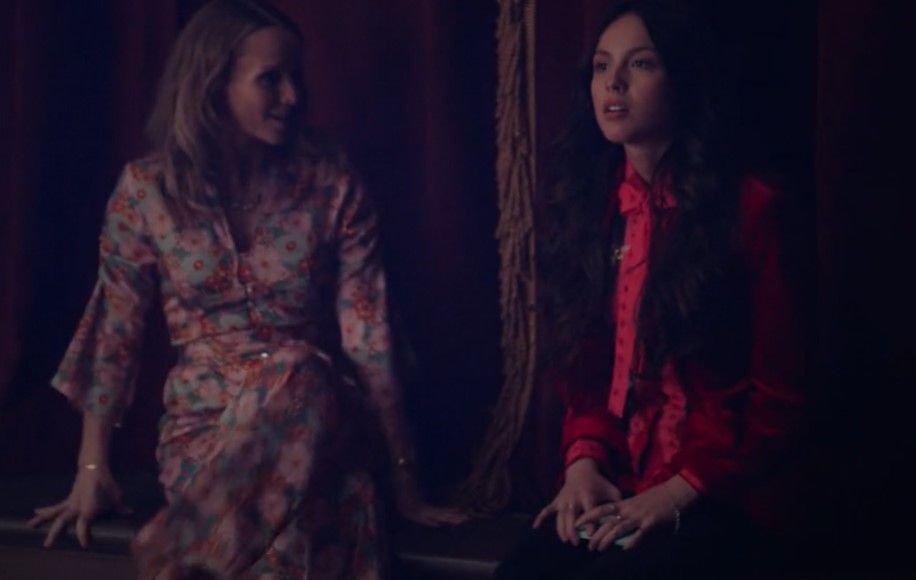 Nini's appearance at Shallow Lake is one of the surprises that Channing most definitely did not anticipate. She gets down with Miss Jenn to discuss how things are going in California. Nina says she's been writing a lot lately. She enjoys living in California. She should complete her senior year at East High, according to one of her mothers, though. Nini does not want to let anyone down. She has until midnight to make up her mind about staying or leaving. She is given a deal by Miss Jenn. If Nini meets her at the fire pit following the performance, Nini is returning to East. If not, Miss Jenn is aware of the alternate response. Carlos (Frankie Rodriguez) does a beautiful rendition of "In Summer." Big Red texts Ashlyn during the concert to say he wants to talk. When they sit down, he admits that he has been thinking a lot lately. Big Red declares, "You're my supernova, Ash." Ashlyn tells Big Red she's "never been better" rather than telling him how she really feels.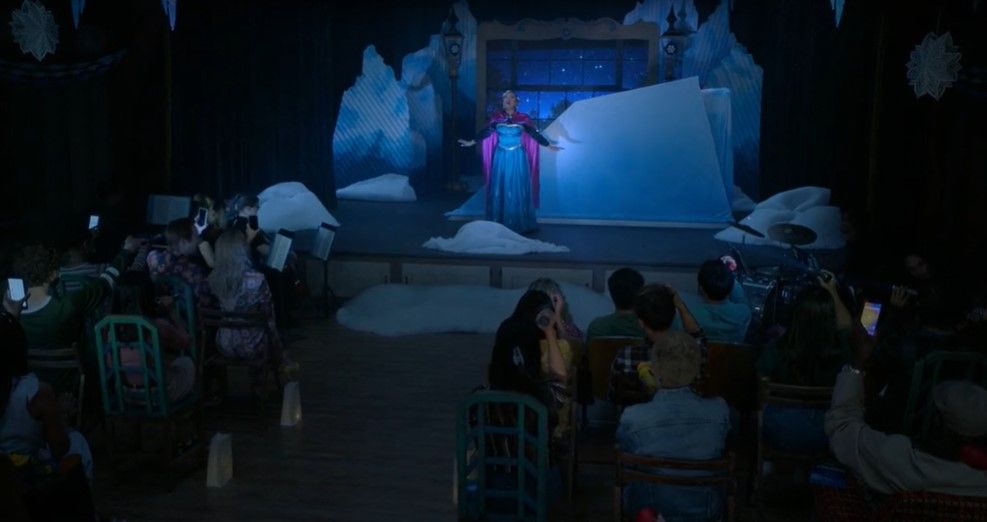 Kourtney's anxiety is getting the best of her as she approaches her big performance. Alex acknowledges having anxiety as well. She visits a therapist as well. Alex explains to Kourtney that dealing with anxiety is just a matter of learning to live with it. Kourtney's rendition of "Let It Go" is simply outstanding. Channing turns off the lights in the midst of the act, though. The result is complete darkness across the space. The audience members, including Miss Jenn, take out their phones to throw light on Kourtney. She finds the strength to continue singing. Gina restarts the lights and tells Channing not to start her.  Nini leaves after Kourtney's stunning solo. She thoughtfully gives each person a card on opening night. Ricky is understandably shocked to learn Nini is present. Before Nini leaves, Kourtney and Nini share a heartfelt reconciliation.
Channing tries to incite conflict between Ricky and Gina backstage. Ricky claims that he and Gina were only "faking it" during rehearsal as he seizes Channing's camera. He tells Channing to wander off. Ricky leaves to deliver his tender rendition of "What Do I Know About Love" after making sure Gina is okay. E.J. is watching Gina while she is watching Ricky. Gina notices that E.J. is aware of her love for Ricky when she turns to gaze at him. Ricky then continues singing about love while turning to face Gina. As he makes a call to his father, E.J. asks Val for help. When E.J. finally confronts his father, his words are ignored. Dad of E.J. hangs up on him. After the devastating phone conversation, Val consoles E.J. In the meantime, Kourtney queries Ricky on his Nini card. He says, nervously, "Nini forgot his." Miss Jenn rushes to the firepit after opening night to look for Nini. Nini left a note, but she isn't present. She is moving westward.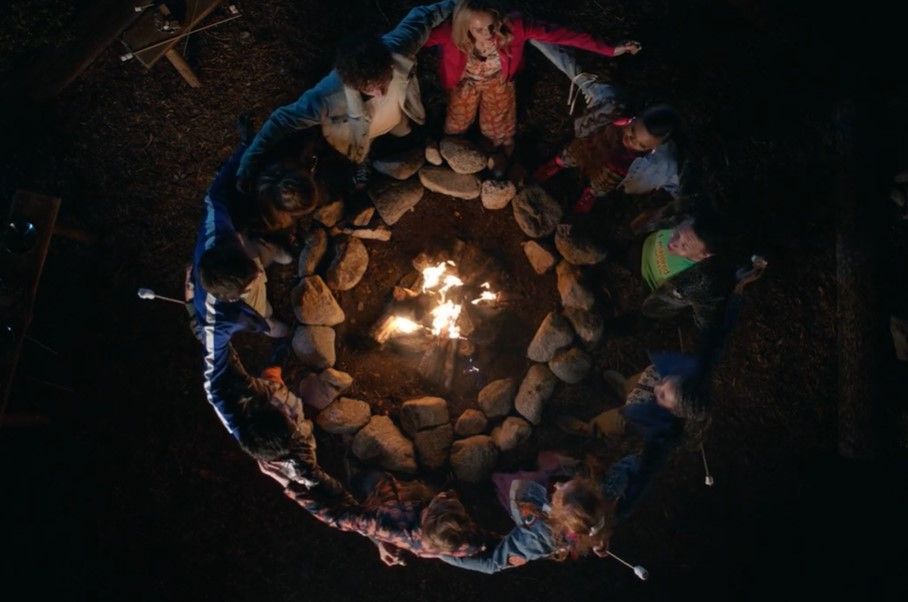 It may be the best moment of Miss Jenn's life when Corbin truly recognizes her from the first High School Musical film. When Corbin stands up for the Shallow Lake crew, Channing's preoccupation with the documentary ends. Gina feels as though something is coming to an end on the final night of camp. Additionally, it marks the beginning of something new. Everyone joins in when Corbin starts singing "Everyday" from High School Musical 2. E.J. abruptly declares that they are popular in Brazil. A card from Nini's opening night that Jet found is also given to Ricky. He received his lotto ticket from Nini. The cast comes together for the documentary's premiere one month later. There is everything, including a red carpet. In order to show the first full-length trailer, Corbin pulls everyone away. Jet even admits his affections for Kourtney in the film that has been pulled out of context and heavily teased relationships. Big Red confesses his bisexuality in the trailer's epilogue.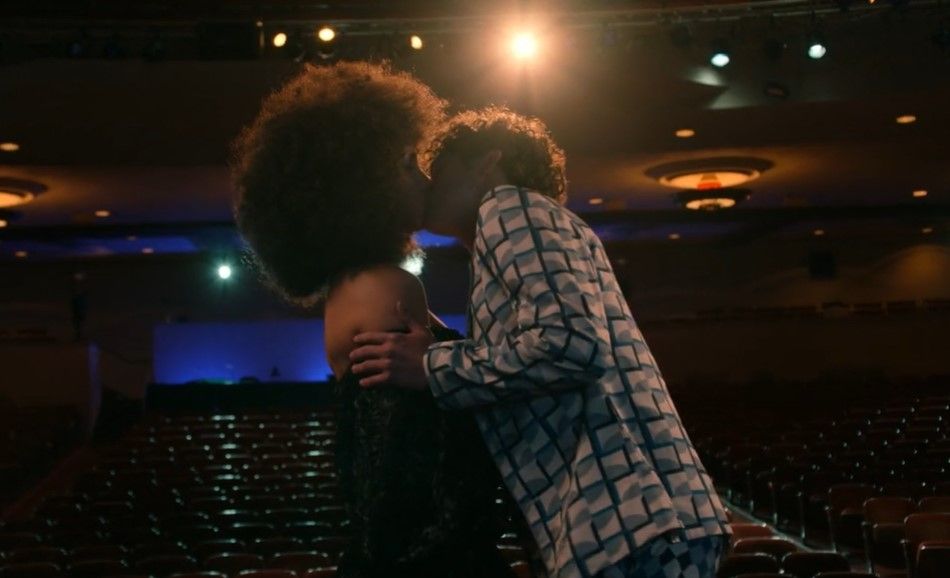 Everyone is in silence. The group flees the venue, leaving only E.J., Corbin, Ricky, and Gina behind. E.J. rejects Gina's attempts to apologize, saying that "we all saw this coming."
Only Ricky and Gina are left on stage because Corbin believes that now is a good moment for him to leave. Gina has never been one to hold her emotions back, and she continues to do so today. She tells Ricky that while E.J. might have anticipated this, she didn't. She recently informed Ricky of her position because she always wants everyone to know where she stands with them. No, not unless Ricky intervenes. He catches her arm as she turns to leave. He waits a moment before kissing her. Then he kisses her. Gina moves back in for another kiss as soon as they separate.
THE END