In Chucky Episode 3, Jake, and the killer doll fail to kill Lexy, Chucky followed her and Jake to Oliver's house after the fire. In the end, Chucky managed to cause mayhem and take another life, Detective Peyton, and maybe Caroline, as he had disconnected her breathing support in the ICU. This series has been continuing strong since the first four episodes were broadcast. Fans and watchers are looking forward to seeing what happens next in Chucky Episode 5. Here's what we know about Chucky Season 1 Episode 5: titled "Little Little Lies" release date, trailer, and synopsis, according to www.tvacute.com. Below is an exclusive first look at the Chucky TV series.
Chucky Season 1 Episode 5 Spoilers
Tonight! the episode is going to blast. But there will be plenty of nostalgia for moviegoers. Expect a fantastic episode! when you will be watching "Little Little Lies" live or later online. The episode will presumably focus on Jake, Lexy, and Devon trying to kill Chucky. How they Kill a Killer Doll ? It is possible, killer doll assault the teens. The trio's attempts to kill Chucky may fail because of the doll's full powers. Devon and Jake may make progress in resolving their romantic. During the first season, flashbacks revealed Chucky's past. As the season progresses, Chucky's past and present may collide. We could see Charles' friendship with Tiffany Valentine and her current location. It is possible Nica Pierce, a paraplegic with a piece of Charles' soul will present.
Chucky (2021) Episode 5 Synopsis: Jake and Devon progress their relationship; enemies-and allies-from Chucky's past shows up.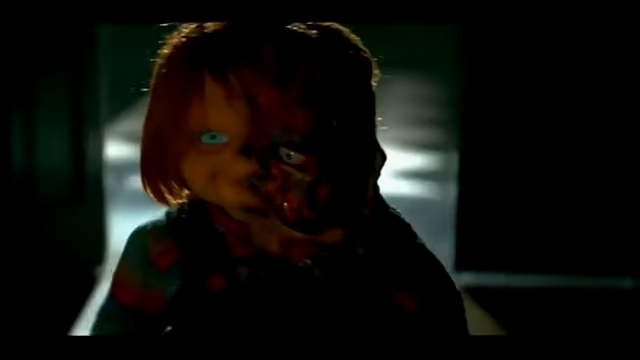 Chucky Season 1 Episode 5 Release Date
Chucky Season 1 episode 5 will debut on November 9 at 10 p.m. EST on USA and SYFY. On July 25, at 5 p.m., the special Comi-Con@Home Chunky panel will be live. ET. How to Watch The Chucky Episode 1? Chucky airs weekly on both the USA and Syfy networks. You may watch the first season of Hulu + Live TV, Sling TV, fuboTV, DIRECTV, or YouTube TV.
Chucky Episode 4 Recap
Following the fire, all of Hackensack's children were sent to the local hospital. Jake goes over Junior, Devon, and Caroline's whereabouts. Lexy informs Jake that Chucky was the perpetrator. She discovers Chucky murdered his father and now wants to murder her since Jake has instructed him to. She's preparing to file a complaint against him, but he tells her that no one will believe her. Devon's mother informs him that Oliver did not perish in the fire. He was assassinated. Lexy's mother chastises her for holding a party that destroys their home. A boy will be slain, and her sister will be admitted to the ICU. Devon informs Jake that Oliver was stabbed to death, and the detective is looking into Chucky. Devon warns him to be cautious around her "She simply does not know him as well as he does. Logan is concerned about his son's health, as he won't be able to run for at least a month due to a lung injury. He chastises the mayor for allowing Lexy to do whatever she wants. The mayor accuses him of placing a lot of pressure on his kid, prompting him to behave out. She then criticizes the detective's son, Devon, claiming that a child's obsession with crime is troubling.
When Logan hits Lexy's father, he accuses him of being sad for forcing his son to compete so he may relive his glory days. Oliver's death has been considered a homicide, according to the investigator who intervenes. She'll need them to make themselves and their children available to be interrogated. Lexy says to Jake she's stuck with him since no one else will believe her. He proposes returning to her home to see if Chucky is still present. They slip past the officers on the scene of the crime. Devon looks up Chucky good guy doll homicide on his phone. He learns that Charles Lee was placed in a boys' home in South Jersey after his parents were brutally murdered." Charles Lee leads the youngsters to the woods, where he kills the janitor, in a flashback. Except for one, who enjoys the carnage, all of the kids fled. As Lexy and Jake make their way to her room, they begin to argue. She slips and nearly dies, but Jake is there to catch her. Chucky stands there, half-melted face pleading with him to let go. Jake screams that he isn't like him, that he isn't a serial killer. He uses all of his strength to pull her up.
Jake manages to bring her back to safety after Chucky attempts to stab her. Peyton, the investigator, appears after Lexy's father assigns him the responsibility of returning the doll to Caroline. Lexy and Jake are taken to the hospital by him. Caroline's room is occupied by the investigator and Chucky. Chucky takes a scalpel and stabs the detective in the spinal cord, rendering him paralyzed. Chucky claims that he couldn't stand his face from the moment he saw him. He recognizes himself in the reflection and speculates that he is only projecting. He kills him by stabbing him many times with syringes. Another flashback shows Charles Lee handing the deceased man's hand to Andy, the boy who relished the killing, before fleeing into the night. Lexy learns from Devon that Charles Lee Ray was shot and killed in a Chicago toy store, but that he purportedly transferred his soul to a Good Guy doll immediately before he died, and the doll is still out there killing. It isn't a legend, Lexy emphasizes. Chucky is still alive and attempting to murder them. Devon's mother interrogates Jake, pleading with him to tell her who killed Oliver.