Chucky episode 1 opens with a radio announcement regarding the bodies discovered at the mall the night before, increasing the total number of bodies to 11. A girl is brushing her hair in a residence when she senses a presence behind her. She turns around and gasps. Jake (Zackary Arthur) is at a yard sale when he comes across a doll. The woman selling it has no idea where it came from. As Jake walks away with his new doll, the mother notices that the butcher knife has been taken. Jake is walking home while listening to a podcast by Devon Evans about the town's murder rate, which has increased by 25%. In fact, this level of violence hasn't been seen in their community since the Ray family murders in 1965. A slaughter that gave rise to Charles Lee Ray, one of history's most known serial killers.
Jake enters his room, where a sculpture made entirely of doll parts adorns the wall. When he places the doll on his desk, his cat Binxie begins to sniff and hit it. The cat escapes beneath the bed after the doll's pupils widen. Jake is considering finishing his sculpture with the doll's head. His father returns home. Jake is having trouble tearing it apart, so he looks for a sharp instrument. As his father walks into the room. According to the doll, "Hello there! Do you want to play? His father Luke begins to chastise him for bringing another doll into the room. It begins to speak again, saying. Hello, my name is Chucky, and I'll be your friend till the end. Luke informs his kid that he is wasting his time with painting. He proposes they go on a date, reminding him that being an artist is tough to make a career. Jake acknowledges his late mother, who was also an artist. That was a way of life, according to his father, and it didn't pay the bills. He continues, "I looked into the art camp and don't think it'll work out because it's too pricey at $1,000." He urges him to take his prescription before he departs because his cousins are coming over for dinner. Jake and his father are enjoying dinner with Luke's twin brother Logan, sister-in-law Bree, and nephew Junior. Logan inquires about Luke's struggling business and offers to assist. Jake's nephew Junior then informs him that the scouts are now accepting gays if he wants to join. Jake is defended by Logan and Bree, but his father snaps and throws his glass to the ground. He informs his family. Jake, who is only 13, has no idea who he is. Bree enters Jake's room and dials his number. Chucky is making strange noises in the closet. She and her family leave shortly after.
Jake searches for Binxie, who has gone missing and hears his father yelling before discovering him smashing his sculpture with a baseball bat. Luke then informs him "There will never be any more dolls! Jake is left with Chucky and a bloodied portion of Binxie's fur, and he is crying. Jake looks up the value of Chucky online in the morning and discovers that he is worth 1500 dollars. Fearing that his father will destroy everything, he brings him to school and then sells him. The youngsters make fun of him. Jake is seated behind Devon, a podcaster with whom he appears to have a crush. However, he is best friends with his bully cousin Junior. When Lexy (Alyvia Alyn Lind), Junior's girlfriend, finds that Jake is about to sell Chucky, she feels bad for him and offers to lend him some money. Jake's task at the lab is to dissect a frog with a scalpel. He has a stomachache. As he turns around, he discovers the frog has been ripped apart. The tyrant "Fight poverty: Help Jake and Chucky!" Lexy wrote on a GoFundMe page. The children then begin to throw money at him. Jake then requests that his teacher keep his doll because it does not fit in his locker, which she gratefully accepts. She confronts Lexy about her inappropriate behavior. She tells her to turn off the page and accuses her of being haughty and entitled. She also assigns detention to her. Lexy threatens to sue the school on behalf of her mother.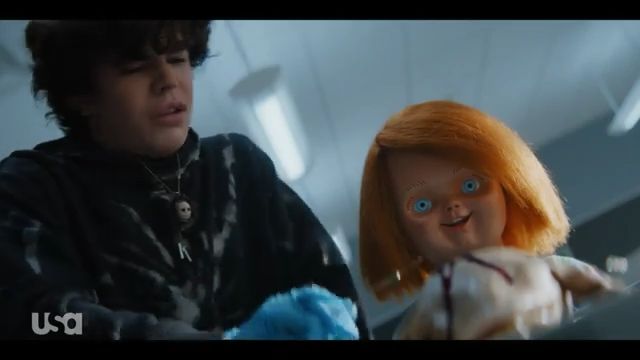 The instructor then instructs her to remain in the classroom while she summons the principal. Devon joins Jake as he is eating his lunch. They're discussing the Vampire Diaries. Devon then invites him to the following day's talent show. He also asks whether he'd like to be a guest on his show. He intends to conduct an entire series on bullying. He mentions Lexy as the bully and defends his cousin Junior, claiming that he is pleasant. Jake walks off, yelling angrily that he doesn't want to be the losers' poster boy. Chucky begins to tease Lexy, who becomes agitated and drops her phone. When the instructor and principal return, he stands in front of the door, and Lexy bolts. Jake receives a call from an eBay bidder who is interested in the doll. He asks Jake questions like, "How is he doing?" Is he still with you? Is he known as Chucky? Then he inquires as to whether anything unusual has occurred recently. He cautions Jake to be cautious with the doll and advises him to double-check the batteries. Jake is prompted to search up Chucky as a result of the chat. He learns that the doll is possessed by Charles Lee Ray's spirit, according to certain theories. When Jake sees Chucky in the morning, he freaked out. His father claims he discovered it in the restroom. He then looks for his batteries, but there are none. He then throws him outdoors in the trashcan. Jake is in attendance for the talent contest. Lexy begins to badger him, asking what he thought of Devon's performance and inviting him to reveal his feelings about Dev. In the auditorium, Chucky comes behind Jake. Jake is asked to assist him. As he cradles him and carries him onto the stage. Chucky speaks to the crowd and makes them laugh. He then lashes out at Lexy, making jokes about her phone's search history. It turns out she has photos of another boy named Oliver. She's intrigued about botox, enjoys pokemon porn, and has even researched why her farts smell so amazing. Everyone, including her younger sister, is laughing at her. Lexy has been publicly humiliated. Chucky then goes off the deep end, cursing everyone.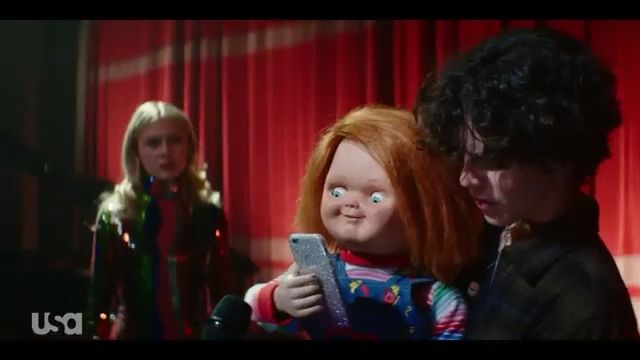 The main character enters and ejects them off the stage. Jake returns home to find his father inebriated and furious because Jake has been suspended. He refers to his son as strange, but Jake is well aware that he is ashamed of him for being gay. Luke hits him across the face and slams him against the door, threatening to kill him if he says it again, and telling him to go to his room. Luke maintains Chucky's presence. Then he realizes his whisky bottle is empty. The electricity goes off all of a sudden. Luke goes down to the basement to repair the problem. He discovers open electrical cords, as well as Chucky, who is waiting for him. Spitting alcohol out of his mouth, intending to use it as a conductor to electrocute himself. As Jake descends the stairs, he notices his father dying right in front of him. Devon's mother is a detective, and she interrogates Jake about the incident. She notifies him that the school was broken into the night before.(More Recap tvacute.com) The doll, however, was the only thing that was missing. Uncle Logan then appears, ready to take Jake home. Jake's aunt, uncle, and cousin will be his hosts. Chucky joins in the fun.
Jake tells Chuck to talk to him in his room. Chucky hits him and collapses to the floor as he vows he'll make him. Jake confronts him for killing his father, but Chucky claims that THEY were the ones who did it. He earned it for being a jerk, he added. He admits to killing the cat as well. Chucky then takes out a knife and says, "Now let's talk about that Lexy bitch." The episode concludes with the woman at the beginning of the show, Charles Lee Ray as a child in 1965, staring in the mirror and smiling.