Fans of investigative drama, fasten your seatbelts! Bosch: Legacy Season 2 Episodes 7 and 8 have led us on an exciting, suspenseful, and surprising journey. The tension between Harry Bosch (Titus Welliver) and the dishonest Vice police officers reaches a breaking point as we move deeper into the plot. With Maddie's life in jeopardy and FBI investigations escalating, these episodes offer a compelling carryover of the 'Bosch' legacy. tvacute examines the major points that emerged in this gripping chapter that had you gripped from start to finish.
Bosch: Legacy Season 2 Episode 7 Recap: I Miss Vin Scully
The rivalry between Harry Bosch and the dishonest Vice police officers approaches a breaking point in the seventh episode of "Bosch: Legacy" Season 2. A high-stakes encounter is set up as the FBI steps up its probe into the murders of important figures.
The episode opens with Det. Don Ellis (Max Martini) and Det. Kevin Long (Guy Wilson) planning how to deal with Bosch, who puts the Vice detectives in a difficult situation with his unrelenting inquiry into criminal activity. When Maddie (Madison Lintz), Bosch's daughter, gets involved in the risky operation, the story takes an unexpected turn as the two gather information on an Asian human trafficking and prostitution organization.
Ellis takes advantage of the chance to take advantage of Maddie's involvement and manipulate the circumstances to his benefit. Unintentionally pulled into the operation is the CRU, of which Maddie is a member, which culminates in a spectacular bust of the criminal organization. As a mute observer of Ellis's disproportionate use of force during the procedure, Maddie struggles to come to terms with what her father did.
Bosch hires Maurice 'Mo' Bassi (Stephen A. Chang) to look into the possibility of being followed at the same time he recognizes the threat. Tension rises as Honey "Money" Chandler (Mimi Rogers) is questioned on her participation in a grand jury probe into the Russian mafia. The episode ends with a startling revelation: Chandler is arrested for her involvement in Carl Rogers' death and the pipeline explosion after the FBI finds an audio recording in which she threatens Rogers.
Bosch: Legacy Season 2 Episode 8 Recap
Let's take a closer look at two major players, Carl Rogers (Michael Rose) and Mr. Keating (Paul Hipp). In the eighth episode titled Seventy-Four Degrees in Belize, we learn the truth about what happened to these people.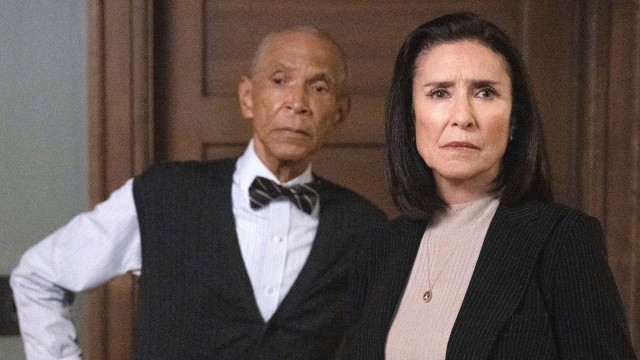 A multi-million dollar insider trading scheme involves Carl Rogers, a ruthless wealthy hedge fund manager. When important player Vincent Franzen chooses to reveal the scheme to the SEC in exchange for a settlement of his fraud charges, the complex web of deceit starts to come apart.
Rogers goes to great lengths to destroy everyone who can jeopardize his secrets out of dread of being discovered. Franzen is the hired hitman's first target, and then he tries to kill Chandler. A compelling series of events begins when Bosch thinks his daughter Maddie's life is in jeopardy, which heightens the suspense.
Unexpectedly, Mr. Keating, Rogers' attorney, emerges as a man prepared to break the law in order to defend his affluent client. The two get caught up in a lethal game of mistrials, judicial drama, and the Russian mafia. The details of Rogers and Keating's death become clear as the tale develops.
When the jury's impasse declares a mistrial, Bosch, Maddie, and Chandler decide to handle things themselves. Their pursuit of justice sets off a chain of events involving the Russians, a lawsuit alleging wrongful killing, and Rogers' last-ditch effort to stave off certain deaths. In the end, Rogers and Keating meet their deaths at the hands of the Russian mob, and their corpses wind up in a Vietnamese shipping container.
Bosch: Legacy Season 2 Episode 8: Ending!
As "Bosch: Legacy" Season 2 Episode 8 progresses, the story comes to a dramatic close that resolves unresolved issues and raises intriguing new ones. The focus is on Bosch, Maddie, and Chandler's unwavering pursuit of justice, which sets up a confrontation with Ellis and Long, the corrupt Vice police officers.
After a violent altercation, Ellis and Long believe they have succeeded in their evil plan to eliminate Bosch, and this is how the episode opens. But Bosch and Mo pull through, paving the way for a decisive confrontation. The Vice investigators' illicit practices are exposed, including their pressure on pawn shop owners, thanks to the discovery of a stolen watch.
In the violent conflict that occurs at the climax between Bosch, Schubert, Ellis, and Long,  Schubert dies and Long is critically injured. The audience is on the edge of their seats when Ellis tries to get away, wondering if he will come back to wrap up the loose ends. After the fact, Bosch tells Maddie that Long is in extremely serious condition. Bosch, ever the tactician, convinces Chandler to let the girls of Ellis and Long stay at one of her houses while they are on the run.
With information regarding the history of the stolen watch, a murder investigation involving Lexi Parks (Kim Pettiford), and the nuanced relationships among the individuals, the complicated web of links among them is further revealed.  With Chandler's arrest for her part in Carl Rogers' death and the pipeline explosion, the episode ends, leaving viewers excited to see what happens in the following episode.
Is Dr. George Schubert dead in Bosch: Legacy?
Yes, Dr. George Schubert (Patrick Day) meets a tragic end in Bosch: Legacy Season 2. Schubert's life takes a turn for the worst as he buys a watch for his wife but Vice detectives Ellis and Long find out about his extramarital affair. After having an affair with both of the corrupt couple's girls, Schubert is blackmailed into giving up the watch.
Corruption emblematic watch sold in pawn shop by Ellis and Long for $15,000. When Lexi's husband buys the watch, they had no idea that it will go on a dark path. Sending the watch in for repair reveals its association with Schubert. This information leads to other developments, including Lisa's murder, which weaves a web of danger and intrigue.
Another element of intrigue is added to the story as we wonder how David's DNA finds up on Lexi. James, a confidential informant for Ellis and Long, becomes a suspect when he is revealed to be a possible link in the scheme.
In his pursuit of justice, Bosch has no choice but to face Schubert head-on in order to get to the bottom of things. Schubert, who thinks Bosch is a police officer, gets into a heated argument with him and ends up spilling the beans. However, the situation takes a deadly turn when Ellis and Long arrive on the scene, aiming to eliminate Bosch.
The ensuing shootout turns fatal for Schubert, as Long takes his life.  Bosch takes revenge and shoots Long in a cruel twist of fate. Ellis escapes before the police arrive, but not without leaving a number of questions and threads hanging.  After the fact, Bosch tells Maddie that Long is in extremely serious condition. Bosch, ever the tactician, convinces Chandler to let the girls of Ellis and Long stay at one of her houses while they are on the run. The story ends when Long shoots Schubert to death in a chaotic gunfight. The story is made more tragic and intricate by this incident, which highlights the far-reaching effects corruption has on those who fall prey to it.
This enlightening exploration of "Bosch: Legacy" Season 2 Episodes 7 and 8 provides an insight into the intricate relationships between individuals, surprising turns in the story, and the quest for justice. Every new detail that is revealed as the story progresses gives the narrative depth and hooks readers, making them want more. Await the next exciting chapter, in which Harry Bosch's legacy continues to reveal itself in surprising ways.