The most recent episode of Magnum PI. Season 5 took fans on an exciting journey with several unexpected turns. "Run With the Devil," the episode's title, explores the lives of the primary characters by putting them through situations that try their bonds and limitations. The plot mixes drama, suspense, and a hint of humor, from Magnum's (Jay Hernandez) and Higgins's (Perdita Weeks) pursuit of an Amish teenager to the arrival of a possibly dangerous figure.  tvacute examines the major points that emerged in this gripping chapter that had you gripped from start to finish.
Magnum P.I. Season 5 Episode 16 Recap: "Run With The Devil"
The two take on the roles of bounty hunters at the start of the episode, complete with disguises and unforeseen obstacles. As part of their mission to find a skip, Higgins dresses like a chicken and distributes fliers in front of a pawn shop. The mission, however, takes an unexpected turn when Magnum gets hurt during a chase and has to go to the hospital.
Magnum meets Jacob Fischer, a young Amish boy, while he recovers. Jacob discloses that he traveled to Hawaii in order to locate his sister Hannah, who had traveled there in search of her Rum Springa. The story takes a more complex turn when it is revealed that Hannah, who was before thought to be content in Hawaii, has joined forces with a gang of criminals and is now taking part in robberies and car thefts among other crimes.
Motivated by a sense of obligation and empathy, Magnum chooses to assist Jacob in finding his sister. But there's a catch: they have to let Jacob's parents know where he is before they can start looking for Hannah. As they learn more about Hannah's involvement in illegal activity and the threats she faces from the criminal underworld and those looking to exact revenge, the mission turns into a race against time.
The story picks up steam as Jacob falls victim to a ruse, forcing Magnum and Higgins to take on the crooks who brought him to justice. A tense exchange takes place as Hannah's future is in jeopardy and Magnum and Higgins try to negotiate Jacob's release. With a successful swap that reunites Jacob with his sister, the episode ends and gives viewers a sense of closure for the current plot.
Magnum P.I. Season 5 Episode 16: Ending Explained!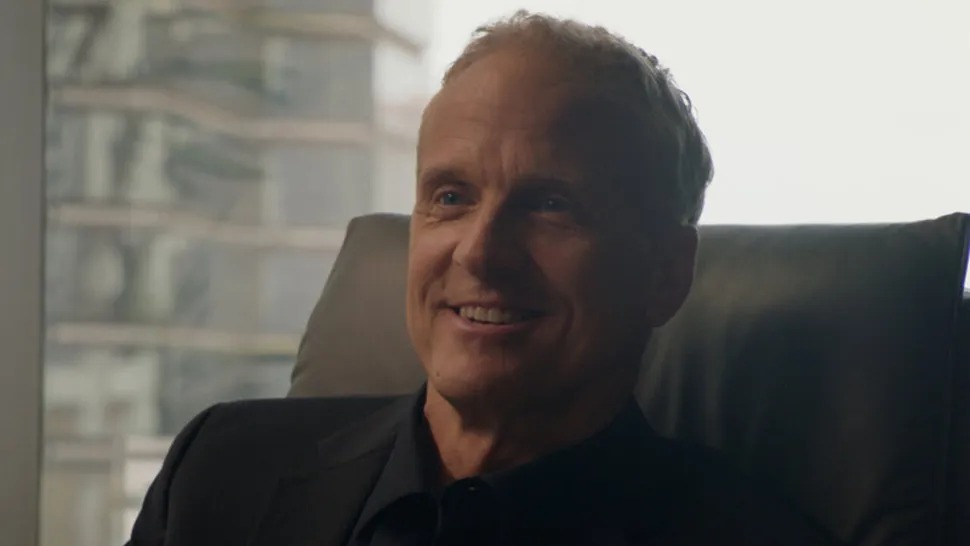 The episode interweaves several subplots, such as T.C.'s continued recuperation after a recent breakup and his difficulties with physical therapy, with the main plotline. Furthermore, the entrance of the enigmatic Sam Bedrosian heightens the tension and lays the groundwork for possible future confrontations in the series.
In this episode, one of the most fascinating new characters is Patrick Fabian's portrayal of Sam Bedrosian. At first, introduced as the leader of a private equity firm, Bedrosian rapidly takes on a mysterious and perhaps dangerous persona. Magnum and Higgins suspect him of being involved in sinister operations, which establishes the foundation for an engaging narrative.
In a pivotal incident, Bedrosian warns Magnum and Higgins in a cryptic manner, implying that their actions would have consequences. According to the story, Bedrosian's role might go beyond a single episode. Magnum actor Jay Hernandez made jokes months prior about a character who would cause trouble for multiple episodes.
Finally, "Run With the Devil" not only offers an exciting episode but also lays the groundwork for more plot arcs, which will have fans of Magnum P.I. excited for the next release. The show continues to be a favorite among fans of crime drama and mystery because of its captivating characters, thrilling plots, and the arrival of strong new enemies.
Magnum P.I. Season 5 Episode 16: T.C –  Road to Recovery
This episode features a big subplot about TC (Stephen Hill), who is having emotional and physical difficulties. In the last episode, T.C. was paralyzed and dependent on a crutch. His friends, especially Rick (Zachary Knighton), were skeptical of his involvement in risky activities. The article raises concerns regarding T.C.'s ongoing rehabilitation since it suggests that he might take to the skies again in his beloved Island Hoppers helicopter. The character's need for diversion and recuperation is highlighted by the emotional element that is added by their separation with Mahina.
T.C.'s journey becomes a metaphor for perseverance and the difficulties of overcoming adversity from a storytelling standpoint. The viewer is left wondering if T.C. will overcome obstacles that could prevent him from moving on or finding comfort in his diversions.