As 'Bosch: Legacy' season 1 comes to a close, most plot threads are resolved the ninth episode, titled 'Cat Got a Name? ' Bosch (Titus Welliver) learns the truth about Whitney Vance. The season conclusion, titled 'Always/All Ways,' includes information concerning Dr. Basu's killer as well as Vibiana Veracruz and her son's fates. The first season ends on a cliffhanger.  Let's read the recap
Bosch: Legacy Season 2: Everything We Know So Far
Bosch Legacy Episode 9 Recap
Vance Engineering's hired gun creeps around Bosch's office while he's out walking the dog in the first scene of episode 9. She's gathering information and trying to figure out how to gain access to Vibiana and her son in order to remove them from the Vance estate claim. Due to her cleaner's disguise, Bosch returns before she is finished, and the two briefly cross paths, but he is unaware. However, as soon as he enters his office, he detects a scent that indicates someone has been there, and as he looks around, he notices the woman hurrying out.  He later pays a visit to Ida Porter to inform her about the will. She doesn't appear to believe him at first, especially when Bosch says that Vance selected him as his executor. When he tells her that Vance has left her $10 million, her demeanour changes. Chandler's (Mimi Rogers) office is where she and her colleagues devise a strategy for pursuing the lawsuit against the LAPD for Nicole Davis's wrongful death. Meanwhile, Maddie (Madison Lintz) and Vasquez lead the police in their search for the rapist in a luchador mask.
Maddie spots an inspection notice and leaves a message for property inspector Kurt Dockweiler (Will Chase) while interviewing individuals in the Thai Town area about if they observed a lurker. Dockweiler returns her call later. He had looked her up on the internet before calling her, it is revealed. Maddie discovers the rapist's mask while rummaging among the dumpsters with Vasquez. The assassin comes for Vibiana and her son Gilberto near the end of episode 9.
Bosch Legacy Episode 10 Recap
The final episode of Bosch: Legacy picks up right where episode 9 left off, with Bosch racing to Vibiana's location after receiving a call that leaves him highly concerned for her safety. When he arrives at her apartment building, he immediately begins planning a series of distractions that will allow him to get her and her son out of the building and away from the woman who has been dispatched to kill them both. It's an achievement he just almost pulls off, with the three of them driving away and the assassin watching from the top of the building. Chandler attends a hearing with the judge assigned to the Davis case, where she is fighting for access to all of the cops' bodycam footage from the scene of the shooting. Chandler has a perspective on practically every second of the shooting as it unfolds, thanks to the footage that Mo has gathered for her. In the first season finale, Bosch manages to save Vibiana and Gilberto from the assassin. He obtains the video of the assassin killing Sloan with the assistance of Maurice (Stephen Chang). Following that, Bosch kidnaps and tortures John Creighton, the chief of Trident Security, in order to obtain information about the assassin.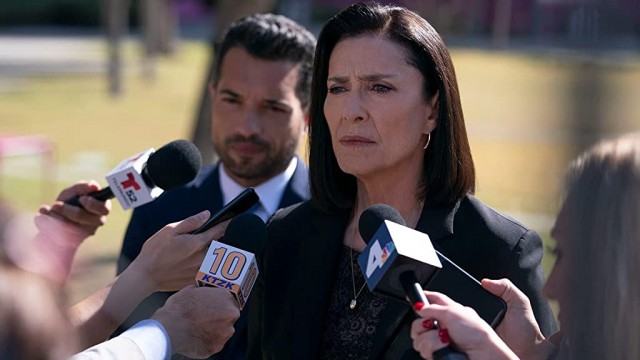 After gaining access to the bodycam footage of every officer present at the scene of Nicole Davis and James Sharp's deaths, including Maddie, Bosch and Chandler have a falling out. After Chandler shows him a film showing what looks to be the SIS grabbing Sharp's gun from the trunk of his car and placing it near to him, Detective Morrison changes his mind. Morrison requests that Chandler refrain from making the litigation about money. Instead, he advises her to utilize it to alter the LAPD for the better. Chandler, on the other hand, emphasizes that her client is a young kid who has lost his mother and that her primary goal is to assist him. Maddie is almost ready to leave home after a successful day on the ground gathering evidence and making that incredible discovery about the mask when she gets a call. However, once the identity of the person on the other end of the call is revealed, it appears that the inspection notice was only baited, as the man she is chatting with is actively looking for Maddie online. Maddie appears to be attacked by the rapist in the season's closing scene. When Bosch arrives at his daughter's house, neither of them is there, but there is evidence of a break-in.
How Did Whitney Vance Die in Bosch: Legacy? Was it a homicide?
Whitney Vance is a multibillionaire industrialist who has built on the family fortune he inherited as a child. He approaches Bosch in the hopes that the former Hollywood homicide detective turned private investigator may help him figure out what happened to the woman he abandoned seven decades ago and the child she was expecting. Vance has heirs, according to Bosch's investigation: granddaughter Vibiana and great-grandson Gilberto. Vance has already died by the time Bosch arrives to those conclusions. In the penultimate episode, Bosch learns from the detectives investigating Vance's death that the billionaire was murdered by concealing his face with a pillow. It gets Bosch's attention when the cops remark spotting Vance's gold pen at the crime site. When Vance allegedly appointed him as executor of his will, he included the pen with the documents.
The pen, however, was discovered at Vance's residence after his death, according to the detectives. The detectives returned after the autopsy to take more images, but the pen vanished. When Bosch and Chandler approach Ida Porter (Kate Burton), she confesses to killing her former boss. Vance couldn't write or sign his letters at the end of his life, so Ida did it for him. Vance did tell her to create the will and appoint Bosch as the sole executor. However, he left nothing for her, which she felt was unjust because she had cared for him for so long. As a result, she added a line about Vance leaving her ten million dollars. Vance, on the other hand, began to feel better and wanted to make the will formal. Ida Porter (Kate Burton) killed Vance because she knew her acts would be uncovered if that happened. She is arrested after her confession.
Who assassinated Dr. Basu in Bosch Legacy Season 1 Finale?
It was usually assumed that Dr. Manny Basu was assassinated. Bosch discovers that one of the doctors working at the clinic under Basu, Dr. Vincent Shipman (Gabriel Tigerman), was running a prescription mill. He forged prescriptions for the homeless before selling the opioid medications himself. During one of Harry Bosch's deals with his customers, Mo has Shipman recorded. Furthermore, the stab wounds inflicted by Dr. Basu were surgically exact. Dr. Basu discovered what Shipman was up to and killed him as a result. Detective Gustafason, the officer in charge of the case, receives all of Bosch's evidence and urges him to complete the investigation properly. After Shipman is apprehended, Chandler informs Bosch that her client, Jeffrey Herstadt, is no longer a suspect.
Are Vibiana and Gilberto going to die?
In the first season of 'Bosch: Legacy,' Vibiana and Gilberto do not perish. Bosch entices the assassin by convincing her that Vibiana and her son are staying at Vance's country estate. The assassin is murdered in the ensuing gunfire. Bosch then releases Creighton, who gives him a job at Trident Security, explaining that they need individuals like Bosch. Bosch, predictably, refuses. Chandler then files a petition to determine Whitney Vance's state administration. Vibiana and Gilberto are connected to Vance, according to DNA evidence. Chandler and her staff, on the other hand, don't expose their clients' identities to the public because they recognise it's still a delicate matter.