On Disney Plus on Wednesday, the finale episode of The Book of Boba Fett premiered. Grogu arrives on Tatooine for the major showdown. an extra-long episode that runs as one dramatic set-piece paying off everything built up so far across The Book Of Boba Fett and The Mandalorian – and the big mystery haunting Baby Yoda fans are answered early on.
Episode 7 highlighted the conclusion of numerous separate plot threads – Boba's confrontation with the Pykes with mercenary Fennec Shand, Grogu's decision to abandon the teachings of the Jedi and join with Din Djarin instead, and the threat of bounty hunter Cad Bane (Corey Burton). 
The Book of Boba Fett Finale Recap
The episode begins on Mos Espa, following the destruction of the sanctuary.  Boba (Temuera Morrison), Mando (Pedro Pascal), and Fennec (Ming-Na Wen) start drafting up their combat preparations. They talk about how prosperous they intend to make Mos Espa among the ruins, which contrasts sharply with the ruins they are standing among. Mando informs them about his arrangement with Cobb Vanth, and how all they want is for the spice to cease pouring. They have Drash (Sophie Thatcher), Skad (Jordan Bolger), and Chris the Wookiee on their side, but that's about it – especially since Cad Bane shot Marshall Cobb last week and prevented him from sending reinforcements.
Bane swaggers up to Boba and tries to entice him out of hiding, assuming that a showdown with his mentor will be enough to end the conflict in a traditional western shootout. Instead of shooting, they exchange words and Boba learns that the Pykes murdered his adopted Tusken tribe and put it on the motorcyclists. The entire city collapses just as his blood boils. The Pykes have an overwhelming army of mercenaries and Mafiosos at their disposal to turn the crime families against Boba, driving the good people into a tight corner.
Boba Fett's Finale battle
Chris is overcome, the pigmen are pushed off a cliff, and Boba and Mando plan a suicide pact a la Butch and Sundance. Fortunately, backup arrives. Although the Marshall was killed, his death prompted the townspeople to gather their guns and join the fight, arriving in an old tank just in time to save Boba and Mando from being shot. At the same time, Baby Yoda appears in a rickshaw with Peli (Amy Sedaris) now dressed in a shiny shirt and clearly having taken the decision to leave Luke's Jedi training behind in order to spend more time with his father.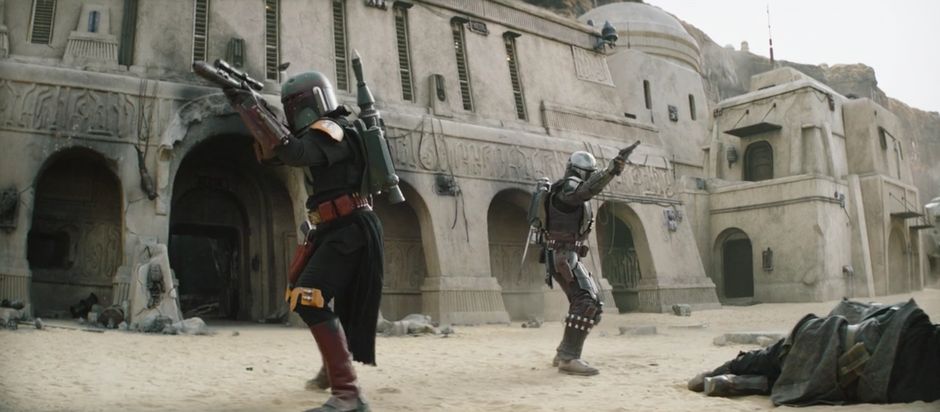 A pair of enormous Scorpenek droids appear just as the scales begin to balance. Each robot is plainly capable of winning the conflict on its own, protected by force shields and equipped with massive guns and razor legs. Finally, Boba unleashes his own trump card, riding his pet rancor into battle. Boba Fett wrangles his rancor, Mando hacks away with his darksaber, and Baby Yoda utilizes his Jedi powers to fight a big robot scorpion. The gigantic lizard monster swipes and eats his way through a city before King Kong-ing the two Scorpeneks in a spectacular double-headed smackdown.
The rancor is scared off by Bane's flamethrower and flees to go berserk somewhere else, leaving Boba to face his old employer alone. Boba fights back with his Gaderffii stick, killing the desperado just as he was becoming interesting. Mando tries to apprehend the rogue rancor on the other side of town, but he gets punched through a building. Instead, Baby Yoda manages to force-calm the monster, and everyone begins to rejoice.
The Book of Boba Fett Finale Ending
Pykes' boss quarters are the episode's conclusion. He's preparing to sever his ties with Mos Espa and flee. Rancor slaughtered or devoured half of his men. This community simply isn't welcoming enough. The chiefs of the ruling alien families all around him are strangely sniper. The Pykes Boss was stabbed by Fennec, and the Hammerhead mayor of Mos Espa suffocated. Walking through town like a local hero after the battle, Boba now has the respect and power he's always desired, bringing the first chapter of The Book Of Boba Fett to a close. Boba Fett's arm was allegedly damaged during the battle for Mos Espa, and he died as a result. Despite the fact that he has been using his Bacta tank to heal himself throughout the season, Fett says that he is unable to do so because it is currently in use by another character.
Is there a post-credits scene in the Boba Fett finale?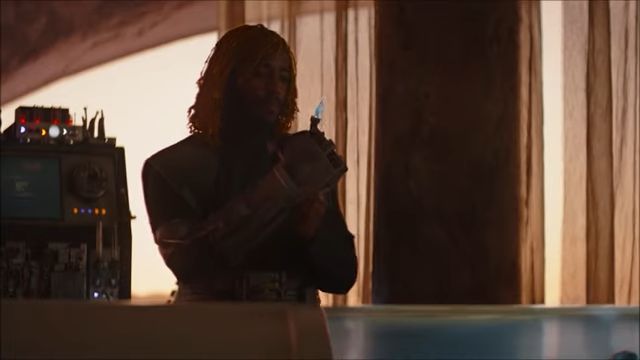 Cobb Vanth is seen in the Bacta tank in the post-credits sequence, implying that the inhabitants of Freetown may still have faith that their Marshal would return. Cobb was shot by Cad Bane in episode six, and viewers wondered if the mayor of Freetown was dead. Cobb was said to have perished from his wounded as the citizens of Freetown joined Boba's struggle. However, a post-credits scene revealed that this was not the case, as he was shown healing from the shot in Boba's bacta tank. That wasn't all; the mod artist in Mos Eisley (Thundercat,) who saved Fennec's life by replacing some of her body parts with cybernetics, was also present. Cobb appears to be getting the same treatment, which raises the question of whether Cad Bane could be revived with some mod work as well.  Whereas the post-credits scene left numerous concerns unresolved for fans, including Vanth's destiny in the series, it does imply that his character will play a larger role in season 3 of The Mandalorian. Or perhaps in another Star Wars world.