'Billions' Season 7, Episode 3, titled "Winston Dick Energy," penned by the trio of talented writers Brian Koppelman, David Levien, and Andrew Ross Sorkin, masterfully brings the captivating world of finance and intrigue to life. The interaction between reason and feeling that influences the characters' decisions pulsates throughout this episode. Wags set out on a path of resilience and reinvention, Wendy (Maggie Siff) confronts a stark choice between performance coaching and genuine healing, and Chuck Rhoades struggles with striking the right mix between strategy and sentiment. Kareem Abdul-Jabbar makes a surprise cameo amid these convoluted plots, adding an unexpected depth. Join us as we (www.tvacute.com) explore the key moments of this compelling episode.
Billions Season 7 Episode 4 [Hurricane Rosie] Recap: Al Roker Cameo
'Billions' Season 7, Episode 3 Recap
Chuck Rhoades (Paul Giamatti), a character distinguished by his complex fusion of knowledge and emotion, serves as the focal point of this episode. These traits, combined in his special way, propelled him to success while also occasionally acting as his weakness. Chuck's dealings with Ira, his best buddy who later became a deputy US attorney, revealed his complex personality. For anyone who has ever found themselves at the nexus of reason and emotion, he struggles with the ongoing quest for harmony between his razor-sharp intellect and his heart's impulses.
Chuck's former protege and current rival Kate Sacker is aware of the possible drawbacks of his emotional depth. Chuck's equilibrium is put to the test when a political super PAC established to aid Mike Prince (Corey Stoll)'s presidential candidacy is introduced. His decisions have the capacity to determine his course, exposing the fine line he treads between reasoned strategy and the influence of feelings.
'Billions' Season 7, Episode 3 Recap: Wendy's Dilemma
Wendy, the internal performance coach at Prince Capital, struggles with a severe identity problem. She embarks on a significant voyage of self-discovery after learning that her patients look for deeper therapeutic connections outside of her field. Competing psychiatrist Dr. Eleanor Mayer forces Wendy to face the core of her profession. According to Mayer, performance-based coaching unintentionally perpetuates a cycle of relentless excellence at the expense of actual healing.
Wendy enters the world of Mayer's therapy in quest of authenticity, revealing the weaknesses that lie beneath the surface. The profundity of Mayer's insights causes her to reflect deeply on her job and its effects. In a society where the desire of performance is paramount, Wendy's journey comes to represent the universal need for real connections among people.
'Billions' Season 7, Episode 3 Recap:  The Adaptability and Innovation of Wags
Wags, a once-revered financial guru, is currently dealing with a reputation issue brought on by his relationship with Mike Prince. His transformation serves as a microcosm of the series' more significant themes of adaptability and tenacity. Wags' interaction with Winston (Will Roland) presents a chance for atonement and demonstrates both his strategic acumen and unrelenting resolve.
Viewers who have experienced personal change and triumph through adversity can relate to this trajectory. Wags' tenacity serves as a powerful reminder that failures can be used as stepping stones towards success. His story illustrates the significance of meeting obstacles head-on and overcoming them to emerge stronger than before as it matches the larger concepts of the "Billions" universe.
'Billions' Season 7, Episode 3 Recap: Ending Explained!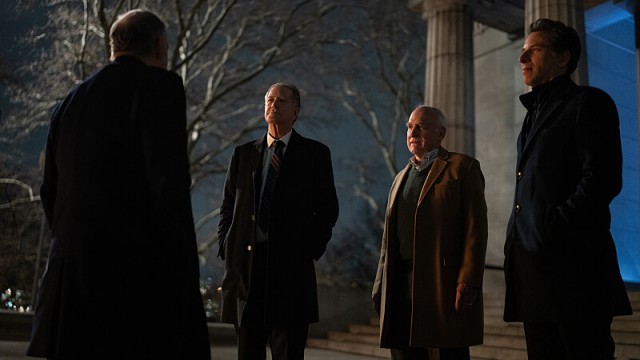 The conclusion of the show highlights how important Chuck's choice was. As the super PAC is introduced, the stakes rise as Chuck must balance his strategic thinking with his emotional impulses. His coworkers' combined prodding causes a conflict to arise between tactical moves and emotionally motivated decisions. In the end, Chuck's insight leads him, demonstrating his development and flexibility.
Wendy's touching exchange with Dr. Mayer results in a paradigm-shifting insight. The trade-offs between true healing and performance coaching are made clear by Mayer's sharp analysis. Wendy's decision to seek treatment causes a change in perspective, demonstrating the power of self-awareness to alter.
Kareem Abdul-Jabbar's Role in Shaping Chuck's Path
The renowned basketball player Kareem Abdul-Jabbar makes a key appearance that changes the course of the narrative in this crucial episode of "Billions" Season 7 titled "Winston Dick Energy." Abdul-Jabbar's unanticipated intervention becomes a turning point that gives Chuck Rhoades a new perspective on his difficulties as he navigates the complexity of emotion and strategy. The intervention of the basketball icon marks a turning point for Chuck.
Kareem Abdul-Jabbar shows up as an unexpected source of guidance as Chuck Rhoades searches for the harmony between intellect and heart. The basketball legend teaches Chuck a valuable lesson while posing as himself. Abdul-Jabbar's life story, which was characterized by hardship and tenacity, serves as a potent analogy that strongly connects with Chuck's situation.
Chuck is greatly affected by Abdul-Jabbar's remarks. Abdul-Jabbar's insight causes Chuck to rethink how he approaches the difficulties he faces. Chuck makes following decisions with a renewed sense of zeal, motivated by the knowledge that difficulties can be exploited as springboards for development.
"Winston Dick Energy" is a skillfully knit fabric of feelings, cunning, and fortitude. Chuck, Wendy, and Wags personify the complex dance of the human experience, connecting with viewers as they travel through their own complex lives. The episode's examination of emotional stability, honesty, and reinvention sheds light on the intricacies of key life decisions. "Billions" maintains its compelling storytelling and deep character development as the characters change in high-stakes situations. Abdul-Jabbar's appearance emphasizes how well the program integrates practical knowledge into its storyline, enhancing the characters' journeys and encouraging viewers to reflect on the profound lessons hidden behind their challenges.