The third season of the mystery thriller based on C.J. Box's novels is off to a strong start in Montana with a new title ("Big Sky: Deadly Trails") and a new cast. The new sheriff, Beau Arlen (Jensen Ackles), has great chemistry with his undersheriff Jenny Hoyt (Katheryn Winnick), while Cassie(Kylie Bunbury) is looking for a backpacker. The country music superstar Reba McEntire plays backcountry guide Sunny Barnes, whose family firm plans opulent camping experiences for visitors, including husband Buck, played by McEntire's real-life boyfriend Rex Linn. Naturally, there is peril up in those mountains, and Sunny is keeping a sinister secret from everyone. www.tvacute.com  provides a comprehensive recap on this page..
Big Sky Season 3 Episode 2: Sunny is hiding something!
Big Sky Season 3 – Meet New Cast
Big Sky Season 3 Episode 1 Recap
Credibility As a hiker embarks on a trail, Clearwater Revival's "Have You Ever Seen the Rain?" is blasting on the soundtrack. Up until he arrives at a rocky outcrop and discovers an ancient tape recorder playing some music, everything is going great. and then notices the unsettling character, played by Seth Gabel of Salem, standing close by with a knife. The man pleads for assistance as he prepares to butcher a nearby dead deer, but the hiker swiftly understands the situation and removes himself from it. Much later, as the hiker stops to take a water break and enjoy the scenery, the scary man is waiting for him. And as he moves on, the hiker tumbles off a precipice.
While waiting, Jenny stopped at Dewell & Hoyt to chat with Cassie and Denise. Beau Arlen, the temporary acting sheriff, is reportedly planning to remain. Although Jenny hasn't yet met his ex-wife, she and Cassie are moved by the way Beau speaks so affectionately of his daughter. As for other housekeeping, Cassie makes it abundantly obvious that she is fine with Lindor and Jerrie pursuing The Syndicate because they broke up, and we learn that they are doing so while we are away. She claims that their friendship is better. He and Jerrie make a wonderful couple. We are aware! The women discuss Cassie's investigation into the missing backpacker, whose family is concerned and has been in touch, in brief. Then Beau leaves with Jenny after stopping by for just long enough to be obscenely charming.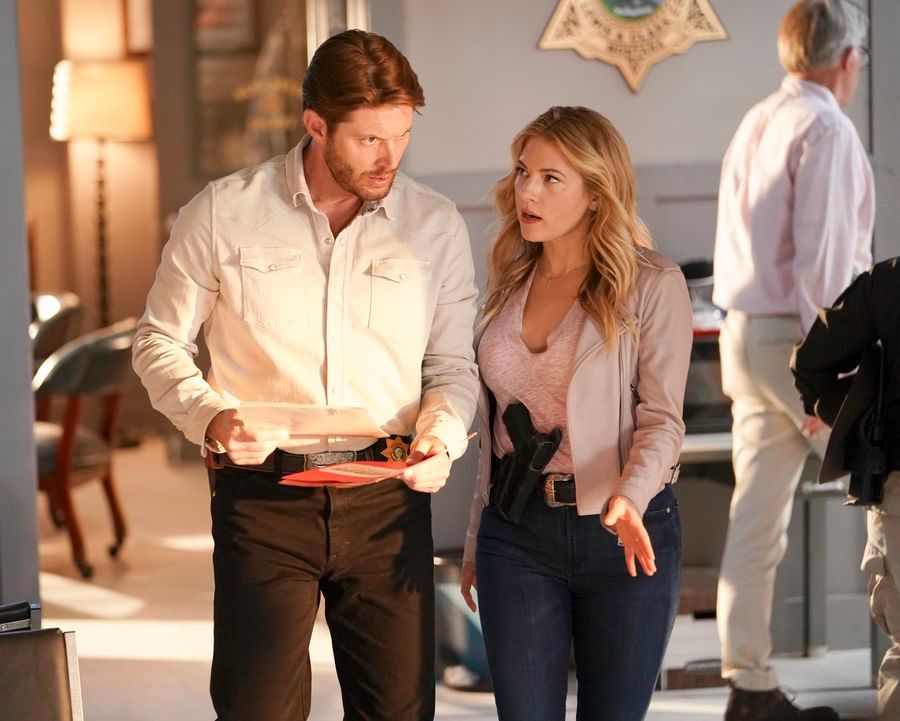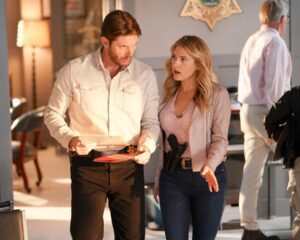 They come upon Tonya's real estate advertisement as they go. While Beau is encouraging Jenny to use visualization to help her control her wrath over Tanya not being in jail, they spot a man running in only his underwear and socks. Jenny is still very angry that Tanya is not in jail. not a single other. It turns out that he was a jail officer transporting a female prisoner who outsmarted him. Arlen summarises the scenario by stating that she is armed, dangerous, and dressed like a jail guard at this point. Jenny and Beau immediately figure out that the officer is lying when they get at the station. He acknowledges, "OK, she kind of seduced me. When they receive a phone report that a female jail guard is disrupting a nearby market, their story of shame is cut short. When they arrive, the woman has already left, but surveillance footage reveals that she has kidnapped the manager of the market. He turns out to be her ex-brother, boyfriend who she holds responsible for her incarceration.
They talk about Beau's ongoing movie night plans with Ms. Dewell while Jenny drives him to the scene of the incident. He claims that although they have become closer over the previous few months, their relationship is not romantic, and he confirms this by inviting Jenny to see the movie with them. However, their conversation is cut short when they arrive at the apartment complex housing the market manager and the hostage falls from a balcony on an upper level directly into the automobile. Beau ignores Jenny's advice to call for backup and stays with the man while he is still alive. She only discovers hints that a child is involved inside. A little investigation shows that the prisoner, Faith, escaped reaching the ex's young daughter, who calls her "MOM" before the youngster relocated far away. Additionally, Jenny and Beau come on the scene and convince Faith to hand over her gun as she is finding the girl at her aunt's house. Sheriff Arlen advises Jenny to give Faith a moment to say her goodbyes before handcuffing her. Jenny is eager to do this. She does.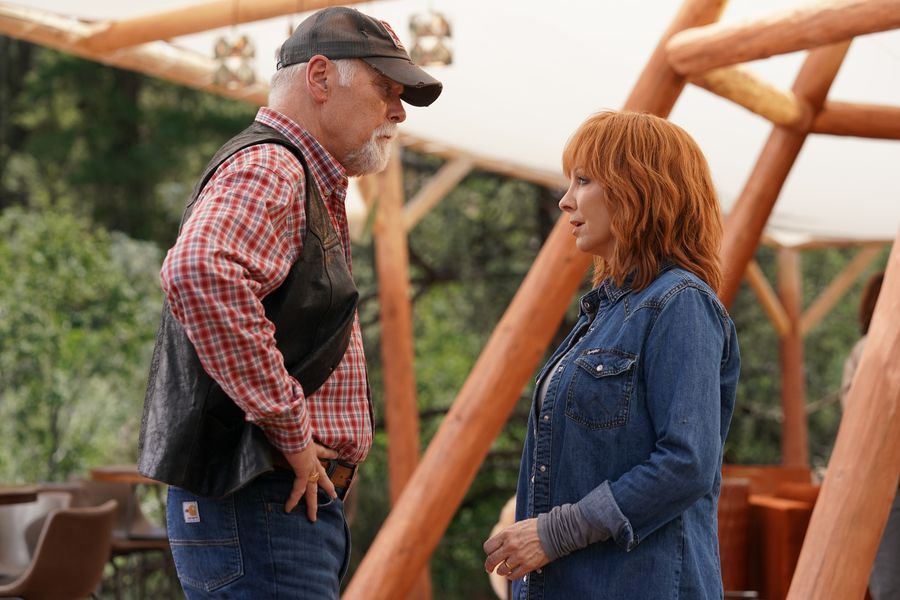 Sunny (Reba McEntire) and Buck (Rex Linn) were putting the finishing touches on their new glamping site outside of town. Cassie discovers the location as she starts hunting for the hiker. Cormac, Sunny's son, is called over to look at the picture of the missing man (Luke Mitchell), and it's obvious there's a little something-something going on between him and Ms. Dewell. The time has come for Sunny's visitors to show up. Along with Paige and Luke, a quarreling young couple, the group also consists of Avery (Henry Ian Cusick) and his daughter Emily, played by Madalyn Horcher in Gracepoint, and Anirudh Pisharody.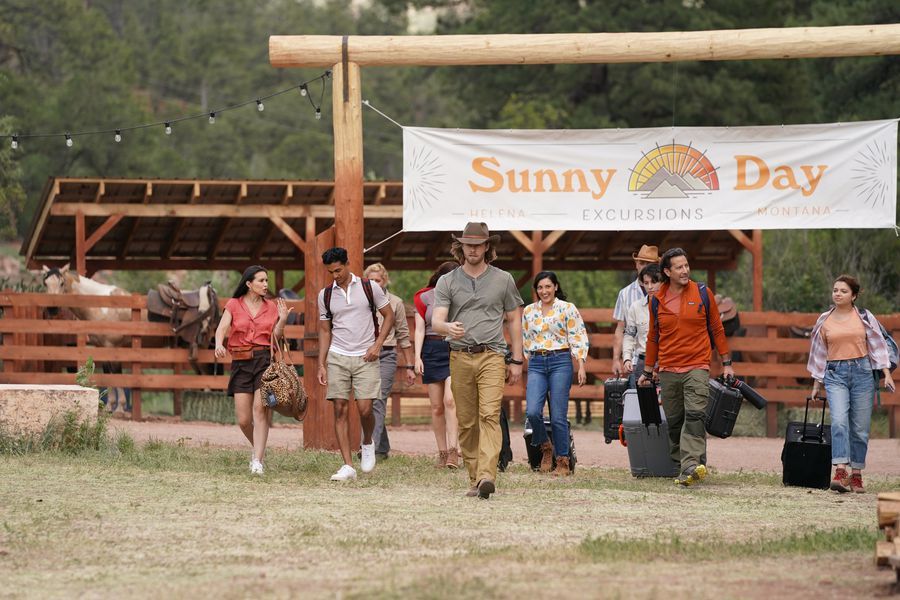 Denise has discovered a connection at work. the backpacker's disappearance route was the scene of a terrible murder-mutilation years earlier, during which the victim's heart was severed. This presumably means it's not a good thing that Luke and Paige are moving toward that trail while still arguing. It's also noteworthy to note that Emily is nearby, and when Sunny catches her, we learn that she has a knife with her name on it that her father gave to her and that she's considering putting together a podcast on "secrets and lies." That evening during camp dinner, Luke is not there. When Paige discovers him in the woods, she taunts him to cheer up before interrupting their make-out session with some tinny music (similar to what Creepy Guy played at the beginning of the hour) and blood that falls into Paige's face from above. When Sunny and Buck go to investigate, they only find a mutilated coyote on the ledge above the pair and refer to the situation as "nature."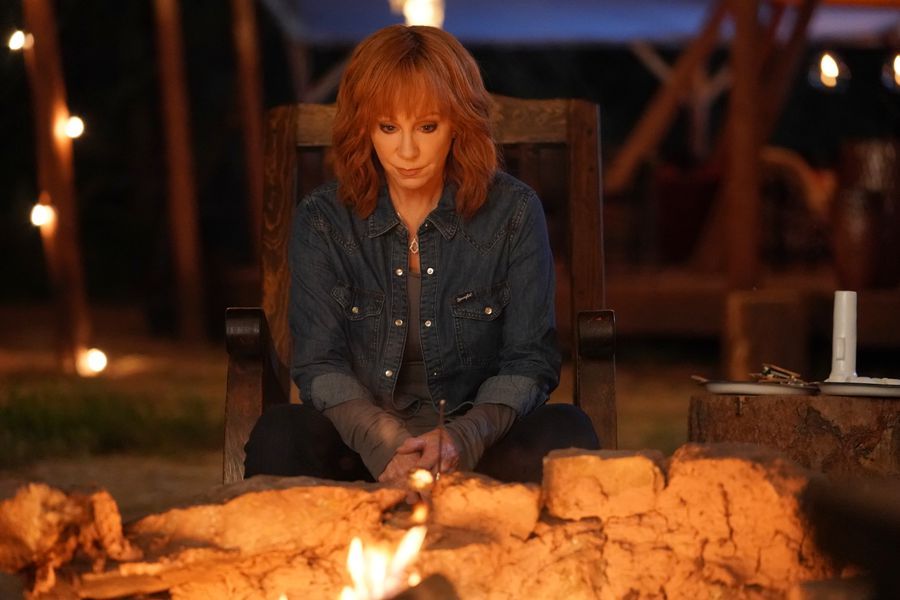 Naturally, however, things aren't as good-natured as they first seem. Sunny spend the evening sitting in front of a campfire. and sets ablaze the traveler's photograph that Cassie had left behind. She then prepares a s'more over the flames and disappears into the pitch-black forest while humming. When Creepy Guy emerges, Sunny appears pleased to see him. The gang decides to watch a movie at Beau's Airstream trailer, and Jenny accepts the sheriff's invitation after all. We discover that Emily of the glamping group is his daughter as he briefly leaves the scene to answer a phone. Cassie reassures him that Sunny is fantastic and that Emily is probably having a great time, but it doesn't really help him get over the idea that he's missing out on Emily's life while stepdad Avery isn't. Cassie counsels. You ought to tell her. Tell her how important she is to you, Jenny continues.
The Blue Fox Diner, which Tonya now controls, has hired Donno as its cook. When Cassie comes across her, they have a heated discussion about how Tonya become a reputable businesswoman without any legal basis. Then Cassie declares her intention to purchase Mountain Ranch. I received some money from my father. His ideal ranch was that one, she claims. Tonya initially shows resistance. Cassie then brings up the killings, the drug lab in the basement, and how Tonya will need to let any possible purchasers know about that. At the end of the episode, Tanya eventually says, Cassie owns the ranch.
"Big Sky: Deadly Trails" premiers on Wednesday, 10/9con ABC.