The most dramatic episode of All Rise's third season yet concluded the first half of the season. The Hall of Justice was overtaken by Brandon Page's supporters in the dramatic midseason finale, including his heavily armed right-hand man Leo Sikes, who attacked Ness but also shot Luke and Teddy. Amy saw Ness, who had just learned she had passed the bar exam, bleeding out in a hallway, while Mark went back to his office to find Sara holding a wounded Teddy after Sikes had been caught by the cops. Luke and Emily exchanged "I love you"s when his injury, thankfully, seemed to be less serious. Lola and her ex-boyfriend André were confined to Lola's quarters throughout the lockdown, forcing them to discuss their tangled relationship and past. Following their kiss, Lola's husband Robin went searching for her and caught them in a liplock. Allow www.tvacute.com to supply you with what happened in All Rise Mid-Season Finale (Season 3 Episode 10.)
All Rise Season 3 Episode 10 Recap
The episode begins with a sex scene between Lola Carmichael and Robin Taylor.  Luke Watkins and Emily Lopez share a sweet moment in the Hall of Justice before Luke tells Emily her ex-boss wants to talk. Judges Thomas and Laski attack Lola about garnering her support because they're both running to succeed Helgenberger's cherished Lisa as the judge. Sherri is also returning. Mark Callan set up a meeting with Amy Quinn's ex-husband Collier on his own, and Collier wants to know why Amy didn't inform him their divorce papers were completed long ago. Vanessa "Ness" Johnson unexpectedly learns that she passed the bar exam on her second attempt. Mark and Teddy Biswas prepare for their first day in court on the Brandon Page case. She urges and they turn Page over to the feds and offers Maddy Hernandez protected custody. Emily and Mark reassure Maddy as the US Attorney leaves. Amy enters Mark's office to argue about who's being dishonest. he says, enraged by what had happened.
Now we know he didn't think he could speak to Judge Lola like that and she'd be okay with it. #AllRise pic.twitter.com/7EexALVCoQ

— All Rise (@AllRiseOWN) August 10, 2022
Ness sees Brandon's creepy pal Leo Sykes in the HOJ elevator. In Courtroom 802, Lola's ex Dre Armstrong represents Page and files a motion to suppress the search warrant evidence. Lola approves the motion to exclude and gives Mark the opportunity to ask for additional time. While Ness runs into Brandon's companion in the stairwell and gets stabbed, fainting and leaving a trail of blood on the wall, Lola drags Dre into her quarters. Bravo chastises Mark for the search warrant blunder and threatens to submit the case to the U.S. Attorney, but Mark tells Teddy he doesn't get the easy way and demands him research Page's social media. Lola begs Dre to quit attempting to create a name for himself in her courtroom. Dre questions her marriage. Ness' situation is made worse and she throws her cellphone down the stairs. Teddy and Sara have good news for Mark, who's being chastised by Bravo and Emily. Wilson Bethel's confused expression at the start of this sequence depicts Mark's displeasure.
Amy also bumps into Leo after Bravo appeases Emily by offering a security detail for Maddy, and Dre keeps trying to be tough. Brandon warns Courtroom 802 as a whole that his supporters might not appreciate Lola's uncool treatment of her. Lola also makes Mark start the trial right away. Mark argues with Brandon. Maddie warns Emily that Leo wants to harm her, and then Leo uploads a video to social media urging Brandon's followers to attack the Hall of Justice. Teddy attempts to warn Mark, but the phone goes to voicemail; as a result, Teddy decides to go to court also Sara also with him.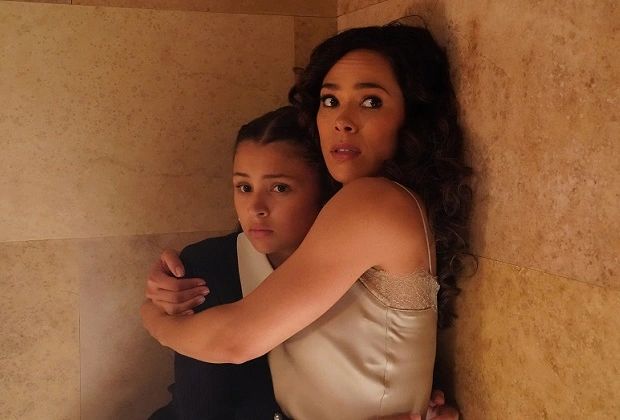 Brandon's fans pack the courthouse in minutes, despite Los Angeles traffic, and a melee breaks out. Emily is advised to shut the door and stay inside before Luke arrives to tell the HOJ is under siege. Teddy and Sara blow through security, Amy finds Ness, and Lola's courthouse is evacuated before the crowd ruins it. Robin and the U.S. Attorney arrive to discuss the teenage massacre while Lola is alone with Dre. This is a strange time to talk, yet Dre apologizes.
Mark is downstairs with the jury when Amy calls, hoping to save Ness. Luke, has been moving through pretty unbothered until he stumbles upon Leo, who has begun firing up the building. Emily mistakenly lets Leo inside Maddy and Teddy's room. In order to acquire Maddy, Leo is ready to kill Emily, but Luke shows up with his own weapon. Just before Emily strikes Leo in the head, both guys are shot.
It's all over, and these two had each other through it all. #Lemily #AllRise pic.twitter.com/HI4niIrWFM

— All Rise (@AllRiseOWN) August 10, 2022
Luke tells Emily he loves her; she responds. Mark and Amy affirm their love after Robin tells them Ness is en route to the hospital. Mark and Robin hug, indicating they've reconciled, before Mark returns to Courtroom 802 to inspect the damage. Bradon Page is now formally a problem for the US Attorney according to Mark. That's because assaulting a courtroom is a completely different kind of felony, and Leo Sykes recently made the decision to testify. But just as things start to look more normal, Mark arrives back at work.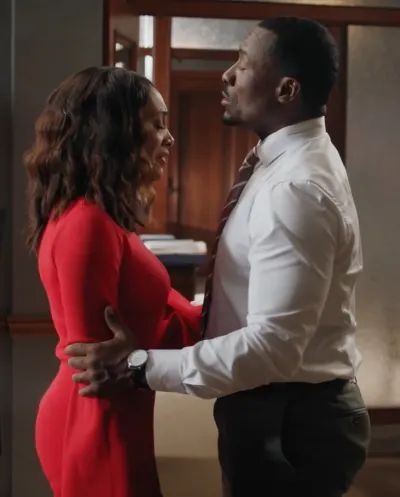 There were hints that one of the characters in the mid-finale season would be passed away. Ness was bleeding profusely from her stab wound, so we assumed she would pass away soon. but She was surprisingly still hanging as they were heading to the hospital. The show eventually exposes what occurred to Teddy.
Teddy was first introduced as a new character, which Mark and some other lawyers sometimes annoyed, but who has since grown into a capable and well-known lawyer. In the closing moments, Mark discovered Teddy in Sara's arms, wounded by a knife and barely alive. Mark calls for rescue, but no one is there.  while Dre comforts Lola. All of their squabbling doesn't stop them from enjoying a kiss, which Robin sees while looking for his wife. That's the shot the show concludes on despite all its twists and turns, encapsulating Season 3's highs and lows. The plot of All Rise season 3 begins and finishes with Lola's love triangle. The second half of All Rise Season 3, left a cliffhanger. Will Teddy or Ness survive? Meanwhile, we eagerly anticipate seeing some romance and happy moments for Emily and Luke. And Lola's love triangle…