Hurray! Season 2 of All Creatures Great and Small is now available in the United States, after its premiere in the United Kingdom. The first season of All Creatures Great and Small was a huge success. The comforting All Creatures Great and Small 2020 Christmas special was also a hit. Everyone is waiting to see if James and Helen will finally get together. Here's everything we know thus far about Season 2…
When and how can I watch All Creatures Great and Small Season 3?
Are there Seasons 3 and 4 in All Creatures Great and Small'?
All Creatures Great and Small, the critically acclaimed PBS series, is about to double in size. PBS, All3Media, and Channel 5 announced the show's renewal for two more seasons ahead of its second season launch in the United States on January 9. James Herriot's heartwarming tales will be a mainstay on Masterpiece PBS for the next three years as a result of this.
'All Creatures Great and Small Season 2 premiere dates
Season 2 of All Creatures Great and Small premieres on MASTERPIECE on PBS on January 8, 2022, at 9/8c. Season 2 of All Creatures Great and Small premiered on Channel 5 on Thursday, September 16 at 9 p.m. in the United Kingdom and has already been completed. You may watch My5 catch-up.
What is the plot of season 2 of 'All Creatures Great and Small'?
It's been three months since the first season ended. A trip back to Glasgow puts James in a position where he must choose between the people he loves. Siegfried, Tristan, and Mrs Hall are forced to evaluate their places in the world as Helen and James manage their love for one another, while James must choose between supporting his family and following his heart.
Season 2 cast of 'All Creatures Great and Small'
It has now been announced that the whole core cast will return. Mrs Hall (Anna Madeley) tries to keep the peace between Tristan Farnon (Callum Woodhouse) and his older brother Siegfried Farnon (Samuel West). Meanwhile, James (Nicholas Ralph) will be observing Helen's (Rachel Shenton) reaction to the Christmas special's major events.
Patricia Hodge, who played Mrs Pumphrey, the eccentric dog owner in the first season, has joined the ensemble as a replacement for the late Diana Rigg. Plus Colonel Merrick, an impressive military man and local farmer, is played by James Fleet, the Vicar of Dibley. Hugh is played by Matthew Lewis, who previously starred in Harry Potter.
What happens in Season 2 Episode 1?
Where the Heart Is is the title of episode one. James has successfully operated on a cat that has suffered a fracture at his old mentor's surgery in Glasgow in 1938. After that, he is offered a job, which James' parents are overjoyed about. When James returns to the Dales, he urges Siegfried to delegate additional veterinary duties to Tristan so that they can take on more small animal situations at Skeldale House.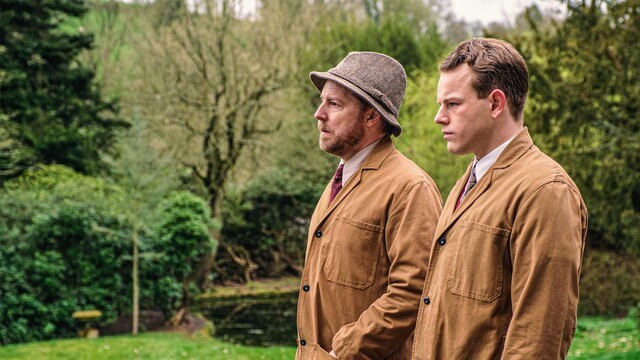 Siegfried claims that they are mostly an agricultural activity, but James tells Siegfried that more people are keeping pets now as a result of his work in Glasgow. "Yes, why people keep animals as pets is beyond me," Siegfried said, puzzled. A dog should have a purpose; it should be employed for farm work, hunting, and guiding, not just lounging about."
Tristan looks after a budgerigar, which has disastrous effects, while James and Siegfried deal with a sheep disaster where neighboring farmer Rob Benson's sheep had been pursued by the Alderson's dog. Helen Alderson has been laying low since she abandoned wealthy landowner Hugh Hulton at the altar, while James has kept his distance. However, a sheep problem with the Alderson's dog puts them back together… how will they fare?
What occurs in the second episode?
It is called Semper Progrediens. Mrs. Brompton arrives at Skeldale House with Daffodil Ball tickets. James is encouraged by Tristan to invite Helen to the spring dance. When he receives a letter from home, James is nervous, but he summons the confidence to invite Helen to the ball. They're interrupted, though, when Gerald arrives with an emergency involving his dog, Rock, who has been gravely injured by an animal trap.
With a full list of patients to see, James and Mrs. Hall have been left to work alone at the surgery, and James hopes to be able to attend the Daffodil Ball with Helen. Mrs. Hall and Gerald feel a love spark at the same moment. Siegfried accidentally misses an appointment at Colonel Merrick's estate due to a typo on his appointment list, bringing him face to face with competitor vet George Pandhi. Mrs Hall learns about James' parents' situation at home and how his mother has accepted his job offer back at the Glasgow clinic. James, on the other hand, is still undecided about leaving the Dales.
Tristan is dissatisfied with Siegfried's transformation, implying that he has lost his edge after allowing Merrick and George to run rings around him and that he is "locked in a rut." James offers to Siegfried that if Tristan could practice on his own, they could take on more work and use the extra cash to purchase new equipment.
When Colonel Merrick attends to his injured cow, James is mildly upset with the conclusion of the dance, but Siegfried soon outruns him. Helen shows up for practice later and tells us about what happened at the dance..
What occurs in the third episode?
In episode 3 titled " We Can But Hope," James is summoned to help widow Phyllis Dalby with her critically ill cows. James wishes to save the cows, but when Phyllis remarks on how quickly time passes, James is inspired to take Helen out on a date. Tristan hasn't done enough work for Siegfried, so he sets him a task. In the meantime, Mrs Pumphrey's dog, Tricki Woo, needs a babysitter while she is in London for the test match.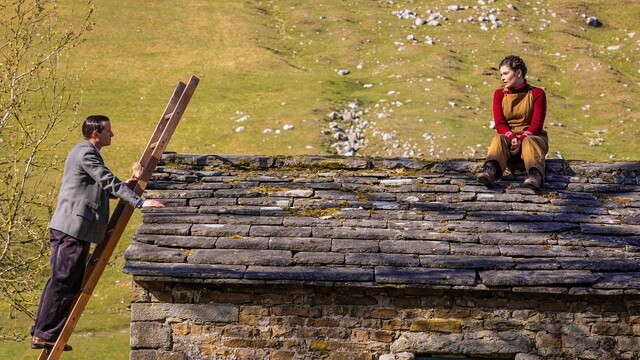 It's difficult for James to believe that there's nothing he can do to help Phyllis save her cows and livelihood. However, his concerns about the problem produce tension between the two on their date. Tristan tries everything he can to please Siegfried, but Siegfried assures him that everyone makes errors and that we should forgive and learn from them.
What occurs in the fourth episode?
Episode 4 titled "Many Happy Returns," Tristan's birthday coincided with his first opportunity to "stand on his own two feet," as Siegfried finally gave him his own appointment list. Tristan is overjoyed at the news because it means he will be able to put his vet talents to the test on his own as a lead vet, rather than being relegated to Siegfried's supervision. Meanwhile, Mrs Hall is concerned because a dog won't stop weeping after being operated on by Siegfried.
Tristan is kicked by a horse and injures his knee while on call as the lead vet, but he is happy when he delivers his first calf, albeit with a very overdone performance. Helen learns from Mrs. Hall that James has been offered permanent employment in Glasgow.  Following Tristan's request for a dinner party to honor his birthday, the guests begin to arrive, including Margot, Helen's ex-acquaintance. fiance's Siegfried gives a moving speech thanking Tristan on all his hard work after a difficult start.
The dinner party, however, quickly goes south when Siegfried and Tristan get into a dispute at the dinner table, during which Siegfried reveals a significant secret: Tristan never truly passed his veterinary exams, and Siegfried lied and told him that he had qualified. Tristan is heartbroken and in tears.
What occurs in the fifth episode?
Episode 5 called "The Last Man In" Mrs Hall is unconcerned about Siegfried's cricket flannels having a hole in them, and he says he won't be able to attend Mrs Pumphrey's cricket match on Sunday if he has a hole in his trousers, but Mrs Hall is unconcerned. Siegfried informs Tristan that they are still short a man for the annual Darrowby match at Pumphrey Manor, and begs him to fill in. Tristan, still enraged with his brother for lying to him, refuses, claiming that "it's by invitation only for local farmers and vets." And, as far as I know, I'm neither."
Hugh Hulton has requested James to look after his new bull, which needs to be ringed, and it's a familiar face from Helen's past. Helen is concerned about his return and fears that, given their rocky history, he may not renew the lease. However, the Aldersons are overjoyed when Hugh discloses that he intends to extend the farm lease and that Helen and Jenny will even inherit the lease. Hugh then surprised the Aldersons by gifting them a new bull as an apology and a chance to start anew.
However, James is envious of Hugh's generosity and soon learns that Hugh is the other cricket team's captain and outstanding player. Up the cricket match, a competitive James stands forward to fill in for a missing player for the Darrowby Eleven team and compete against Hugh. Tristan doubts James' ability to compete in the match, but Siegfried is determined to prepare him, which proves to be a difficult task for all involved.
When it comes time for the cricket match, a hesitant Tristan reconsiders his reluctance when Alderson's team loses another player and things on the field begin to look bleak for James. Mrs Pumphrey's visit to Siegfried for a delicate veterinary issue aids him in completely comprehending the issue of his tumultuous connection with Tristan. Back on the field, the game becomes tense as James prepares to bat, until he makes a honourable sacrifice to put things right.
What occurs in the final sixth episode?
The final episode is called Home Truths. James prepares for his parents' arrival after a wild night at the movies with Helen. He must break some painful news to them. Siegfried advises James to marry Helen, claiming that life is too short and James is very careful. While Tristan is debating his professional options, he sees Mrs. Donovan's dog get into an accident and immediately offers assistance. However, the incident teaches Tristan a valuable lesson that will aid him in making a future decisions.
Meanwhile, James is tending to Alderson's pregnant horse, and when his parents arrive, he invites Helen to supper with his parents. Helen and James have a romantic moment when James reveals that he wants to spend the rest of his life with her in the Dales and marry her, but he hasn't gotten her father's permission. When their pregnant horse has an issue, James' plans are quickly upset. Richard Alderson tells James of his wife's death and gives him permission to marry his daughter. When James' parents arrive, he embarks on a mission to persuade them of his love for the Dales and why living there is so essential to him, which includes introducing them to Helen…