The second season of 'Your Honor' on Showtime finishes with a satisfying conclusion to Michael Desiato's narrative. There were several threads that needed to be resolved because of all the actions. The loss of Adam Desiato is still fresh as the second series begins. Agent Olivia (Rosie Perez), who has her sights set on the Baxter dynasty, approaches Michael Desiato. Hope Davis is poisonous as Jimmy Baxter's wife Gina, and Michael Stuhlbarg is an expert as the bookish mob boss Jimmy Baxter.
Michael is going in one route, Jimmy is going in another, and the mayor (Isiah Whitlock Jr.), the mob boss (Andrene Ward-Hammond), and the unintentional assassin Eugene (Benjamin Flores Jr.) are all going in different directions.  Fia (Lilli Kay) factor alone is enough to show how important she is to the cohesiveness of the Desiato and Baxter families, but there's more. There's just too much happening at once. I've broken down the events of "Your Honor" and what they represent for each and every one.  (tvacute.com) Here is all you need to know about the conclusion of Your Honor Finale[Season 2 Episode 10], in case you missed any of the exciting moments.
Your Honor Season 2 Episode 10 Recap
Michael's life and how is wrecked by the lies and crimes he is complicit in that drive the plot. Michael was reluctant to testify at Eugene Jones' trial, but a summons forced him to appear before the judge and provide an honest account of what happened. Indeed, he does act in this manner. Confessing how he witnessed Eugene killing Adam Desiato, he urges Lee to try a new tactic to save Eugene.
Eugene chooses to testify and present his version of the events. He explains how he believes his brother Kofi and his family perished in a gas explosion. By bringing up the leak, Michael recalls a time when Lee was in a similar situation and shares some advice on how she might use the information to her advantage. Eugene claims that there was no gas leak because he had just gotten back from buying food for his family, which they hadn't been able to prepare because they hadn't paid the gas bill in months.
Eugene's admission that the explosion that killed his family couldn't have been caused by a gas leak provides evidence that the Baxters may be responsible. In a very direct way, he accuses them of killing his loved ones. In any case, it provides Olivia Delmont with fresh ammunition to pursue legal action against the Baxters. Olivia is interested in assisting Eugene, too. The Baxters will try to kill him now that he is unprotected and walking the streets. As a witness against the Baxters, she offers Lee the chance to get Euegene placed in federal protective care.  Eugene sees no other way out of the situation and gives in. Since federal authorities have assumed responsibility for his case. Lee informs the judge and the prosecutors of this development.  Michael is a fragile man who places a high value on the truth, therefore Lee encourages him to share the whole truth. In the series finale, Michael finally breaks down and admits that he covered up his son's murder of Rocco Baxter.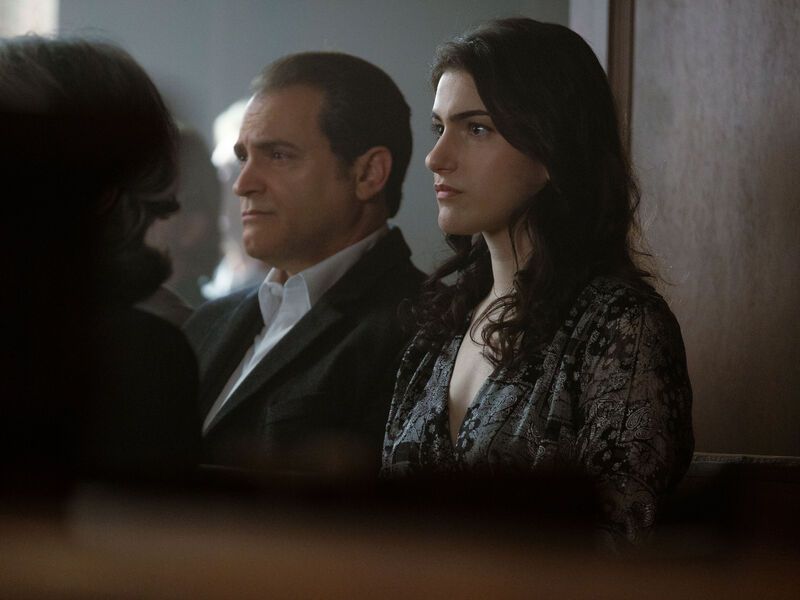 Fia Baxter is the lone character in "Your Honor" who did nothing wrong yet still had her life shattered.  In the previous episode we saw, she becomes increasingly irritated by her family, particularly because of their desire to micromanage her and Rocco's daily activities. Fia leaves her family and moves in with Michael and Elizabeth since he is the only person she trusts.  Michael testifies against Adam in court, saying that Adam was responsible for Rocco's death. Fia is shocked to learn that Micahel has been concealing information from her the whole time. Because of this, she will always remember Adam as the man who murdered her brother and lied to her about it. Even after returning home to her loved ones, she loses them when Eugene Jones tells the truth about the gas leak the following day.
Your Honor Finale Recap: Gina makes a move of her own and Big Mo proposes a deal with Jimmy
According to Gina's account of Carmine (Mark Margolis), Jimmy attempted to frame her for the murder of the Jones family. Surveillance footage shows Carmine shooting Jimmy in the corridor after an argument. A relieved Olivia Delmont is shown a photo of herself smiling broadly after Gina phones the police and Carmine Conti is arrested on the basis of indisputable proof. Gina takes over the company after Michael and Carmine leave, and she immediately strikes a deal with Big Mo. She hands her the keys to her nightclub and gives her permission to deal drugs in the French Quarter.
Your Honor Finale Recap: Michael exposes shocking information
Michael Desiato's world began to fall apart when he encouraged his son to cover up the hit-and-run crime for which he was responsible. Michael learned the hard way that falsehoods always end in tragedy and that the truth always emerges when it's hidden for too long. The truth is, Michael did see Eugene Jones, and that's why he doesn't try to cover it up in the courthouse. Michael was partly to blame for the deaths of all of Eugene's relatives, so he had every opportunity to carry it out.
It would appear that Michael has maintained the detail in which Charlie (Isiah Whitlock Jr) assisted him in getting out of the vehicle in which Adam Desiato had struck Rocco. This is due to the fact that Charlie still serves as mayor of the town. Michael clearly documented all of his wrongdoings, while it is unknown what else he concealed from the law enforcement officials he was attempting to shield.
Your Honor Season 2: Ending Explained!
Michael had the opportunity to make things right, allowing Eugene to go free. As an alternative, Michael decided to be completely honest. Lee would have forced him to do it, but when he revealed seeing Eugene before Adam Desiato's death, he gave her the chance to begin looking into the specifics. The story concludes with Michael entering a prison. After his statement, police began looking into the matter, and Michael eventually admitted his guilt. Although it is not known whether Michael faces a life sentence, it is evident that he is prepared to serve his time in prison. Fia can't take Baby Rocco with her on the long and difficult journey that lies ahead. For this reason, she decides to place him for adoption. We then see Eugene say his goodbyes to Lee and leave the city to start a new, fear-free existence.