The opening scene of Yellowstone season four episode three on the Paramount Network alternates between shots of John Dutton (Kevin Costner) sitting peacefully in front of a fire and shots of Kayce (Luke Grimes), Rip (Cole Hauser), and other law enforcement officers taking down the white supremacist militia that Kayce believes is responsible for the attack on his family. Blows are landed, guns are fired, and the Duttons are successful in removing the dangerous racist vigilantes from the region.
The next morning, John welcomes Carter (Finn Little), the new stable boy, and Carter is disgruntled that he wasn't the first one to the barn once again  When John and his son meet up, they're both a touch downcast, not knowing how many more days they'll be able to go on these early morning rides without being interrupted. Lloyd (Forrie J. Smith) doesn't agree with Rip's choice to send Jimmy (Jefferson White) away, but Rip believes Jimmy needs to leave in order to mature. Walker sleeping in a lovely barrel racer's trailer irritates Lloyd, and Rip advises him to get his head straight.
In another scene, Mo tosses Checker's – the man who claimed to be the mastermind behind the hit a lunch bag and tells him to eat quickly. When Kayce enters his office, he discovers Emmett Walsh (Buck Taylor) waiting to talk about a feud he's having with his new neighbor. A California owner has moved in and installed cow gates on Emmett's easement through his land, allowing Emmett to continue to utilize the easement but only when the cattle are loaded onto trucks. That's costly, and with cattle prices plummeting, Emmett's business is suffering. Lawyers have been unable to assist, and Emmett admits that the trucking bills are consuming him. Emmett is unsure what Kayce can do to assist, but he is hopeful that he will be able to come up with something.
Back at the ranch, Travis's (series creator Taylor Sheridan) high-priced team works out in the ring, and the ranch employees are enthralled by their abilities. John nods in agreement, and Rip concedes Travis has assembled an impressive squad. The ranchmen tease one other about their riding abilities, with Colby (Denim Richards) comparing Ryan's trotting to a drunk catching a football. Jimmy is having a hard time accepting the fact that he will be moved to Texas. Jimmy refuses to accept John's explanation that it is an opportunity. Because he's leaving, Mia (Eden Brolin) broke up with him, and Jimmy believes this punishment cost him the one person who's ever loved him.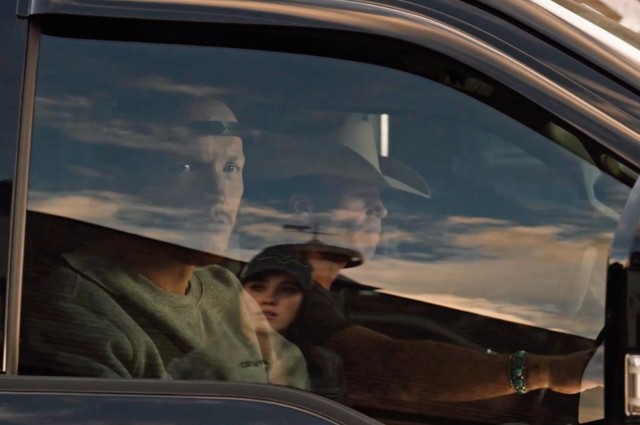 Mia will be waiting for him when he returns, John says, if she genuinely loves him. Jimmy inquires as to when he will be permitted to return, and John assures him that he will be allowed to return whenever he is ready. And who will make that decision? Jimmy will have to decide for himself if he's mature enough to return to the ranch, according to John. When the ranchmen find out whose ranch Jimmy is going to, they know he won't last a week.
Rip is clearly having a good time watching the expensive horses, and Beth is relieved that someone is enjoying her inheritance racing around in the ring. When Beth sees Carter hard at work, she informs Rip that the boy is finished for the day. When Rip claims that Carter still has hours of work to complete, he is promptly shut down. Beth wants to take Carter shopping, despite Rip's objections against her indulging him. Carter has a place at the ranch, and Rip believes that's all he needs right now, but Beth has her heart set on taking him to acquire some decent boots and a jacket.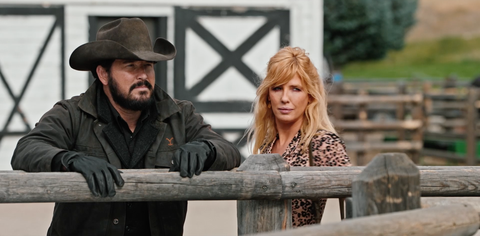 Beth is correct in that the kid requires some clothing. Rip is, too, because Carter has things to learn that will need him to put in many hours of effort. The dispute about how to deal with the youngster, and when Rip caves in and assures her she can do whatever she wants with her "pet," Beth gets irritated. She's enraged, but she's also astute, luring Rip in for a kiss before fleeing. "I love you; I'll see you at the house," says the narrator. "F*ck you," Beth exclaims. As she walks away, Rip's face lights up with a warm smile, and he giggles.
Carter is given instructions to pick out a suitable jacket, boots, and cap once he arrives in town, but he instantly disregards Beth's advice. He doesn't want a cap and instead opts for a shirt. Carter tries it on despite Beth's protests that it isn't on their list. Beth loses it and insists that he remove his top. They've given up on shopping since he won't listen. Carter tries to haggle for the clothing, but Beth isn't interested in talking about it. Another customer points up Beth's child abuse as she tries to forcefully remove the clothing. Carter aggravates the situation by telling the woman that Beth is forcing him to remove his shirt, which he does not want to do. The woman has grabbed out her phone and is filming Beth assaulting Carter with her little son standing behind her. As a result, Beth takes the phone, smashes it down, and steps on it. Beth advises her to mind her own business. Beth agrees with the woman that she has no idea how to be a mother. As she storms out of the store, knocking products off a shelf, Beth declares, "He's all yours." Carter chases her down, and Beth locks the car doors behind her. He apologizes, and she accepts his apology. She adds that there are only four ways to get rich: inherit it, steal it, work extremely f**king hard, or learn how to suck a d*ck as they drive back to the ranch. She advises him to choose option three.
Kayce pays a visit to the Peterson Ranch, pulling up to the gate and requesting Ralph Peterson to meet with her. Kayce explains that he's the cattle commissioner and needs to be allowed in, and the person on the intercom advises him to make an appointment. Kayce has had it with the voice refusing to open the gates, and she's had it with playing nice. He shifts into reverse, revs up the engine, rams the gates, and smashes through. When Kayce approaches Ralph (Jonathan Kells Phillips), he is standing in front of his house, on the phone with the cops. Ralph gets pushed to the ground and only manages a few moans before Kayce places him in cuffs and rolls him onto his stomach. Kayce answers the phone and informs the officer on the other end that Ralph has been arrested for refusing entrance. If he decides to charge Ralph, he'll bring him in. Kayce and Ralph travel out to the easement, where Ralph confesses that he despises cows passing past his property. Ralph also acknowledges that he just raises llamas to get a tax break. Kayce raises the cow guard with a chain and pushes Ralph into the hole beneath it. "If you like your cattle guards so much, you should f**king lives in them," he shouts as he lowers the guard and drives away.  Emmett is ready to use the easement when he hears Ralph pleading for assistance from beneath the cow guard.
John meets up with Thomas Rainwater (Gil Birmingham) and Mo. Thomas chose a remote spot to convey the news that they've discovered who ordered the hit on John's family. Thomas hands over a folder containing information on a prisoner named Riggins who ordered the hit. Although John does not identify him, Mo claims that Riggins is familiar with him. He is currently imprisoned in a state jail. John is unsure if he can trust this information and inquires as to how Thomas received it. If they tell him, Mo explains, it becomes John's trash to dispose of. John accepts this and requests whatever Thomas has unearthed.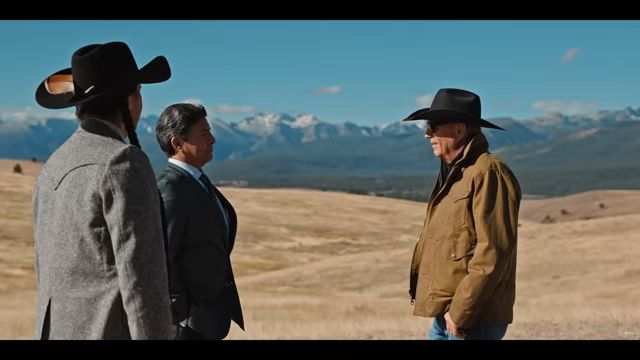 Regardless of their differences, Thomas sincerely regrets what happened to John's family. He drives away, leaving Mo with John, and it isn't until Thomas has vanished that Mo drags Checkers (Brad Carter) from the back of his SUV. Checkers is who Riggins employed to put together the hit, according to Mo.  Checkers' cellmate, Riggins, was in charge of bringing together the men who carried out the hit after Riggins received a request for it. He admits to using the militia. When John inquires as to who gave Riggins the order, Checkers remains silent. Checkers is handed over to John.
Walker (Ryan Bingham) speaks with Jimmy briefly and confesses that his biggest regret is leaving the location where Jimmy is going. Jimmy should never return to the Yellowstone Ranch, he believes. Travis, tells Jimmy that he will be expected to work hard at every horse show. Mia has tears in her eyes as she sees Jimmy and the guys leave. As the rigs leave the ranch, neither she nor Jimmy wave or even say farewell.
When Beth gets home, Rip is already at the table, ready to drink. Rip adds more shots to her glass. Beth claims that the child is in the barn and that she does not want him to spend the night with them. She confesses Rip was correct, and Rip apologizes. He volunteers to work on the kid because he believes there is a man inside him. "I want you to listen to me," Rip says as Beth takes a seat on his knee. He isn't our child. He'll never be that, no matter what he does.
Monica (Kelsey Asbille) and Tate (Brecken Merrill), who refuse to leave the bedroom, are served plates of food by Kayce. As Kayce informs them they need to eat, Tate is hiding under the bed and Monica is in a nasty mood. Monica adds that Tate's condition is deteriorating by the day and that he won't come out if anyone is present. After killing the man who was attacking his mother, Tate is devastated. Kayce is in a state of rage and frustration. He reminds Monica that he has been urging Tate to see a doctor for weeks, but she has yet to do so.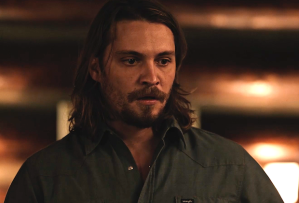 Monica sobs as Kayce yanks Tate from beneath the bed. Kayce wraps his arms around his son and promises him that he has already conquered his greatest fear. He refuses to let Tate go and assures him that he is fine. Kayce instructs Tate to take his plate and sit at the table, which he does.  Kayce blames Monica for Tate's actions, reminding him that she never wanted to live at the Yellowstone Ranch. Kayce can't control his rage since she's always thought the ranch and John are evil. The ranch and his family aren't wicked, he knows; the individuals who sought to take everything away are the ones who are terrible. "I despise you," Monica says, her eyes welling up with tears. She begs Kayce to allow her to return home. With a hug, Kayce answers.
At the end of the episode, John throws the matchmaker who set up his family for death into a field in the middle of the night. He gives the man a gun so they may have a shoot-out like in the old days. John argues that his beliefs compel him to make this match equitable, but after days of starvation, blood loss, and major injuries, there's no way this person could stand a chance against John Dutton, a trained cowboy. John shoots Chester many times towards the end of the episode, seeking furthermore vengeance against those who have mistreated his family. Read More Recap at tvacute.com