Y: The Last Man is an American post-apocalyptic drama television series created by Eliza Clark based on the Brian K. Vaughan and Pia Guerra comic book series. Diane Lane, Ashley Romans, Ben Schnetzer, Olivia Thirlby, and Amber Tamblyn feature in the FX on Hulu series. the series follows, Unbeknownst to the world, Yorick Brown (Ben Schnetzer) and his pet monkey Ampersand are the only survivors of a strange cataclysmic event. Jennifer Brown, the new U.S. President, leads Yorick through the new globe as he travels with his mother, Yorick's mother (Diane Lane). The series ended in November 2021 after one season. (www.tvacute.com) Here you can read the full recap of the season finale of Y: The Last Man. Let's start it..
The episode begins with a flashback to before the apocalypse, when Yorick, Beth, Hero, Jennifer, and Dean were enjoying supper. Yorick's magic show is celebrated, while Hero stands there watching. Agent 355 wakes up in the middle of Main Street, thinking her handler, Fran, is standing above her. When it's Janis who's calling to see how she's doing. On horseback, Roxanne and Nora discuss how excited the girls are about Yorick and the impending siege on the inmates' Morrisville village. Mann learns that the agent previously strapped a ten-pound sandbag on her arm to help her sleepwalk. She also tells her that they're leaving since Janis has given them a couple of ATVs that will get them quite far. Yorick tells Sonia that he only slept with one woman in his life and that he hoped to have children with his girlfriend Beth. Nora devises a strategy and informs the Amazons of it. The plan is for three groups to split off and grab the horses, hit the inmates hard, and drive them onto the street, where they will be besieged. Roxanne proposes that they begin shooting in order to intimidate them. Two elderly armed women interrupt them, claiming ownership of the pool. Rioters stormed the Pentagon and killed Hero's mother, Hero learns from them. Beth and Jennifer have taken up residence in a run-down house. When it grows dark, they intend to pack up and go. Yorick gets some information about the Culper Ring from the agent. Her handler was a man, and they kept them apart so she didn't meet anyone else.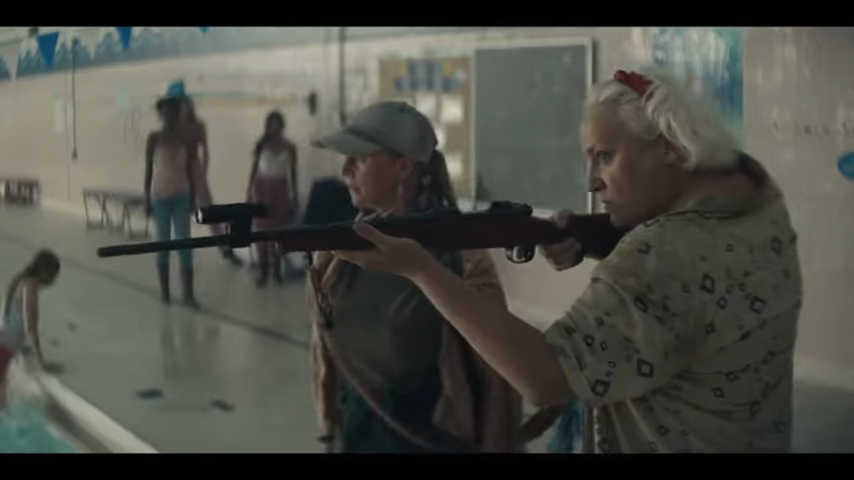 Y The Last Man Episode 10 Finale Recap, Hero is chastised in the flashback for being an EMT instead of pursuing a Bachelor's degree. She's also chastised for her romantic choices as she dates a married man with a pregnant wife. That does not, however, prevent her from confronting her father about his texting and cheating. Jennifer whispers something in her ear before leaving. As Beth and Jennifer are about to leave, Sam enters the house and informs them that Hero requires their assistance. He also cautions them that they are under surveillance. They are unable to flee, however, because they are surrounded by a gathering of ladies. Nora vetted Hero's mother when Campbell was considering her for Vice President. Hero recalls being interrogated for nine hours, whereas Yorick's session lasted only 30 minutes. Nora consoles her by adding, "We've both spent our lives striving to be flawless." Mann confesses to the agent in Marrisville that she's terrified they'll arrive in San Francisco and she won't be able to fix it. She is lying next to her in bed. The agent wraps her arm around her and allows her to curl up against her shoulder. Yorick tells Sonia about his future ambitions, which include visiting a lab in San Francisco. She explains to him that time is like an ocean, and that you can't pick and choose which moments to focus on. The good and the evil are all jumbled together. Yorick gives her a kiss. Yorick is the object of Kimberley's erotic fantasies. She wakes up next to Christine on the floor of a barn, telling her she knows how to fix the problem. He is all they require. Yorick and Sonia, as well as the agent and Mann, all awaken. A tracking device similar to the one she destroyed at the window is discovered by the agent. April is attacked by the Amazons as they arrive at Marrisville. Janice appears and intervenes by shooting the gun into the air, claiming that the Amazons have no idea who they're dealing with and that Marrisville citizens are armed. Yorick, Mann, and Sonia are told to go to the silo and take refuge there. She and Ray, the trans, surrender to the intruders. Athena and Nicole are overjoyed to have discovered the man and lead them away. As the inmate's fire at the Amazons, Nora discovers the snipers on the roofs and informs Roxanne at the last minute. The agent beats up on the girls and disarms them. She then joins Ray in escaping. All hell breaks free in town, and Mackenzie assures her mother that she can help because she is strong, and she rescues an injured Jodi. Yorick, Sonia, and Mann sprint through a grassy field. On horseback, Hero pursues them. Sonia aims to shoot her as she shoots. It's Yorick's sister, he realizes. But it's too late; Sonia has shot her in the arm, and he is unable to prevent her from continuing her sentence. Hero is both surprised and overjoyed to find that her sibling is still alive. They hug, then she breaks the bad news to him that their mother has died. She informs him that he must flee since the Amazons are on their way to kill him. Nicole then shoots Sonia and kills her. To protect him, Hero pushes him to flee and shoots Ally Nicole. In a flashback, an enraged Yorick complains to Beth about Hero, accusing her of being selfish. Sam then arrives to join them for drinks, but Yorick and Beth take a cab away. Sam calms Hero and hugs her when she admits that she made a mess. The agent comes back to town.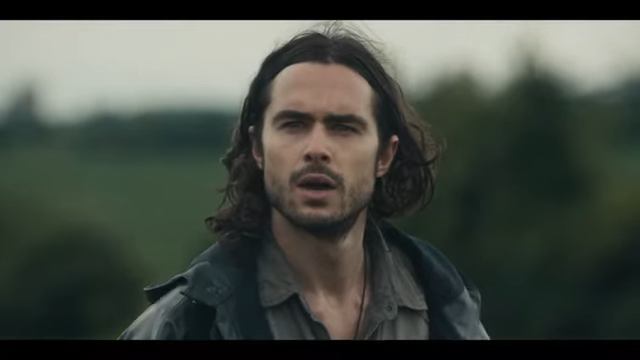 In Y The Last Man Season 1 Episode 10 Finale Recap, Nora examines the Amazons, who are afraid and injured. Roxanne fires a few shots at the agent until she runs out of ammunition. Nora notices the agent ready to assassinate Roxanne and intervenes to inform her that they have surrendered. Janis tells her girls to put down their weapons. Roxanne gets enraged and hurls her rifle at Nora, accusing her of being a coward. She has a temper tantrum and storms out. Hero tells Nora that her brother is still alive as they return to the pool. Roxanne scolds them as they emerge, labeling everyone a coward. Nora emphasizes that the expedition was a suicide mission with no plan and no way out. In the outmatched gunfight, half of the Amazons were killed. Roxanne, on the other hand, sees it as a noble and heroic sacrifice. Nora accuses her daughters of scaring, insulting, and admiring them. Men do the same thing. She tells the Amazons that her real name was Victoria, which she despised. As a result, she changed her name, married, had children, and began working for the president. However, because it is only a shadow, the real you is always visible. Roxanne, Nora emphasizes, wants to brand the girls, chipping away at them until they're exactly who she wants them to be. She draws a gun and fires a round into Roxanne's stomach, causing her to tumble into the pool. She assures the Amazons that they are not being forced to recreate themselves. Roxanne isn't allowed to eat there. They aren't owned by anyone. They will teach the rest of the world to dread them because they will show them exactly who they are. Nora is their new leader, and Hero stands behind her. Mann joyfully embraces the agent as he returns to the Silo. Yorick, who had learned about his deceased mother, cultist indoctrinated sister, and witnessed Sonia's terrible murder, was also found sobbing. People are dying merely because he exists, he sees. Her grandmother was a musician and stayed with them when she was a child, the agent tells him. She took her to a bar one night when she was 12 years old. Her parents were outraged when she and her grandmother got into the minivan, a drunk motorist jumped the lane, and her father swerved and crashed into a tree at 60 miles per hour. She was the sole survivor, and she reminds him that she and he will both survive. She also informs him that now that his mother is gone, he is free to travel wherever he wants. Yorick, on the other hand, determines that he no longer wants to be a liability or a pawn. He can't be helpless if they do this. He weeps in front of the agent, who agrees to instruct him. In the same white-tiled room as the agent's Flashback with Fran, Sam, Beth, and Jennifer are held captive. Jennifer becomes aware that they are being observed. Agent 525 and Fran keep an eye on things in a surveillance room. "When she's on the move," Fran instructs Agent 525 to come to grab her.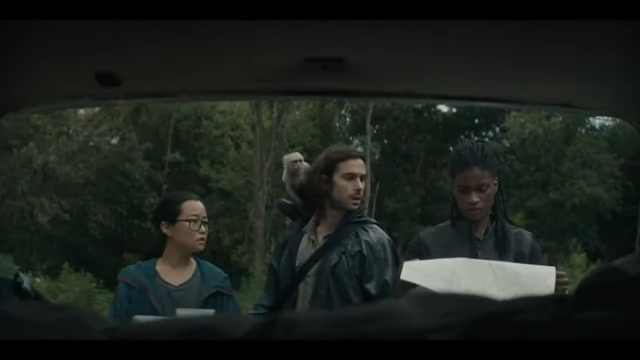 The tracker leads the agent to a car with a full tank of gas and refrigerated storage. Blood samples are collected in vials. A map and coordinates, as well as sterilization tools and needles. They are invited to come in, according to the agent. The agent is seen driving with Yorick and Mann at the end of the episode. Allison inquires if The Culper Ring is similar to her family; the agent remains silent and leads Allison down a lengthy, Y-shaped driveway on Y The Last Man Episode 10 Recap.